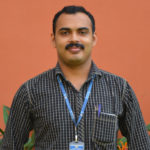 Dr. Tomson Thomas
Assistant Professor
Department of Electrical & Electronics Engineering
Mobile Number: +91 9495444928
Email: tomsonpala@gmail.com
Date of Joining: 21-01-2008
Appointment: Permanent
| Sl.No | Qualification | University | Institution | Year of passing | Specialization |
| --- | --- | --- | --- | --- | --- |
| 1 | B.Tech | Mahatma Gandhi University, Kottayam | Govt.Rajiv Gandhi Institute of Technology,Kottayam | 2007 | Electrical & Electronics |
| 2 | M.Tech | NIT Calicut | NIT Calicut | 2012 | Electrical Engineering - Power Systems |
| 3 | Ph.D | APJAKTU | Govt. Rajiv Gandhi Institute of Technology, Kottayam | 2022 | Electrical Engineering - Power Systems |
Industrial Experience                                      :           2 months
Teaching Experience                                       :           12 years
| Sl. No | Name of the college/Industry | Designation | Experienc ( Years & Months) |
| --- | --- | --- | --- |
| 1 | St. Joseph's College of Engineering and Technology, Palai | Assistant Professor | 21-01-2008 onwards. |
| Sl. No | Name of Institution | Type of Membership | Membership ID |
| --- | --- | --- | --- |
| 1 | ISTE | Life Member | LM64533 |
| 2 | IEEE | Professional Member | 95248673 |
| Sl. No | Name of Training/Workshop | Year &Date (Duration) | Organizer |
| --- | --- | --- | --- |
| 1 | Design and Development of Power Converters for Renewable Energy Applications | 3rd to 7th December 2018 | Saintgits College of Engineering, Kottayam |
| 2 | Control of Electric Drives: Programming with FPGA (Xilinx) and DSP (TMS 28335) | 1st to 6th February 2018 | Govt. Rajiv Gandhi Institute of Technology, Kottayam |
| 3 | Research Perspectives on Solar and Wind Energy Systems | 15th to 27th January 2018 | Govt. Rajiv Gandhi Institute of Technology, Kottayam |
| 4 | Real Time Simulation in Electrical domain | September 26, 2017 | National Institute of Technology, Calicut |
| 5 | Electric Power System | 1st to 5th May 2017 | Indian Institute of Technology, Kharagpur |
| 6 | Power Quality and Renewable Energy | 17th February 2017 | Govt. Rajiv Gandhi Institute of Technology, Kottayam |
| 7 | Energy Management and Audit | 14th and 15th December 2016 | Energy Management Centre – Kerala |
| 8 | Electrical Machine Design using ANSYS | 28th -30th June 2016 | Govt. Rajiv Gandhi Institute of Technology, Kottayam |
| 9 | Technical Communication for Scientists and Engineers | 8th October to 5th December 2015 | Indian Institute of Technology, Bombay |
| 10 | Introduction to Design of Algorithms | 25th to 30th May 2015 | Indian Institute of Technology, Kharagpur |
| 11 | Control Systems | 2nd to 12th December 2014 | Indian Institute of Technology, Kharagpur |
| 12 | Solid State Control of Electric Drives through ICT | 21st to 25th July 2014 | National Institute of Technical Teachers Training and Research, Chandigarh |
| 13 | Modern Trends in Substation Design | 24th to 26th June 2014 | Govt. Rajiv Gandhi Institute of Technology, Kottayam |
| 14 | Advances in Smart Grid – Integrations | 28th April to 2nd May 2014 | Saintgits College of Engineering, Kottayam |
| 15 | FEEL Teacher | 12th to 14th December 2013 | College for Leadership and Human Resource Development |
| 16 | Analog Electronics | 4th to 14th June 2013 | Indian Institute of Technology, Kharagpur |
| 17 | AutoCAD for Electrical Engineers | 11th to 15th March 2013 | Govt. Rajiv Gandhi Institute of Technology, Kottayam |
| 18 | NBA Accreditation Procedures and Practices | 14th and 15th December 2012 | IIT Madras (SRS Human Resource Services) |
| 19 | Advances in Smart Grid Technology (AST 2012) | 23rd and 24th March 2012 | Jyothi Engineering College, Cheruthuruthy |
| 20 | Solar Photovoltaics: Fundamentals, Technologies and Applications | 12th to 22nd December 2011 | Indian Institute of Technology, Bombay |
| 21 | Smart Grid Engineering | 29th to 30th July 2011 | National Institute of Technology, Calicut |
| 22 | Educational Utilization of Indian Standards | 11th December 2009 | Bureau of Indian Standards and St. Joseph's College of Engineering & Technology, Palai |
| 23 | FACTS and Custom Power Controllers for Quality Enhancement of Deregulated Power Systems | 18th to 29th May 2009 | National Institute of Technology, Calicut |
| 24 | Advances in Power Electronic Systems | 5th to 6th January 2009 | St. Joseph's College of Engineering and Technology, Palai |
| 25 | Computing, Simulation and Modeling in Electronics Engineering | 18th to 22nd November 2008 | St. Joseph's College of Engineering and Technology, Palai |
| 26 | Teaching Excellence and Methodologies | 19th to 24th May 2008 | ISTE Kerala Section |
| 27 | Webinar: Effectively and efficiently creating your paper | 30th January 2020 | John Wiley & Sons |
| | Webinar: DFIG Based Wind Energy System with Reactive Power Compensation using Wavect Power Controller" | 6th February 2020. | Entuple Technologies |
| 29 | Research opportunities in Power Electronics for Power Engineers | 28th February 2020 | Department of Electrical and Electronics Engineering, Sri Ramakrishna Engineering College, Coimbatore |
| 30 | Webinar: Typhoon HIL online Training program | 4th to 9th April 2020 | Typhoon HIL and Quarbz Info Systems, Kanpur |
| 31 | Three day Online Faculty Development Program on "Real-time Hardware-in-the-Loop (HIL) Simulation for Power Electronics and Power Systems" | 27th to 29th May 2020 | Department of Electrical and Electronics Engineering, Anurag University, Hyderabad |
| 32 | Two Weeks Online Advanced Training Program on "Hardware in the Loop Simulation Technology for Rapid Product Design in Electrical Engineering | 1st to 13th June 2020 | Atal Incubation Centre – EMPI, New Delhi, Typhoon HIL and Quarbz Info Systems |
| Sl. No | Title/ Topic | Date & Duration | Sponsors |
| --- | --- | --- | --- |
| 1 | Electric Power System | 12th June to 15th July 2017 | Indian Institute of Technology, Kharagpur under NMEICT (MHRD) |
| Sl. No | Title/ Topic | Year & Duration | Organizer |
| --- | --- | --- | --- |
| 1 | Energy Conservation and Management | February 18, 2017 | Co-operative Bank, Marangattupilly |
| 2 | Energy Conservation in Domestic Appliances | April 3, 2018 | VHSE Kumily |
International Journals
Tomson Thomas, Prince A., "Evolution of Wind Energy Conversion System and Recent Challenges in Grid Integration: A Review"

in IOP Conference Series: Materials Science and Engineering

, vol. 396, no. 1, pp. 1-8, August 2018. (https://doi.org/10.1088/1757-899X/396/1/012051)

Deepa Francis, Tomson Thomas, Shanooga Chandran, "Torque response improvement of direct torque controlled three phase inverter fed induction motor drive",

International  Journal of Innovative Research in Electrical, Electronics, Instrumentation and Control Engineering (IJIREEICE)

, Volume 3, Issue 8, August 2015. (DOI 10.17148/IJIREEICE.2015.3815, Impact factor 3.885)

Dawn S. Kurian, Tomson Thomas, Anoopraj M. R., , "A three phase based four switch inverter for renewable energy sources in microgrid",

International  Advanced Research Journal in Science, Engineering and Technology (IARJSET)

, Volume 2, Issue 7, July 2015. (DOI 10.17148/IARJSET.2015.2723, Impact factor 1.918)
 Conferences
Tomson Thomas, Prince A., "An enhanced low voltage ride-through of DFIG based WECS during unbalanced type-B and type-E voltage dips", Power Engineering Research Summit (PERS-2020) at SREC Coimbatore, 29 February 2020.
Tomson Thomas, Prince A., "LVRT capability evaluation of DFIG based wind energy conversion system under type-A and type-C grid voltage sags", IEEE International conference on Power Electronics, Smart Grid and Renewable Energy (PESGRE 2020), Cochin, 2-4 January 2020.
Tomson Thomas, Prince A., "Analysis and validation of low voltage ride-through capability for DFIG based wind energy conversion system under symmetrical grid voltage sags", IEEE International Conference on Power Electronics Applications and Technology in Present Energy Scenario (PETPES-2019), NITK Surathkal, 29-31 August 2019.
Tomson Thomas, Prince A., "Evolution of Wind Energy Conversion System and Recent Challenges in Grid Integration: A Review", Global Colloquium in Recent Advancements and Effectual Researches in Engineering, Science and Technology (RAEREST 2018), SJCET Palai, 20-21 April 2018.
D. S. Kurian, Tomson Thomas and M. R. Anoopraj, "Three phase inverter with reduced number of switches for renewable energy sources in microgrid" IEEE International Conference on Power, Instrumentation, Control and Computing (PICC), Thrissur, 2015, pp. 1-6. (Print ISBN: 978-1-4673-8071-3)
Deepa Francis and Tomson Thomas, "Mitigation of voltage sag and swell using dynamic voltage restorer", IEEE Annual International Conference on Emerging Research Areas: Magnetics, Machines and Drives (AICERA/iCMMD), Kottayam, 2014, pp. 1-6. (Print ISBN: 978-1-4799-5201-4.)
Tomson Thomas, Elizabeth P. Cheriyan, "Wind Energy System for a Laboratory Scale Micro-grid", IEEE International Student's Conference on Electrical, Electronics and Computer Science 2012 , MANIT Bhopal, 1-2 March 2012, pp.1-5. (Print ISBN: 978-1-4673-1516-6.)
Gold Medal in M.Tech. Electrical Engineering (Power Systems) from NIT Calicut.
POSOCO Power System Award 2013 for M.Tech. Thesis entitled "Wind Energy Conversion Emulator for a Laboratory Scale Micro-grid" by Power System Operation Corporation in partnership with Foundation for Innovation and Technology Transfer, IIT Delhi.
Best paper presentation award in the IEEE International Student's Conference on Electrical, Electronics and Computer Science 2012, 1-2 March 2012, MANIT Bhopal.
Certificate of Excellence in the Two week ISTE Workshop on "Solar Photovoltaics: Fundamentals, Technologies and Applications" from 12th to 22nd December 2011 conducted by IIT Bombay.

"HIL Specialist Certification" from Typhoon HIL Academy, Switzerland.