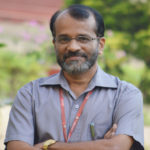 Dr. Madhu Kumar.S
Professor
Department of Electronics and Communication Engineering
Mobile Number: +91 9495431623
Email: hodec@sjcetpalai.ac.in
Date of joining SJCET :04/07/2004
Association with the institution: Regular
| Sl.No | Qualification | University | Specialization |
| --- | --- | --- | --- |
| 1 | B.Tech | Dr. B A Marathwada University, Aurangabad | Electronics |
| 2 | M.Tech | Visveswariah Technological University, Karnataka under Quality Improvement Program (Q.I.P) | Industrial Electronics |
| 3 | Ph.D | Anna University, Chennai | Medical Imaging |
Previous Experience
Industrial Experience      :           01
Teaching Experience        :           23
| | | | |
| --- | --- | --- | --- |
| Sl. No | Name of the college/Industry | Designation | Experience                ( Years & Months) |
| 01 | St. Joseph's College of Engineering & Technology, Palai | Vice Principal & HoD/ECE | 02/04/2018- |
| 02 | Department of Electronics & Communication Engineering, of St.Joseph's College of Engineering and Technology, Palai, Kerala, | Professor & Head, | 01/09/2011 – |
| 03 | Applied Electronics & Instrumentation of St.Joseph's College of Engineering and Technology, Palai, Kerala | Professor and Head in the department | 01/09/2009 – 31/08/ 2011 |
| 04 | Department of Electronics & Communication Engineering of St.Joseph's College of Engineering and Technology, Palai, Kerala | Asst.Professor | 12/12/2005 to 31/08/2009 |
| 05 | Ministry of Education, State of Eritrea, | Lecturer | 11/02/2005 to 02/12/2005 |
| 06 | Department of Electronics and Communication Engineering at St.Joseph's College of Engineering and Technology, Palai, Kerala. | Senior Lecturer | 07/06/2004 and 31/12/2004 |
| 07 | Department of Electronics and Communication Engineering at K.S.Rangasamy College of Engineering, Tiruchengode, and Tamilnadu | Lecturer | 02/ 06/ 1997 – 31/05/2004 |
| 08 | IMPACT Polytechnic (A Govt. aided Institution, Govt. Of Karnataka) | HoD,  Dept. of ECE | 22/08/95 – 30/11/1996 |
| | | |
| --- | --- | --- |
| Sl. No | Name of Institution | Type of Membership |
| 1 | IEEE | Life Member |
| 2 | ISTE | Life Member |
International Journals
Sl.No
Title of Paper
Name of journal
Publisher
Year, Volume & ISSN/ISBN No.
01
Method for the Investigation of Bearing Vibration Based on Spectrogram Image Comparison
Materials Science and Engineering,
IOP Publishers
Vol.396,2018.
02
'Segmentation and Volume Estimation of Tumor Edema Complex'
Journal of medical imaging and health informatics,
American Scientific Publishers
Vol.5, No.3 pp. 615-621
03
 'Evaluation of K-Means and Fuzzy C-Means Segmentation on MR Images'
The Egyptian Journal of Radiology and Nuclear Medicine,
Elsevier
Vol.46, No. 2, June 2015, pp. 475–479
04
'A Combination of Restoration, Enhancement and Skull Stripping for Brain MRI',
Research Journal of Applied Sciences, Engineering and Technology
Maxwell Scientific Publications. United Kingdom
Vol. 9, No. 5, pp. 353-358.
05
 'A Novel Segmentation and Contouring Scheme to Assist Accurate Brain Lesion Classification'
JBEMi Journal of Biomedical Engineering and Medical Imaging,
Available from; http://scholarpublishing.org/index.php/JBEMi/article/view/546
Vol.1 Issue 6,
06
 " Implementaion of ZigBee Based Train Anti -Collision And Level Crossing Protection System for Indian Railways"
International Journal of Latest Trends in Engineering and Technology (IJLTET)
Vol. 2, Issue 1 January 2013
07
 "Simulation of Zigbee based Tacs for Collision Detection and Avoidance for Railway Traffic".
International Journal of Computer Applications Special Issue on Advanced Computing and Communication Technologies for HPC Applications ACCTHPCA
Foundation of Computer Science, New York, USA. BibTeX,
(5):22-26, July 2012
ISBN: 973-93-80869-29-0
08
 " Detection Of Optic Disc From Fundus Images For Possible Implementation Of Automated Retinopathy Screening Systems",
International Journal of Biomedical Engineering and Consumer Health Informatics(IJBECHI
Volume 3, Number 1, January – June 2011, pp.31-36, ISBN 0973-6727
International Conferences
Sl. No.
 Title of the Paper
Name of the Conference
Venue & Date
 
 'Optimization of PTV Estimation in Highly Infiltrating GlioblastomaMultiforme with Perifocal Vasogenic Edema'
IEEE International Conference on Signal Processing, Informatics, Communication and Energy Systems (IEEE SPICES), IEEE Xplore, doi:10.1109/SPICES.2015.7091483, pp.1-5.
 
 
 'Elimination of Partial Volume Effect on Low Grade Gliomas Segmentation'
Proceedings of 2011 international conference on communications and signal processing (iccsp), ieee xplore doi: 10.1109/iccsp.2011.5739334 pp. 344-347.

 

 
 
"An efficient train anti-collision system using LEO two way sattelite communication.,"
National conference on computer networks, human computer interaction and image processing, NCHIP-2012
Vidya Academy of Science and Technology ,Thrissur,pp.32,March 2012.

 

 
 "A Novel Approach to Data Driven Preventive Maintenance Scheduling of Medical Instruments", ,
Proceedings 2010, International conference on Systems in Medicine and Biology, IEEE catalog Number CFP1017N-PRT,ISBN:978-1-61284-177-9, page 203-207
 INDIAN INSTITUTE OF TECHNOLOGY, Kharagpur organized by School of Medical Science and Technology, Department of Electrical Engineering and IEEE Kharagpur section.

 

 
• "An Adaptive, Evidence Based and Risk Oriented Prioritization of Medical Equipment Safety Audit"

 

Proc., International Patient safety Conference, (IPSC 2010), 1st – 3rd October 2010
All India Institute of Medical Sciences (AIIMS), New Delhi.
 
 "An intelligent Digital Controller for power electronic Applications based on Digital Signal Processor"
Proc. National Conference on Power Conversion and Industrial Control organized by Department of Electronics and Communication s and Industry Institute Partnership Cell
N.S.S College of Engineering, Palakkad, Kerala,2004.