BUILDING THE FUTURE ON A FOUNDATION OF EXCELLENCE……
Civil Engineering, in a simple sense is the application of planning, designing, constructing, maintaining, and operating infrastructures while protecting the public and environmental health, as well as improving existing infrastructures that have been neglected. Civil Engineers are trained in the areas of Surveying, Structural Analysis and Design, Geotechnical Engineering, Transportation Engineering and Environmental Engineering. A Civil Engineering graduate can become a Consulting Civil Engineer, Project Engineer, Project Manager, Contract Engineer, Contract Manager, Planning Engineer, Site Engineer, Construction Manager, Quantity Surveyor, Cost Engineer, Quality Assurance/ Quality Control Engineer, Quality Assurance/ Quality Control Manager and many more. Opportunities for higher studies are also available in allied disciplines such as Coastal and Ocean Engineering, Hydraulics Engineering, Remote Sensing, Irrigation Engineering, Transportation Engineering, Structural Engineering and Geodetic Engineering.
To develop into a globally reputed center of excellence in the field of Civil Engineering for imparting knowledge and technical skills suiting the needs of the society with distinct identity and character in teaching, research and consultancy.
To follow Teaching – Learning process and conducive infrastructure with the support of qualified and committed faculty in Civil Engineering Programs.
To establish a team of dedicated faculty in academic pace for collaborating with academia and community to serve local and state enterprises.
To make the students self-learners and socially committed engineers for individual and collective accomplishments and also for nurturing moral and ethical values for their successful careers
PEO1. Have strong design and analysis skills in the theoretical and practical domains of Civil Engineering.
PEO2. Become leading professionals, as individuals, as well as team members, in a wide range of Civil Engineering and related fields.
PEO3. Exhibit ethical values and a strong spirit of social commitment to accelerate social development.
PSO 1: To practice Civil Engineering within industry, government and private practice, working toward sustainable solutions in a wide array of technical specialties including construction, environmental, geotechnical, structural, transportation and water resources
PSO2: To grow professionally in their careers through continued development of technical, management, communication skills and to achieve their professional aims ethically and with cultural competency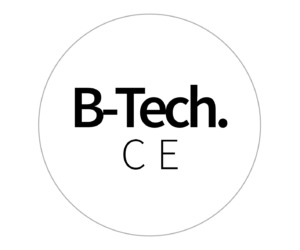 B.Tech. Civil Engineering (CE)
An Engineering program which articulates the concepts from basic science to technology through lab practice and projects to gain knowledge in areas like Structural, Environmental & Highway Engineering, Construction Management etc which are in sync with industry requirements.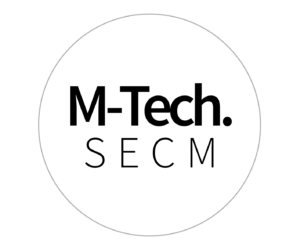 M.Tech. Structural Engineering and Construction Management
Learners are matured in a specific area of specialization by extending their prior know how through meticulous set of advanced courses with a dissertation to showcase their research potential. The focus for thesis is to solve an industry centric problem.
INITIATIVES BEYOND THE CLASS ROOM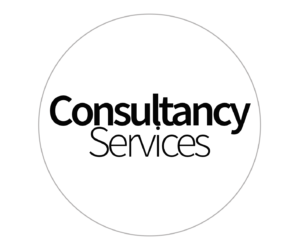 The Civil Engineering division of St. Joseph's Centre for Industrial Consultancy believe in providing value-added construction services to our customers by creating a successful partnership with them throughout the construction process. Our highly qualified, theoretically equipped as well as practically experienced staff uphold the idea of creating the most economical and safest design by using the most advanced computer packages, rather than using the traditional thumb rule design methodology.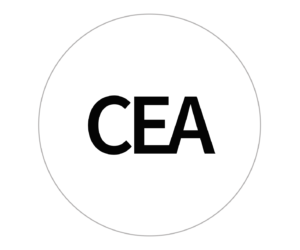 CIVIL ENGINEERING ASSOSIATION
CEA was formed with the primary objective of exposing budding civil engineers of SJCET to the challenges of profession. The association promotes the talents of students in extra and co-curricular activities and keeps students and staff aware of the latest information through technical talks and seminars. The association was inaugurated by Er. P. M. Chacko, former president of Institution of Engineers (India) (IEI) on 28th September 2011.
Consultancy Services
Architectural plan for approval from local governing body

Stuctural designs of residential, commercial and high rise buildings

Estimation, costing and valuation

Landslide prediction and slope stabilization

Sewage and water treatment plants design

Transportation systems design

Tourism project preparation

Plot area measurement and setting-out using Total Station

Plot area measurement and setting-out using Total Station
Material Quality Tests
Concrete compressive strength

Aggregate (fine and coarse) gradation and quality tests

Paving tile strength and abrasion tests

Drinking water quality test

Soil property and subgrade CBR tests
PROFESSIONAL SOCIETIES AND ASSOCIATIONS
Indian Concrete Institute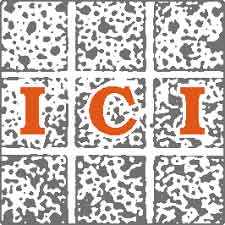 The Department of Civil Engineering is a lifetime organizational member (L.M. No. 10030) of Indian Concrete Institute, Chennai. Indian Concrete Institute is one of the leading professional bodies in India, catering to the professional needs of individuals and organizations involved in Concrete. Being a non-profit Organisation, it is dedicated to the cause of disseminating Knowledge on Concrete, of Promoting Concrete Technology and Construction and of addressing the Research Needs of Concrete.
The department would now get updated on the latest technology and practices in Concrete Industry. The department will have a unique opportunity to listen to and to interact with concrete technology experts from within the country and abroad. This will let us collaborate with national and international agencies in creating a better understanding of concrete construction technology. ICI promotes the growth of concrete construction and its sub-specializations giving an opportunity to the members to participate in ICI conducted competitions like ICI FEST, which is a zonal meet of Students Chapters. Apart from these, there are various other benefits such as access to ICI Archives which is a collection of valuable Technical Papers, access to the ICI Reference Library, and most importantly, an opportunity to grow professionally.
AMERICAN SOCIETY FOR CIVIL ENGINEERS (ASCE)
The American Society of Civil Engineers (ASCE) is one of the oldest engineering societies which was founded in 1852, with the purpose of disseminating information amongst engineers dedicated to building our country's infrastructure. The ASCE Student Chapter of SJCET Palai, CIVIL ENGINEERING SOCIETY, DEPARTMENT OF CIVIL ENGINEERING, SJCET PALAI was established in the month of December 2021. It is a pre-professional student organization whose goal is to help its members build a network of other students, professors, and professionals. This network helps create a more well-rounded civil engineering student, and is built through a number of different events held each year. On top of our other events, members can attend monthly general meetings where they can interact with the officers of the organization, offer any advice to the chapter, learn what is going on, and meet other students through activities.
Visit Our Website: https://asce.sjcetpalai.ac.in
DEPARTMENT LEVEL COMMITTEES
DEPARTMENT ADVISORY COMMITTEE
| NAME | DESIGNATION |
| --- | --- |
| Dr. V P Devassia | Principal, SJCET |
| Prof. Ance Mathew | HOD, Civil Engineering Dept. |
| Mr. Jiju Joseph | MD, Green Tourism, Govt. of Kerala |
| Rev. Fr. Thomas Njavallil | Lab. Manager, SJCET, Palai |
| Dr. K. J. George | Professor of Civil Engineering |
| Fr. Dr. Bennet Kuriakose | Associate Professor, Civil Engineering Dept. |
| Mrs. Asha Alice Kulavattom | Assistant Professor, Civil Engineering Dept. |
| Prof. Austin T Sabu | Alumni Representative |
| Mrs. Elizabeth Sebastian | Parent of Civil Engineering Student |
| Mr. Joby George | Civil Engineering Dept. |
PROGRAM ASSESSMENT COMMITTEE
| NAME | DESIGNATION |
| --- | --- |
| Prof. Ance Mathew | HOD, Civil Engineering Dept. |
| Fr. Dr. Bennet Kuriakose | Associate Professor, Civil Engineering Dept. |
| Mrs. Asha Alice Kulavattom | Assistant Professor, Civil Engineering Dept. |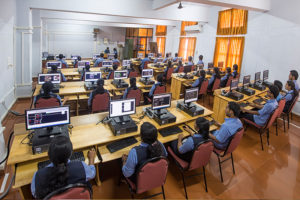 CAD LAB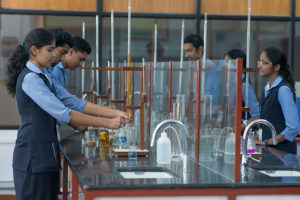 ENVIRONMENT LAB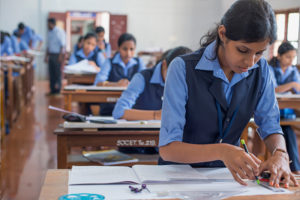 DRAWING LAB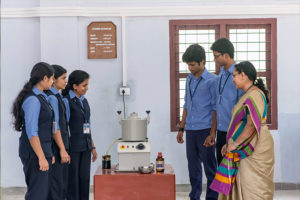 TRANSPORTATION LAB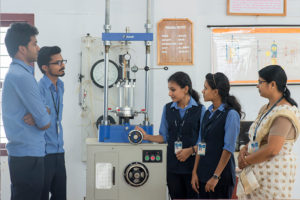 GEO TECHNICAL LAB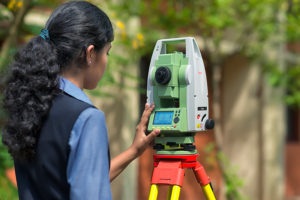 SURVEY LAB – TOTAL STATION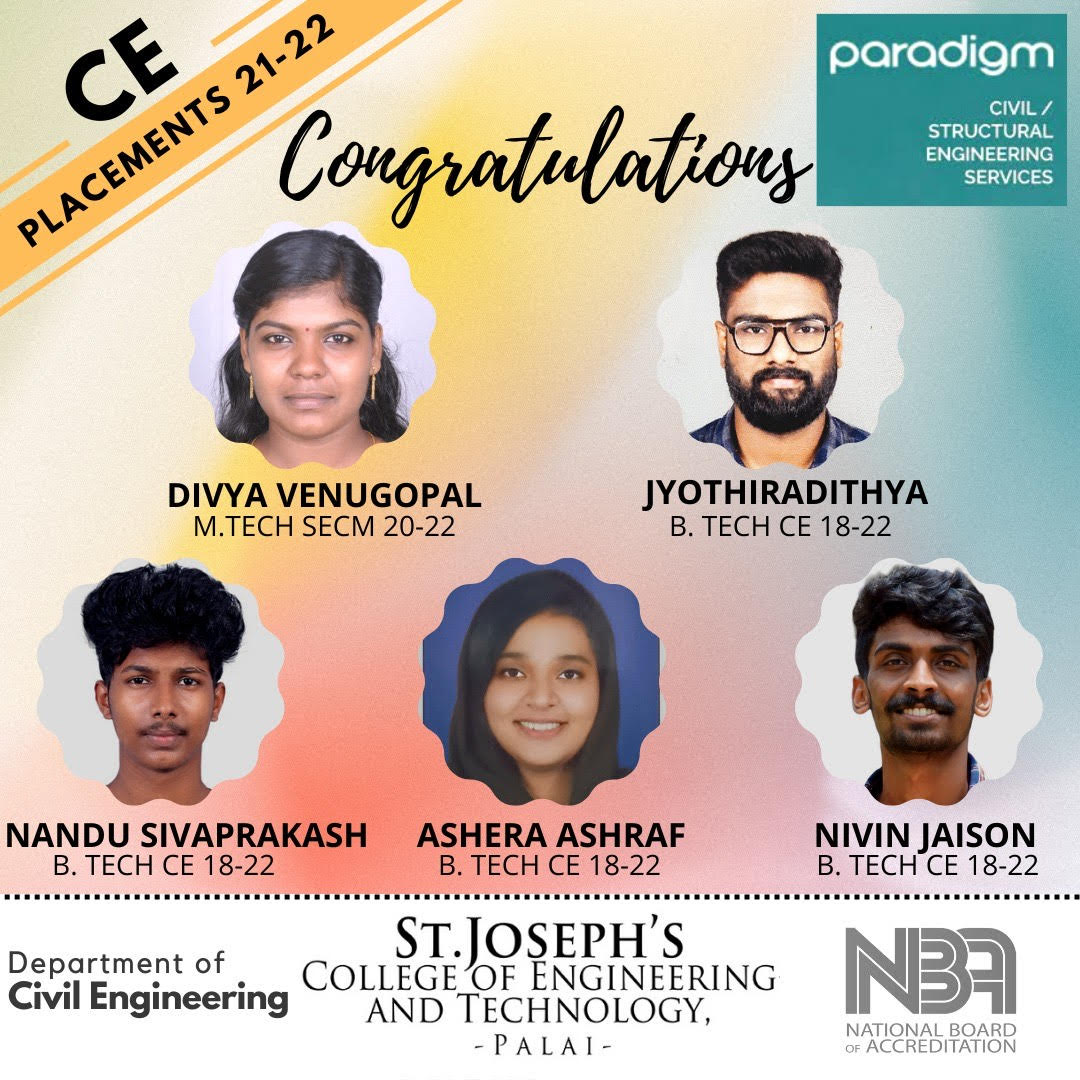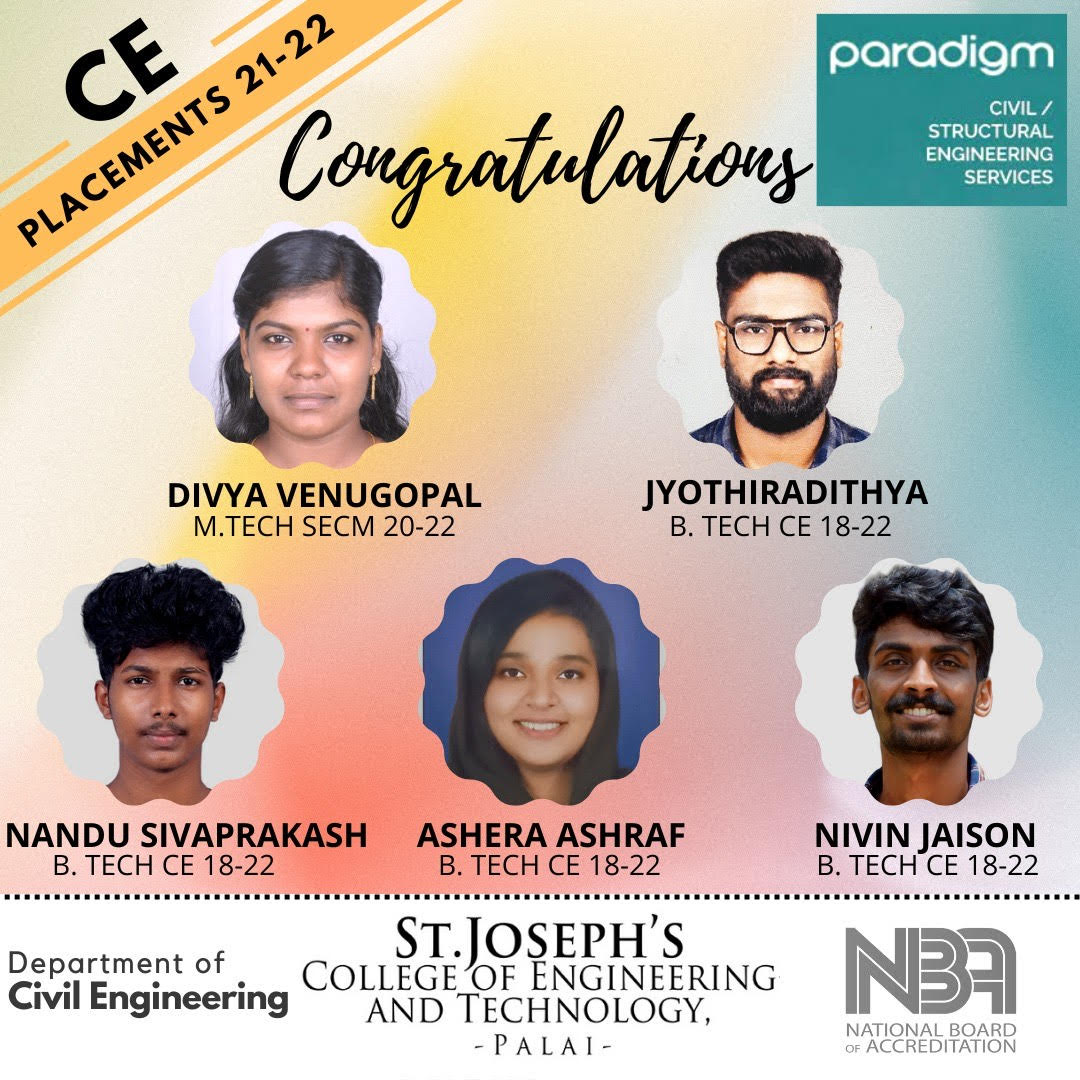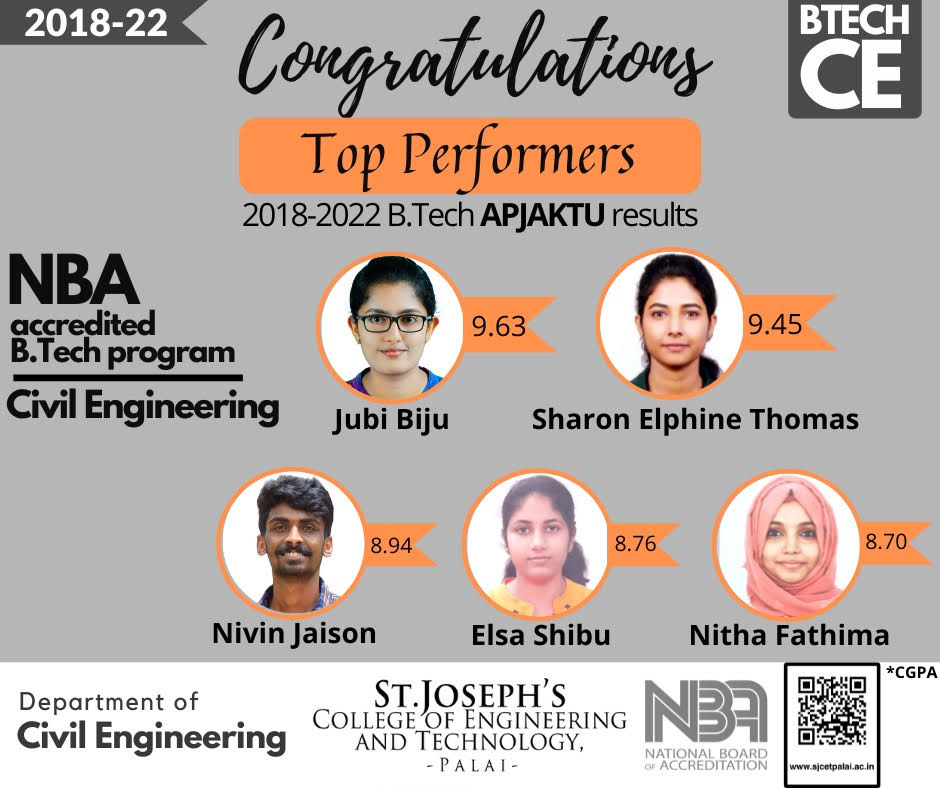 Prof. Ance Mathew, HOD, Department of Civil Engineeringhas received a patent titled: "The influence of different treatments applied to flax fibres on different properties of mortar reinforced by these fibres." The discovery deals with the addition of treated flax fibres to improve the rheological and mechanical properties of mortar. She invented three treatment solutions for flax fibre ,viz.:atmospheric plasma, mineral cement/slag coating and linseed oil coating.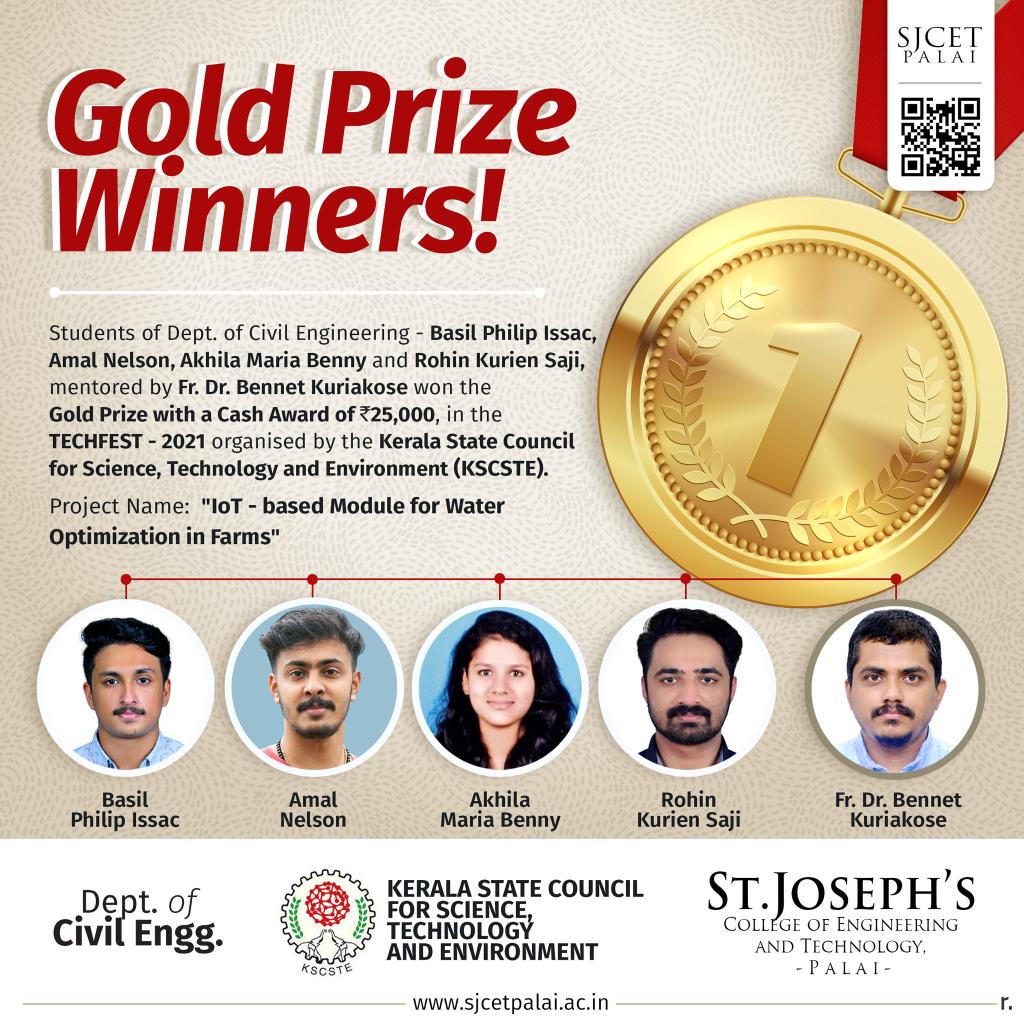 Gold Prize Winners – Basil Philip Issac, Amal Nelson, Akhila Mariya and Rohin Kurien mentored by Fr. Dr. Bennet Kuriakose won the Gold Prize with cash award of Rs 25000/- in the TECH FEST 2021 organised by Kerala State Council for Science, Technology and Environment (KSCSTE). This project weighs on developing a novel   device to monitor water levels in paddy fields at various times and alerting farmers using IoT system to schedule their crop calendar with proper irrigation practices. Adoption of real-time field monitoring using LoR a technology enables farmers to know the conditions of the field beforehand and take necessary steps to increase or decrease water levels accordingly.
Dr. K.J.George, Professor, Department of Civil Engineering, Harithakeralam – College Coordinator SJCET Palai received letter of appreciation from Haritha Keralam Mission, Govt. of Kerala for our commendable initiatives in waste management, food safety, protection of water resources and energy conservation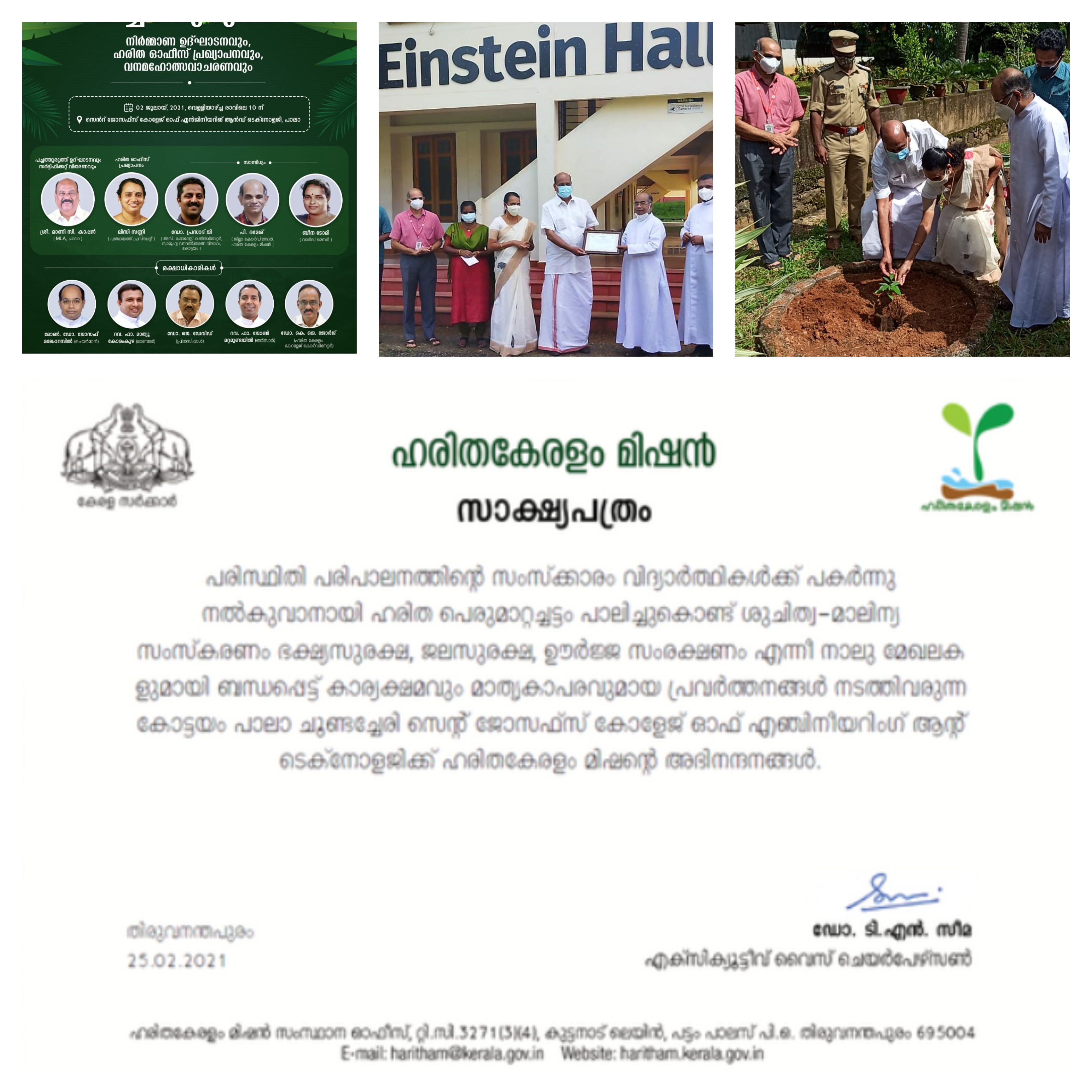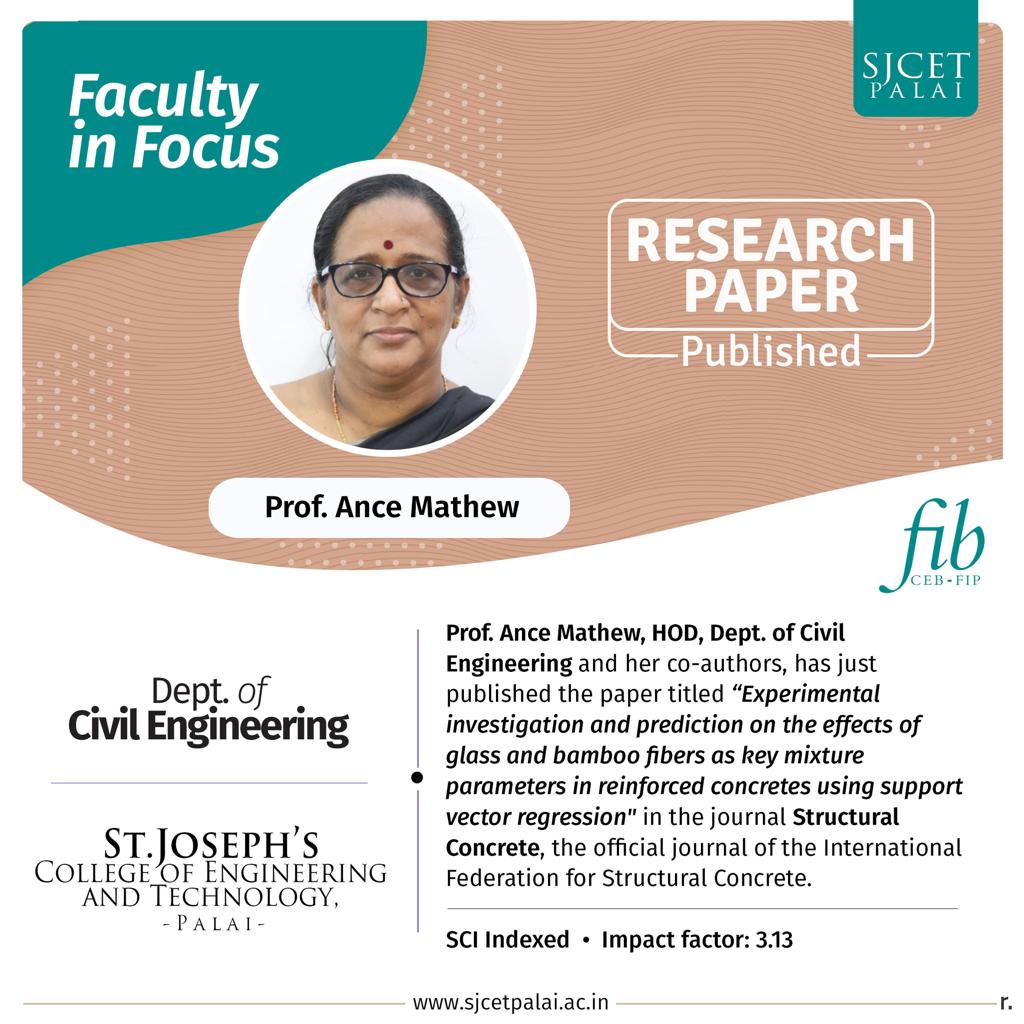 Prof. Ance Mathew, HOD, Department of CE, published a paper entitled "Experimental investigation and prediction on the effects of glass and bamboo fibres as key mixture parameters in reinforced concrete using support vector regression" in the journal Structural Concrete with an impact factor of 3.13
Rev. Fr. Dr. Bennet Kuriakose, Associate Professor, Dept. of CE has got the approval for a financial support of Rs 1,00,000/- from Agency for Non-Conventional Energy & Rural Technology (ANERT) for the Project on "Experimental Investigations on Energy Efficient Buildings using Phase Change Materials in Tropical Climate".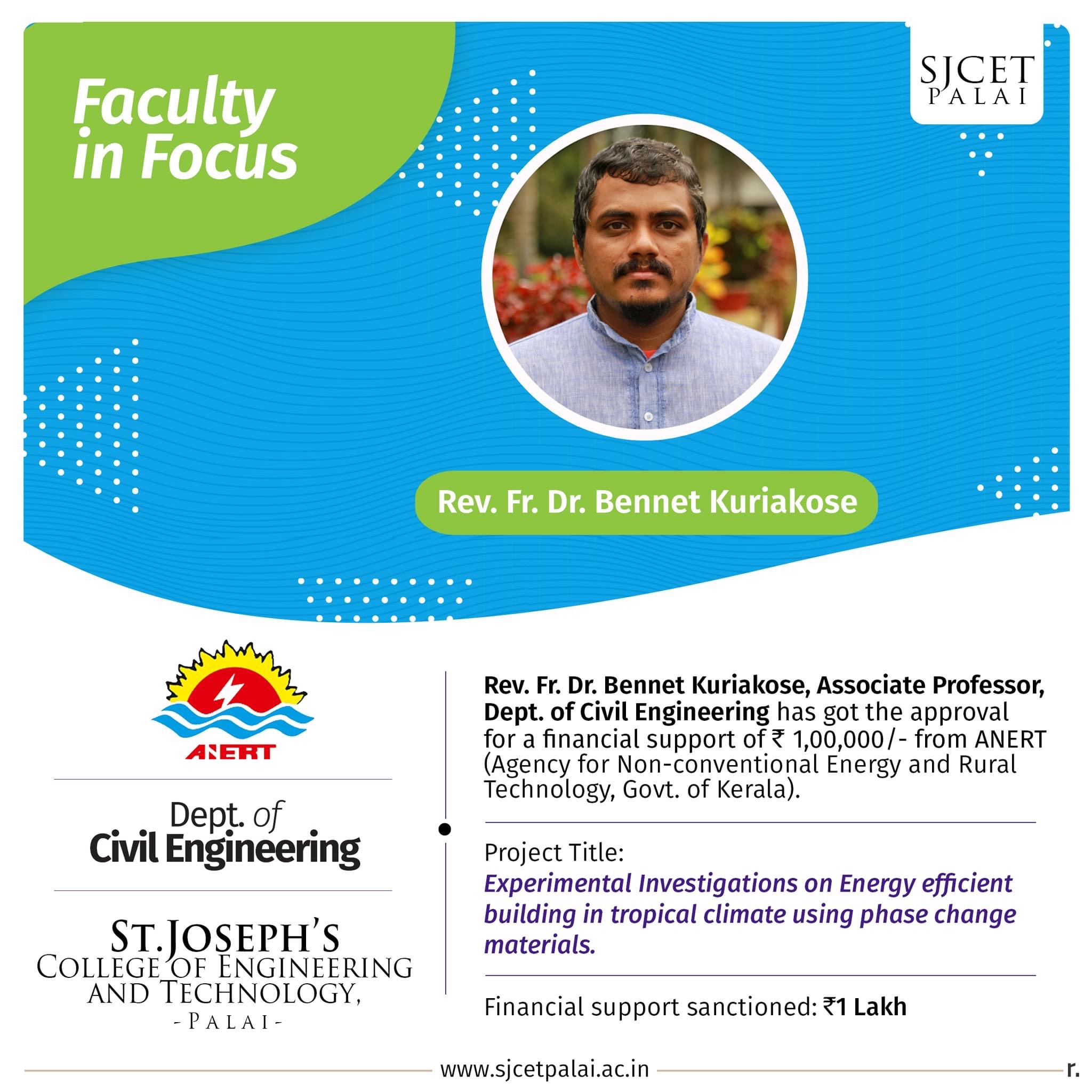 Rev. Fr. Dr. Bennet Kuriakose, Associate Professor, Dept. of CE was appointed the Technical Consultant for the Implementation of CARE HOME Projects (2018) in collaboration with the Government Bodies.
Ranked 8 th in KTU
Department of Civil Engineering Ranked 8 th in KTU Semester V results 2018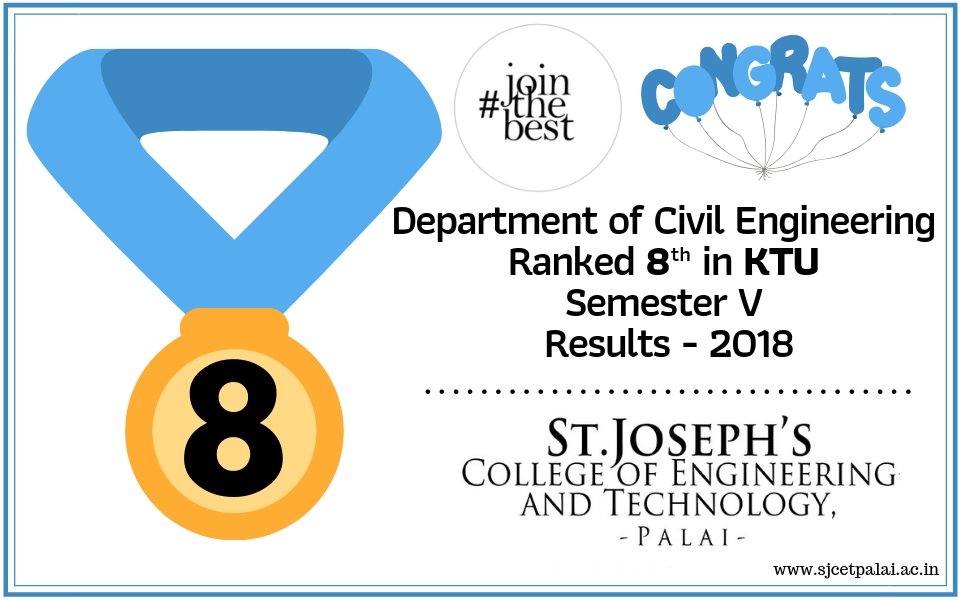 Woman innovation award
This is an innovative proposal put forward for foundations on low lying areas of Kerala like Kuttanad, and this will be a economically viable alternative for pile foundation Award by SCMS group of institutions.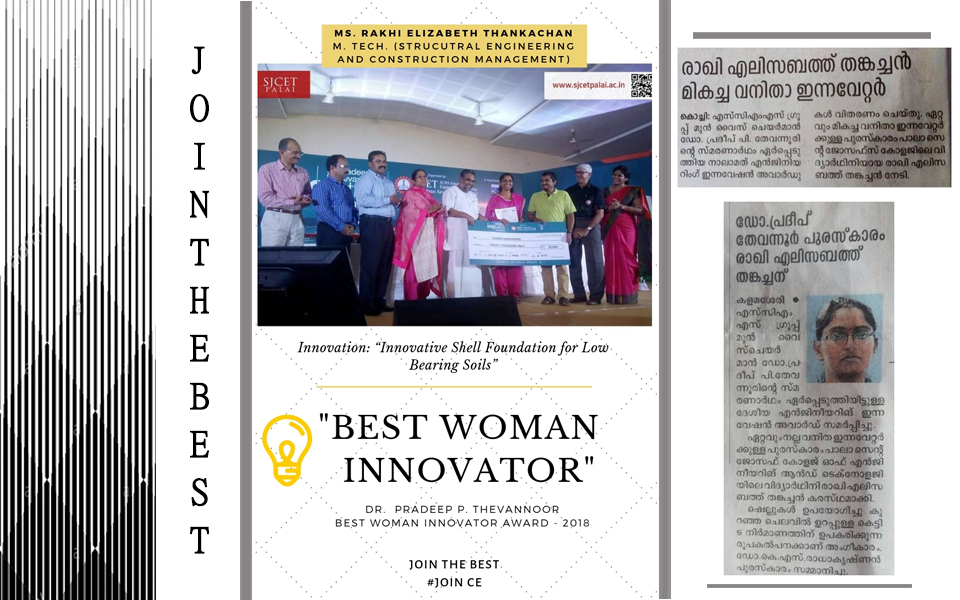 The 10 Pointer
Juby Biju of S2 CE, secured O grade in all subjects with SGPA 10 in the Semester I B.Tech Degree University Examination – December 2018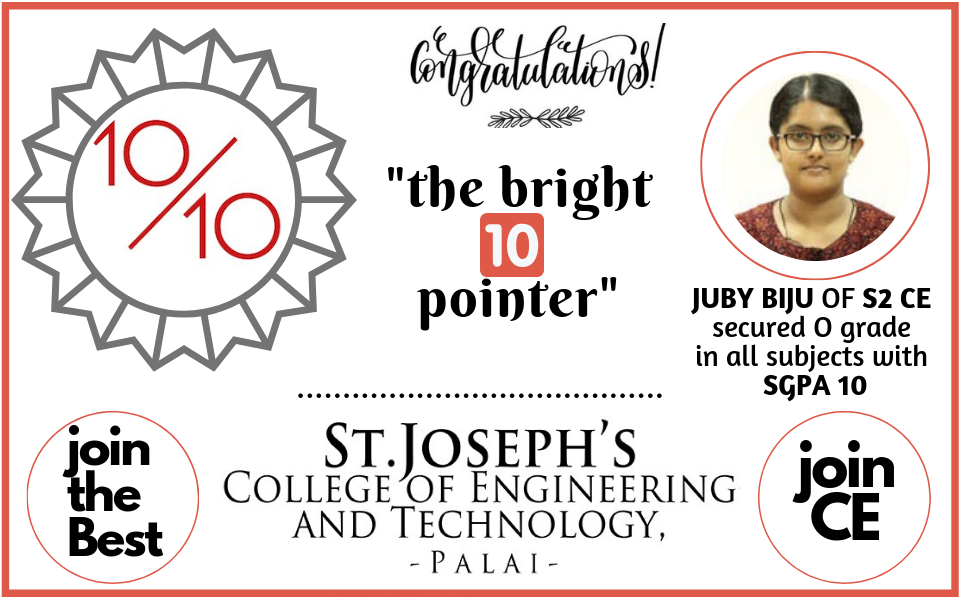 Rehabilitation of Residential Building, Ramapuram. (Completed)
The residential building was previously built up to the ground level from the cellar with poor workmanship and using concrete of low quality. Rehabilitation scheme was proposed and structural details for ground and first floors were given by CE department.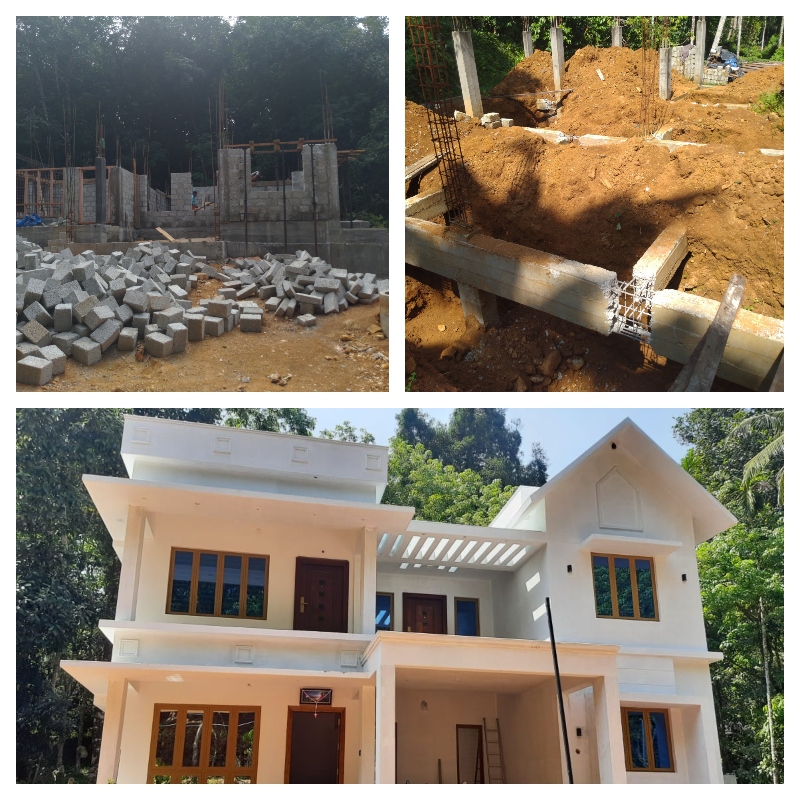 Architectural and Structural Details of Mercantile Building, Bharananganam, Kottayam. (Completed)
Architectural and structural design of a one-storyed mercantile building was performed.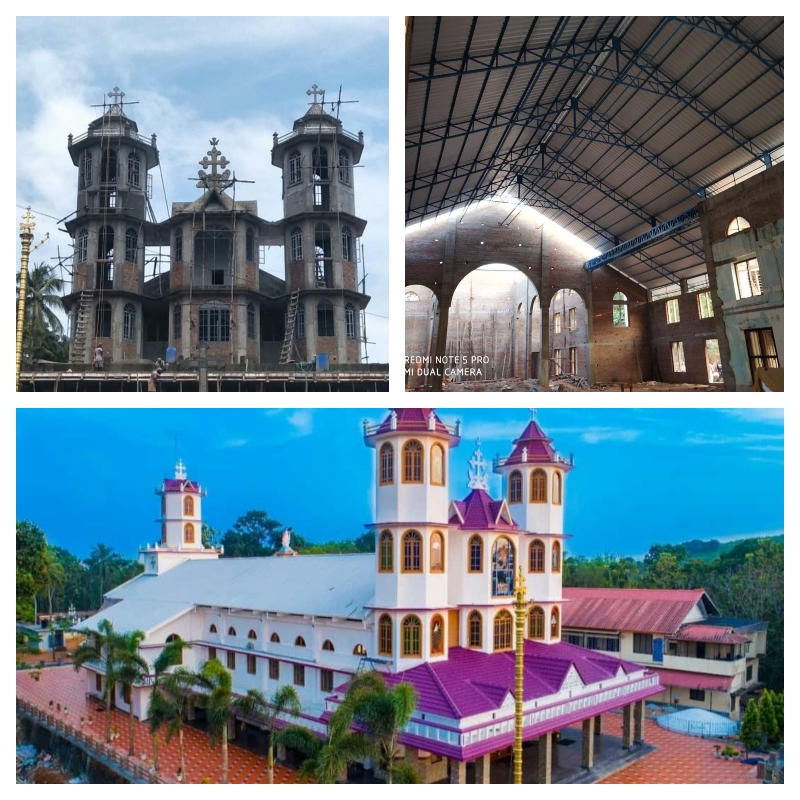 Extension and Modification of St. Mary's Church, Vettimukal, Kottayam. (Completed).
Structural design of steel truss and hexagonal towers were carried out. The architectural design was changed after the foundations been cast. Structural design for the new architectural features was carried out.
Architectural and Structural Design for Modification of St. George Simhasana Church, Thiruvalla, Kottayam. (Completed)
The new church building was innovatively designed and planned so as to be constructed outside the existing one, keeping the latter intact. Steel skeleton structure was raised outside (the columns were CFST as bracings would obstruct the working condition of old church), walls were constructed, old church was demolished inside and the new church is being finished.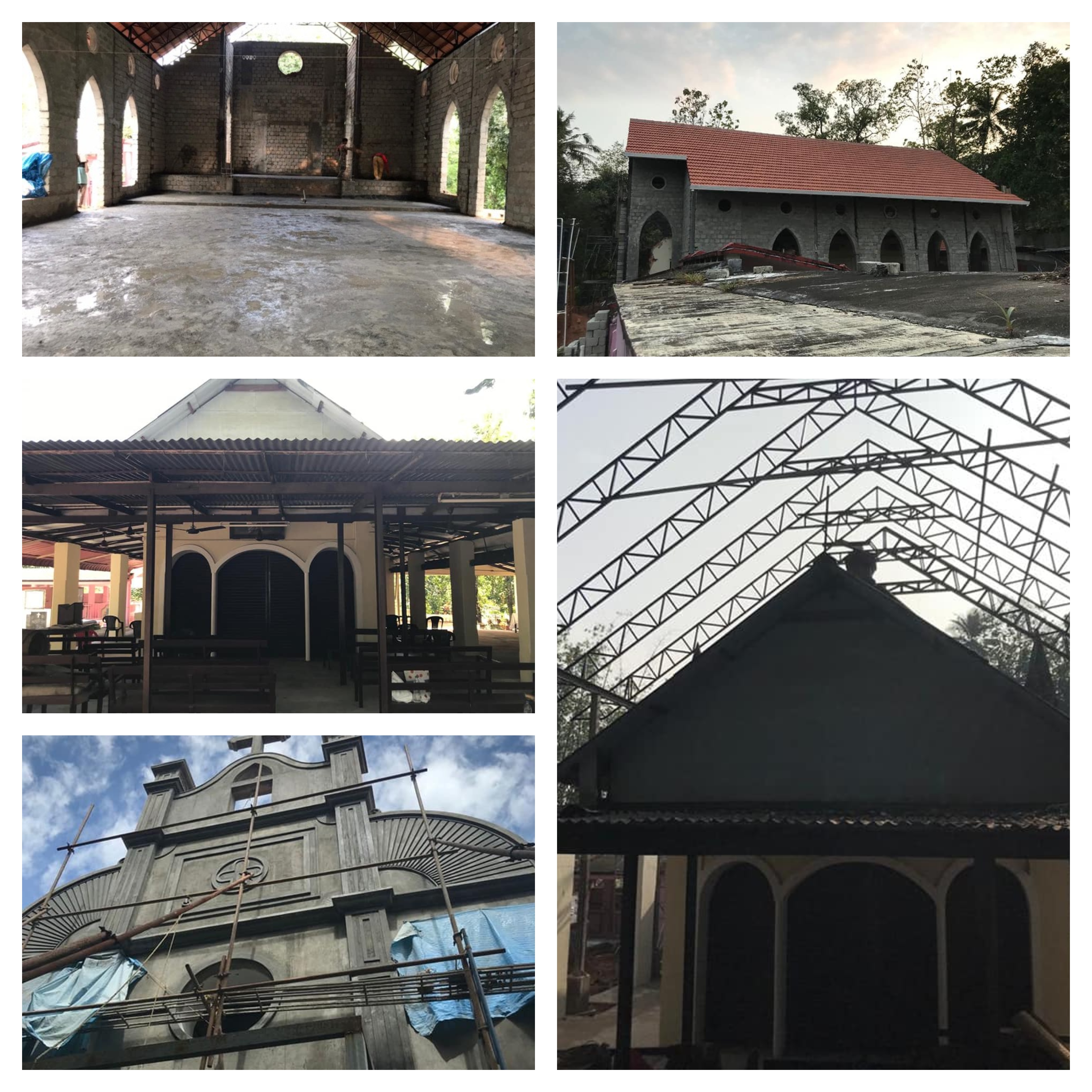 Reconstruction of NNCJMLP School, Kumarakom, Kottayam. (Ongoing)
Detailed structural design of pile foundation and two stories was performed.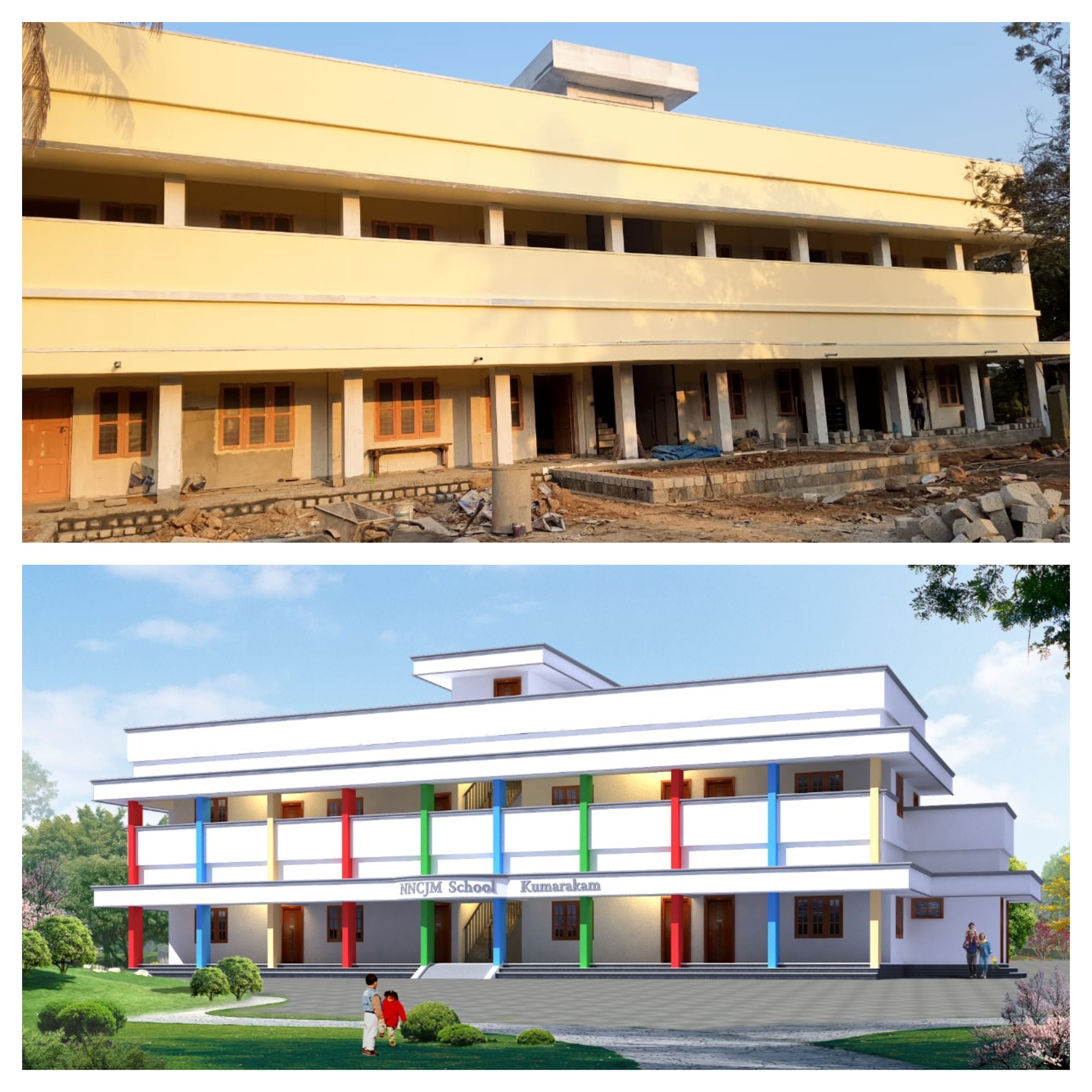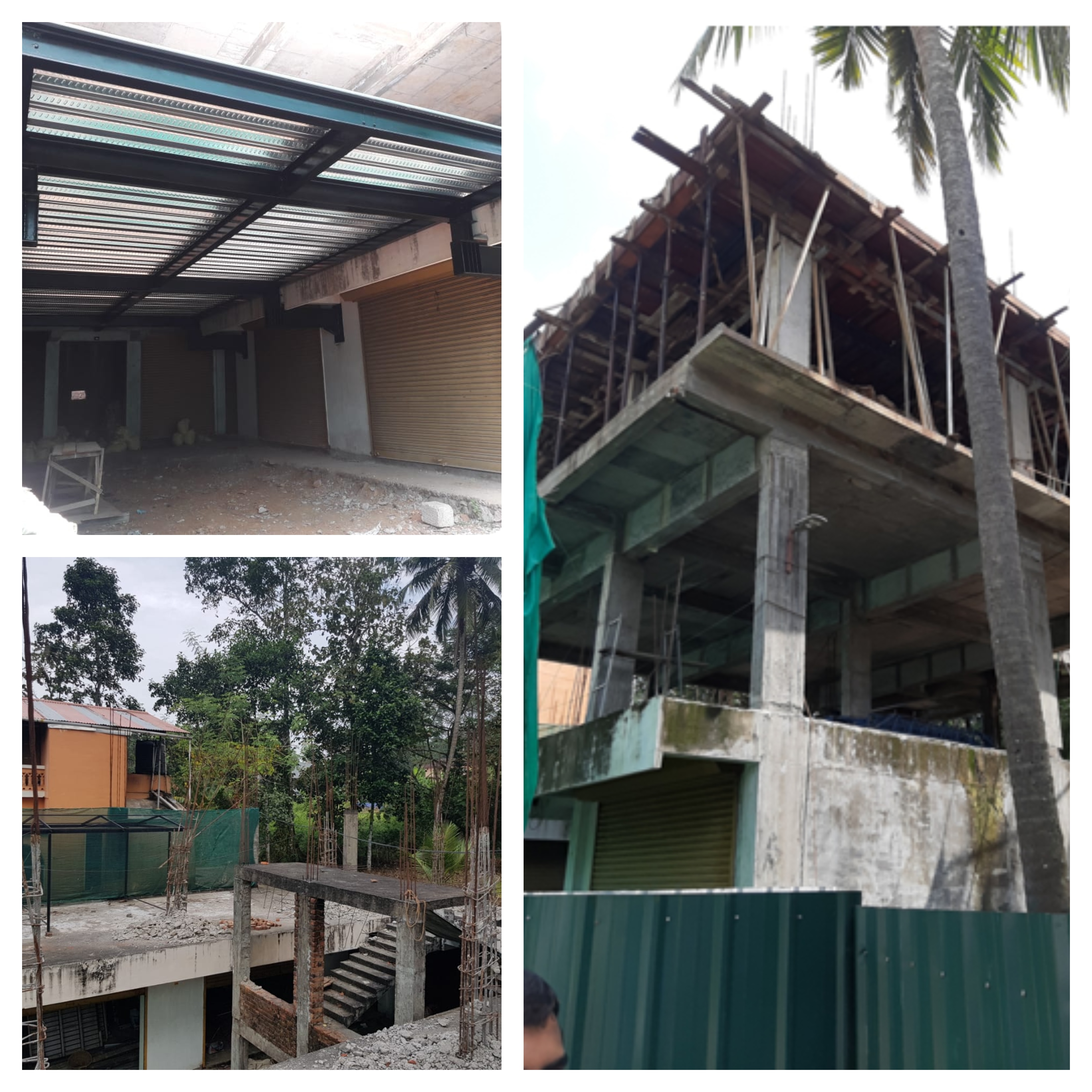 Extension of Residential and Commercial Building, Thottakkad, Kottayam. (Ongoing)
Extension of three stories to a building built 20 years back and was in arbitration. The detailed health of the existing building was assessed, modifications were suggested and structural details of the other three stories were given. A steel-concrete profiled deck slab was also designed within the building as an extension to previously built floor, which is designed to be framed from the existing structure.
Structural Design of Retaining Wall at Paika, Kottayam (Execution pending).
Structural design of a 6 m high retaining wall was carried out. Two options were provided, one with random rubble masonry and second an RCC cantilever retaining wall. Execution of this project is pending due to arbitration.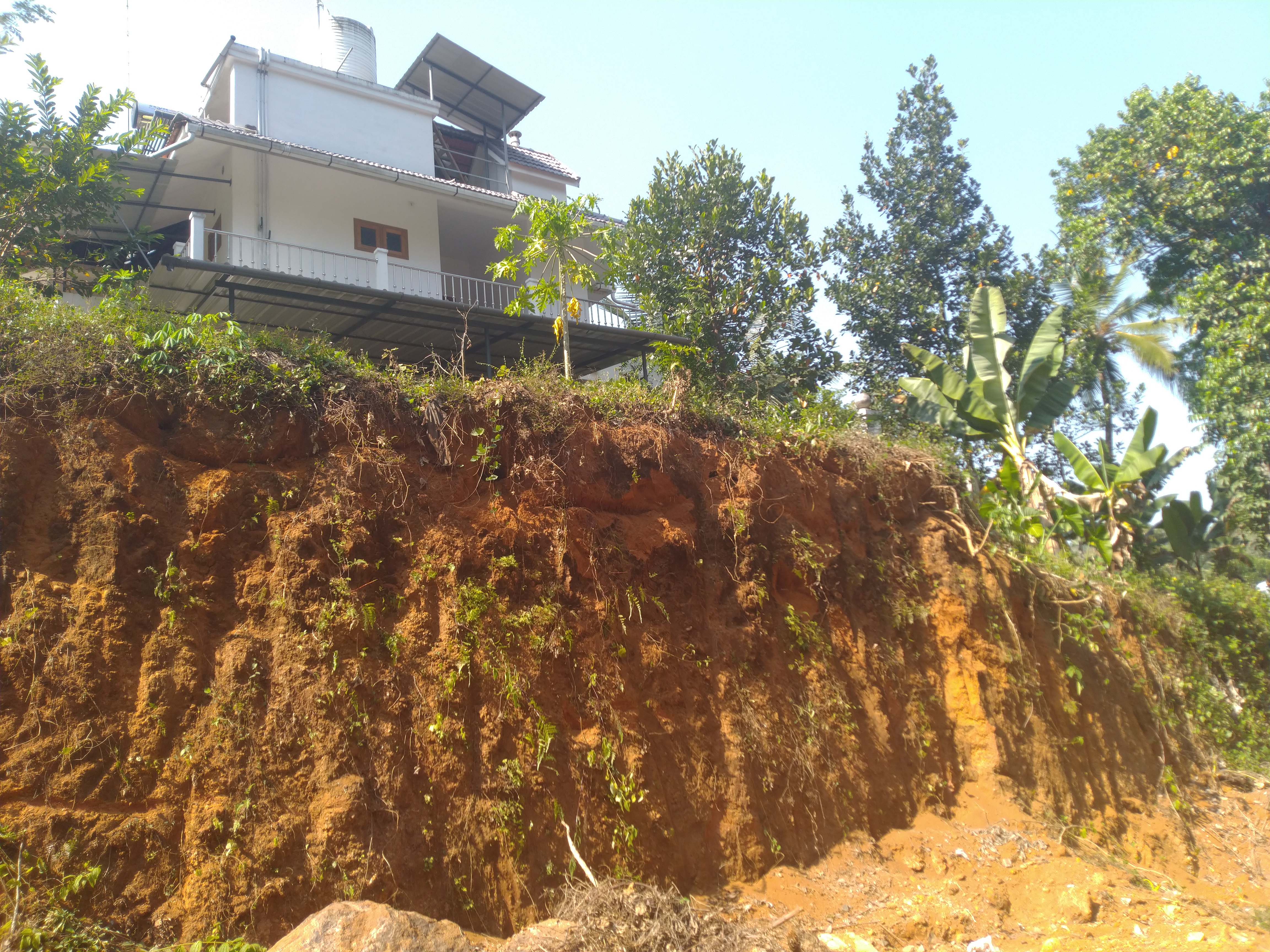 Structural Design of Commercial Building, Vaikom, Kottayam. (Ongoing).
Design of grid foundation for the very weak soil sub-layer at the site was performed. Detailed structural details of the ground and first floors were also given.
Structural Design of Residential Building, Thrissur (Completed).
Design of foundation for residential building is performed; the ground floor is at different levels. The plinth beam had to be arranged to accommodate the difference in levels.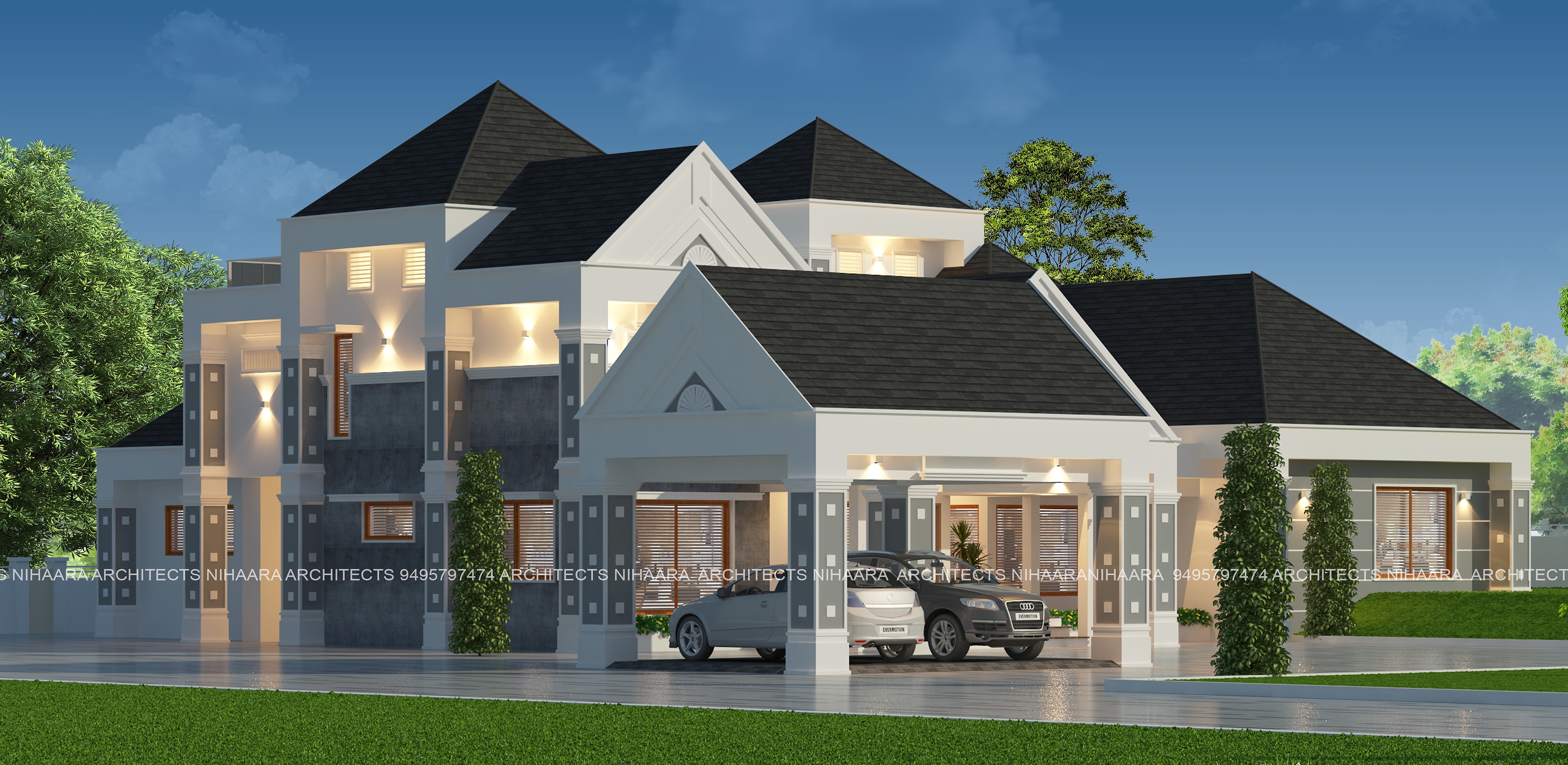 Valuation of a Residential Building, Karinkunnam, Kottayam. (Completed).
Valuation of the building was performed for an old residential building
Structural Design of Residential Building, Kuruppumthara, Kottayam. (Completed).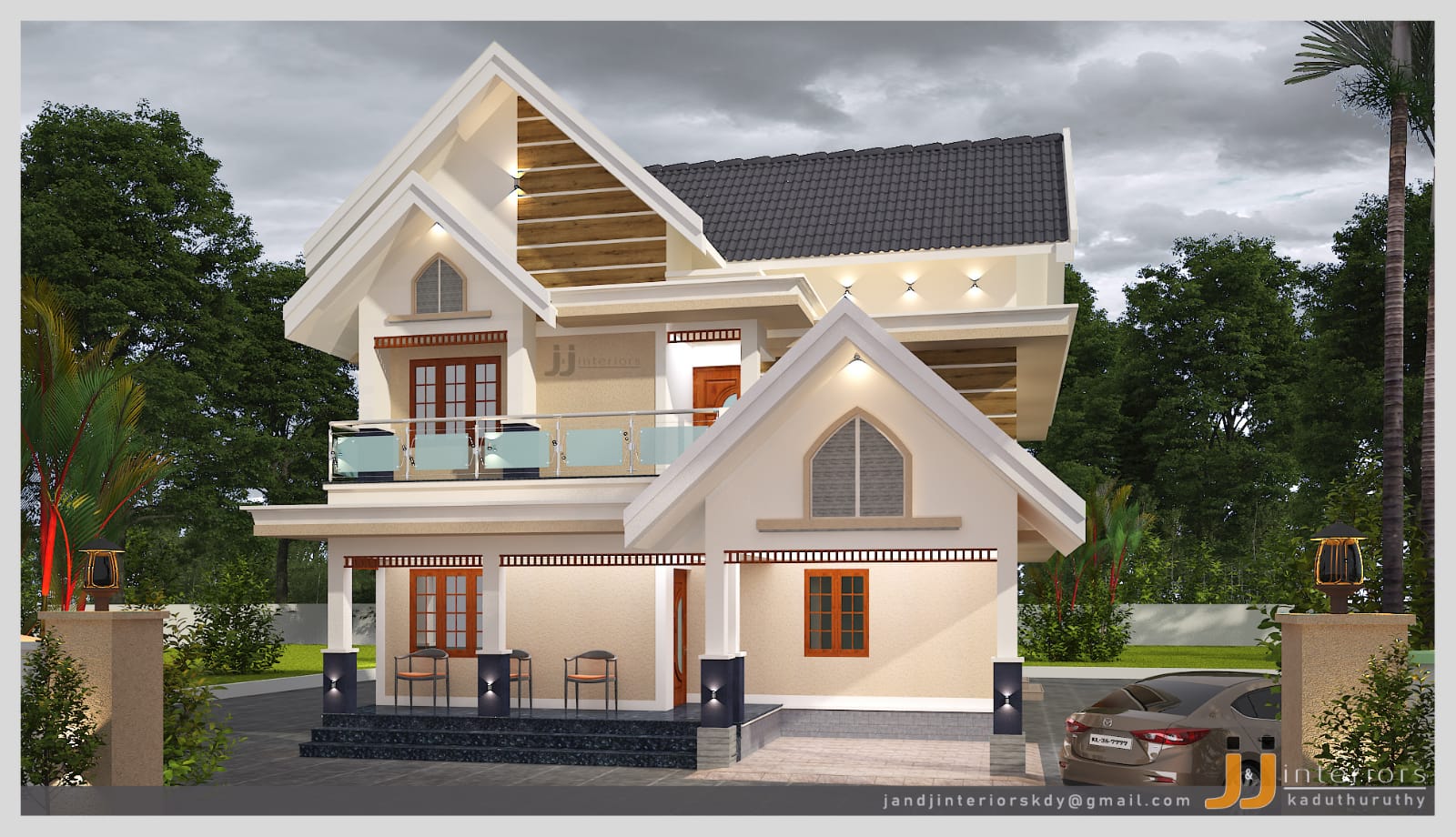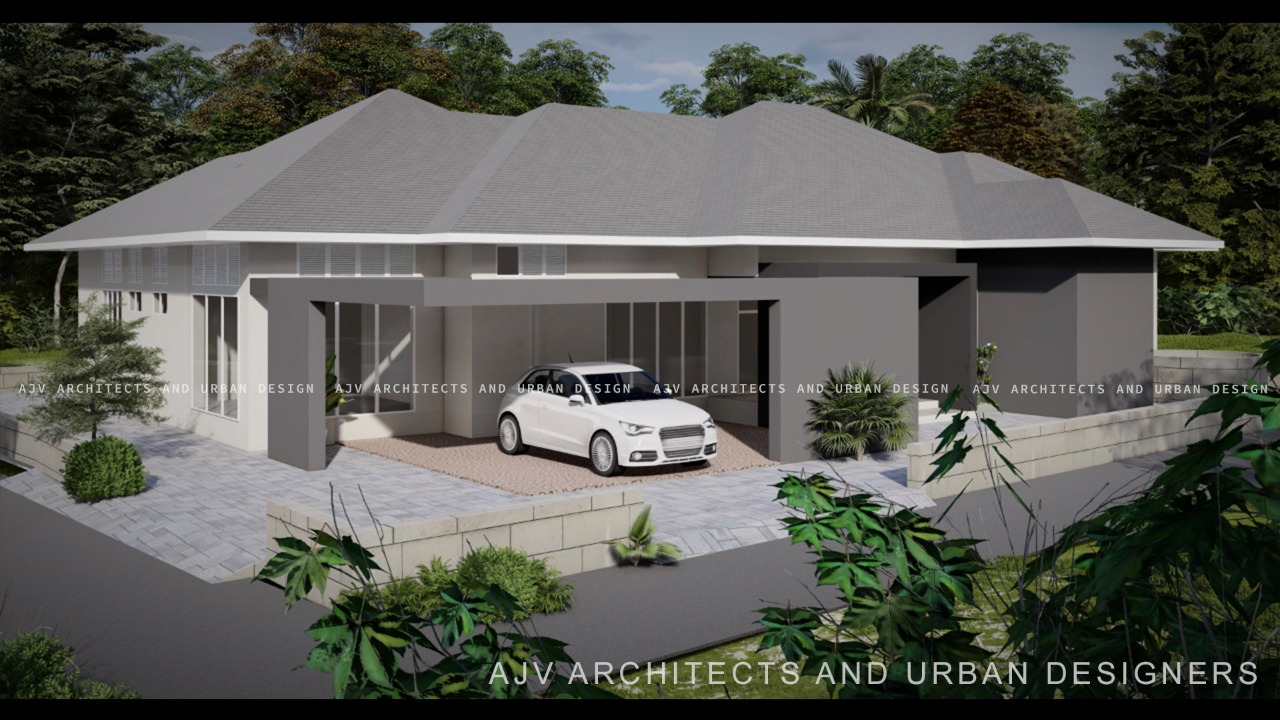 Structural Design of Residential Building, Kumaramangalam, Idukki. (Completed)
Feature of this building is 4 m long cantilever carporch.
Retaining Wall for Nuzzo School, Thiruvananthapuram. (Completed).
Renovation of a Commercial Building, Paika, Kottayam. (Execution Pending)
Steel-Concrete profiled composite deck slab was proposed for the building.
Structural Design of Residential Building, Thiruvanchoor, Kottayam. (Ongoing).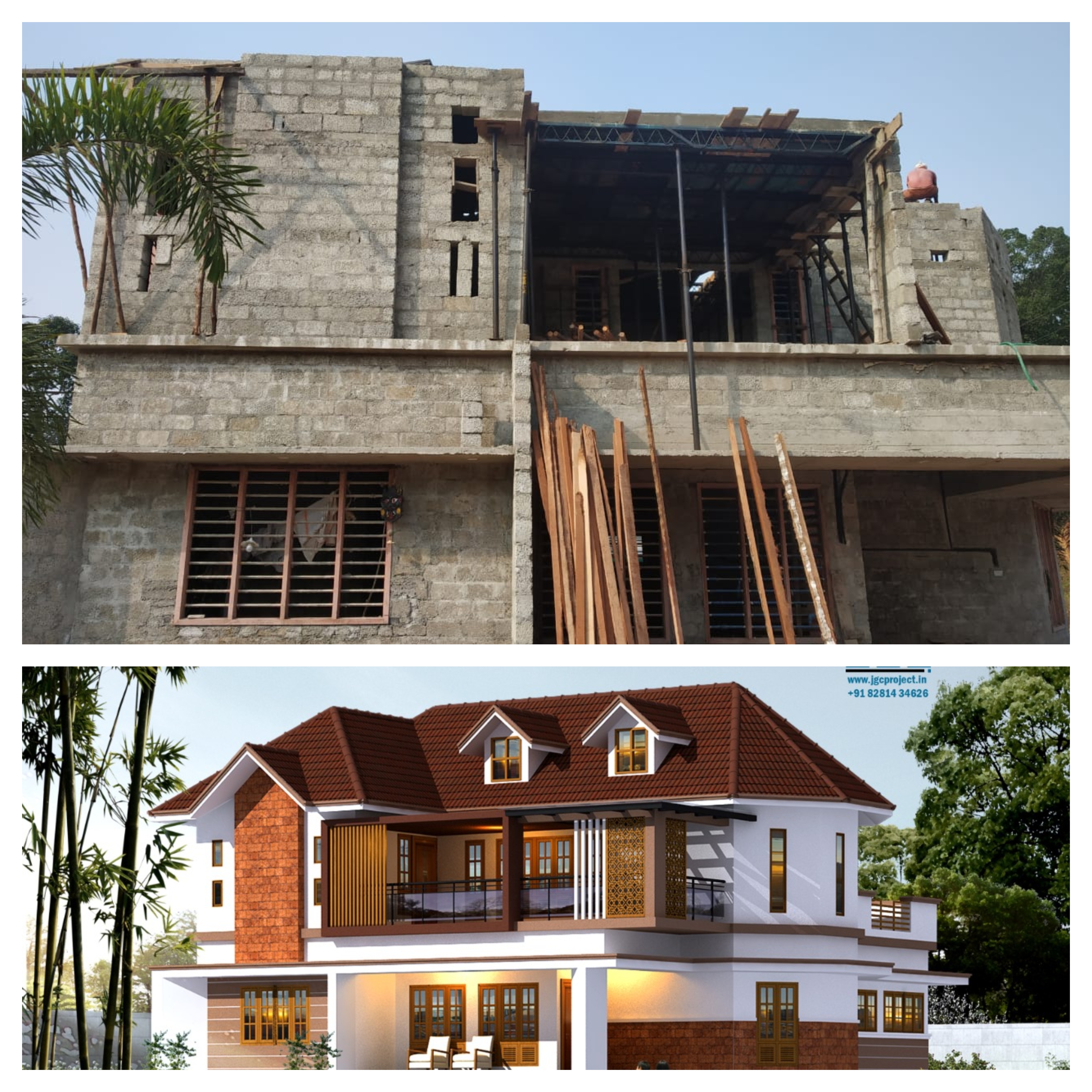 Design of Pile Foundation for Residential Building, Kuruppamthara, Kottayam. (Ongoing)
Pile foundation was provided with a novel technique where no pile cap is provided.
Structural Design of Commercial Building at Poonjar, Kottayam. (Ongoing)
Hard stratum was available only at 4 m depth from existing ground level. Other types of foundations were not feasible. Conventional footings are provided and detailed structural design for the three stories was given.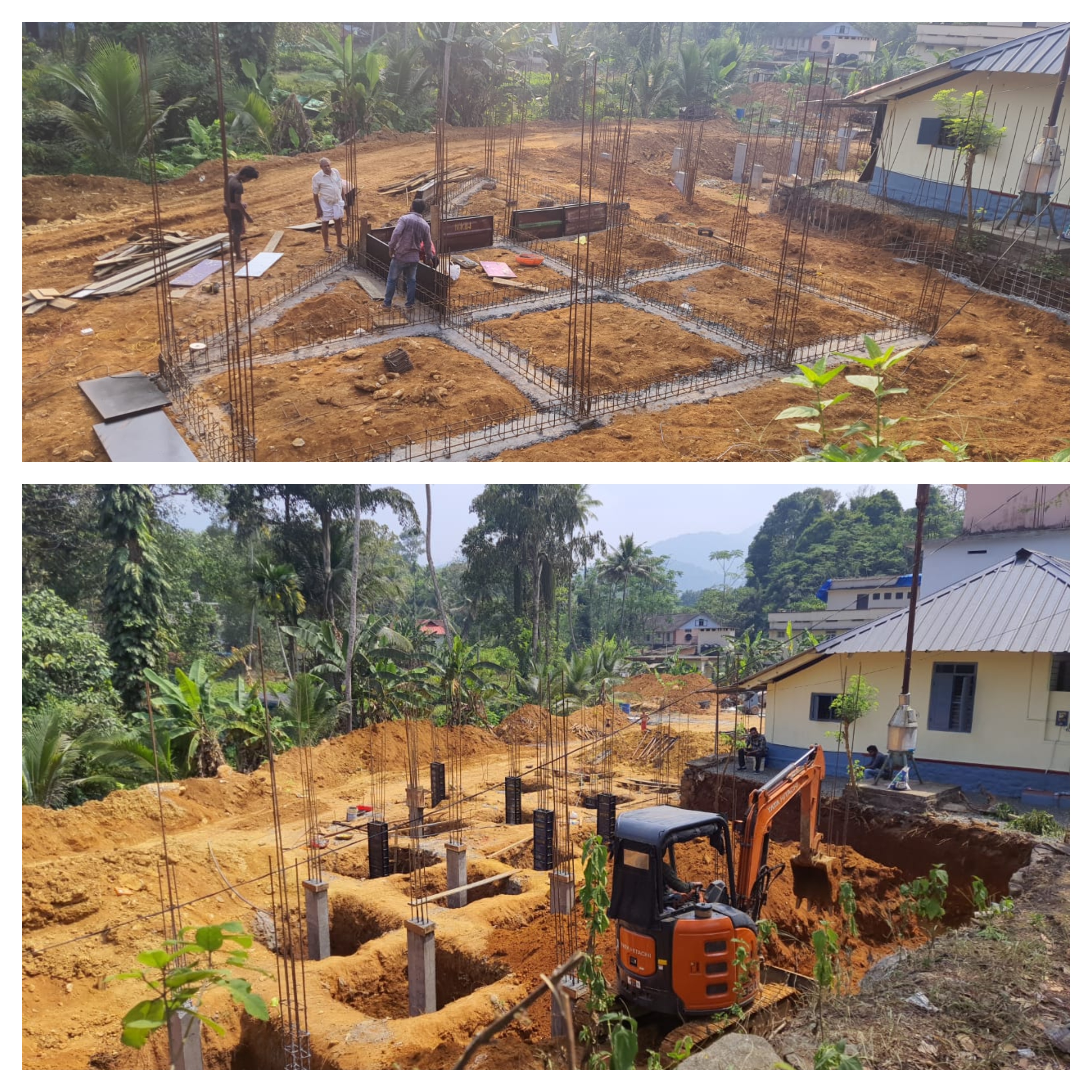 Structural Design of Hospital Building, Edayazham, Kottayam. (Execution Pending).
Original client of the project is KIIFB, Govt. of Kerala. The foundation was provided with grid foundation which is a cost effective one for weak soils. Structural design was provided for the ground floor.
Soil Investigation and Traffic Study for Regulator cum Bridge across Meenachil River at Koottanalkadavu, Kottayam. (Completed)
Client of this project is Dept. of Irrigation, Govt. of Kerala. Detailed investigation of the soil was performed using CBR tests. Traffic survey and home survey was performed for assessing the feasibility and suitability of a bridging system across the river at the specific location.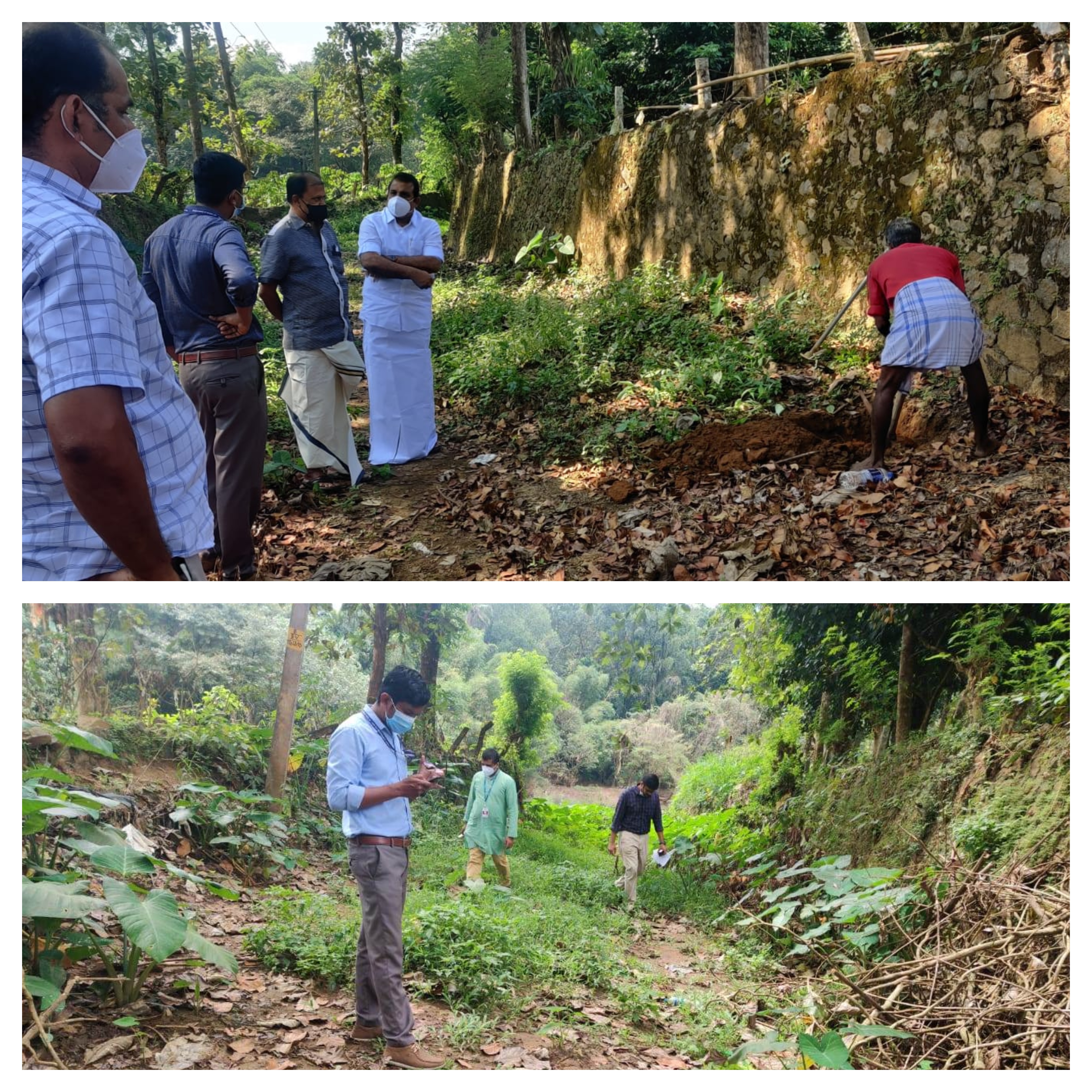 Structural Design of Residential Building at Thodupuzha, Idukki (ongoing)
The challenging part of this project is the 3.5 m cantilever slab, to be supported without any visible beams. Moreover, the architect has planned the living area of the building to be looking like a floating structure on water.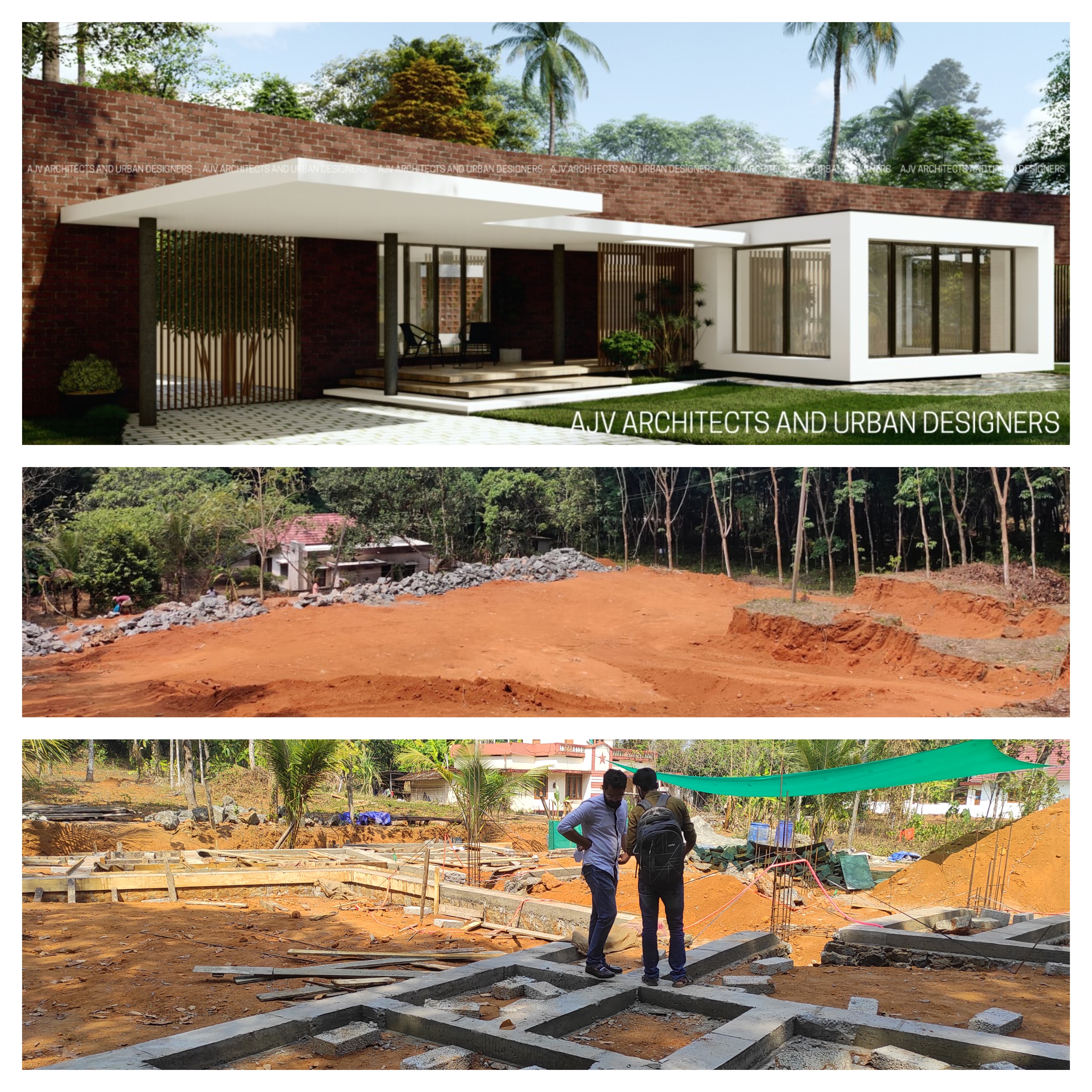 Structural Design of Retaining wall at Mutholy, Kottayam. (Execution pending)
The retaining wall was designed for a height of 4.5 m for accommodating different levels of the plot.
Stabilisation of Failed Slope, Peruvanthanam, Idukki (Execution pending)
The slope failed during 2021 landslides and the house is at risk. The slope in total has a height of ~6.5 m. As conventional soil nailing is not cost-effective and feasible for the rural area, an innovative soil nailing cum dry rubble masonry system is proposed, which can be executed by local workmanship. The total cost of the project is estimated to be 1.5 Lakh, which is extremely cost effective.
Construction of School Building to MCV HSS Arpookara: Check For Reinforcements and Anchorages, Arpookkara, Kottayam. (Completed)
The objective of the study was to check the reinforcements and lap lengths provided at the site by rigourous numerical analysis and based on standards of practice.  The client is KIIFB, Govt. of Kerala and we worked for the contractor.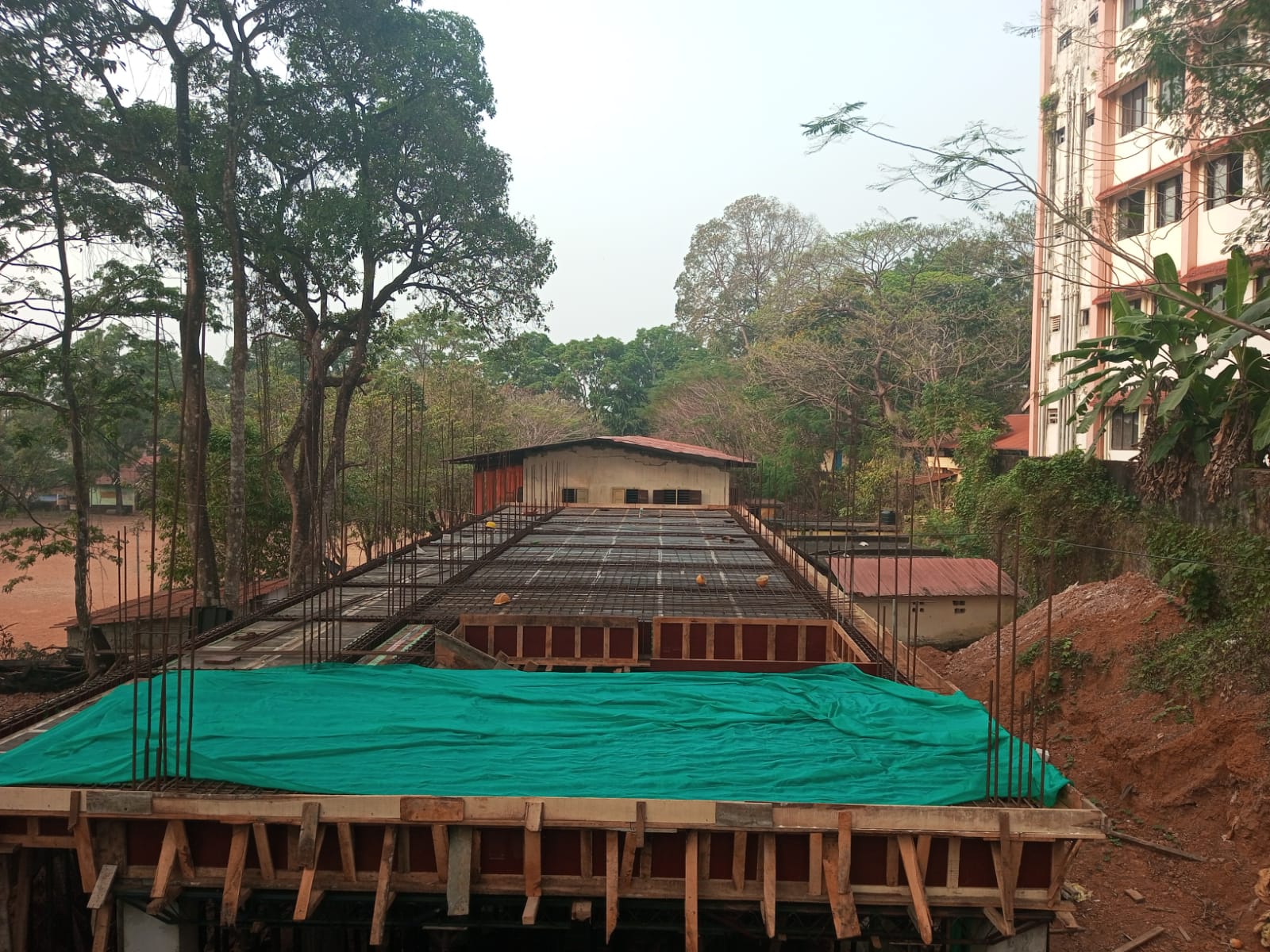 Structural Design and Detailed Estimate of Residential Building at Palai, Kottayam. (Execution pending)
Grid foundation is provided owing to the weak soil. The land has to be filled and the existing ground level is planning to be raised. Design was performed taking all these into consideration.
Structural Design of Residential Building at Kuruppumthara, Kottayam (Ongoing).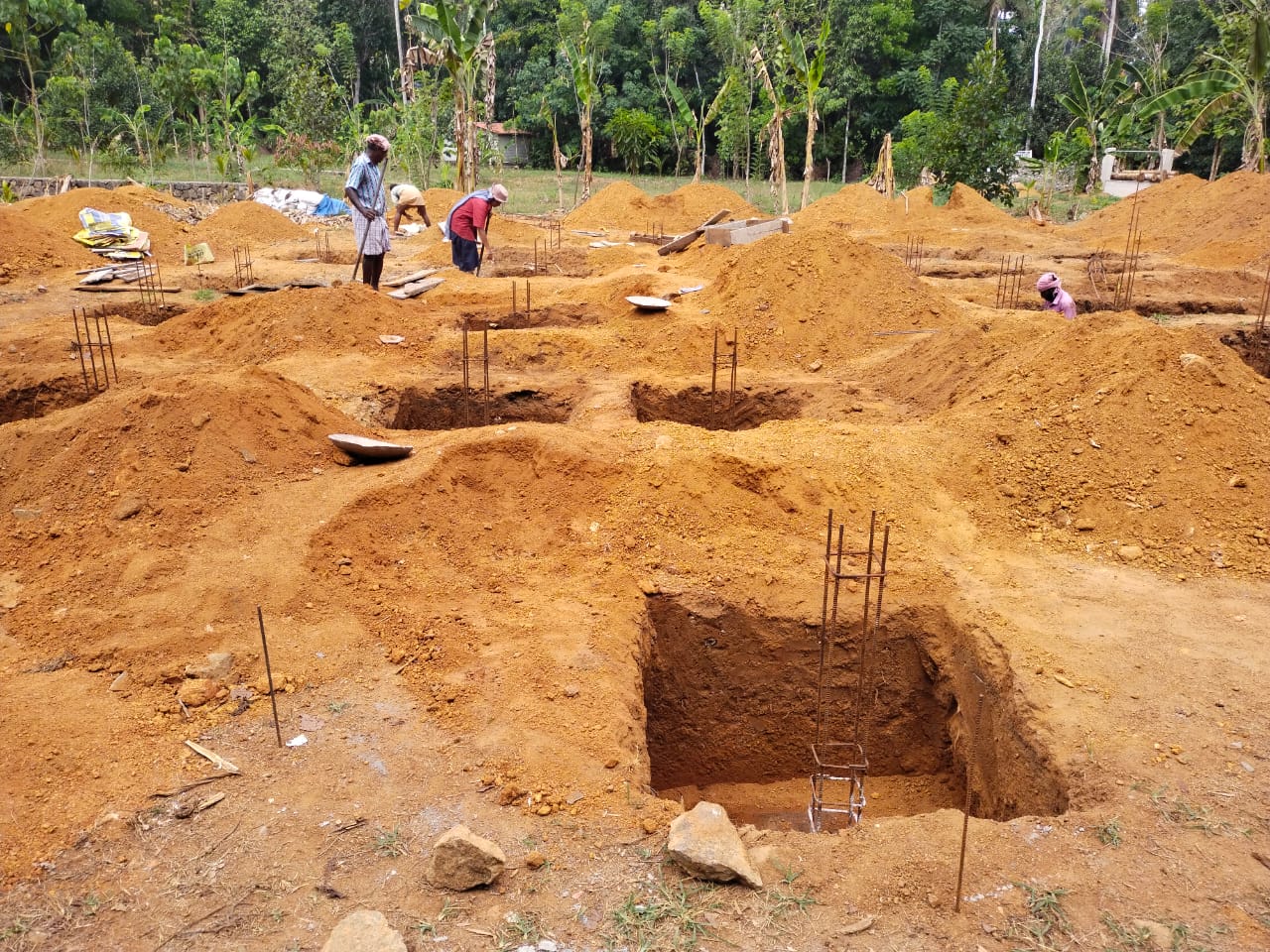 Structural Design of Residential Building at Kattappana, Idukki (Ongoing).
Structural Design of Residential Building at Palai, Kottayam. (Design work ongoing)
This two storey framed building consist of very few numbers of irregularly placed columns; many parts of the building is designed to be cantilevered.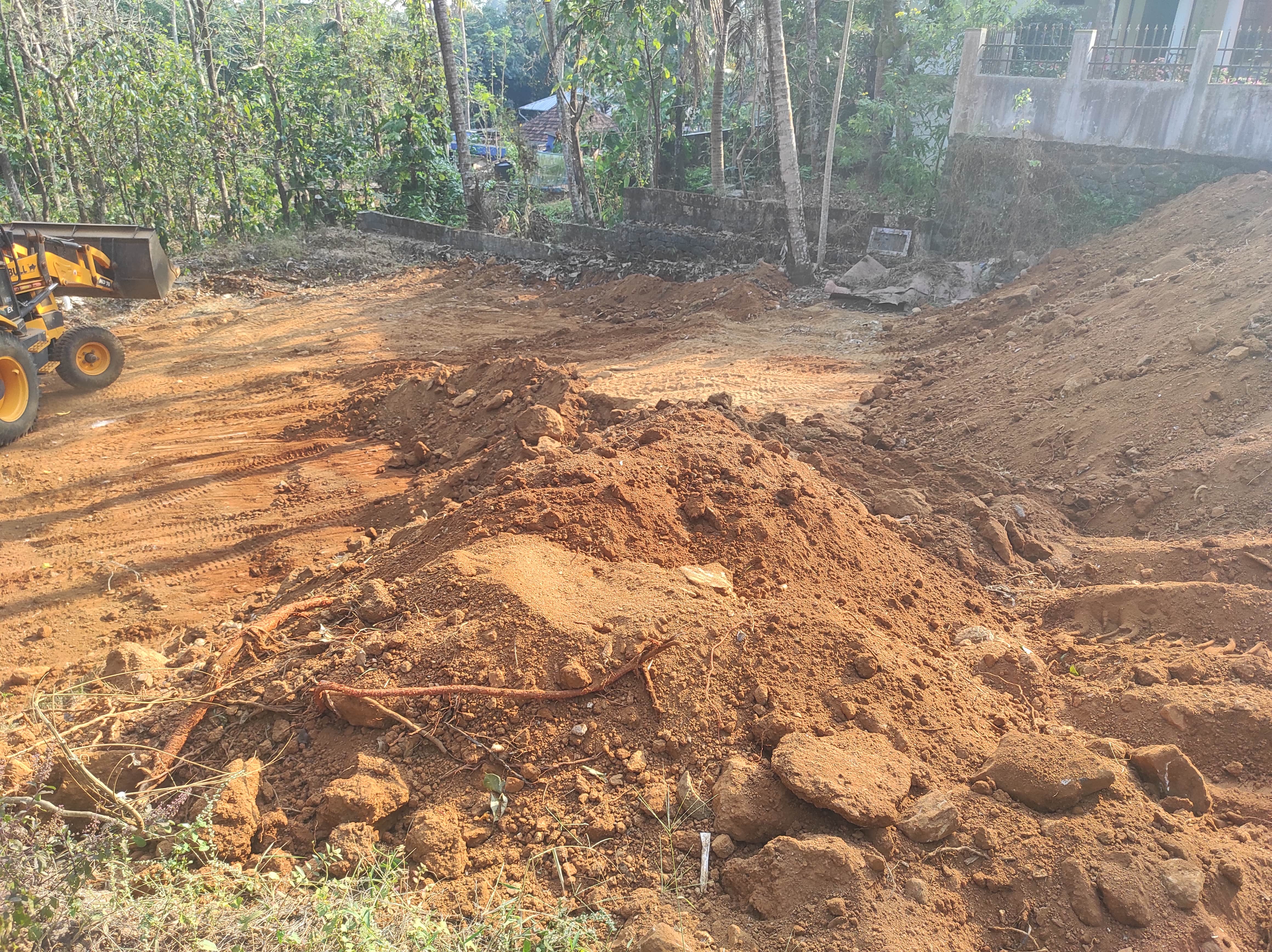 Structural Design of a Cartable Bridge at Njeezhoor, Kottayam. (Design work ongoing)
A steel-concrete composite profiled deck is proposed which is planned to be supported on two steel girders connecting the two banks of the small stream.
Mapathon Kerala- OSM Mapping
Department of Civil Engineering, St.Joseph's College of Engineering and Technology, Palai is entrusted with the mapping of Palai Muncipality (26 Muncipal wards) so that it may be used by the Government agencies in case of any emergency situation like floods or any of such kind. The Mapathon Project of Palai Municipality is led by the SPoC Mr. Austin T Sabu, Asst. Prof, Dept. of CE and other members include Ms. Dalmiya Rajan, Asst. Prof, Dept. of CE along with a student group. The final year student group members are Sijith Chandran, Krishnapriya, Melinda Lorence & Nithya Prasannan (S7,CE).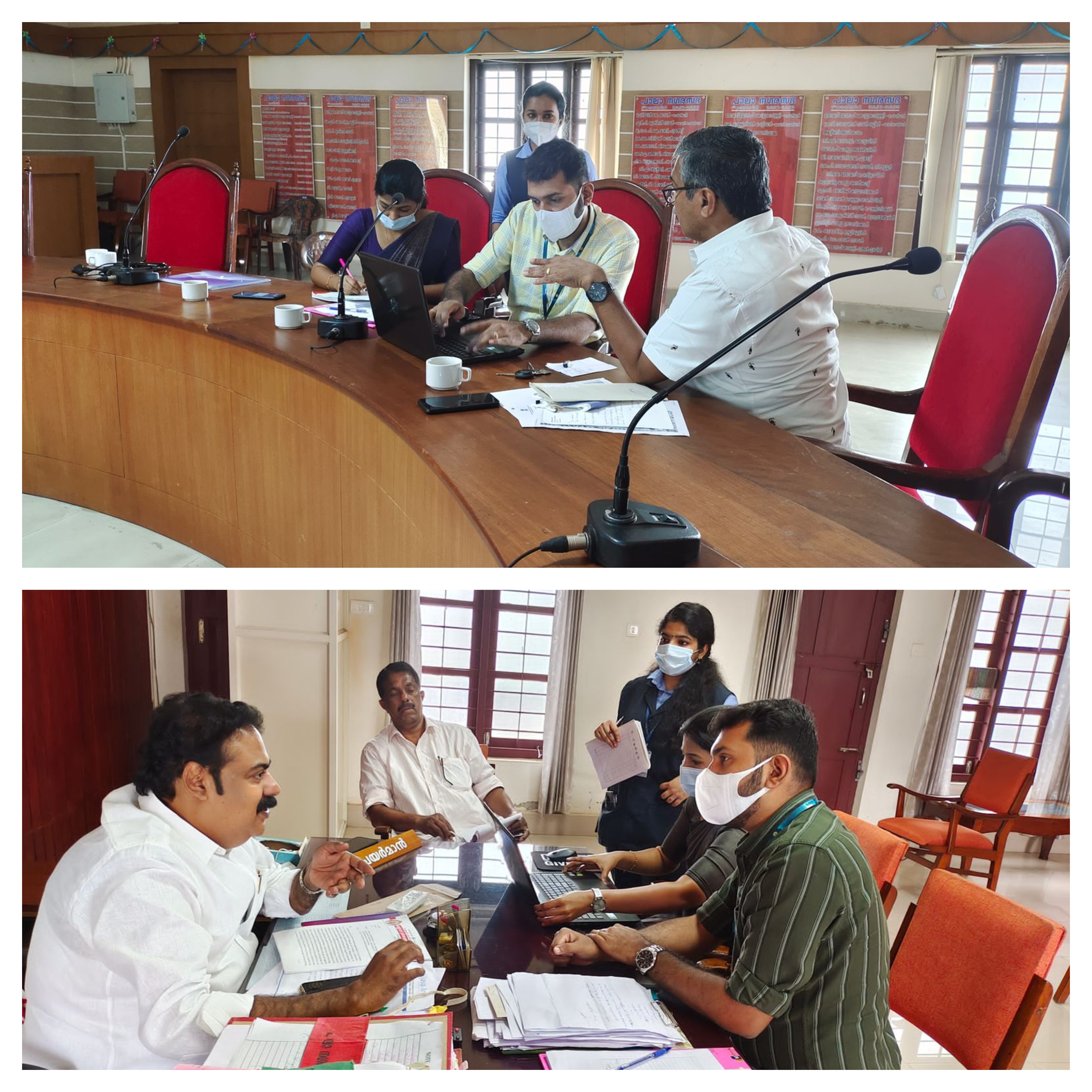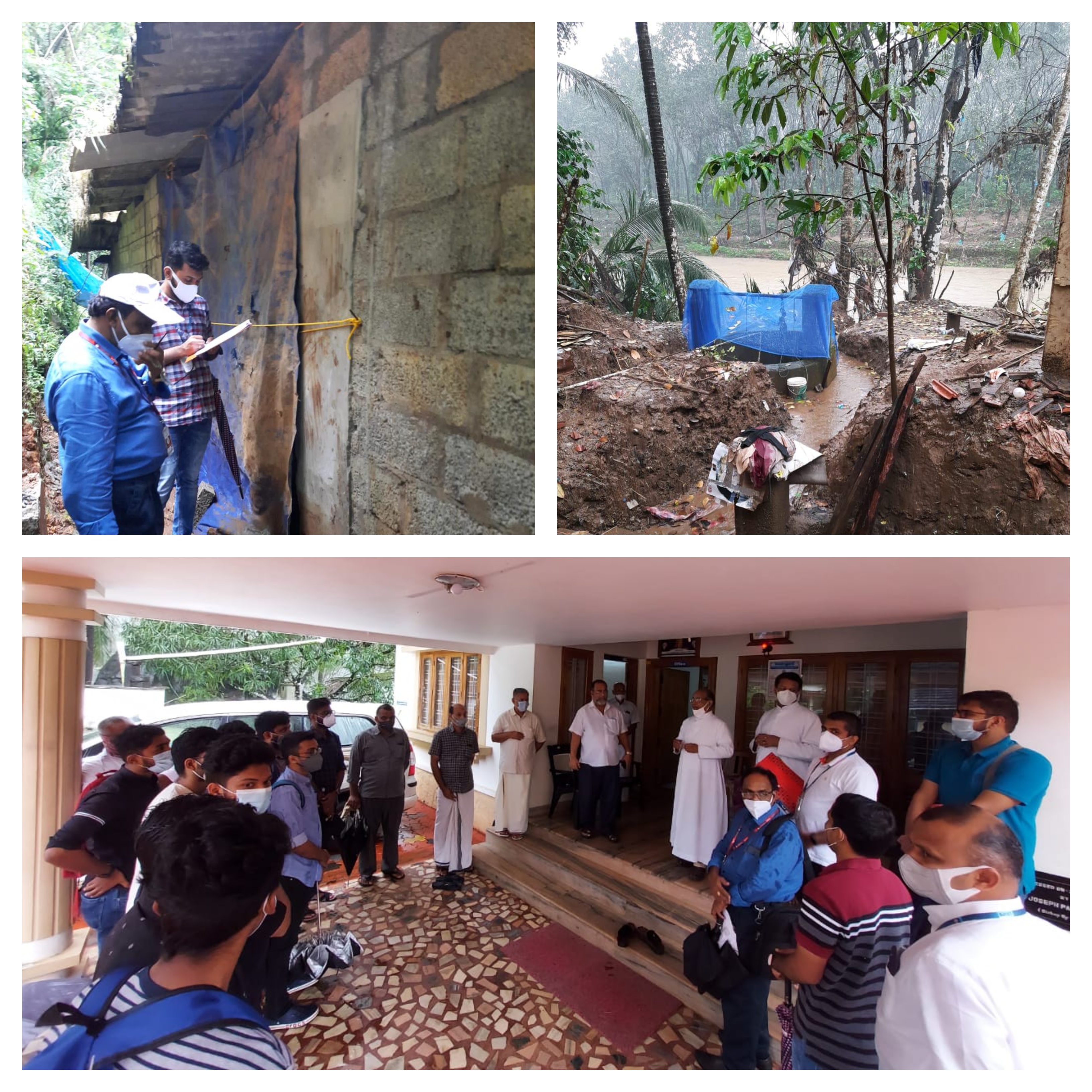 Kootickal Site vist
In connection with the landslide at Kootickal, Dept.of Civil Engineering assessed the structural competency of residential buildings in the area. The project was undertaken by the Civil Engineering Department in association with Civil Engineering Association and Center for Industrial Consultancy. The site visit team consisted of faculty members and a group of final year students. The faculty members accompanied were Prof. Dr.K.J.George, Associate Prof. Fr. Dr. Bennet Kuriakose, Asst.Prof Mr. Manish Jose, Asst.Prof Mr.Austin T Sabu, Lab instructors Mr. Joby George and Mr. George K Thomas.
REBUILD KERALA
Government of Kerala established Rebuild Kerala Initiative (RKI) to bring about a perceptible change in the lives and livelihoods of the people of Kerala after the state had been devastated by two major floods in 2018 and 2019. RKI presents a unique approach in rebuilding the state. One of the major components of this Initiative is the renovation of public roads maintained by the Local Self Govt Department (LSGD). The works related to field investigation for preparation of DPR were delegated to SJCET, Palai. SJCET Palai has a Tier II Collaboration with RKI (G.O.(Rt).No.2179/2020/LSGD, Dated:20.2.2020) and Department of Civil Engineering. SJCET Palai ensures the Quality Assurance at the site by conducting random checks and suggests possible improvements where ever required.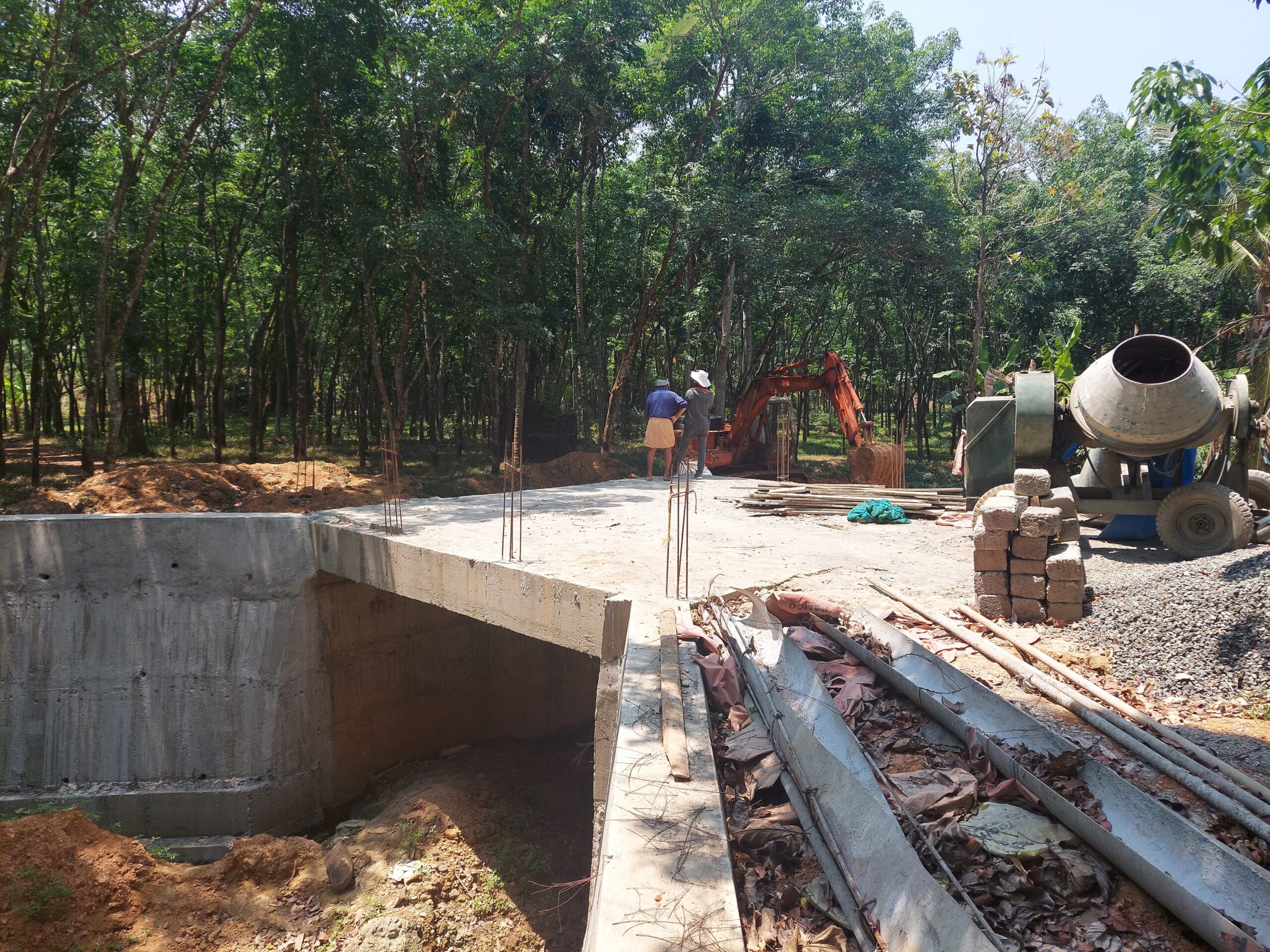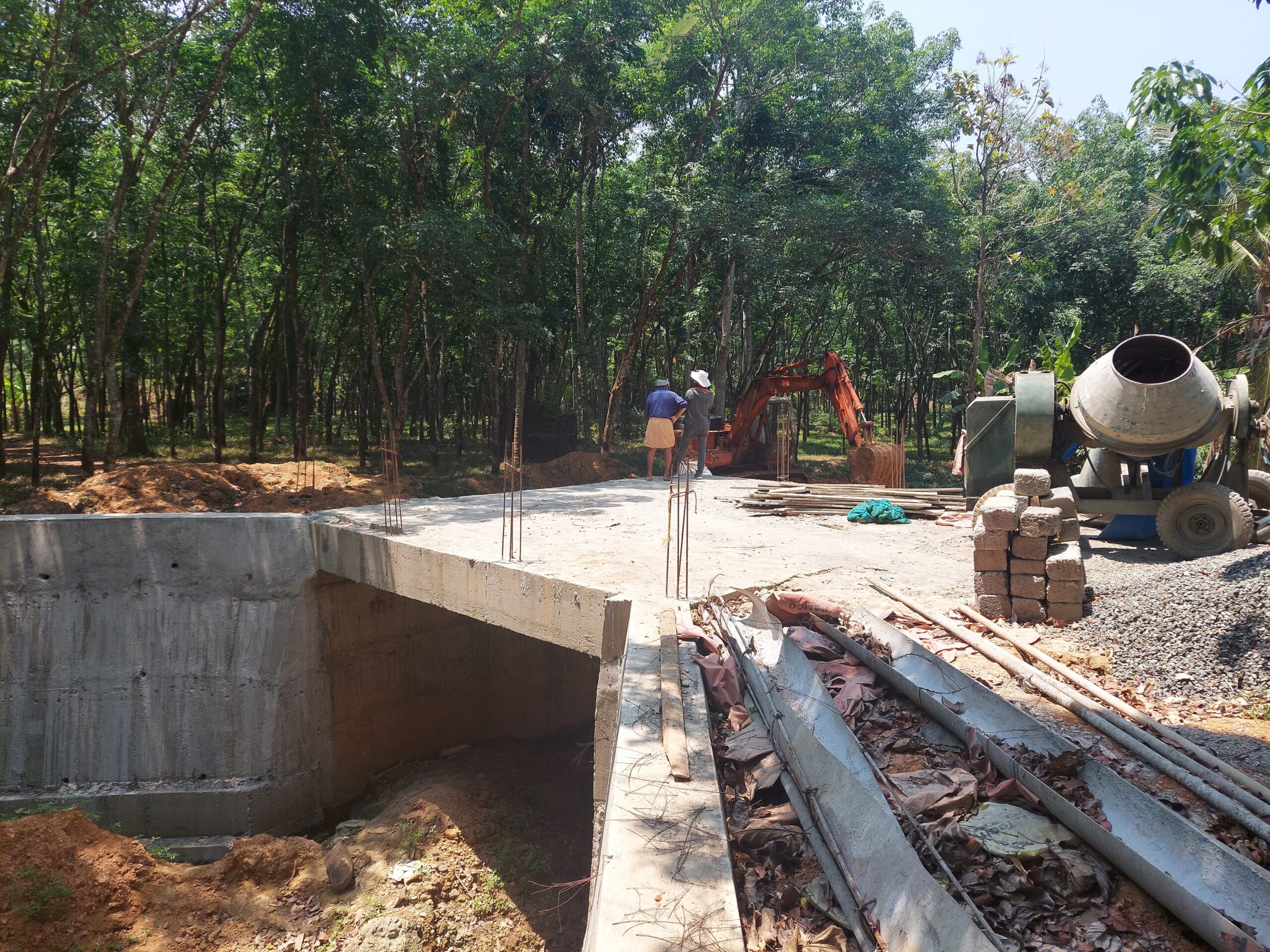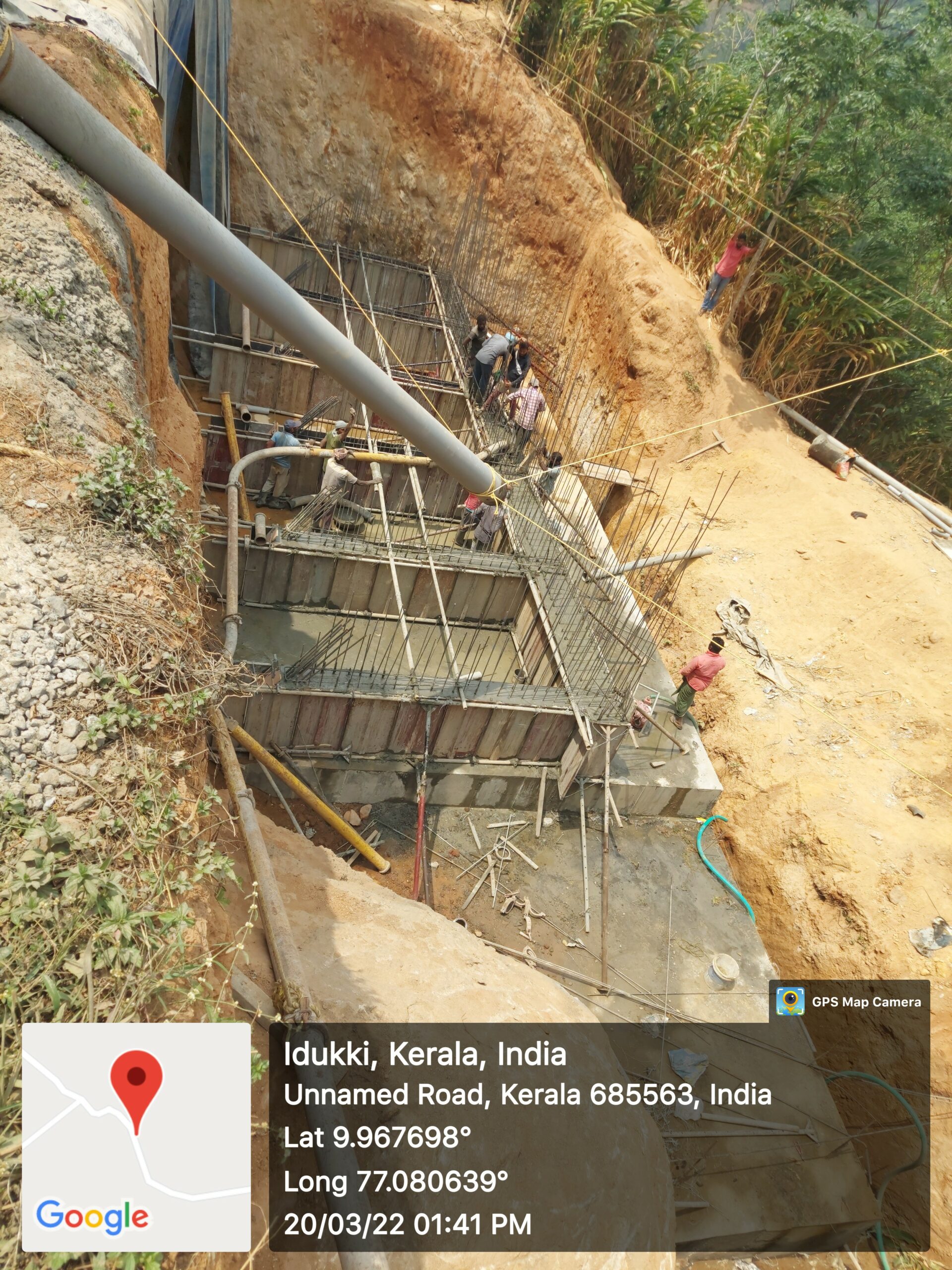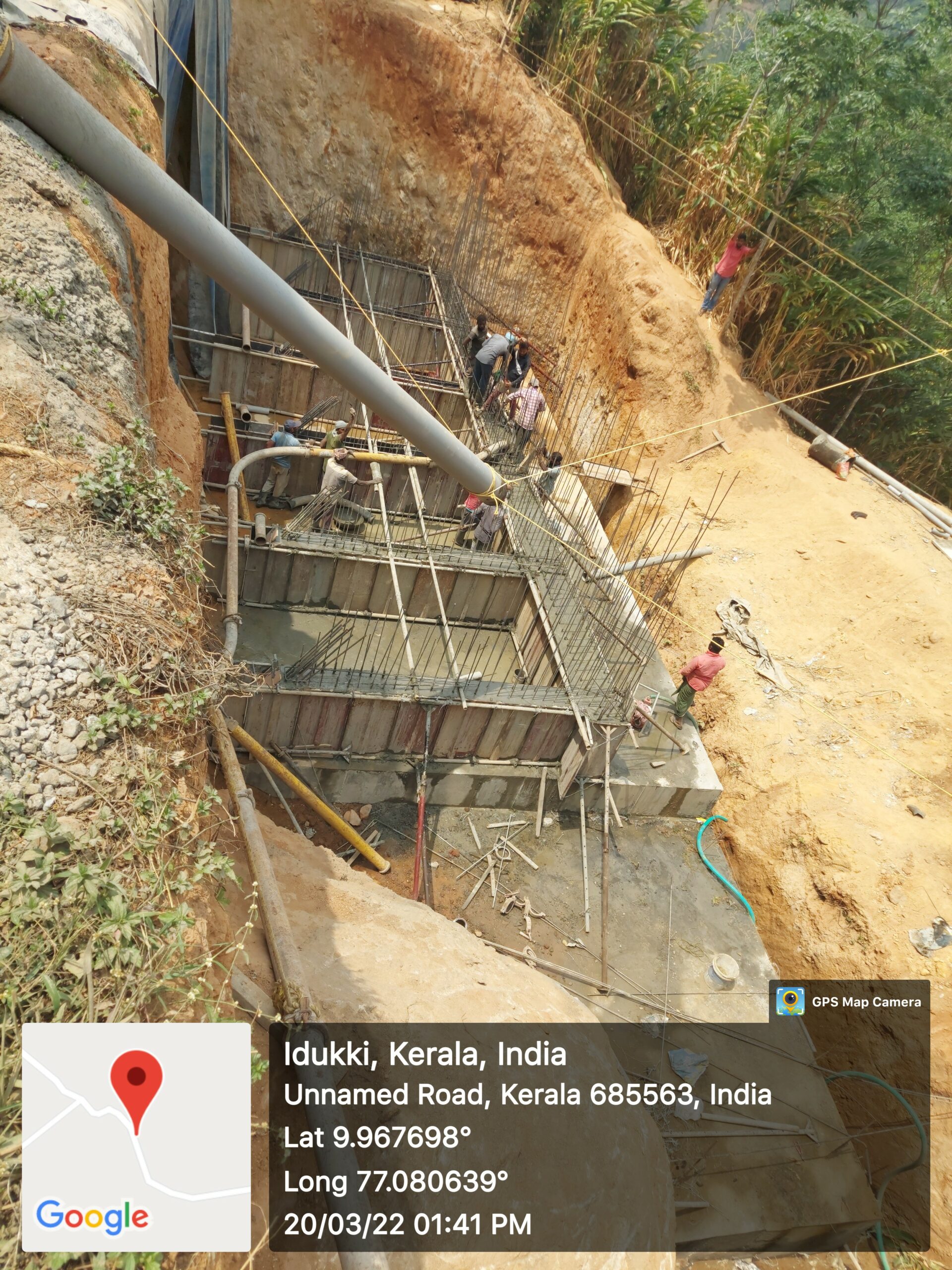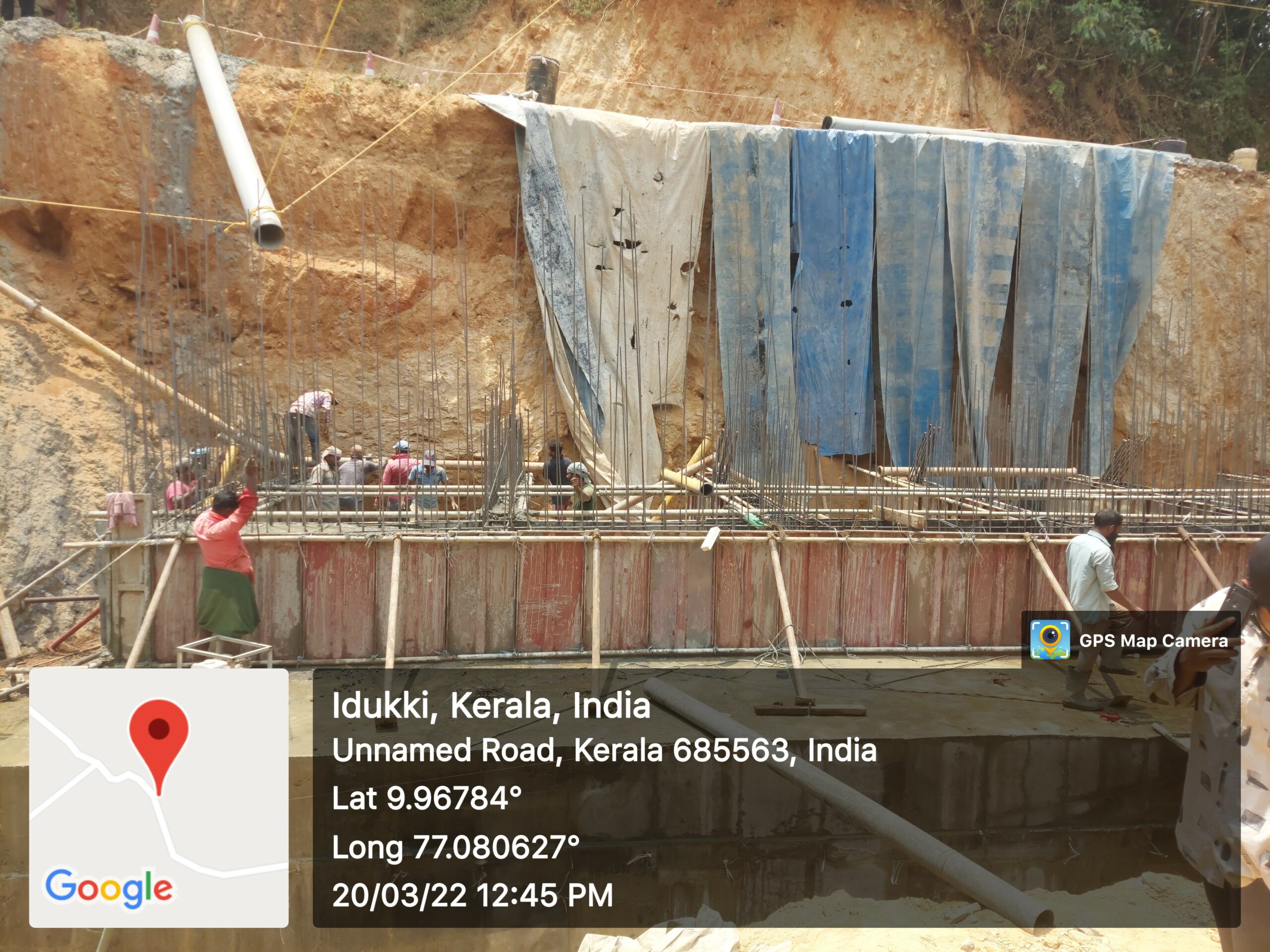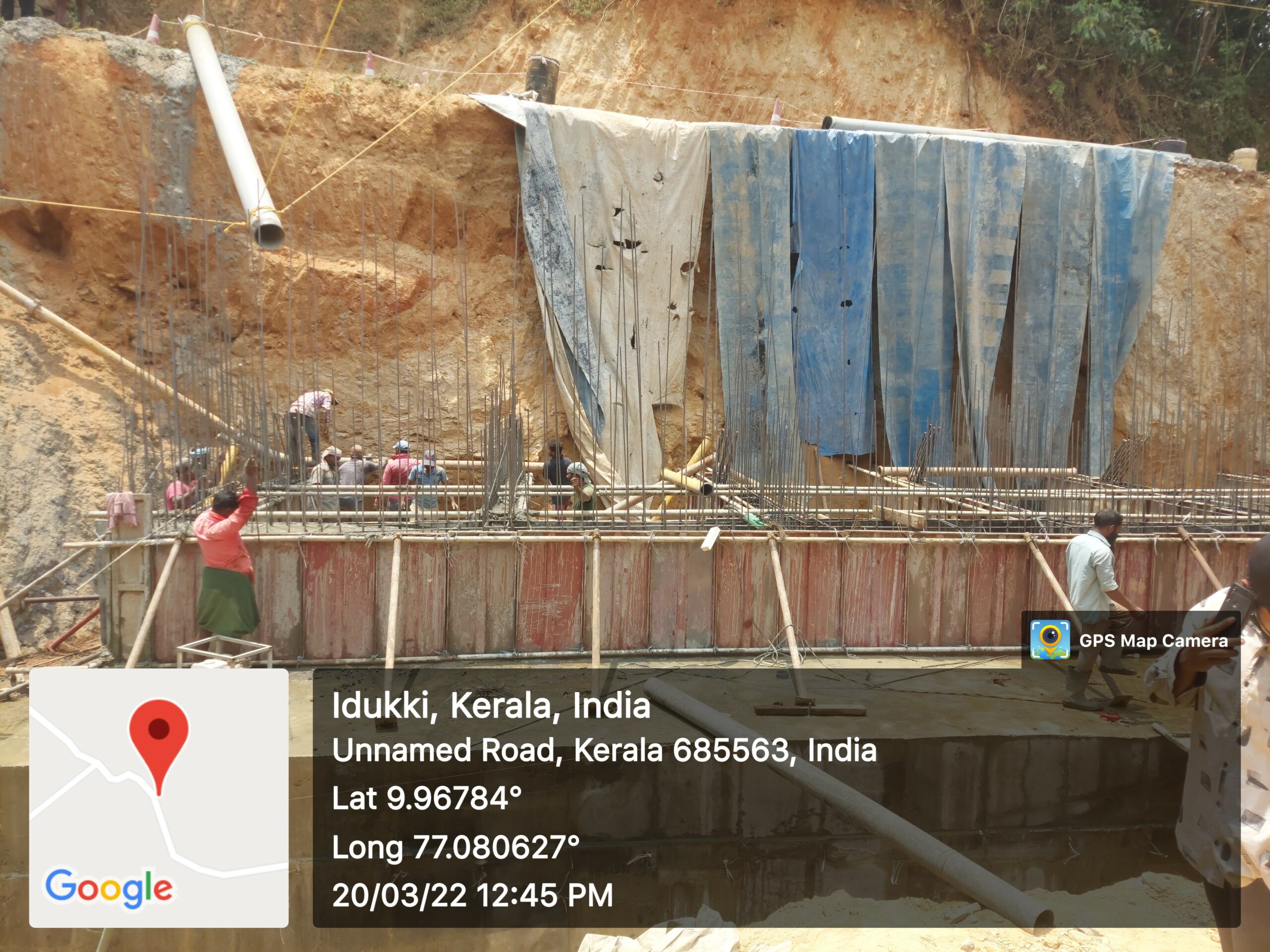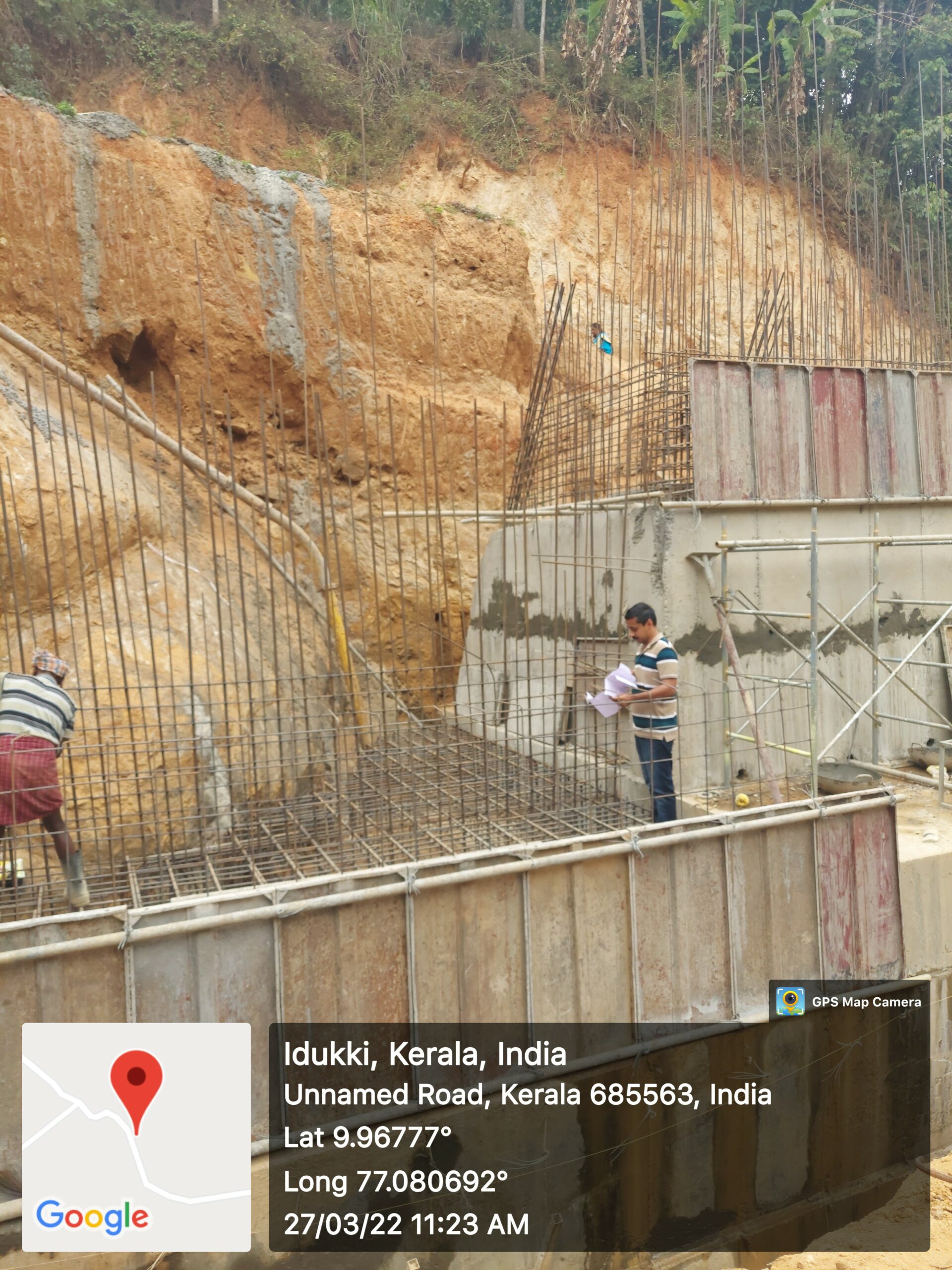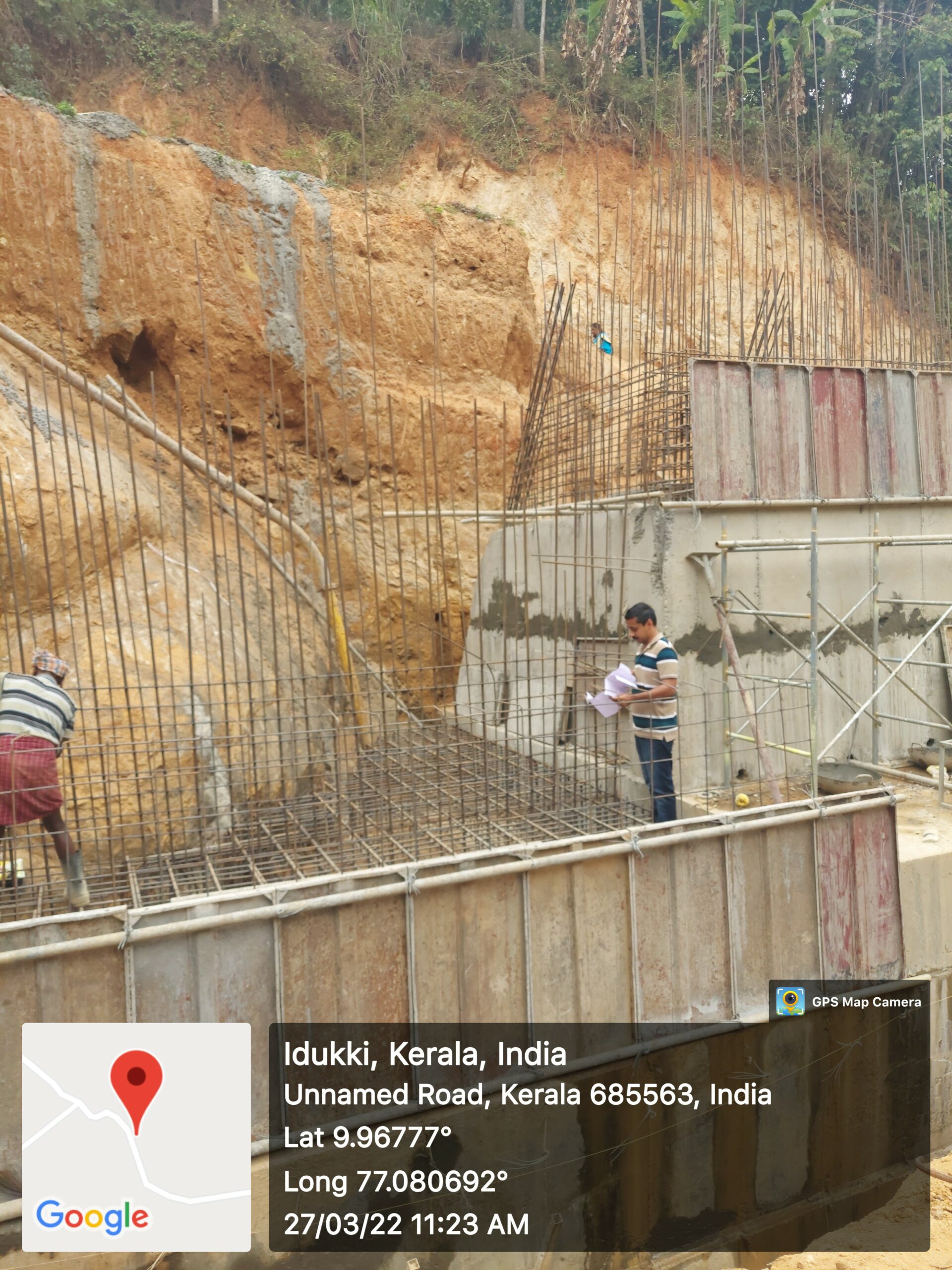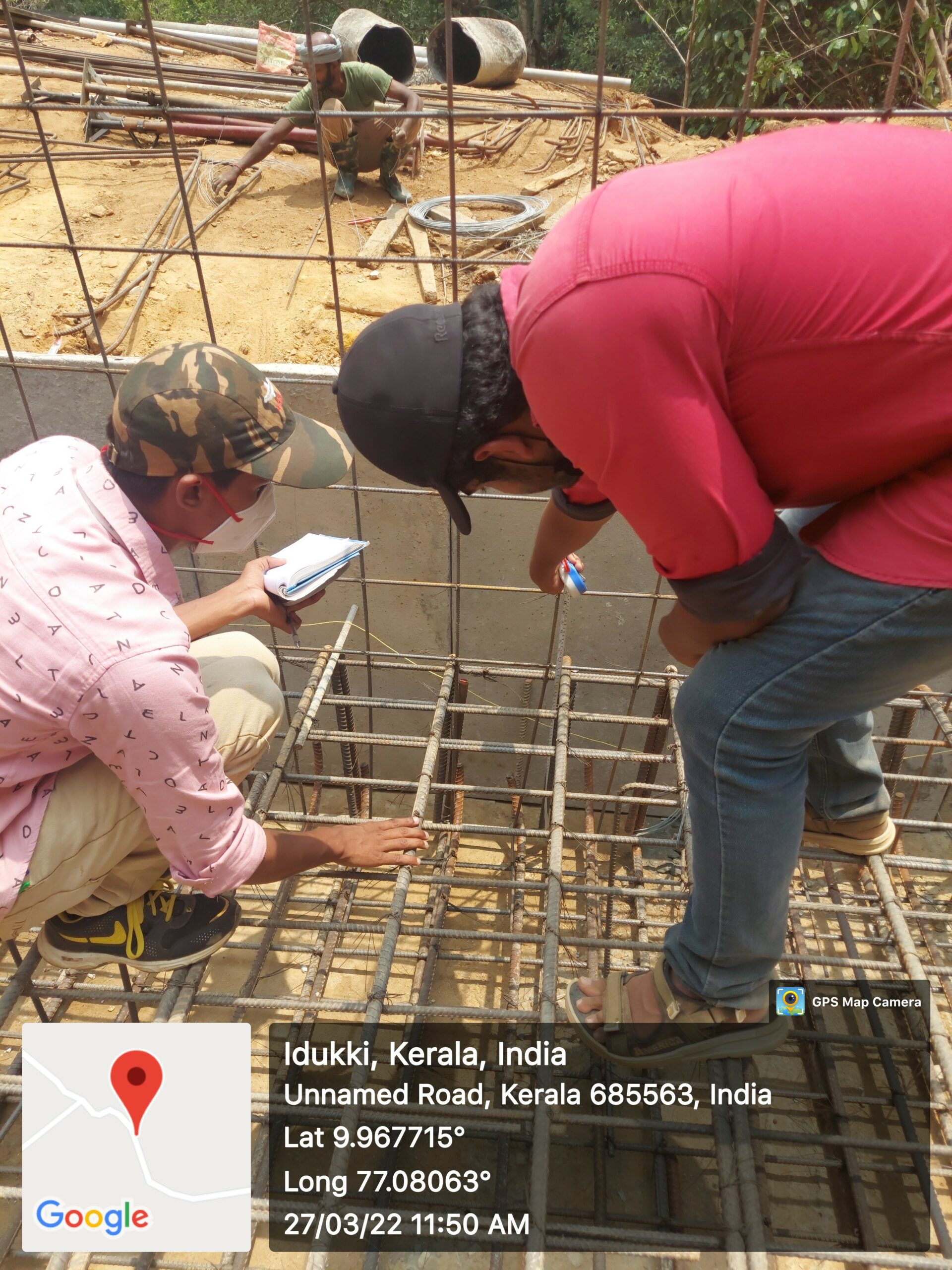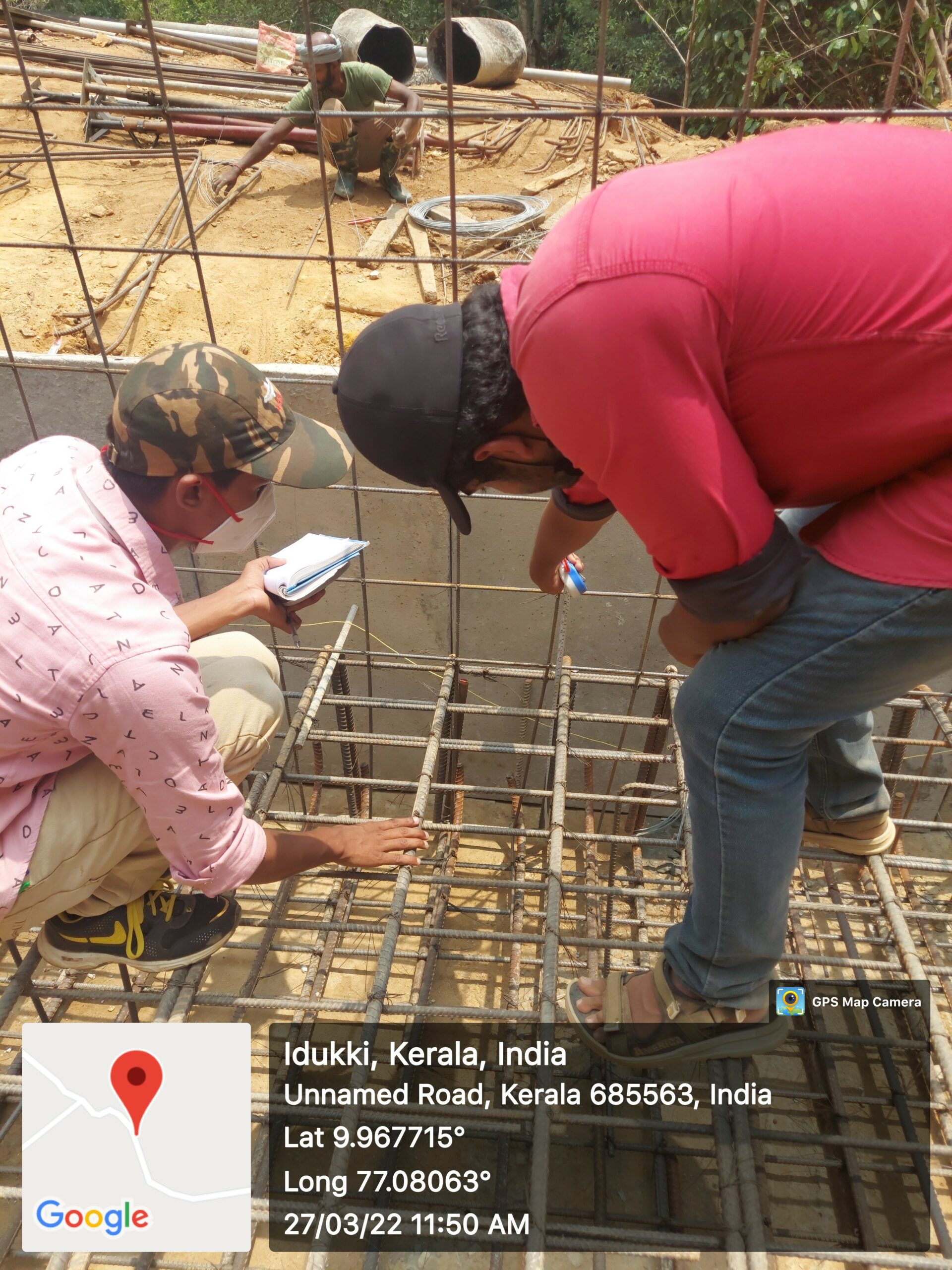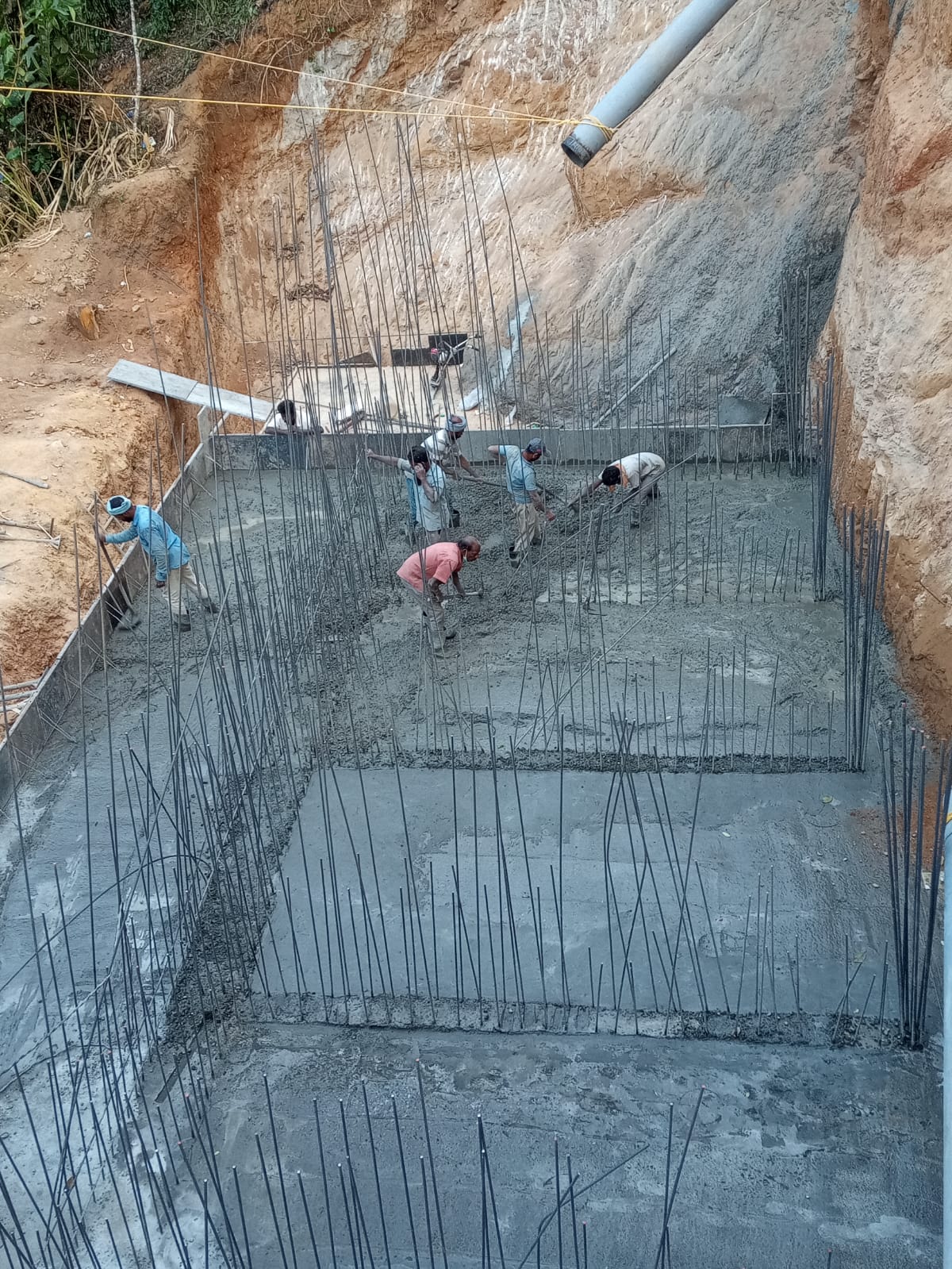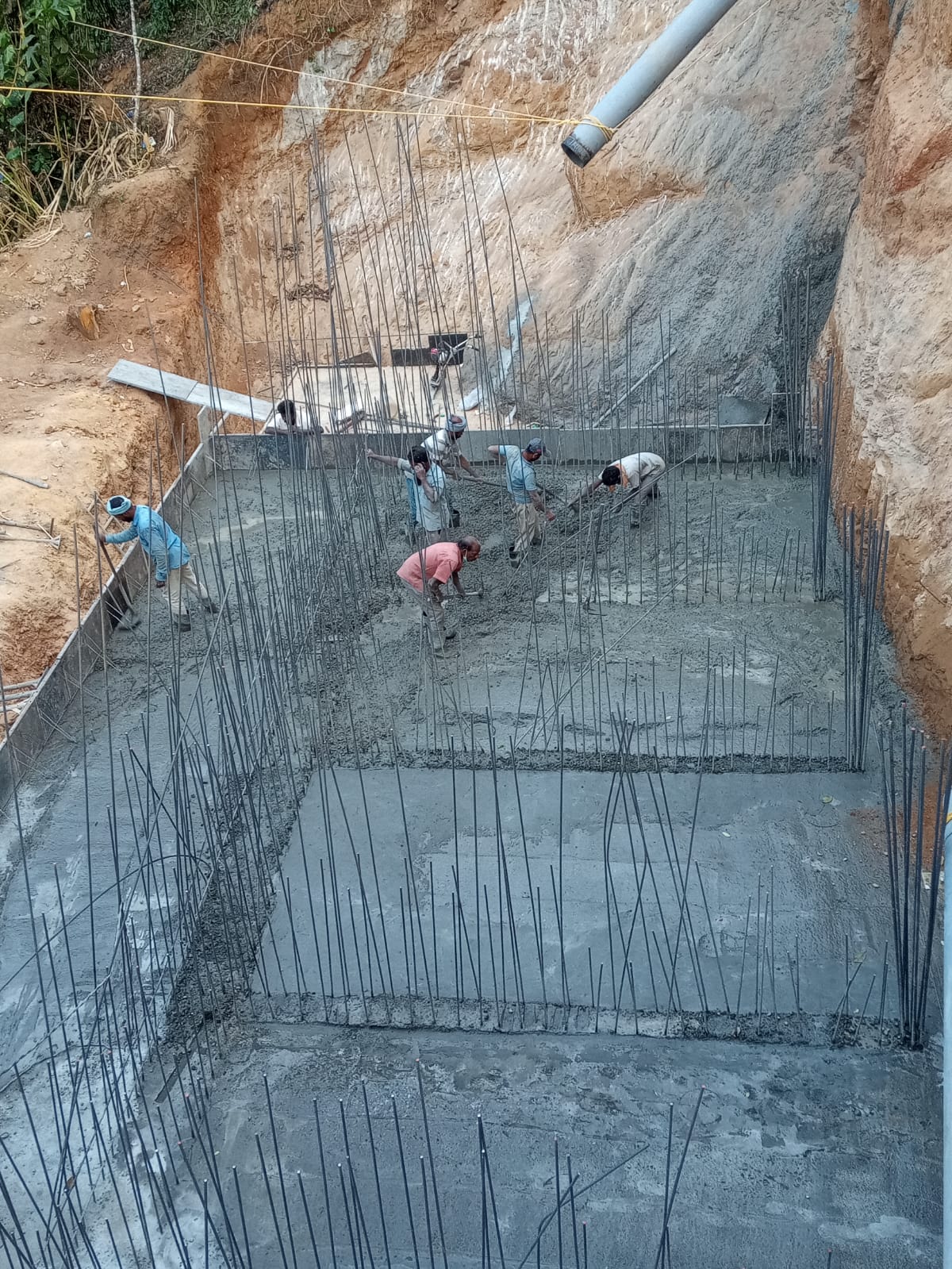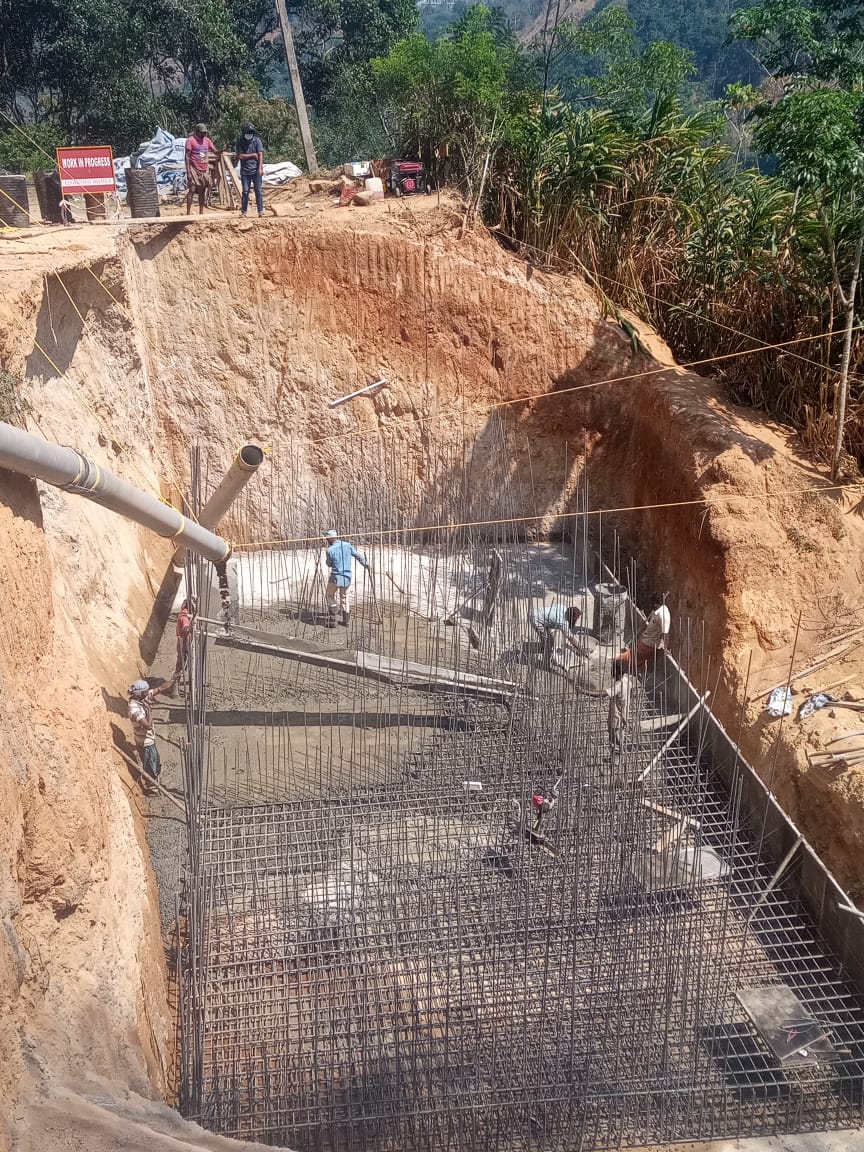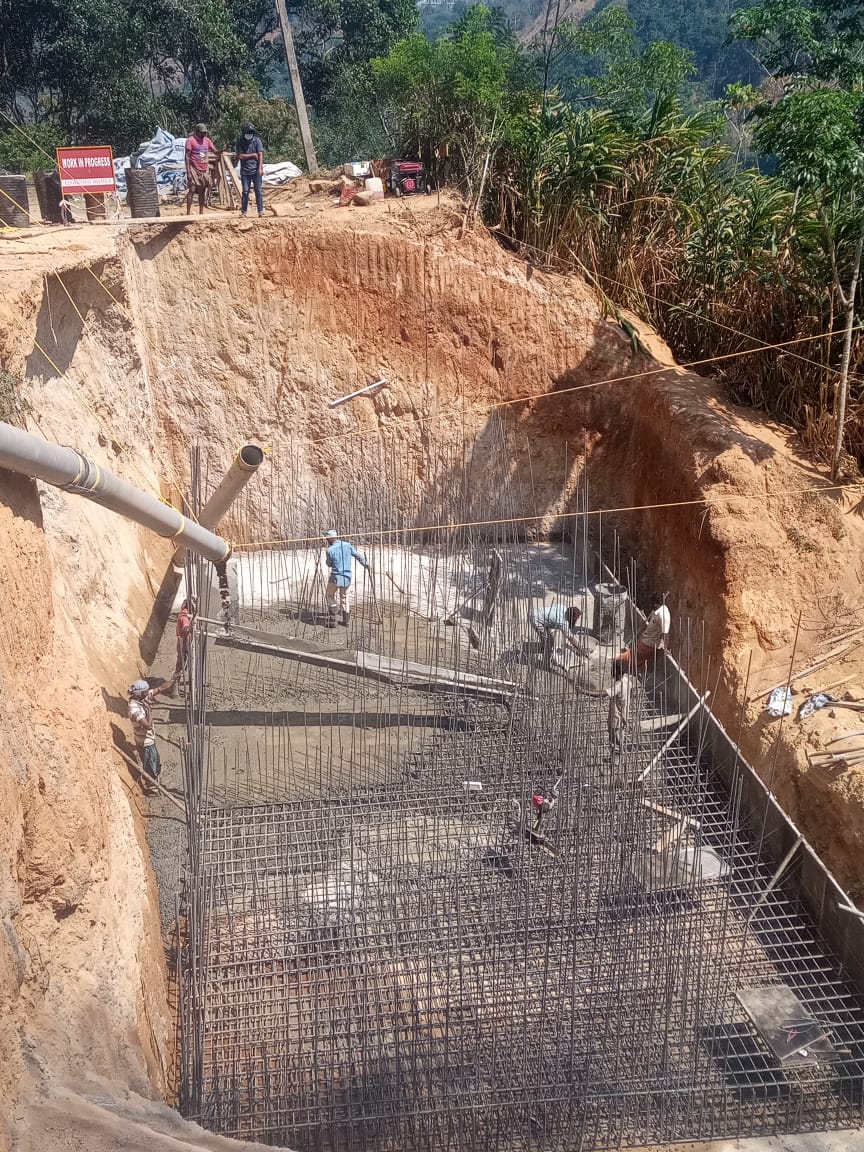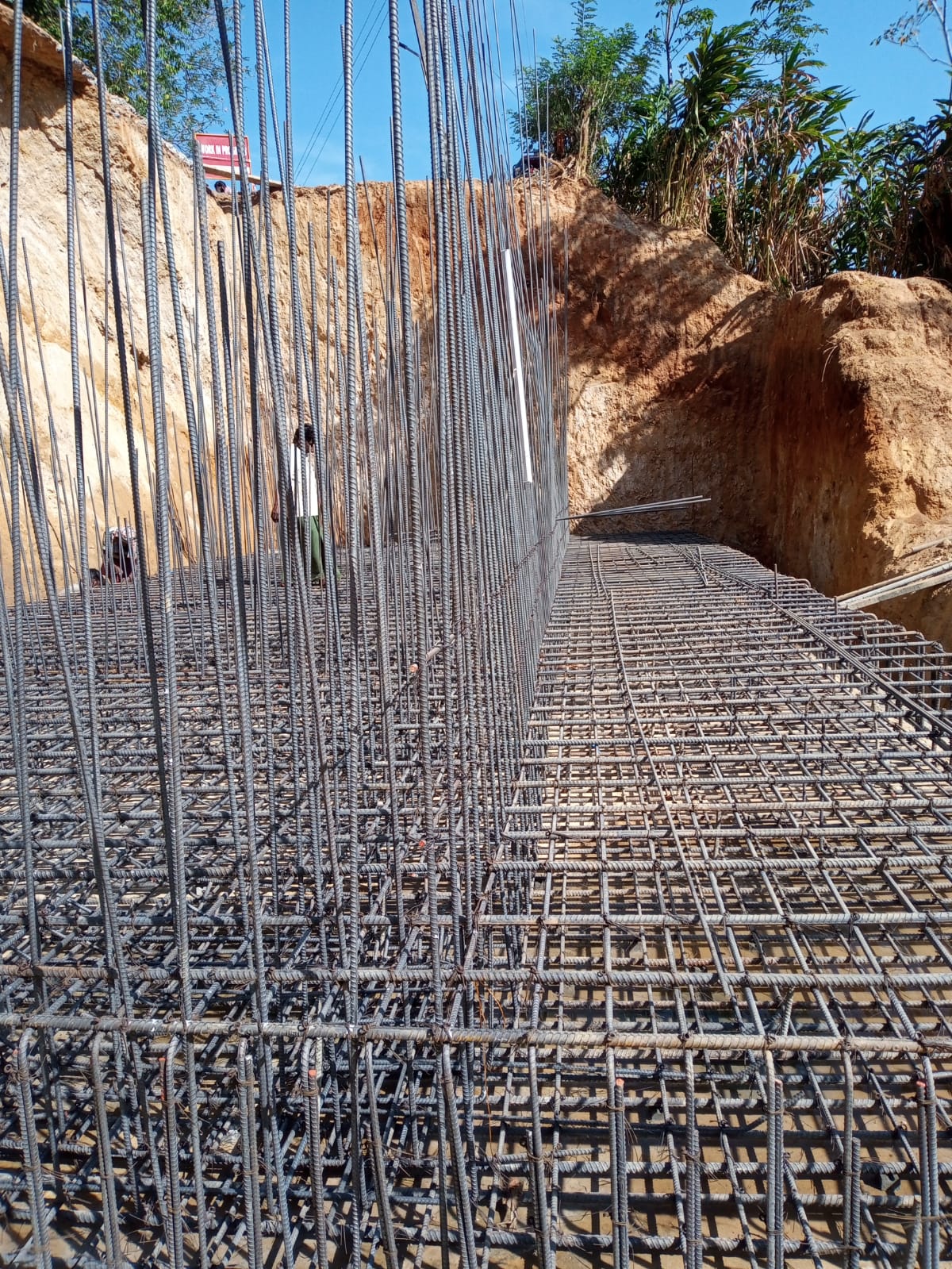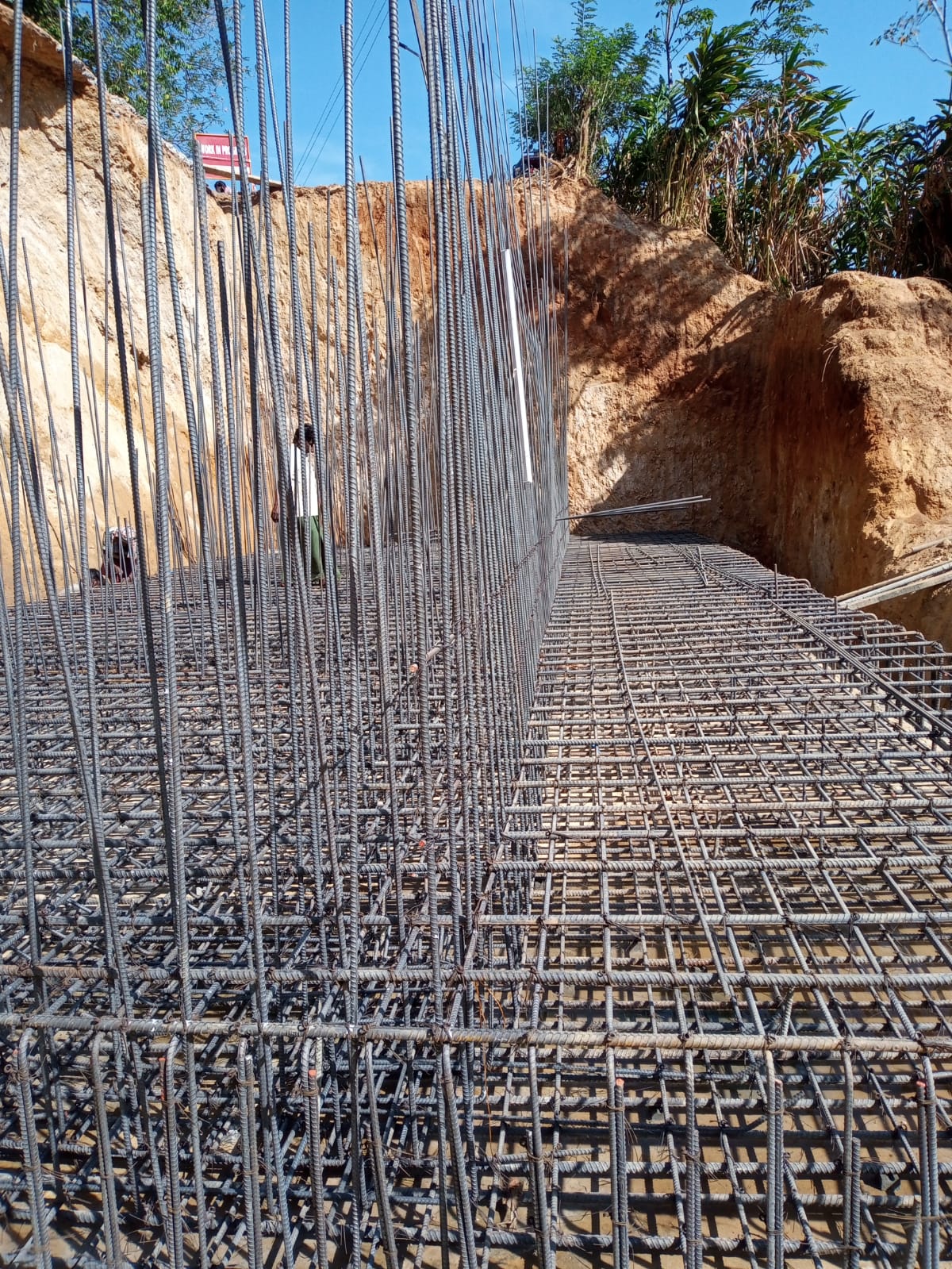 | Sl. No | Name of Road | GP & District |
| --- | --- | --- |
| 1 | PuthedannoorThodu Foot Bridges | Arakkulam, Idukki |
| 2 | Elappally –Chellikal Road | Arakkulam, Idukki |
| 3 | Elappally – Thottambhagam Road | Arakkulam, Idukki |
| 4 | Aasharam – Pottanpady Road | Arakkulam, Idukki |
| 5 | Idinjamala - Companypadi Road | Erattayar, Idukki |
| 6 | Nalumukku Tunnel Road | Erattayar, Idukki |
| 7 | BalagramAnyarthulu | Pampadumpara, Idukki |
| 8 | Kattekkanam – Chelamoodu Road | Karunapuram, Idukki |
| 9 | PazhayaKochira Road | Vandenmedu, Idukki |
| 10 | Perikkankaval – Kollamkulambadi- Karilkavala Road | Vathikudi, Idukki |
| 11 | Kurisupallipadi- Thannikandam – Kumbiluvellipadi – Painavu Road | Vazhathoppu, Idukki |
| 12 | Vimalagiri – Enikkuthu Road | Mariapuram, Idukki |
| 13 | Anicadu- Pravidakunnu Road | Vazhakulam, Ernakulam |
| 14 | Factorypadi – Karinthuruvi Road | Upputhara, Idukki |
| 15 | Panachikuzhi Road | Rajakkadu, Idukki |
| 16 | Sooryakanthikavala - Pazhaya Post Office Road | Upputhara, Idukki |
REBUILD KERALA
Road Strength studies at Idukki District under the Rebuild Kerala Initiative Works entrusted by LSGD, Government of Kerala as part of post Flood and Disaster Investigation works.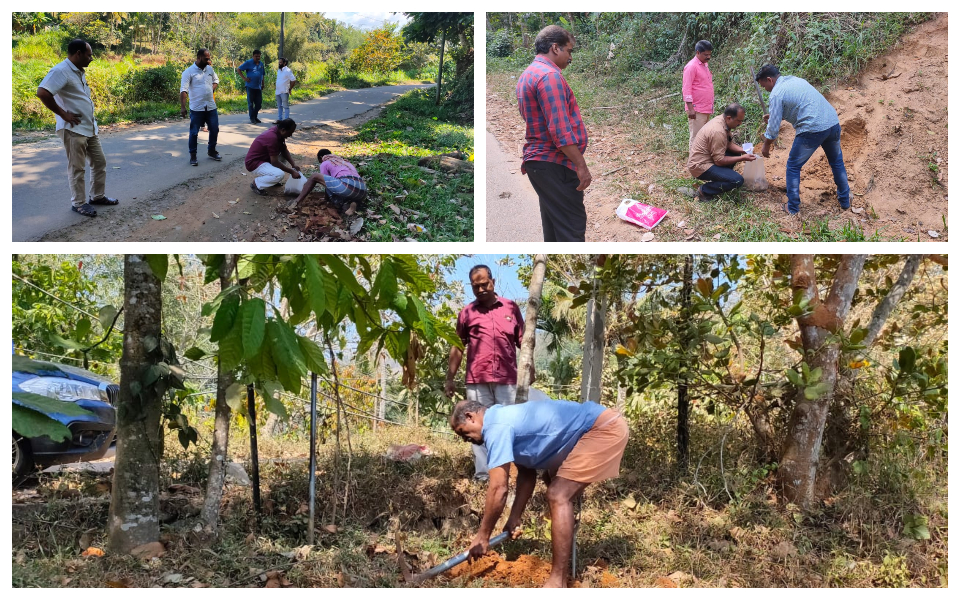 Concrete Mix Design and Concrete Cube Strength Competition 2019 by ICI Kerala Kochi Centre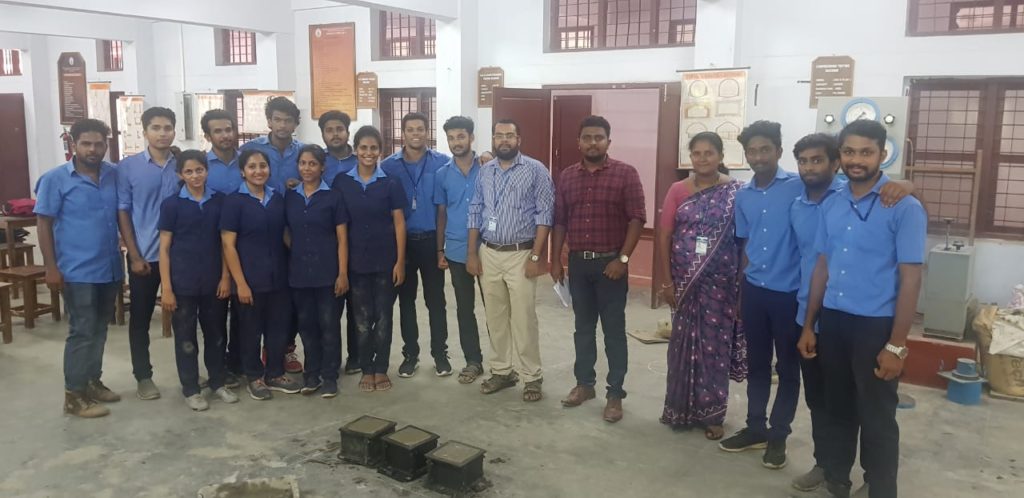 Manimala Rejuvanation work
Field visit was conducted by S3 M.Tech. students under the supervision of Dr. K J George( Professor), Jose James (Assistant Professor), Dalmiya Rajan (Assistant Professor), Joby George and  Ligi Simon for the survey as part of Manimala River Rejuvanation in Association with Kerala State Irrigation Department (IDRB).
Survey includes identifying pollution in stretches of river and water sampling. Data is interpreted in preparing a DPR for pollution abatement of Manimala river in Kalloopara Thondra Stretch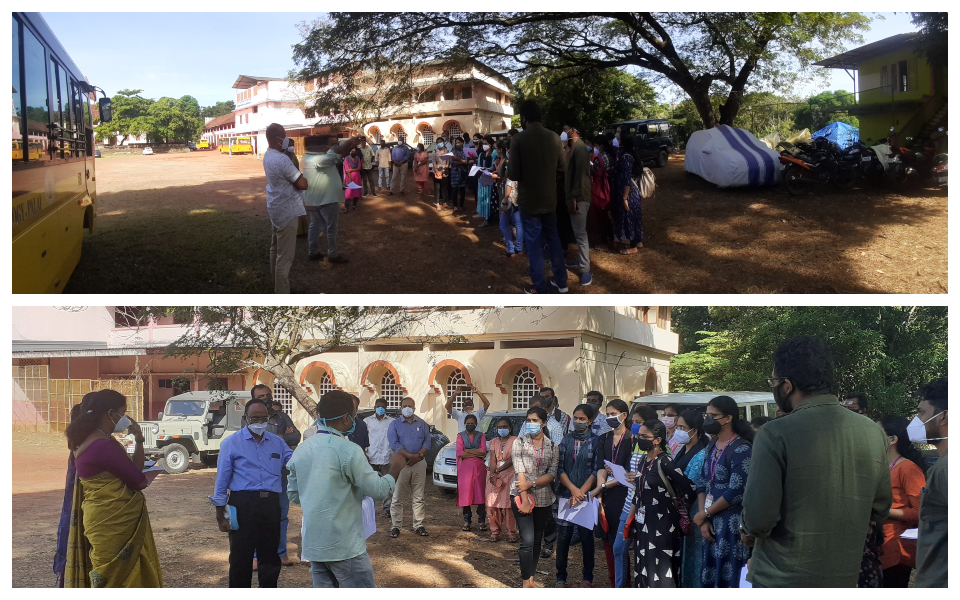 EXPERT TALKS AND SESSIONS
Prof. P.V. Varkey, professor serving at SJCET Palai took an elaborate class for the Civil Engineering students of SJCET on 18/09/2021 from 10am to 1pm.
Prof.P. V Varkey has outlined the various sources of energy, the cost of generation of each type of energy and management of the source and the importance of that to Civil Engineers. Tapping the potential of solar energy was also demonstrated by him and the live examples from the campus was also given. He further explained the energy saving peculiarities at Nedumbassery Airport and utilization of solar power there. The Civil Engineering applications for the foundation and structural aspects of the solar generation structures were also highlighted. The talk was very useful to the budding Civil Engineers.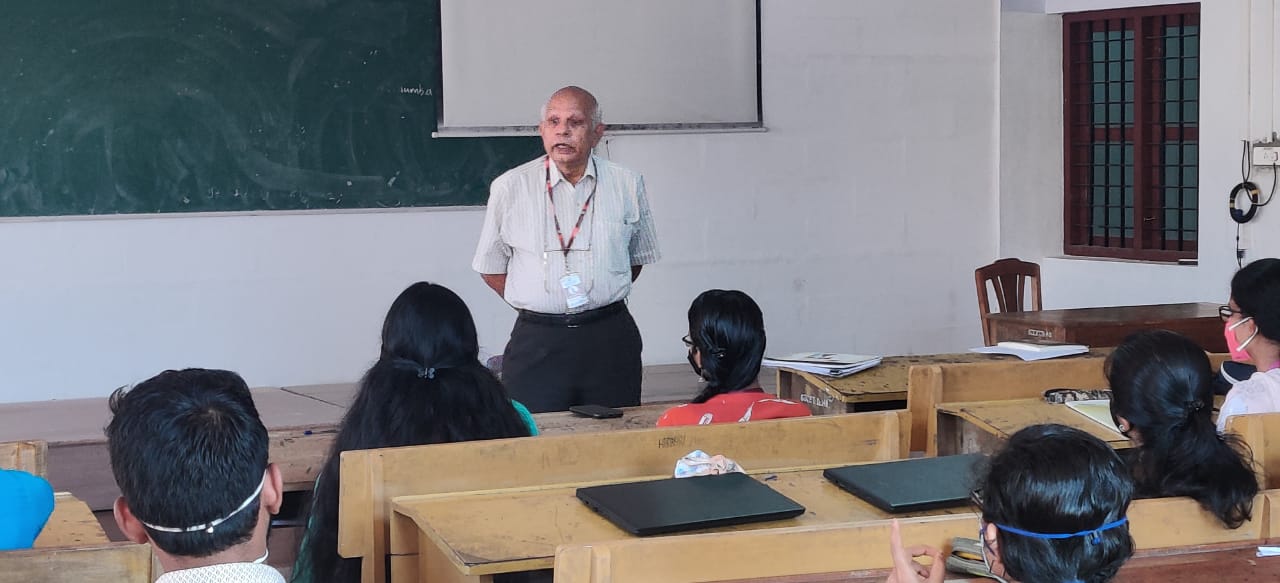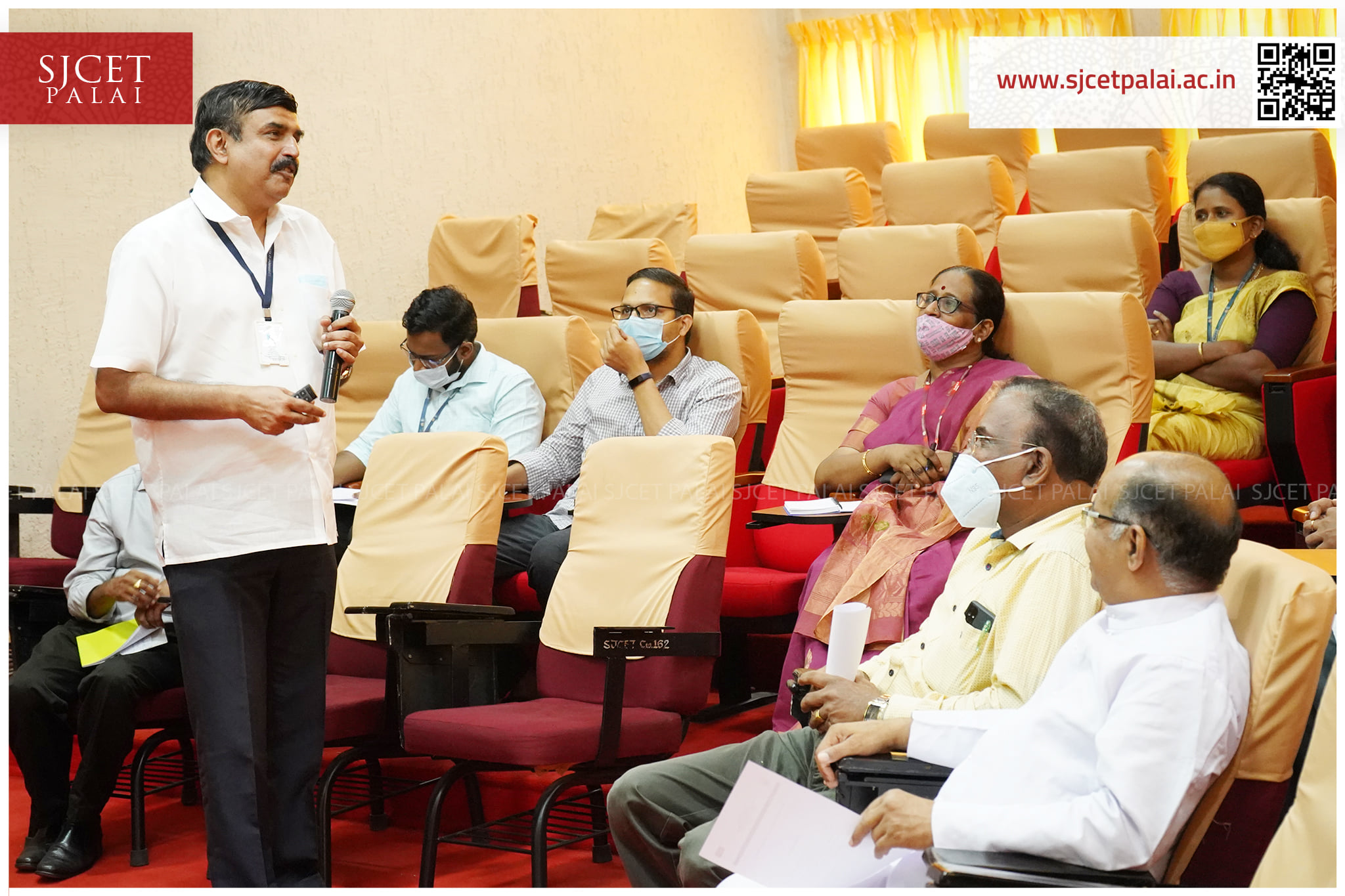 Er.D. Biju, Chief Engineer, Irrigation, Trivandrum on 06/12/2020, delivered a talk on the necessity of river rejuvenation in Kerala. He has elaborated this on the count of national green tribunal order to rejuvenate 21 rivers in Kerala. The need for assessment of water quality of these rivers and pollution abatement of the rivers and the methods for ensuring e-flow in the rivers were discussed in detail. The various structures in Kerala rivers were also demonstrated.
Chief Engineer had discussed in detail the chance for associating SJCET with the Pollution abatement study of Manimala river spanning over Idukki, Kottayam, Pathanamthitta and Alleppey Districts of Kerala. SJCET Civil Engineering department was thus entrusted with the study to be completed before February 2021.
A presentation on the concept of watershed and river basin management with special reference to the manimala river was carried out on 04/01/2021 by Er.S. Deepa, Assistant Executive Engineer, Irrigation Department, Government of Kerala. The importance of watershed type planning required for water resource planning was explained in a systematic manner to the students and staff of civil engineering department
Further , the criterion and approach to be followed for the pollution abatement planning of manimala river was explained. The survey works that can be carried out in Manimala river for the preparation of a detailed project report was also explained. The students got a good idea regarding the procedure to be followed in such case studies and field executions.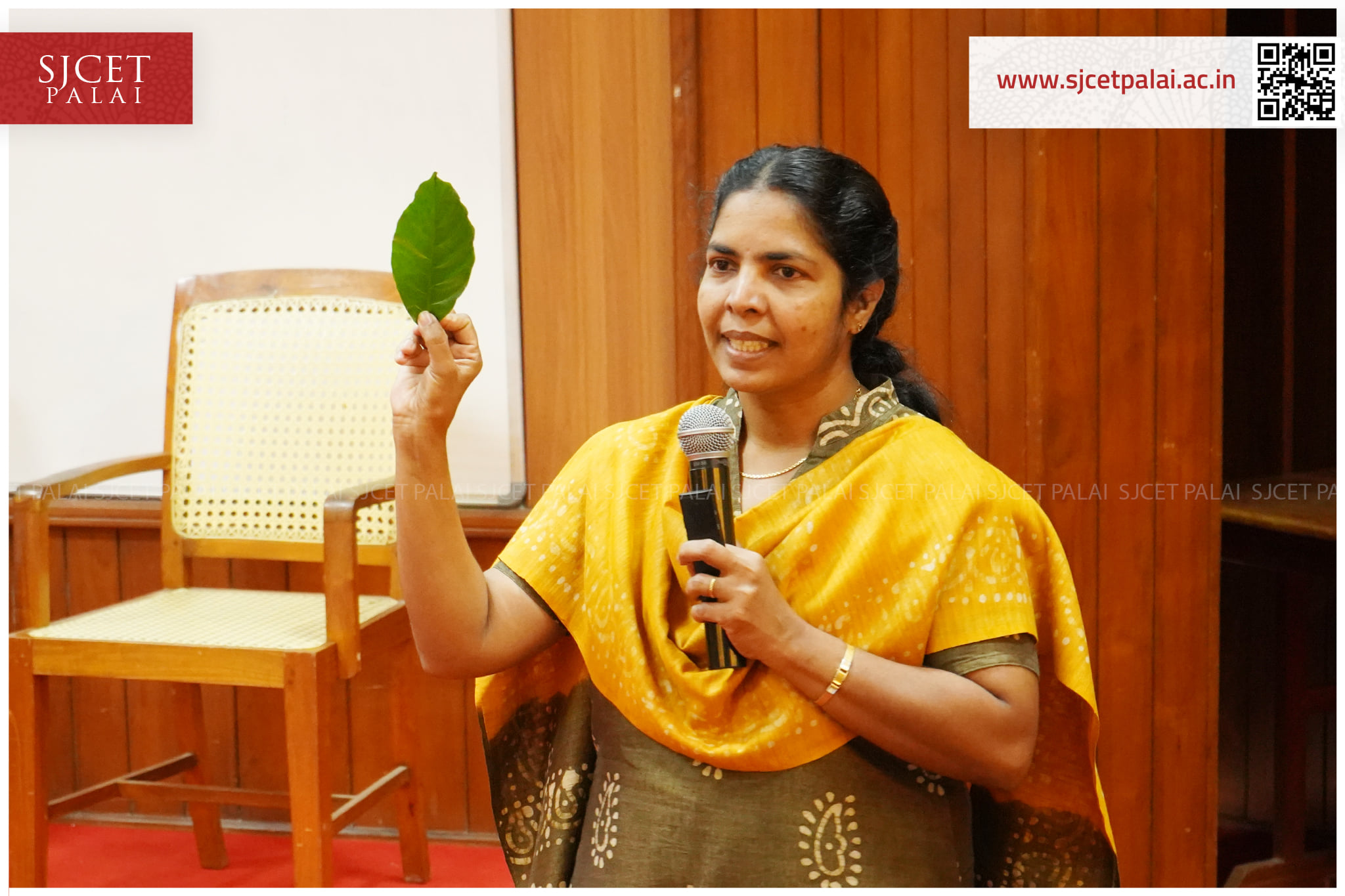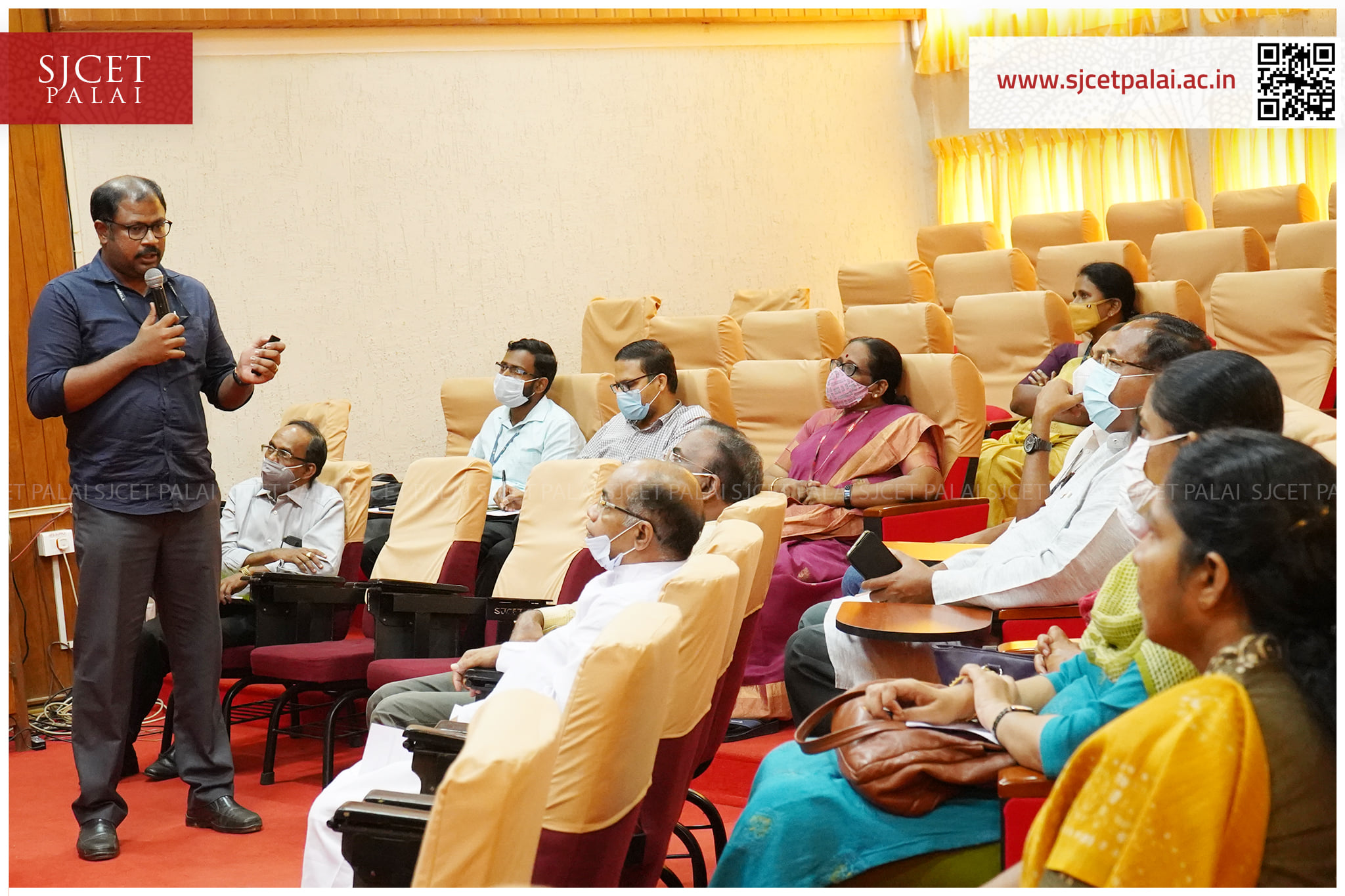 An expert speech on water resource planning in Kerala was done by Er.R. Priyesh, Director, Irrigation design and research board, Trivandrum, Government of Kerala on 06/12/2021.The planning aspects to meet the rquirements of future needs for the 44 rivers in Kerala was explained and was very much informative for the budding engineers and faculty members present.
The director explained the future plans of the water resources department, with regard to water conservation, water storage and desiltation of rivers. Additionally, the structural design aspects of some of the important water resource structures were also discussed. An overview of the design of irrigation and water storage structures was obtained by the students and faculty.
An expert talk was given by Mr. P. Ramesh, District Coordinator of Harithakeralam a government of Kerala urging for the improvement of the various life activities of the common people by way of clean and green initiatives. The idea and practicing of the same was explained to the students of Civil engineering by a special talk on 05/01/2021 followed by demonstration and class on 26/02/2021.
The detailed classes and demonstrations paved way for understanding the importance of keeping the areas clean, water conservation measures and the bad effects of burning plastic items. The idea of reducing, recycling and recovering the water was also given to the students.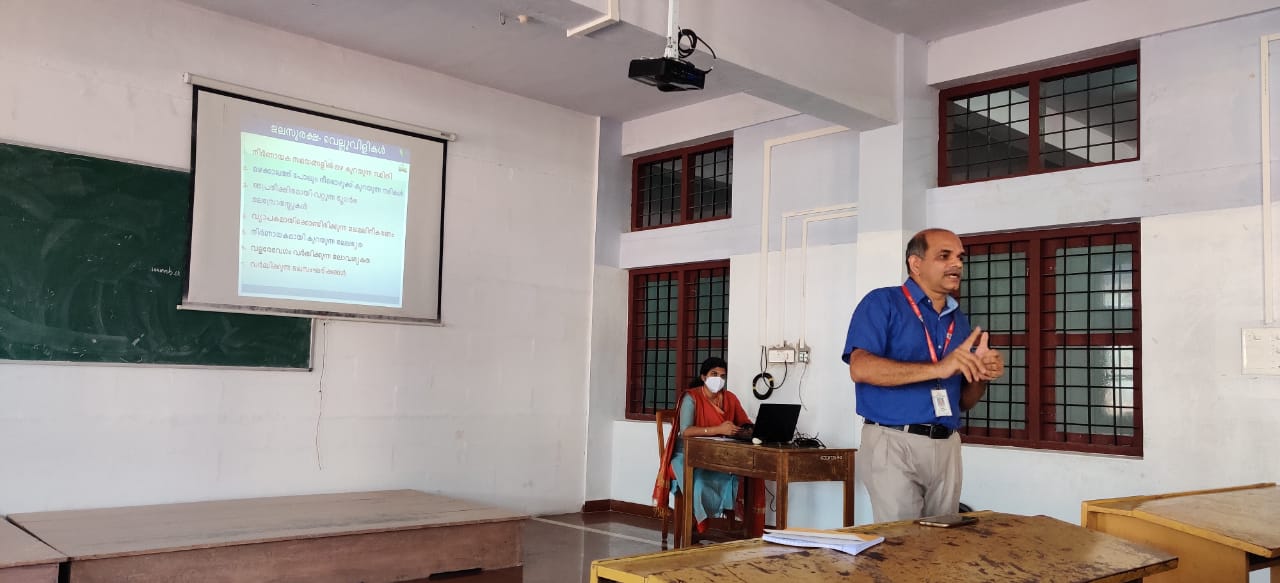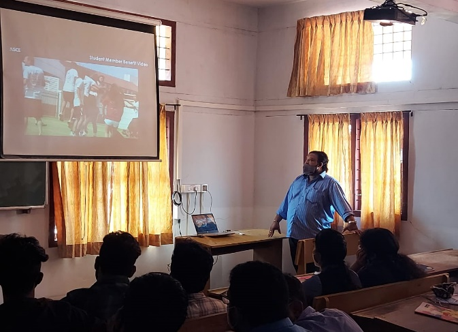 The Resource Person Dr.Kishore Pankan PhD, MBA, A.M.ASCE, Managing Director, Habilete Learning Solutions Pvt. Ltd, led a class on ASCE student Chapter for seventh semester students on 01st November 2021. The session was handled by the speaker explaining the detailed review on ASCE activities.
Civil Engineering Association (CEA) of Department of Civil Engineering, SJCET Palai organized a webinar on Building Information Modeling with Mr. Madhav Sreekumar (Technical Consultant in Bexel India Consulting) and Ms. Lakshmi N Suresh (Marketing and Strategy Manager in Bexel India Consulting) as subject experts on 13th November 2021 at 1:30 pm, for the students of The Civil Engineering Department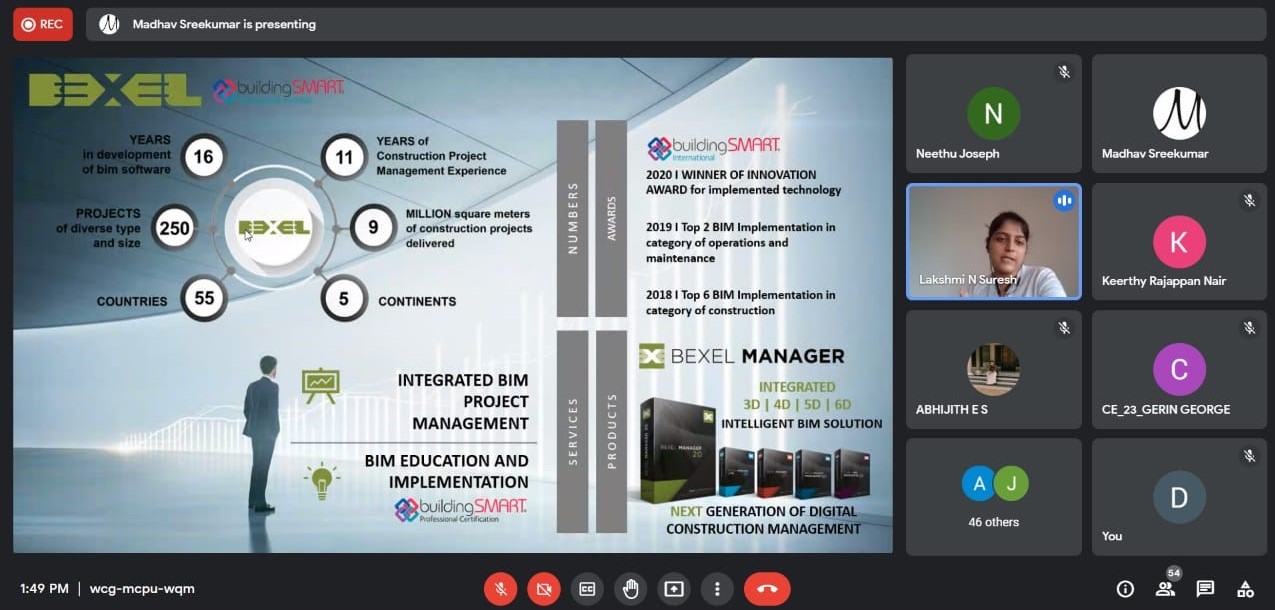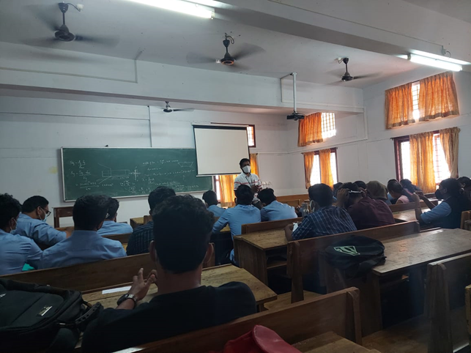 Civil Engineering Association (CEA) of Department of Civil Engineering, SJCET Palai organised a seminar on Professional Ethics for seventh semester students on 11th November 2021.The resource person was Mr. Babu Sankar, Assistant Professor, Department of Mechanical Engineerig, SJCET Palai.
Civil Engineering Association (CEA) of Department of Civil Engineering, SJCET Palai organised a fire and safety awareness class with Demonstration of the working of Fire Fighting Equipments on 11th November 2021 for seventh semester students. The resource person Mr. Jameskutty Zacharias, Department of Mechanical Engineering, SJCET Palai demonstrated the working of the firefighting equipment and hands on sessions were given to the students.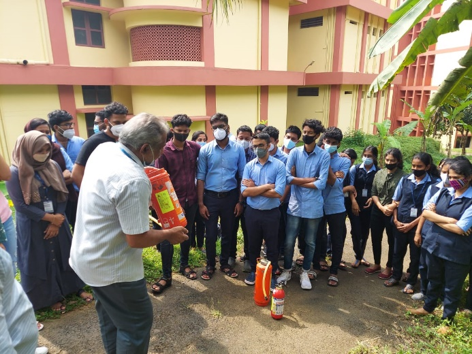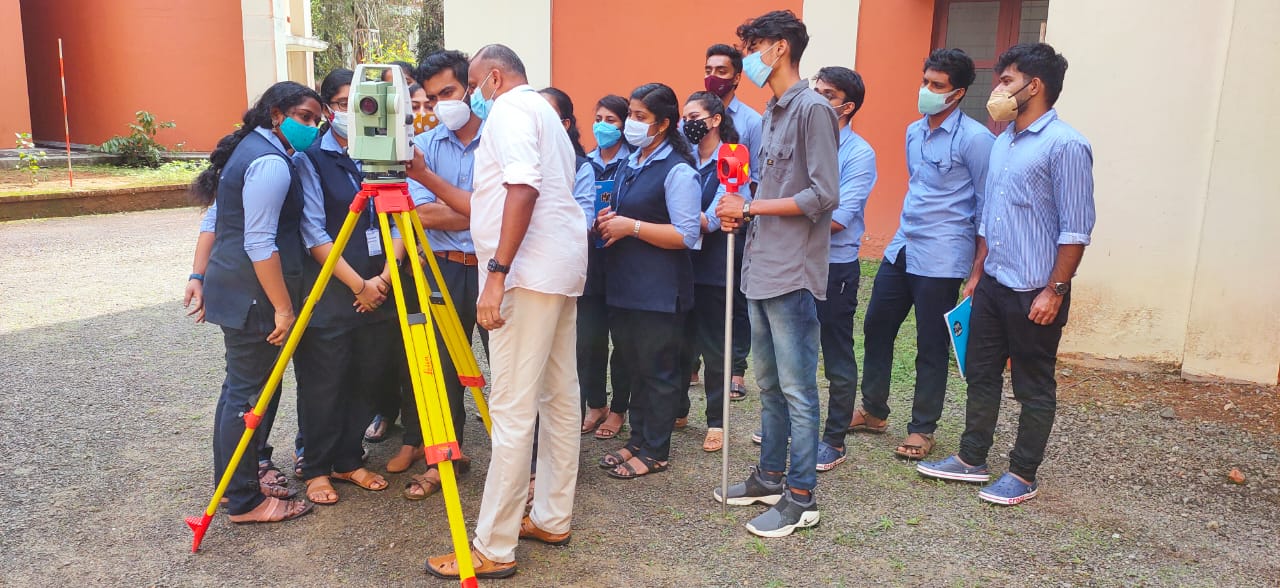 A practical session on Total station was organised for the final year B. Tech students on 26th October 2021 in order to enhance their practical skills in modern surveying equipment. The class was taken by Mr. Joby George, Survey Lab Instructor.
. A practical session on Bitumen extraction was organised for fifth semester B. Tech students on 3rd December 2021 at Transportation Engineering Lab, Department of Civil Engineering. The class was taken by Ms. Ligi Simon, Lab-instructor.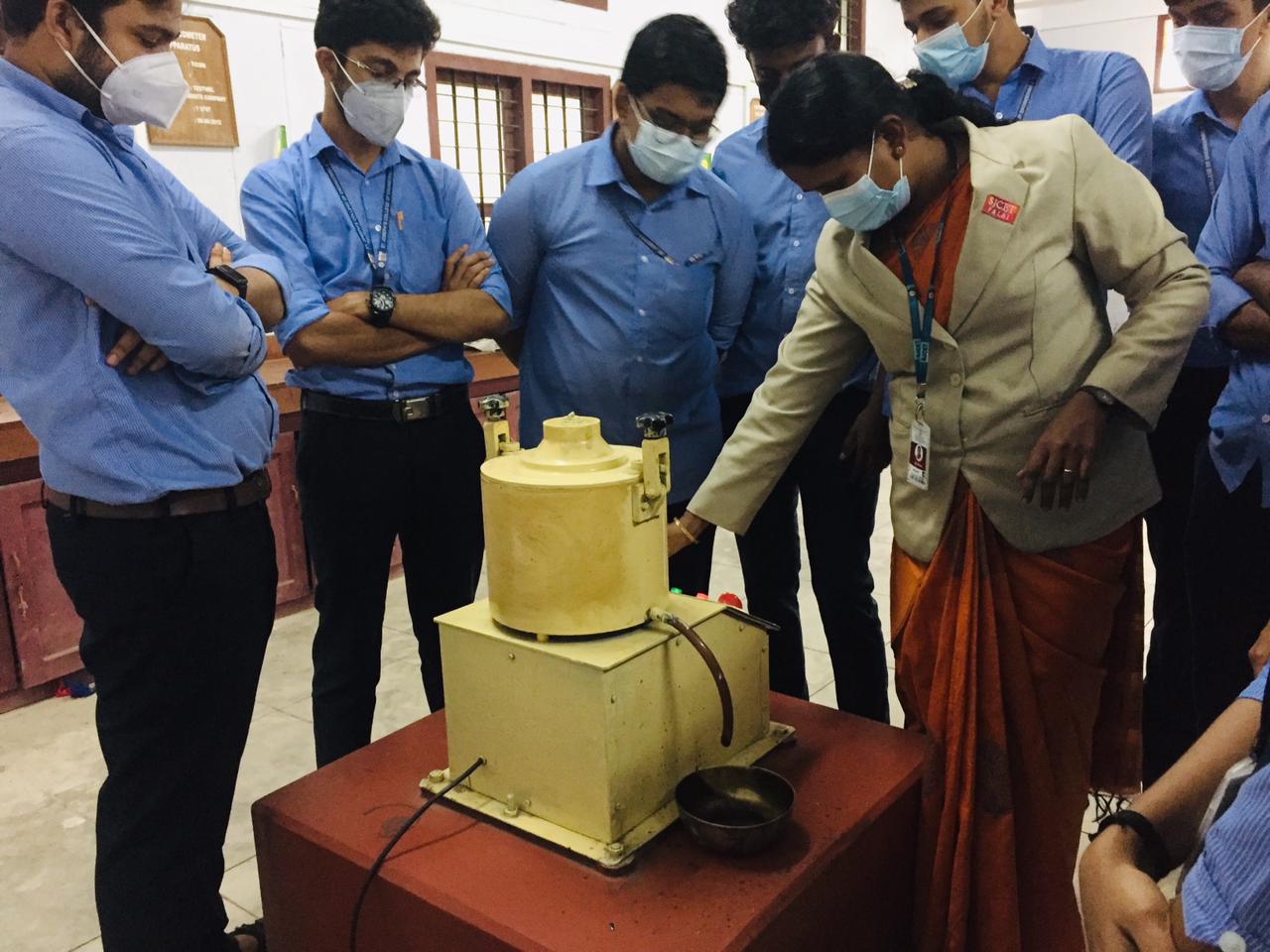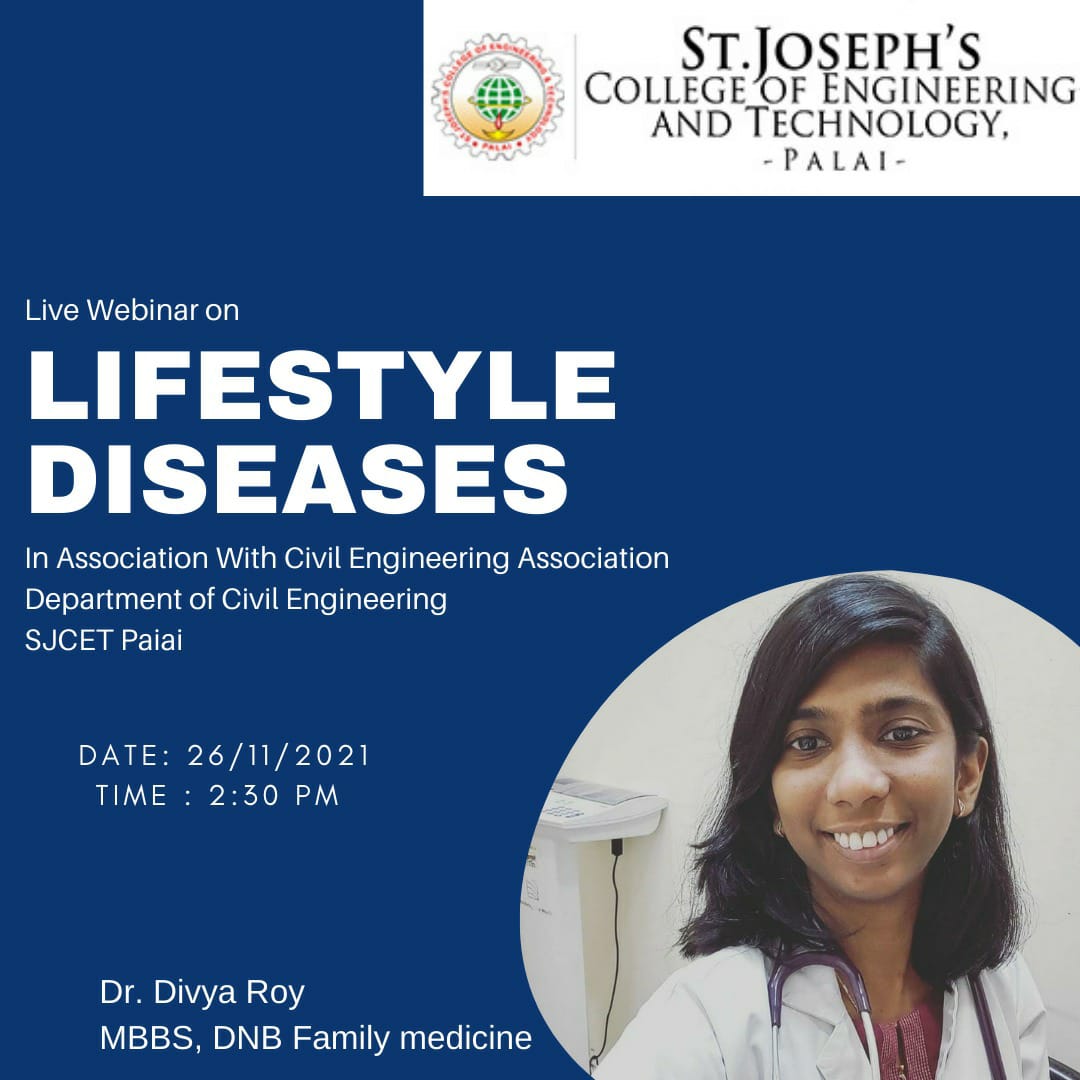 Department of Civil Engineering in association with CEA, SJCET Palai organised a Webinar on "Lifestyle Diseases" guided by Dr. Divya Roy (MBBS, DNB Family Medicine) for Second and Third year Civil Engineering students on 26th November 2021 at 2:30 pm.
Department of Civil Engineering, in association with CEA, SJCET Palai organised a Webinar on "Precast Building Systems" guided by Er. Mathew Jose Jin (Asst. Engineer, Metro IC, L&T Constructions, Chennai) for Final year Civil Engineering students on 23rd April 2021at 10.00am.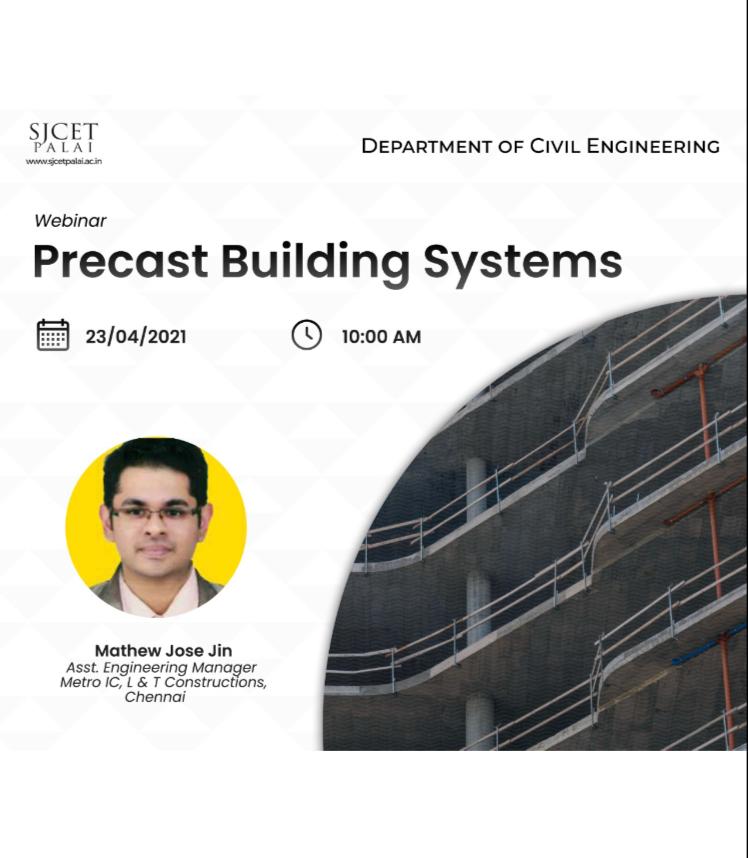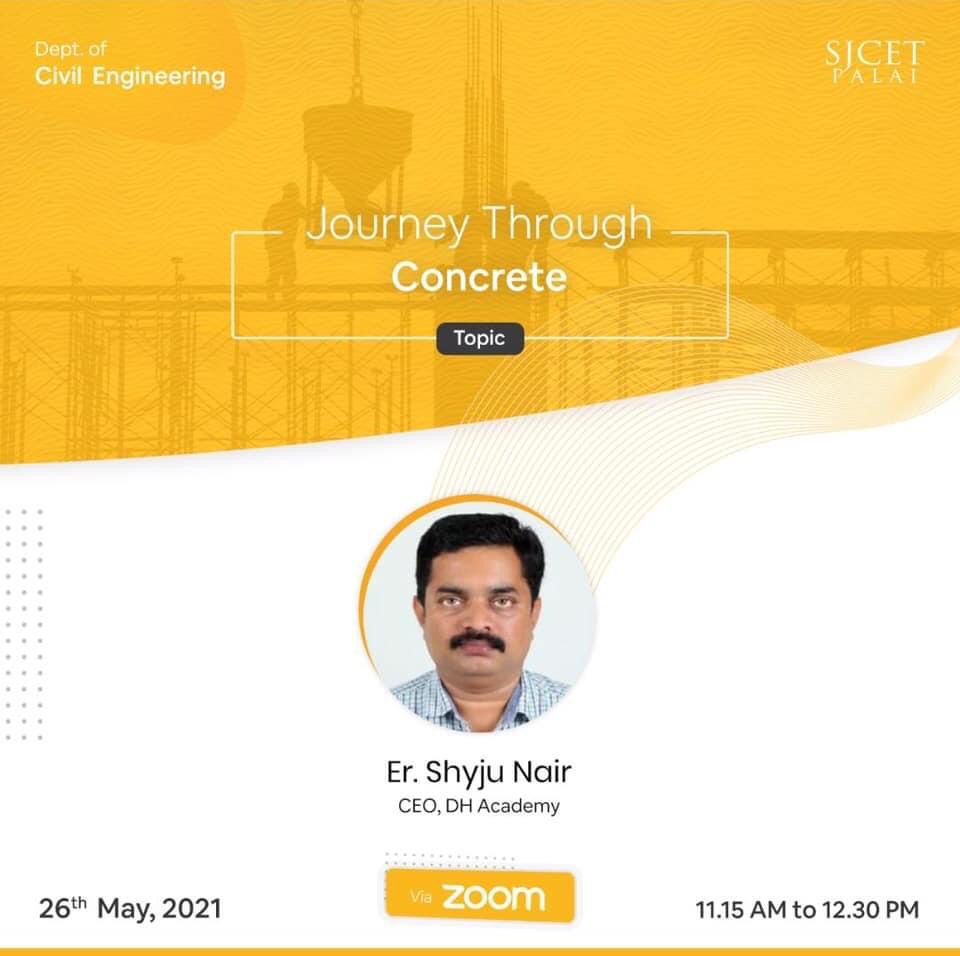 Department of Civil Engineering, SJCET Palai, in association with DH Academy organised a webinar guided by Er. Shyju Nair (CEO, DH Academy) on the topic "Journey through Concrete" on May 26th 2021 at 11.30am
Expert Talk on "Tips for Healthy Life Style" by Dr. Gibi K George (Casualty Doctor, Doctors Speciality Hospital, Kalathipady, Kottayam) on 02/12/2020.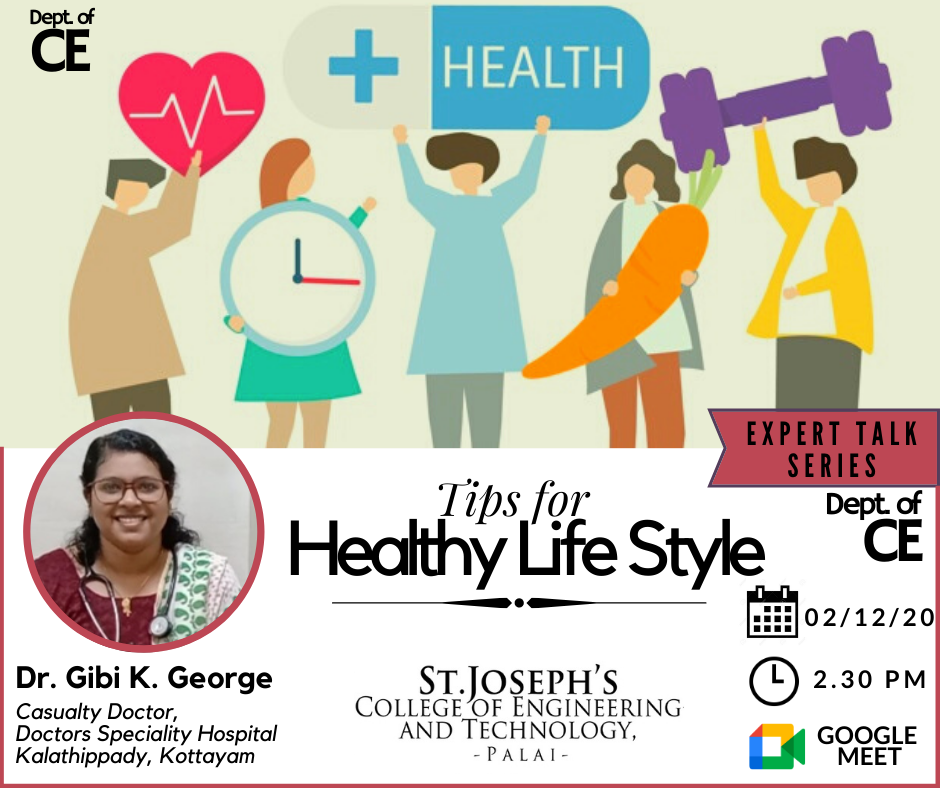 Expert Talk on "Preparation of Feasibility and DPR in context of Highway and Urban Road Development" by Mr. Balakrishnan M. (Former Head – International Operations & Road Projects, L&T Infrastructure Engineering Limited, Chennai) on 09/12/2020.