"Management is doing things right; leadership is doing the right things."- Peter Drucker
St. Joseph's Business School started in 2006, was the fulfillment of a long cherished dream of providing facilities for professional education in this part of Kerala. From its very inception , the business school had been relevantly establishing an impeccable reputation among all the stake holders and the visiting committees as a "College with a difference".
Affiliated to APJ Abdul Kalam Technological University, Kerala (KTU), the B-school offers Master's programme in Business Administration (MBA). The aim is to provide an education that helps the students to realize their full potential and become business & industry ready on completion of the course. With this in view, all infrastructural facilities are arranged by the college for soft skills, personality development, Yoga and meditation training, learning skills development, employability skills development, communication skills development, expert counselling services, special coaching for weaker students and sports and games.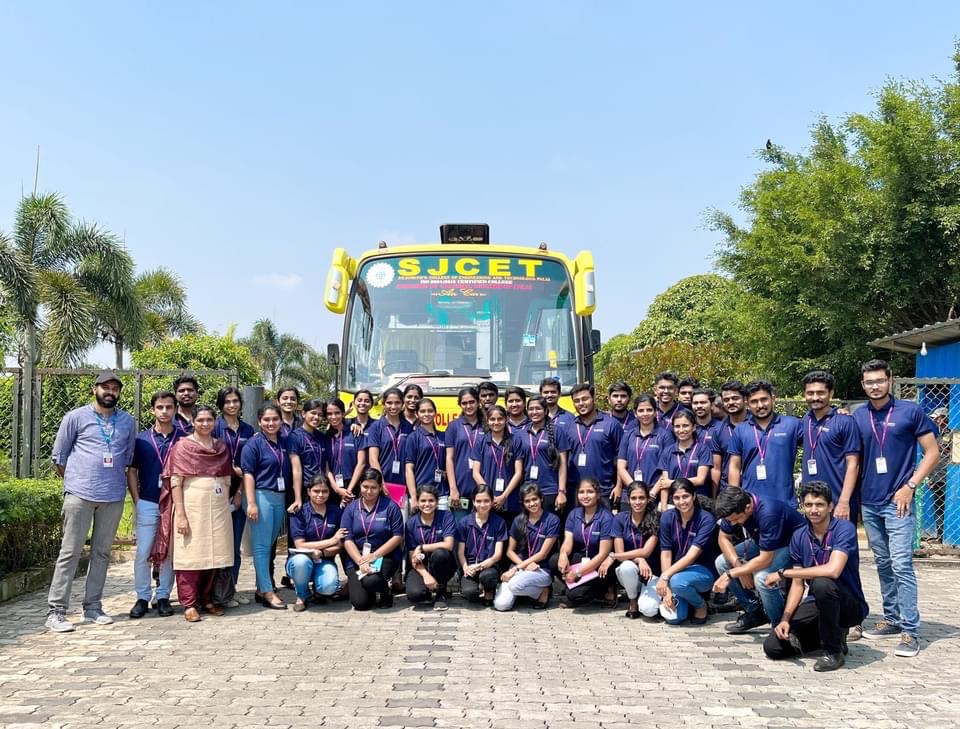 SJBS industrial visits #wemeanbusiness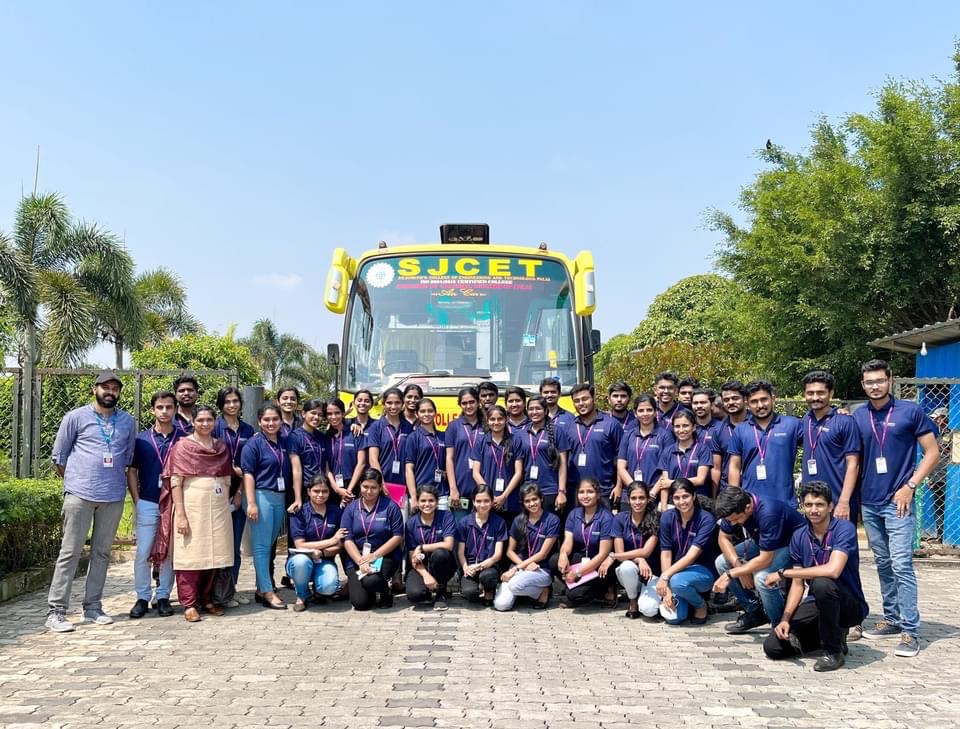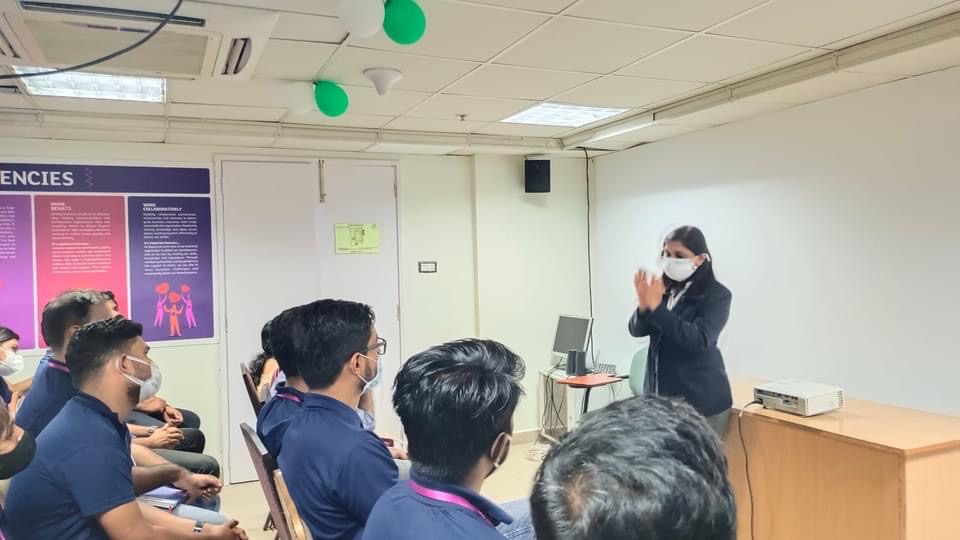 SJBS industrial visits #wemeanbusiness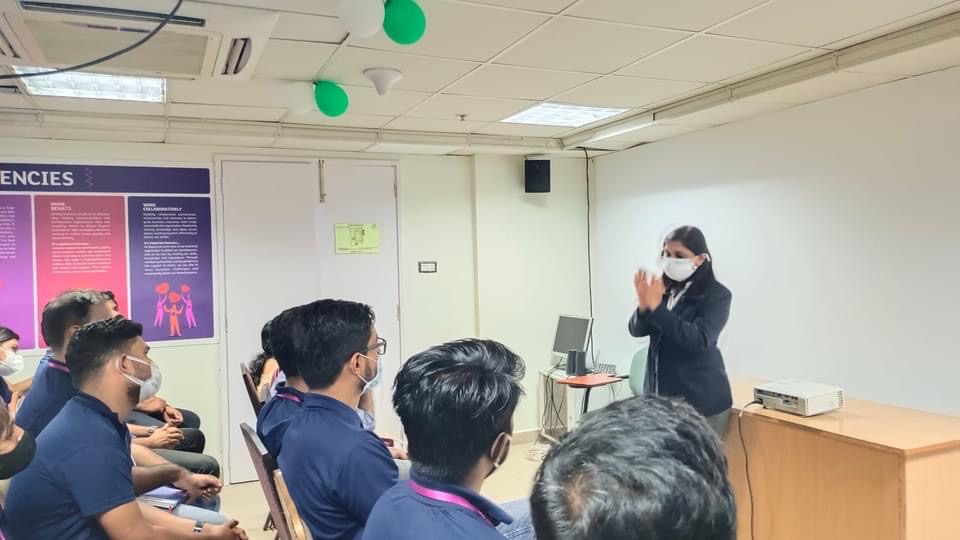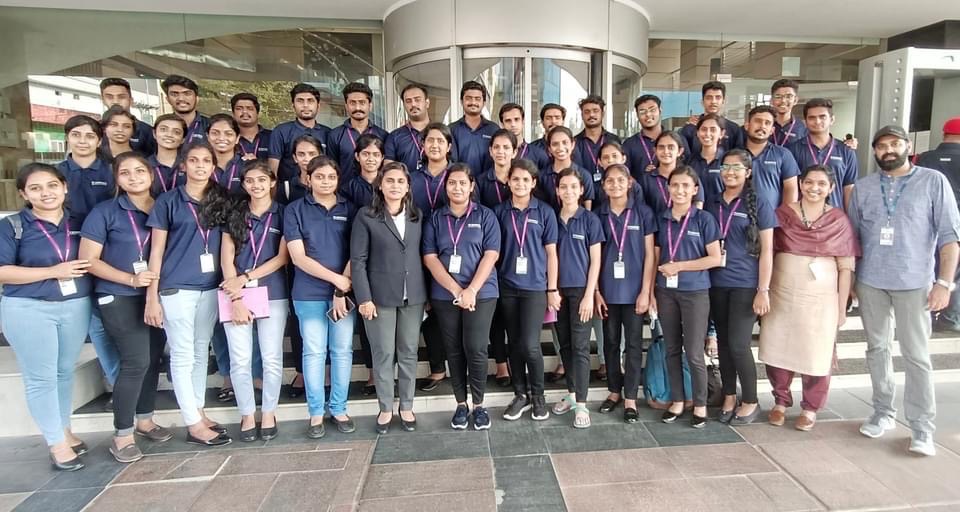 SJBS industrial visits #wemeanbusiness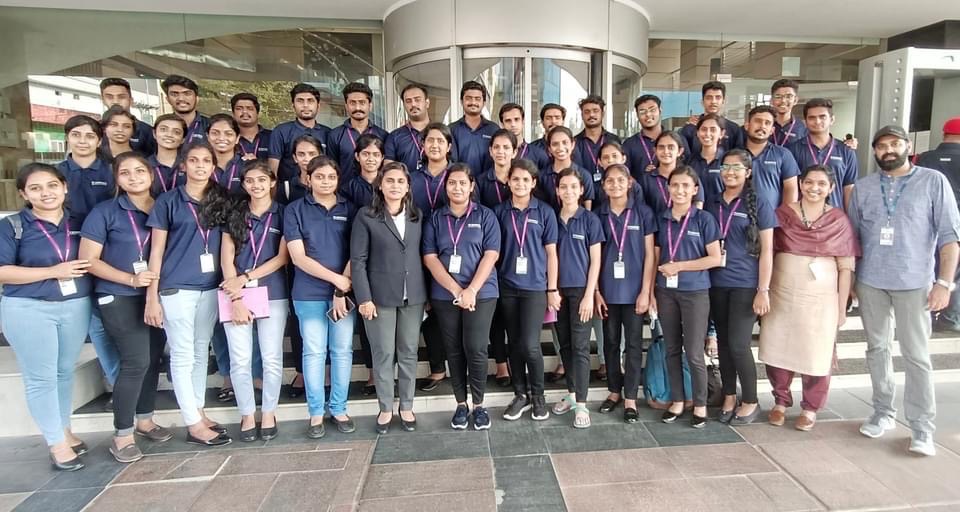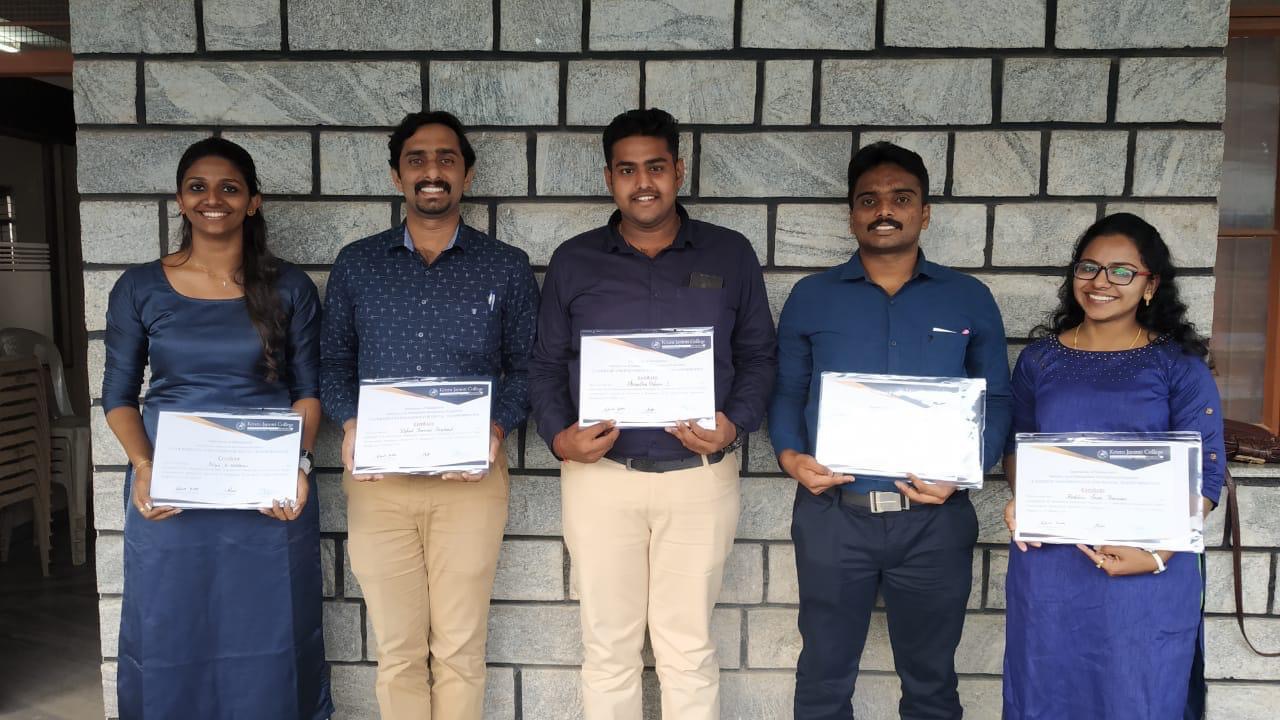 SJBS Student Leadership - Participants for National Level MDP organised by Kristu Jayanti College Banglore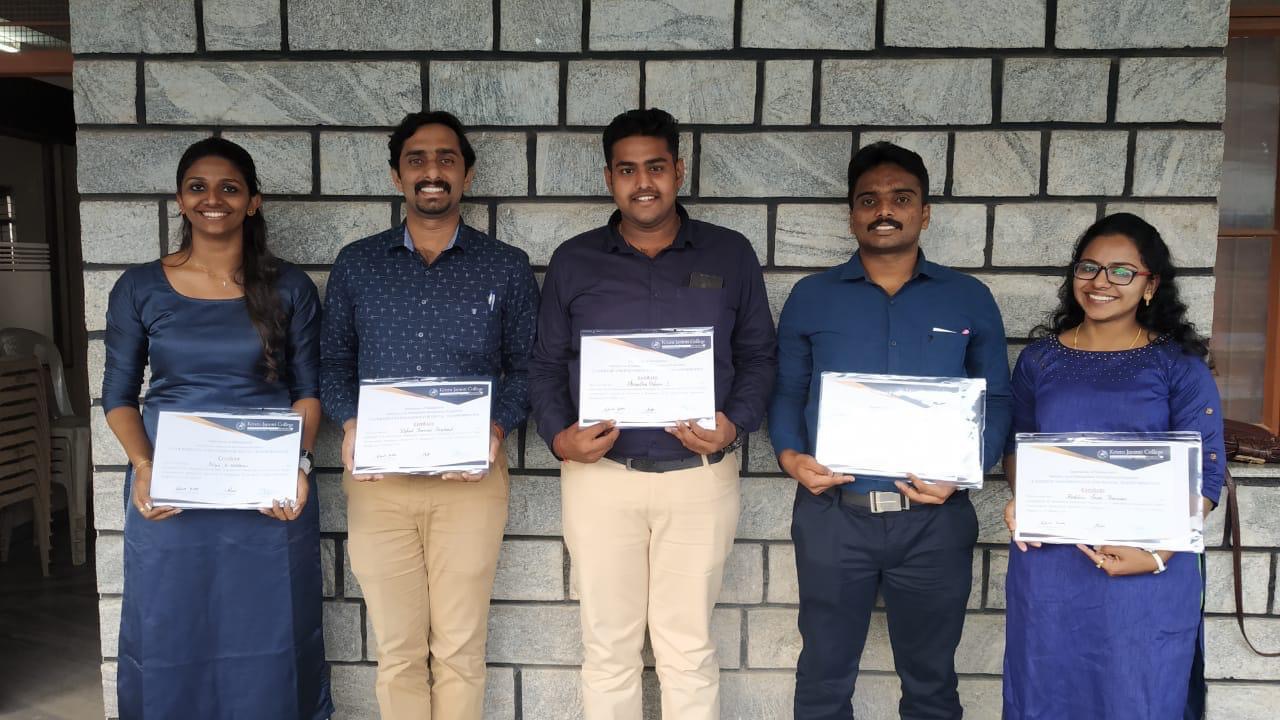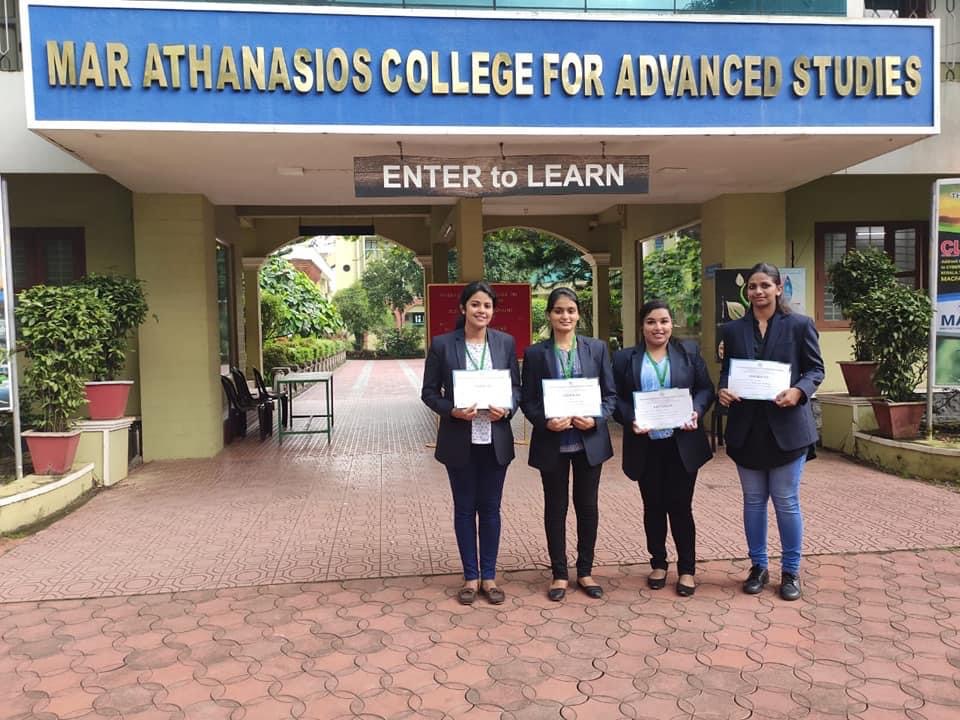 SJBS Student Leadership - Paper presented at International Conference Organised by Macfast College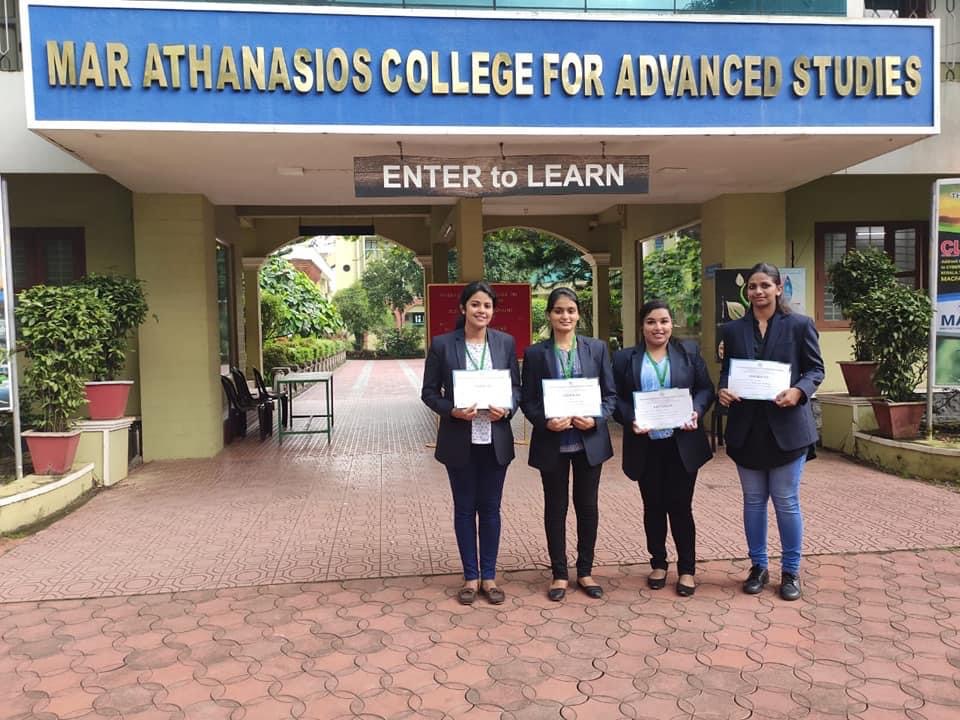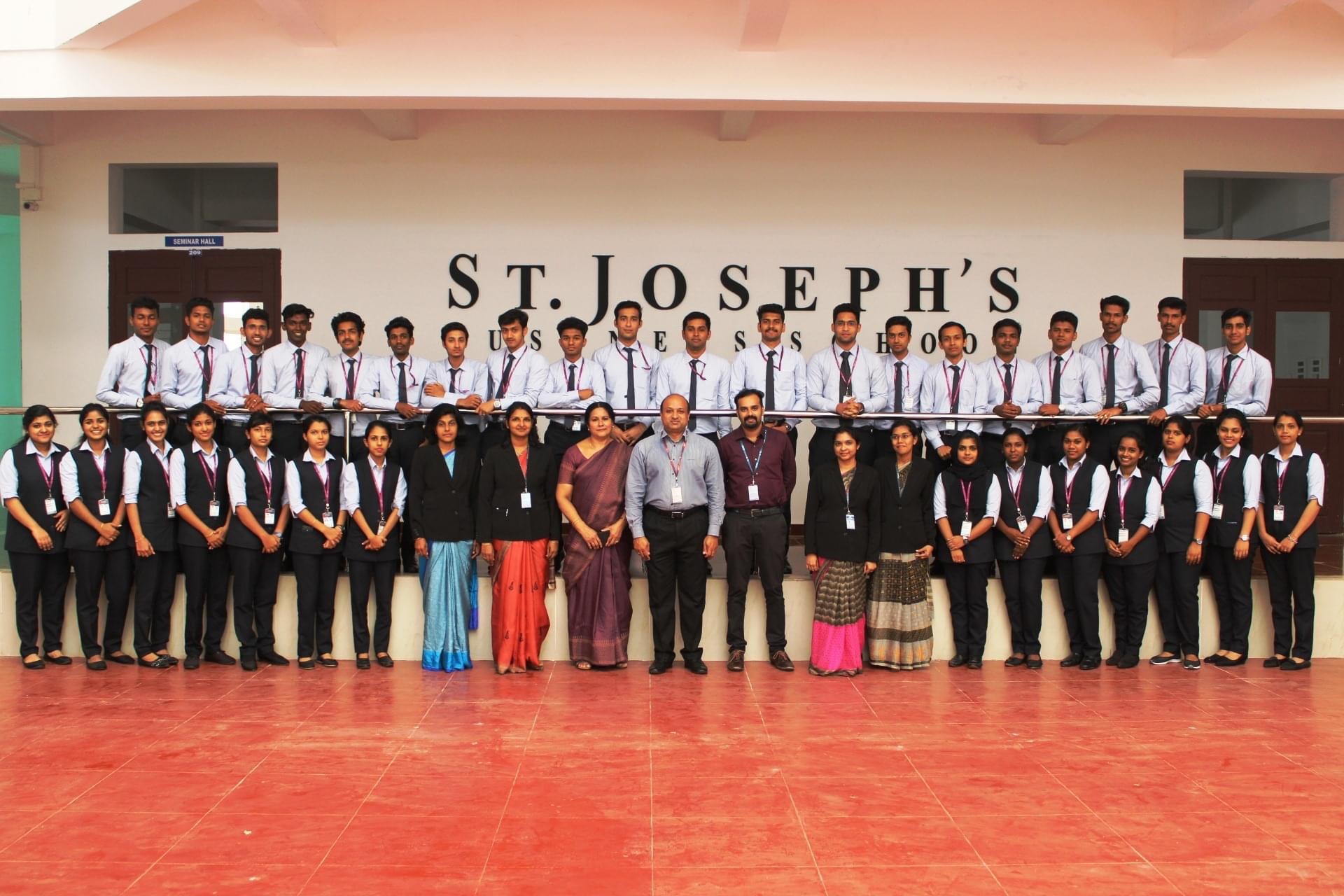 SJBS Personality Development Program - Our commitment to overall student development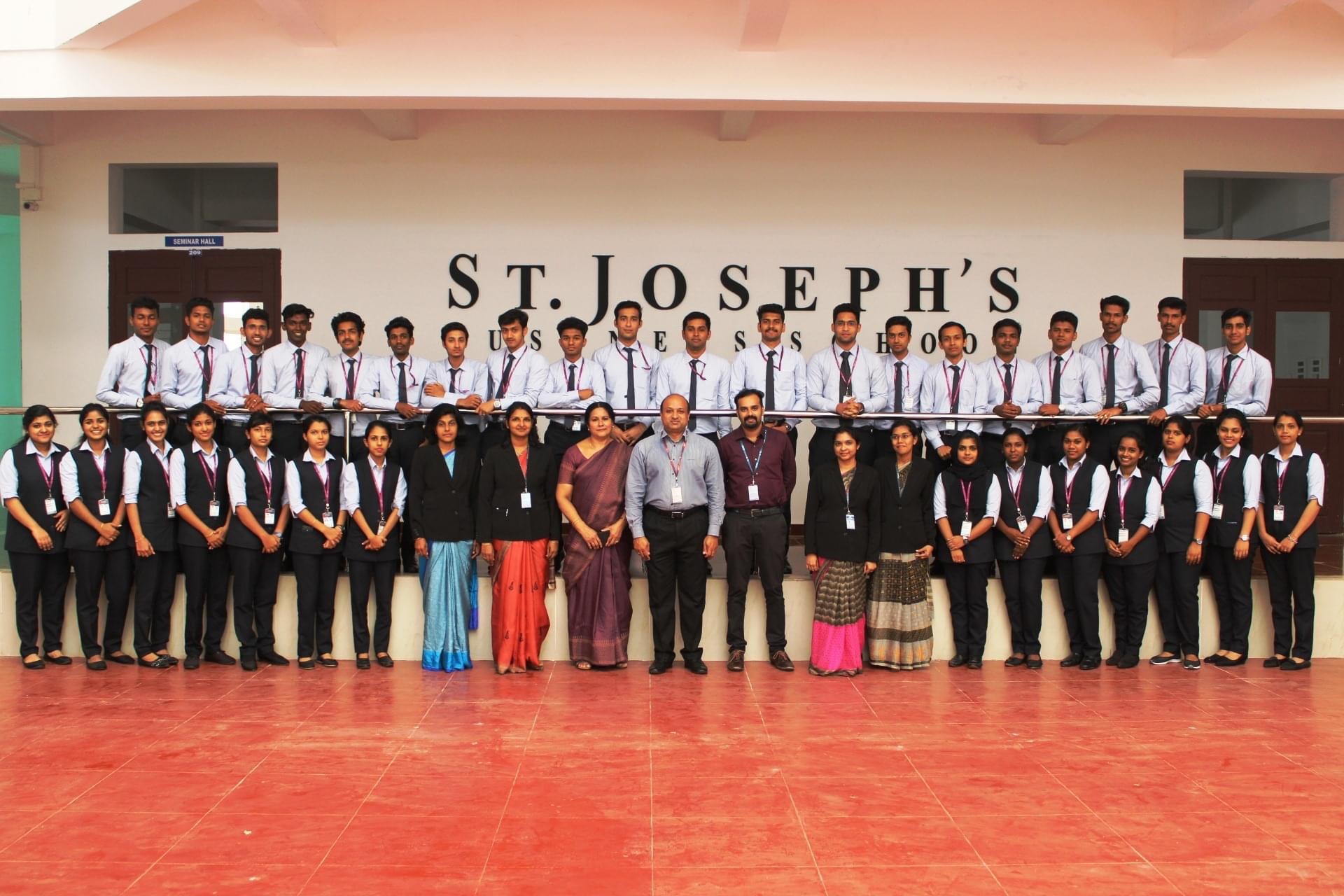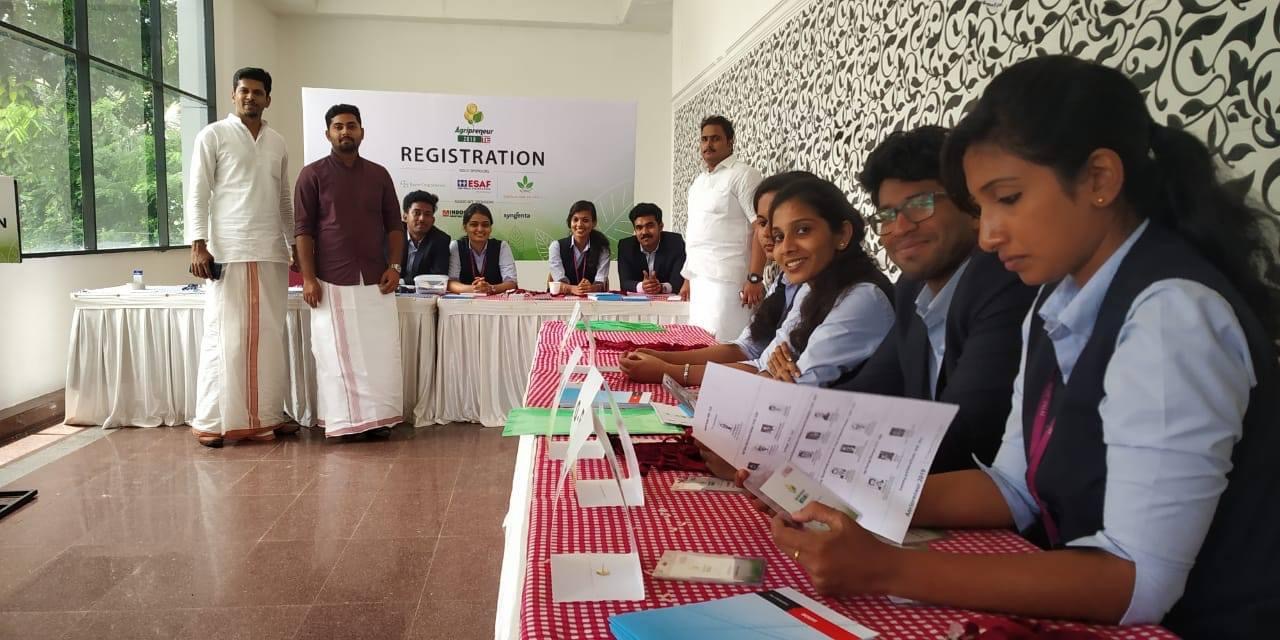 SJBS is proud to partner with TIE - Organizers at TIECON 2019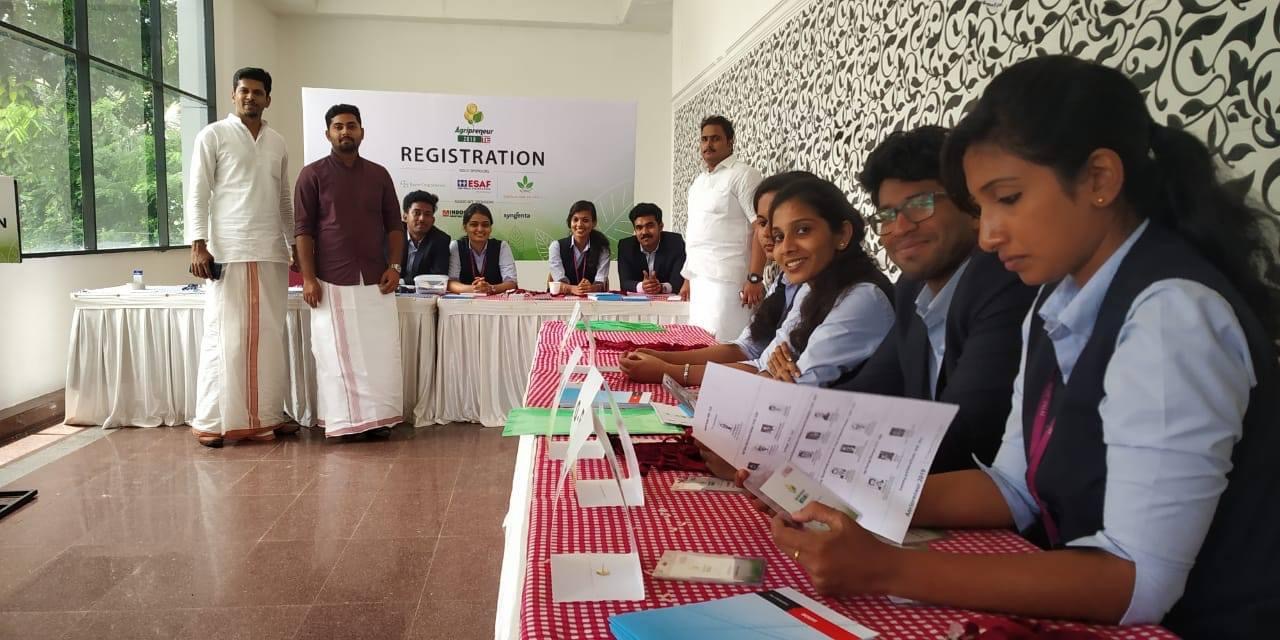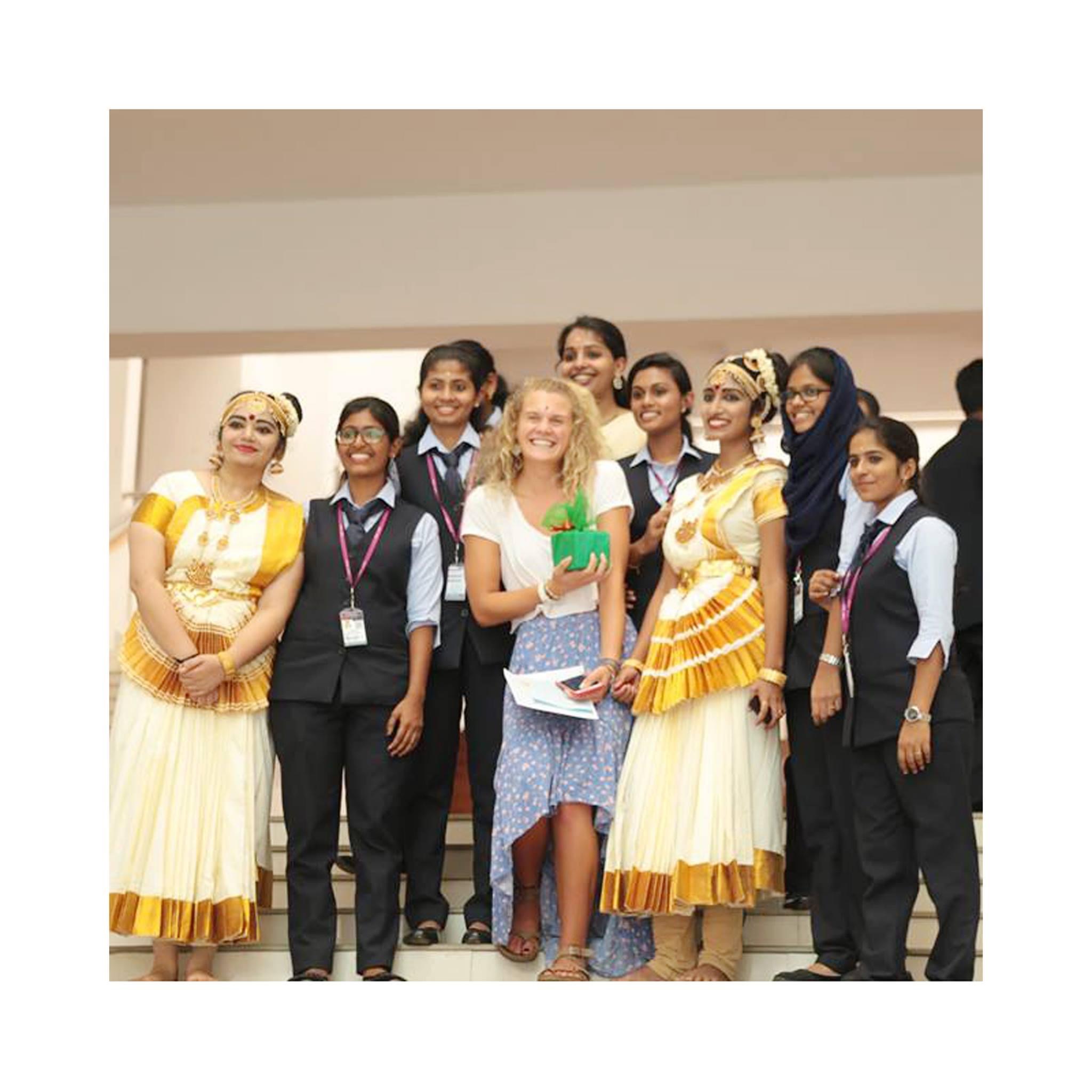 SJBS International Symposium on Responsible Tourism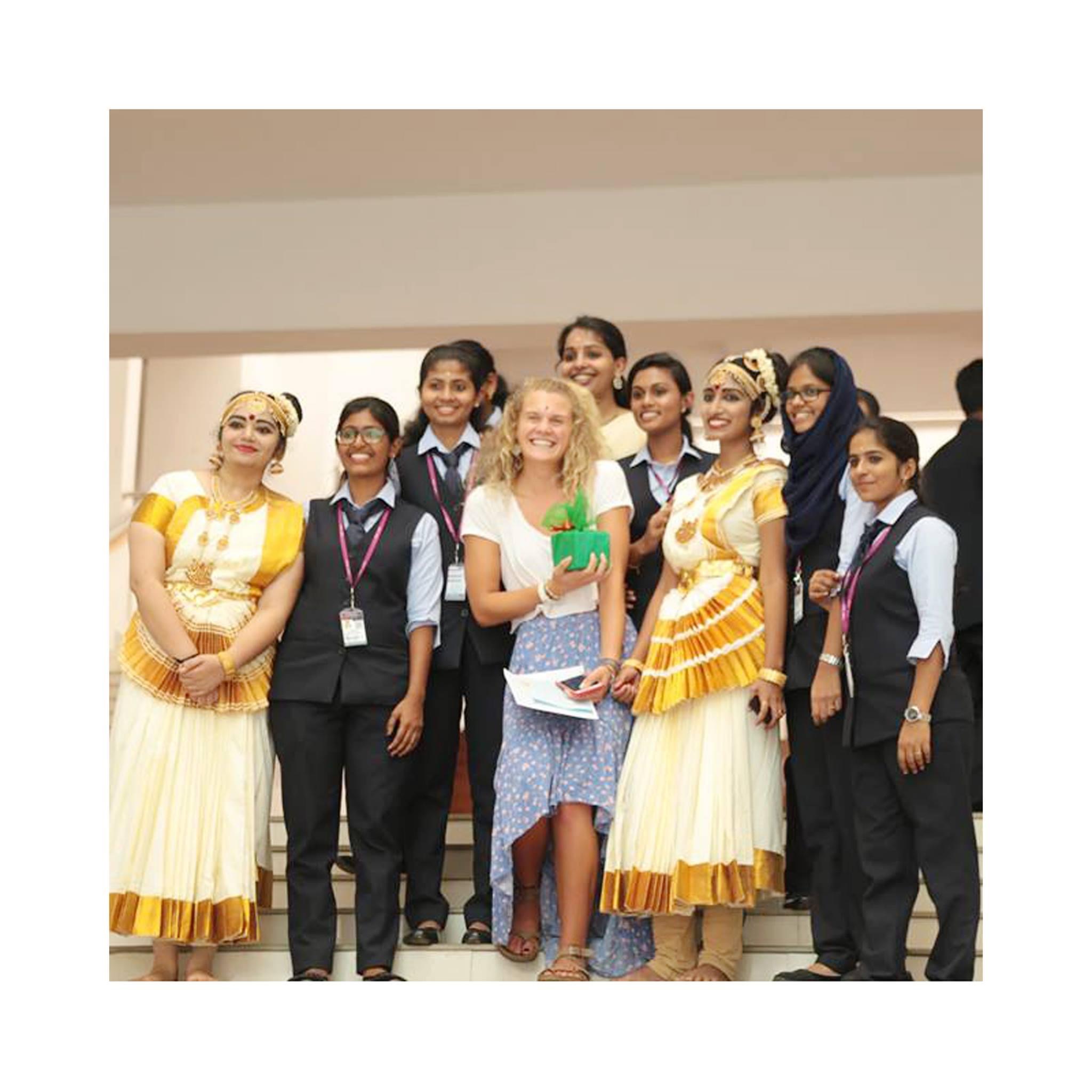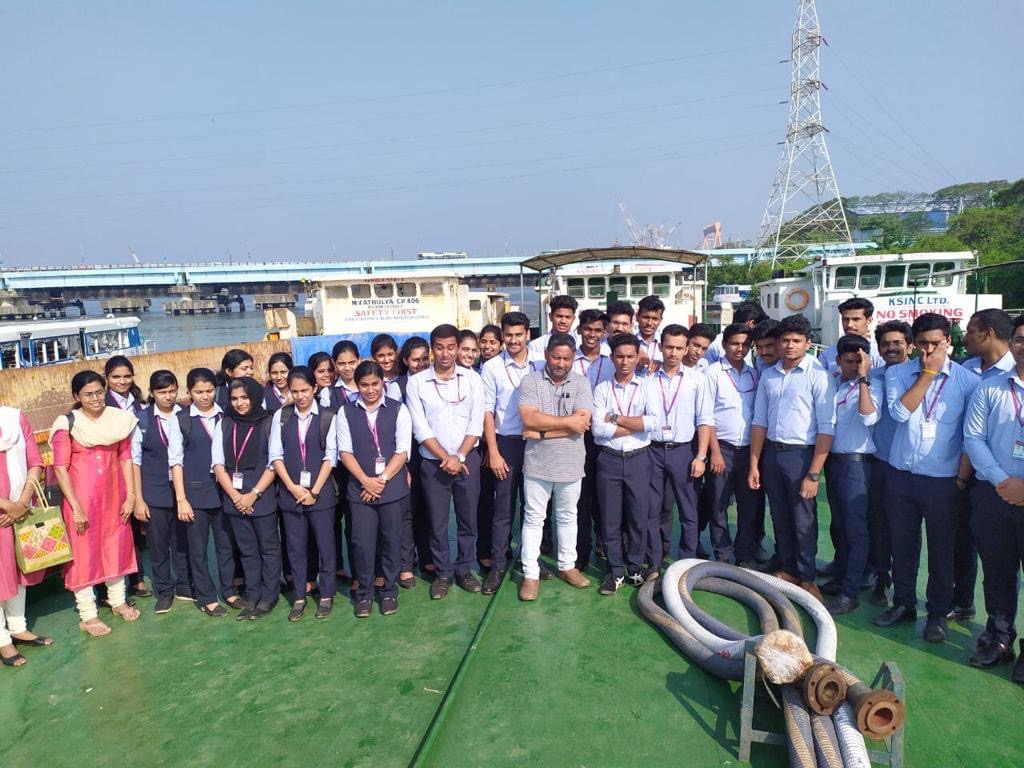 SJBS Industrial Visits - We Mean Business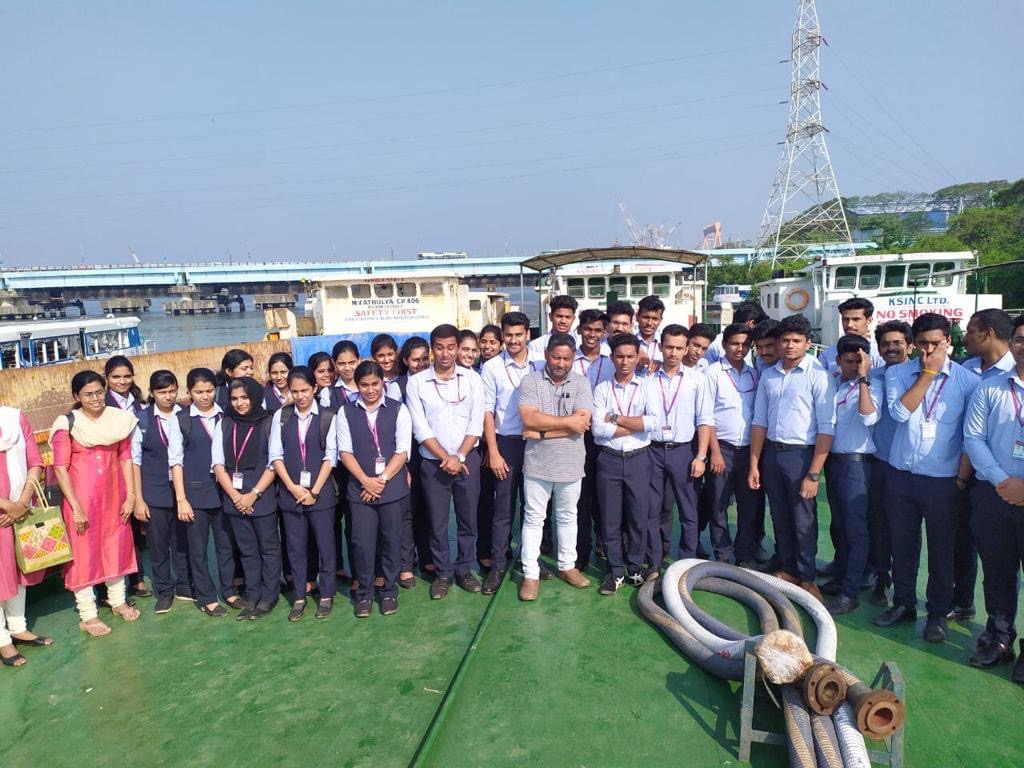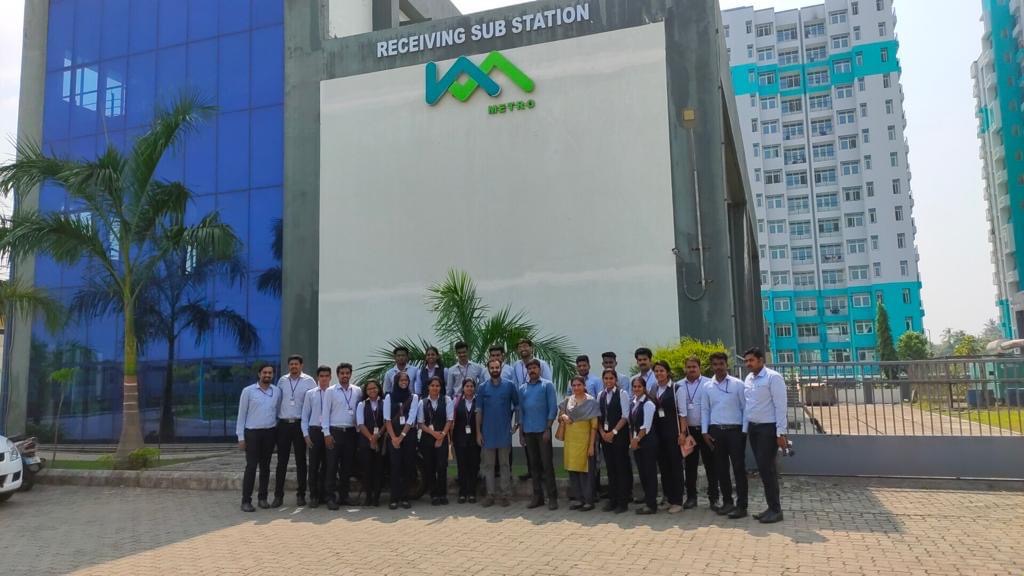 SJBS Industrial Visits - We Mean Business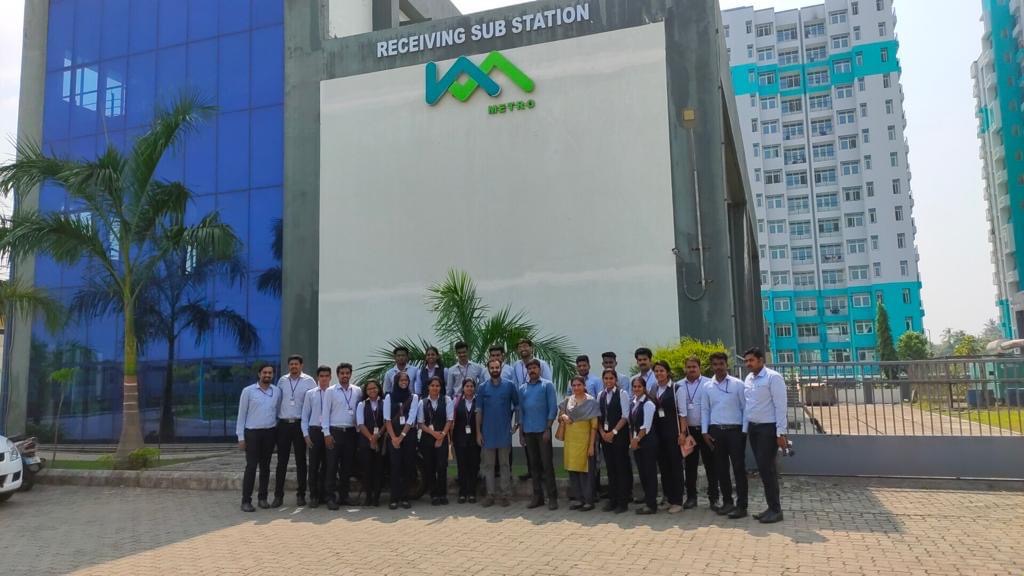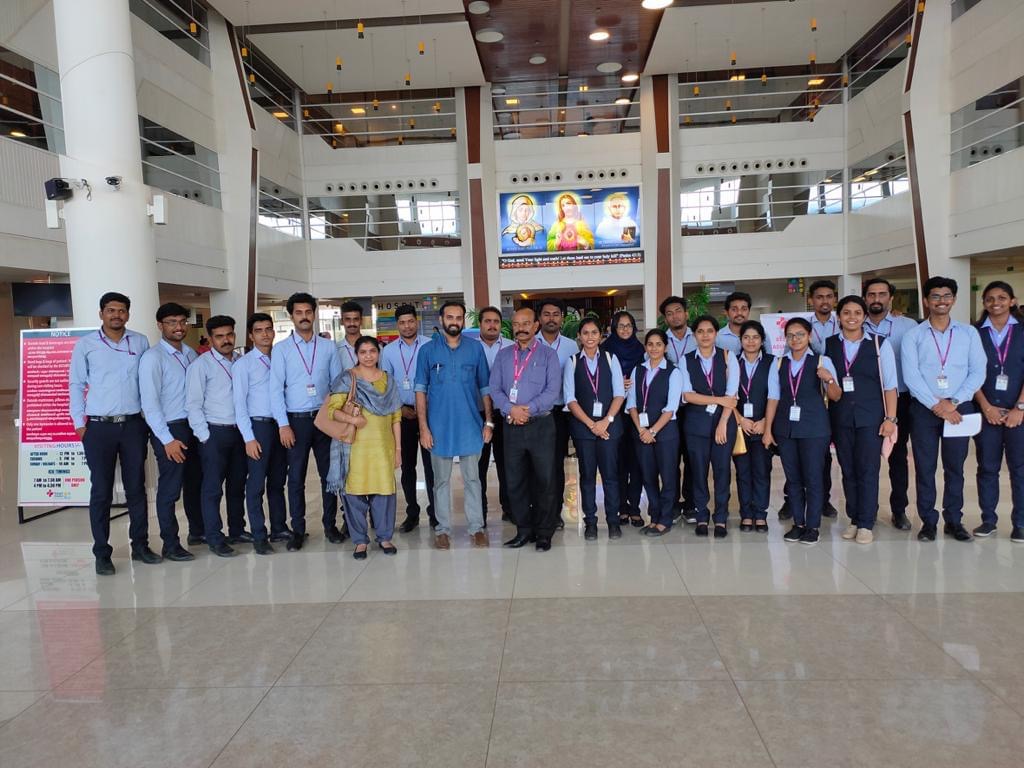 SJBS Industrial Visits - We Mean Business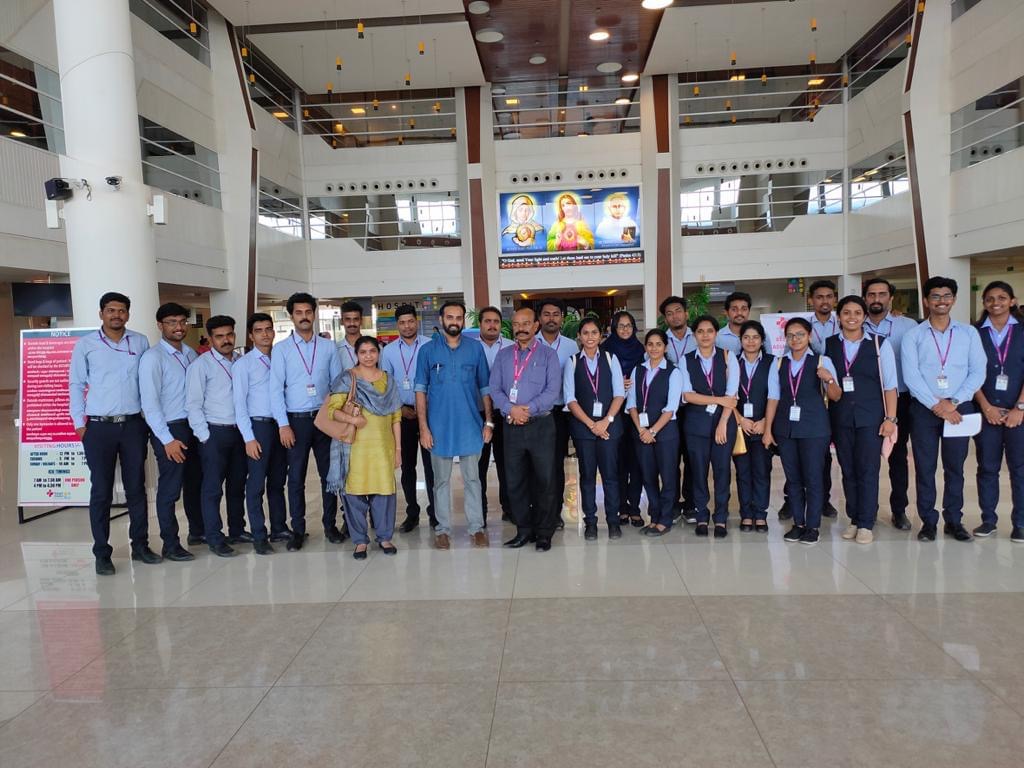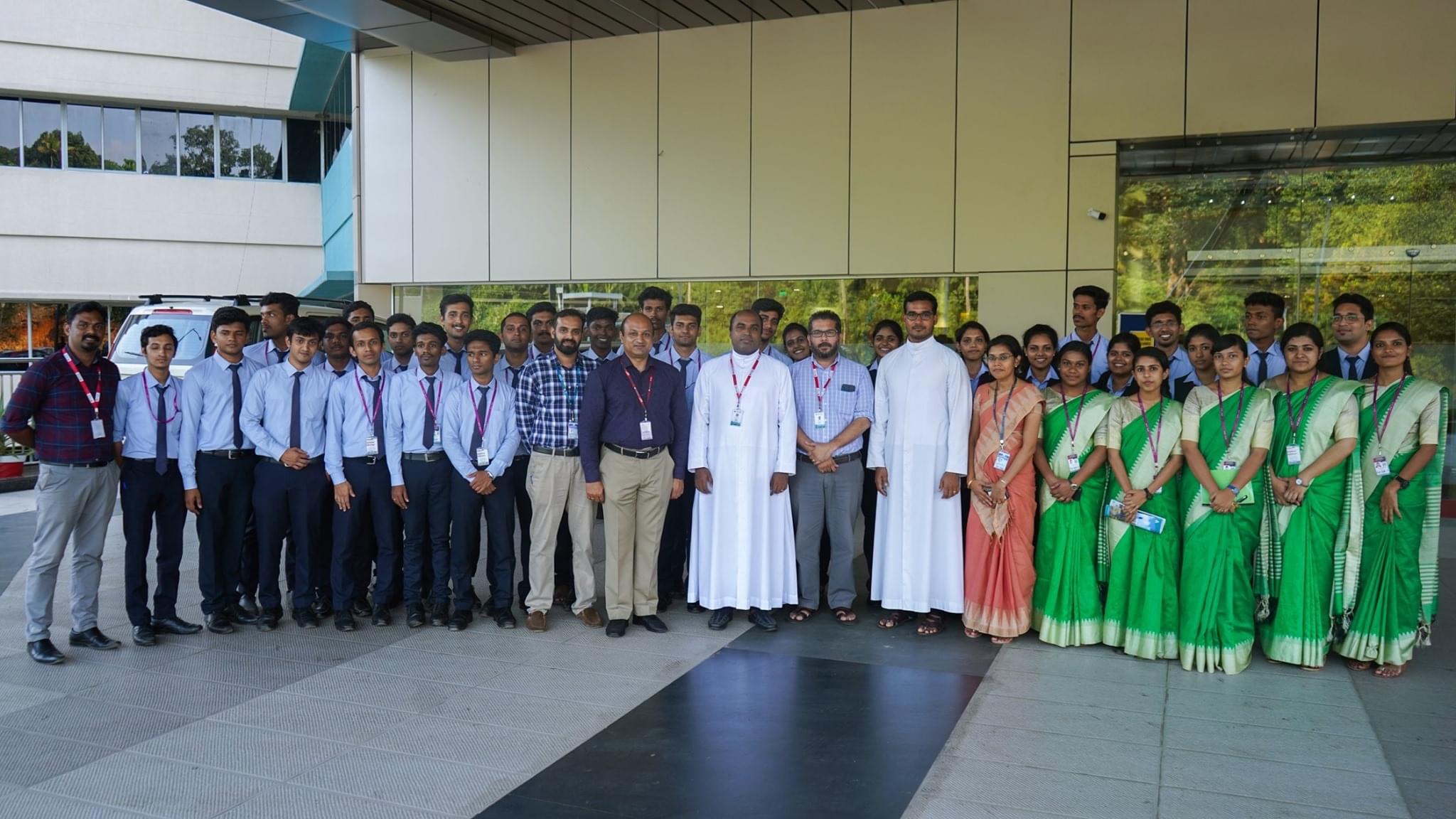 SJBS Industrial visits - We Mean Business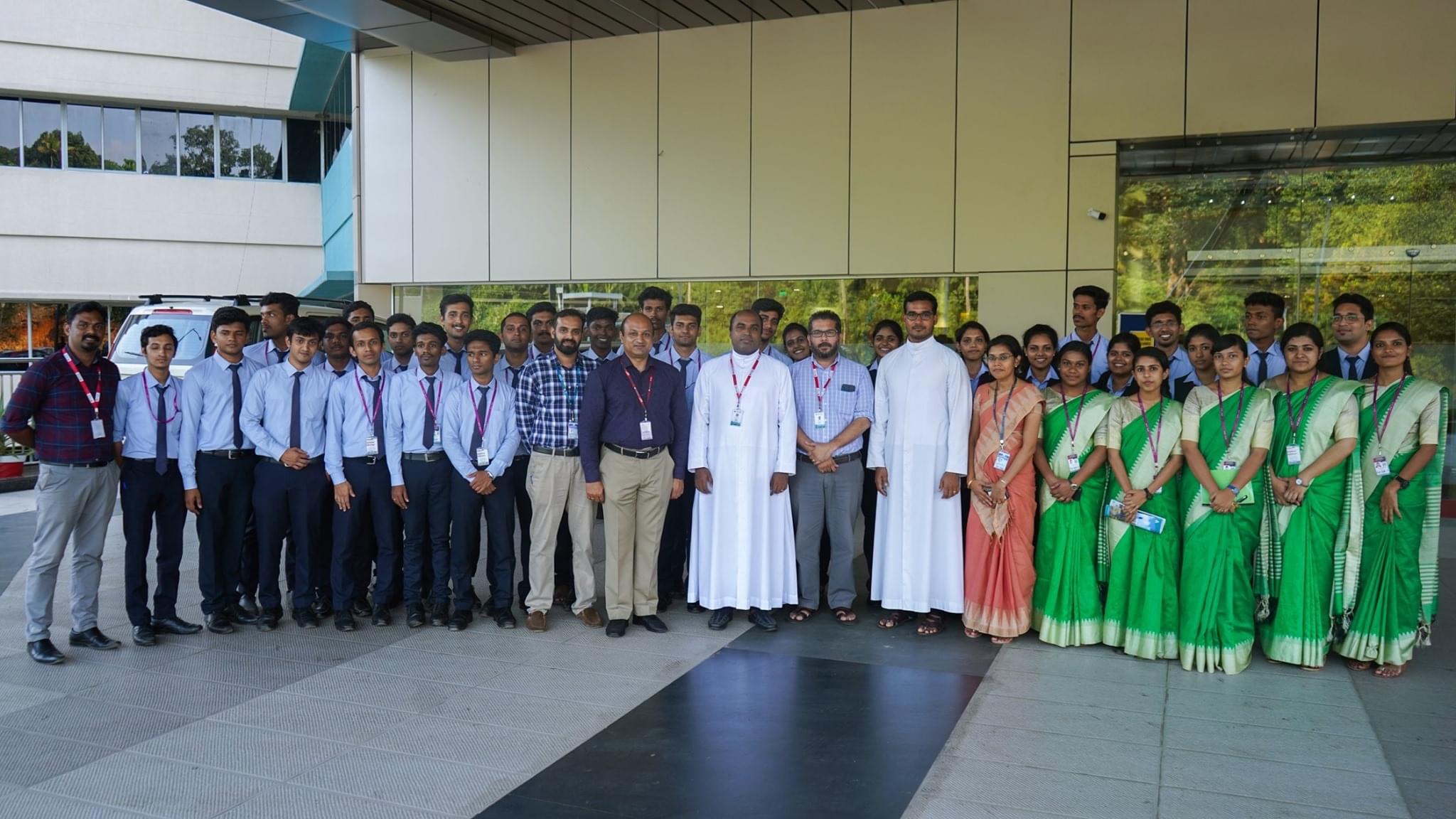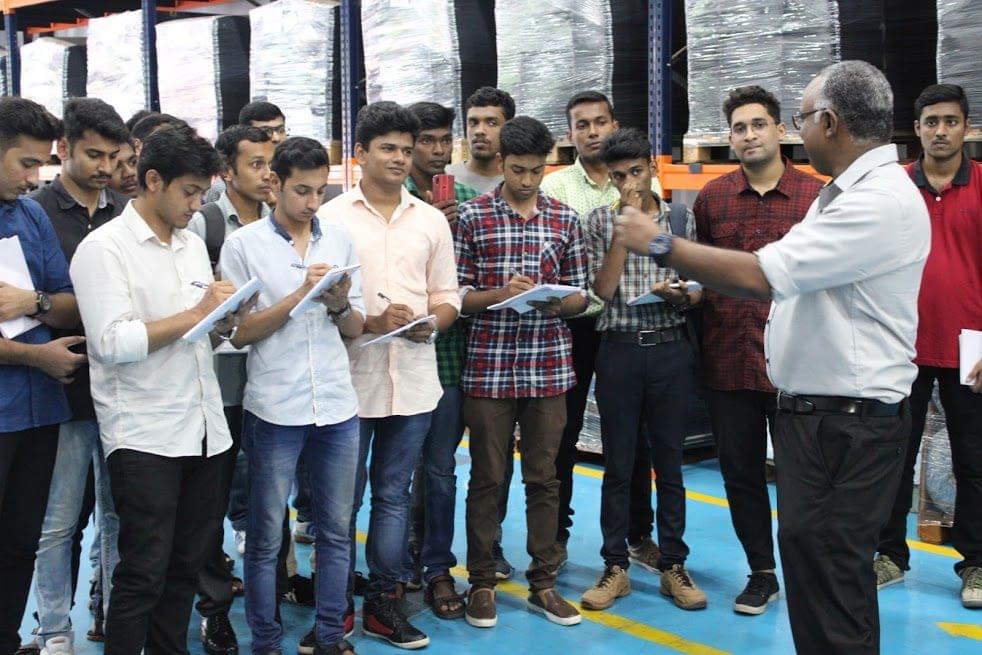 SJBS Industial Visits - We Mean Business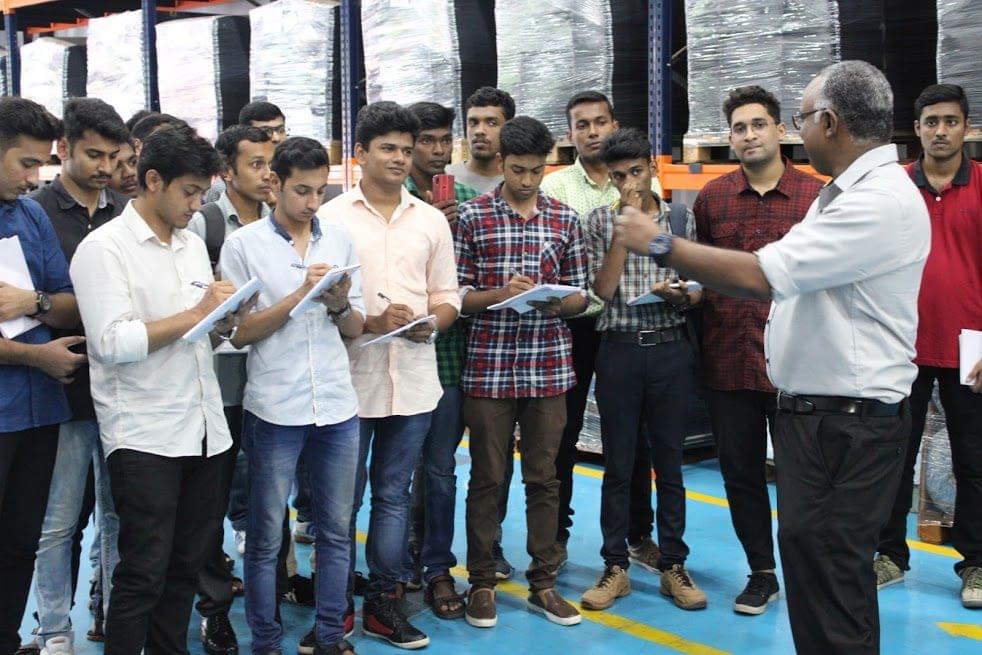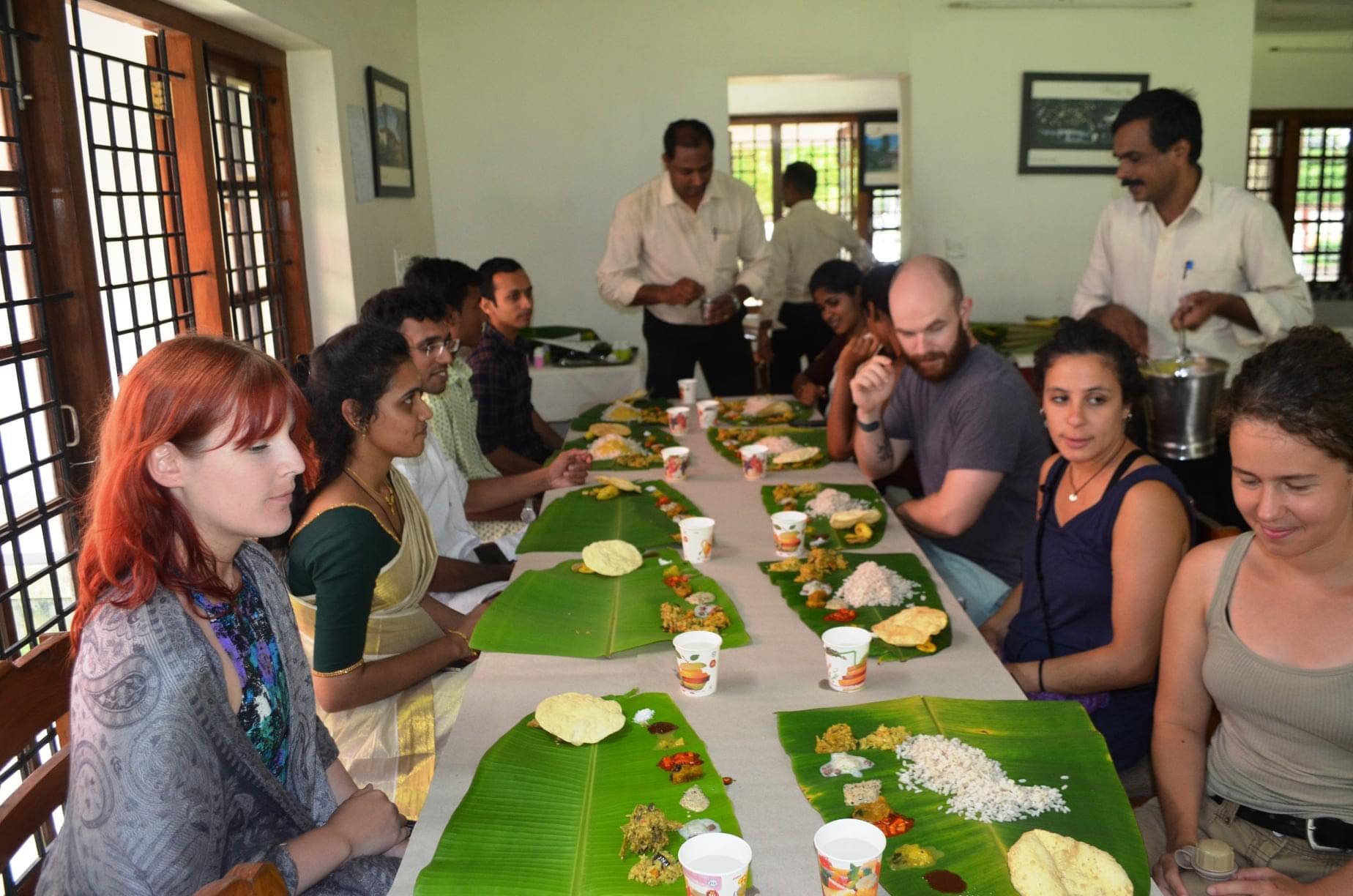 SJBS celebrates Onam with students from Norwegian University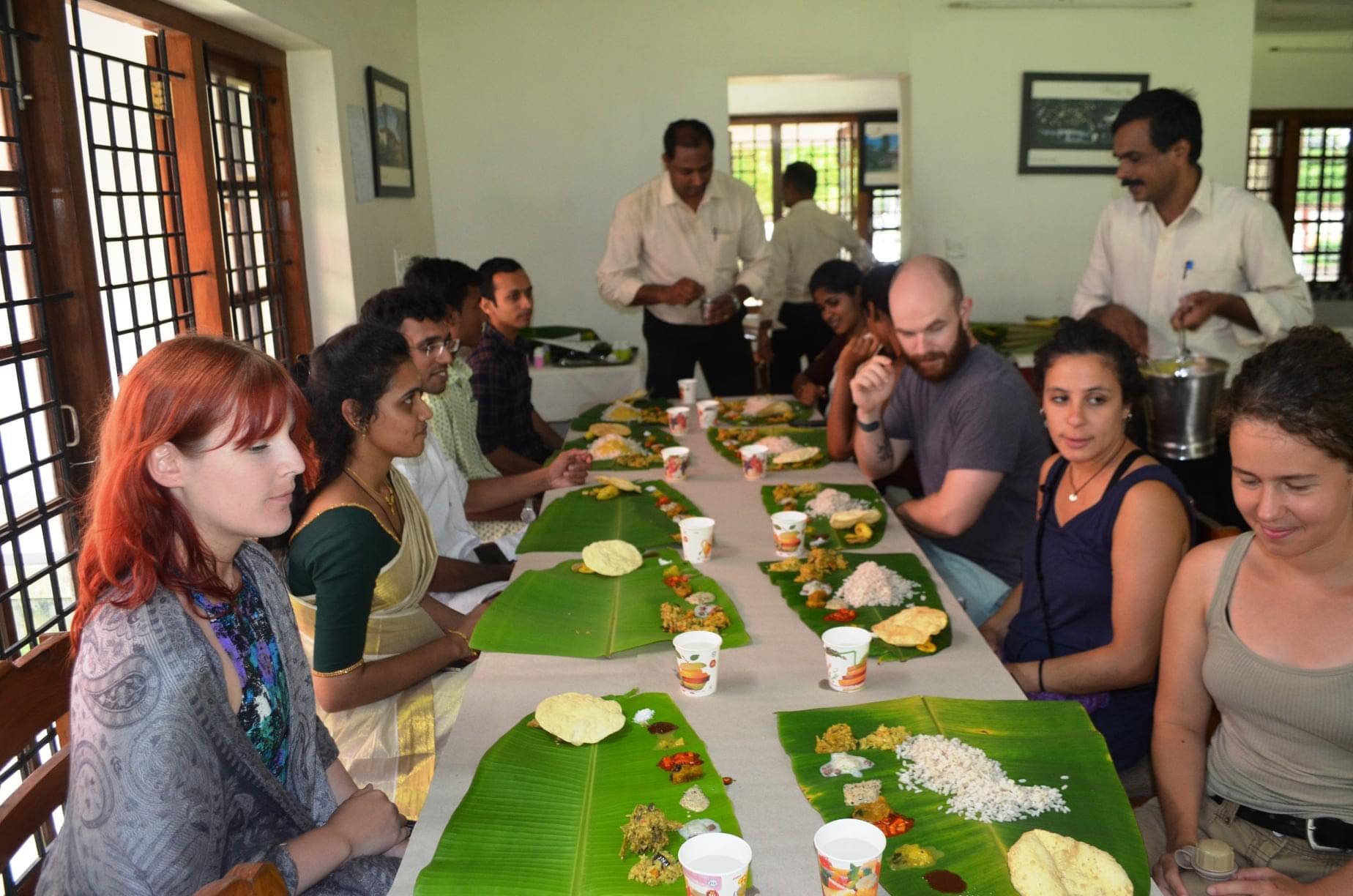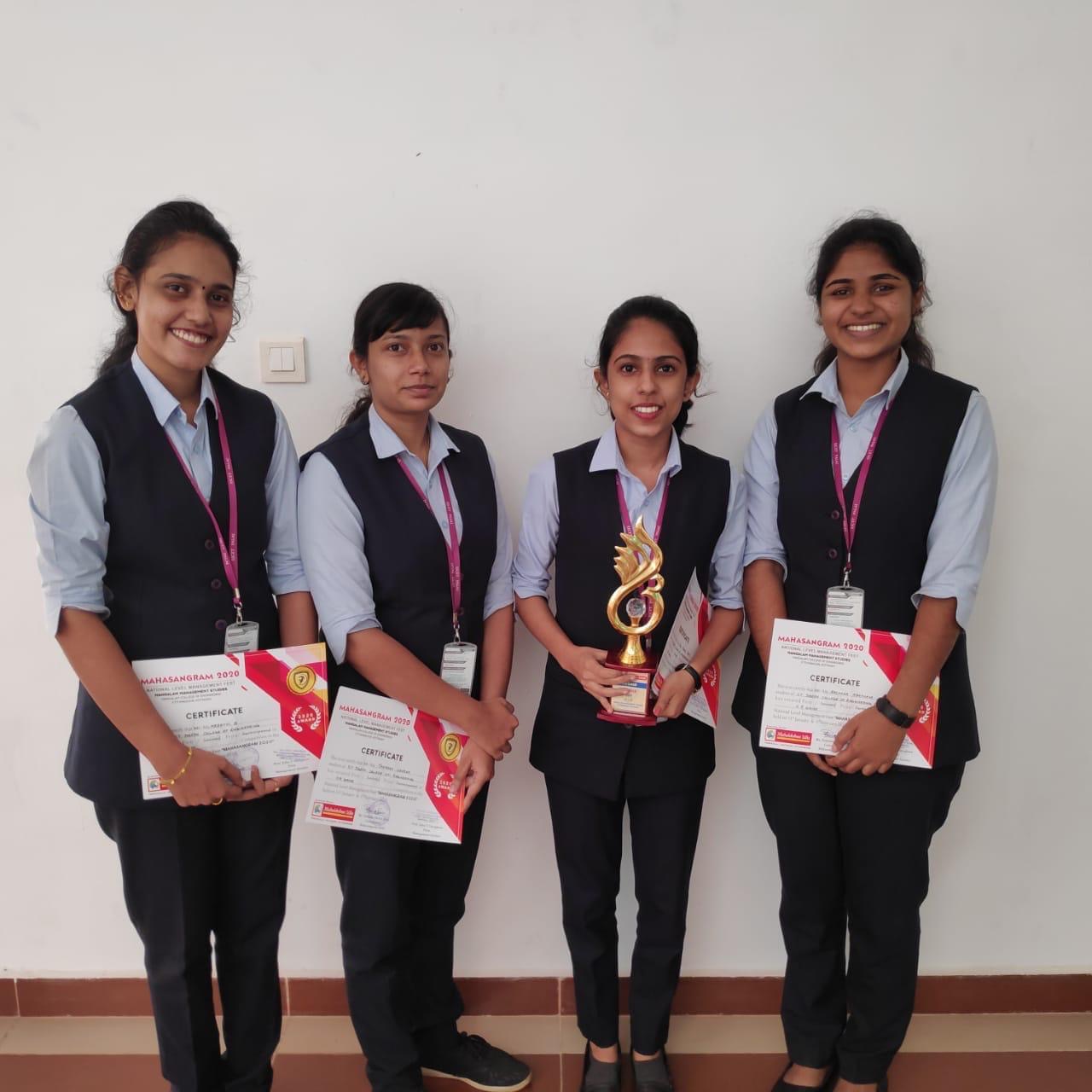 SJBS bags first prize in HR game - Management Fest organized by Mangalam College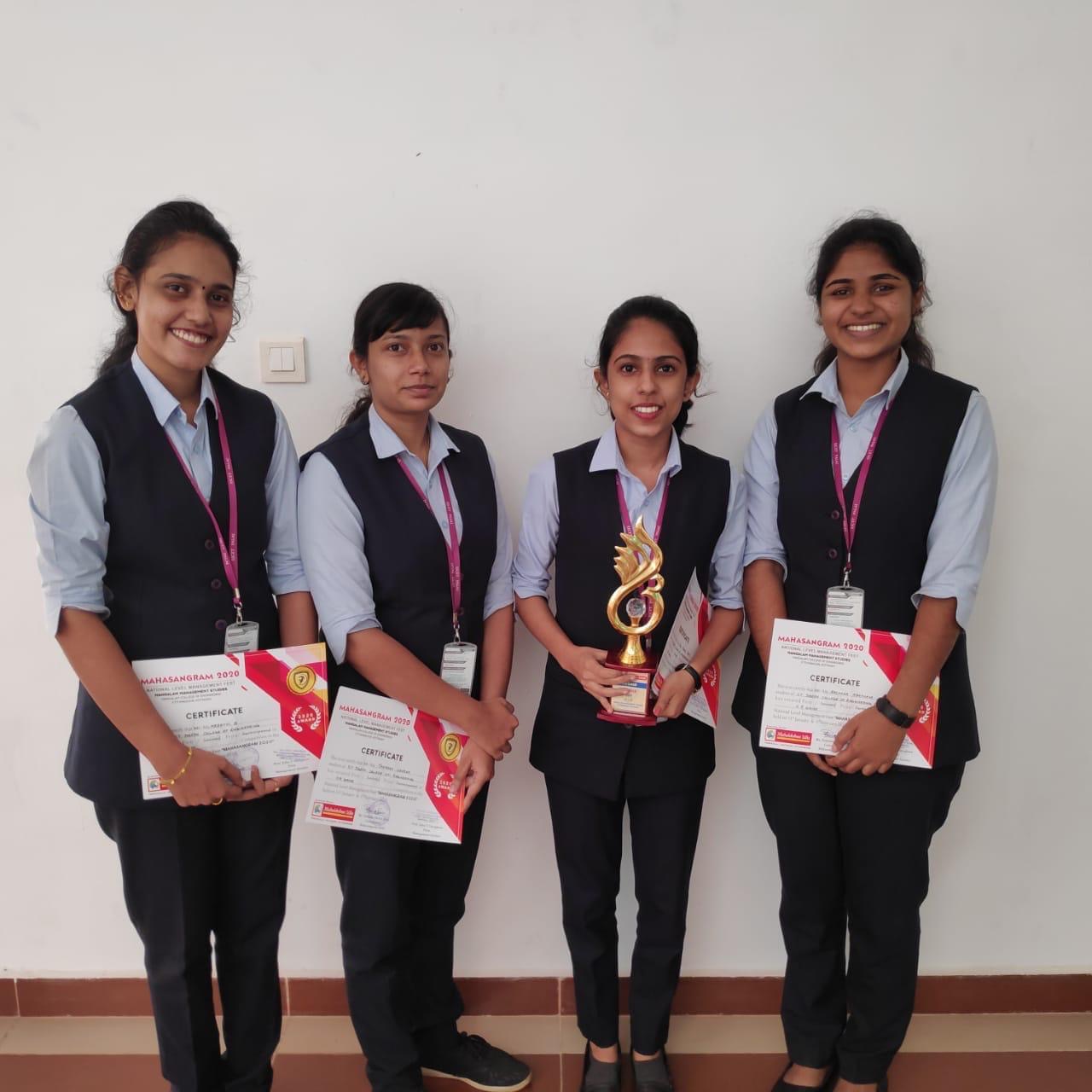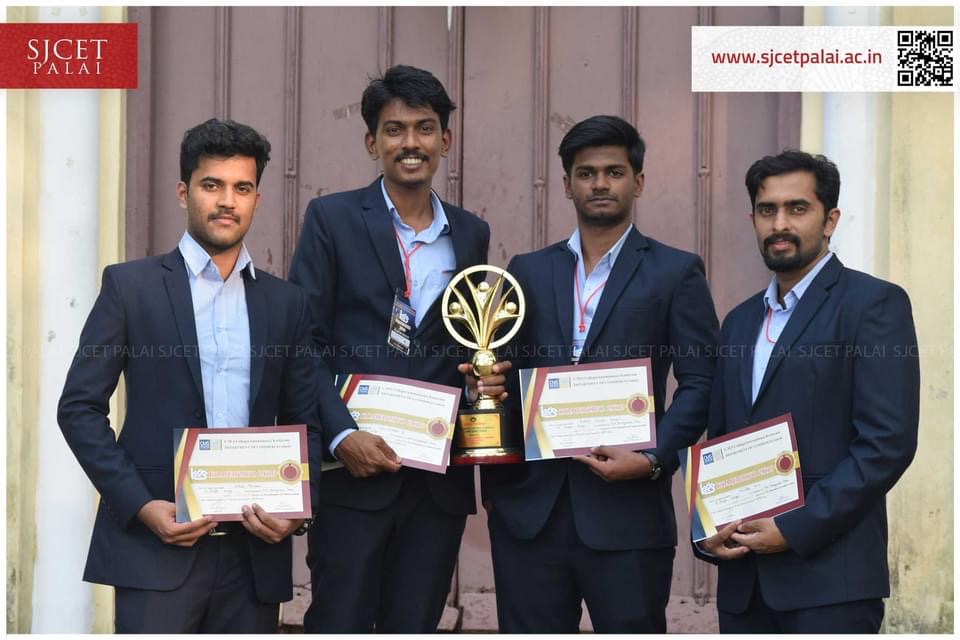 SJBS bags First Prize and Ever rolling trophy for Best Management Team, KOMERZIYO 2K19, Mnagement Fest CMS College, Kottayam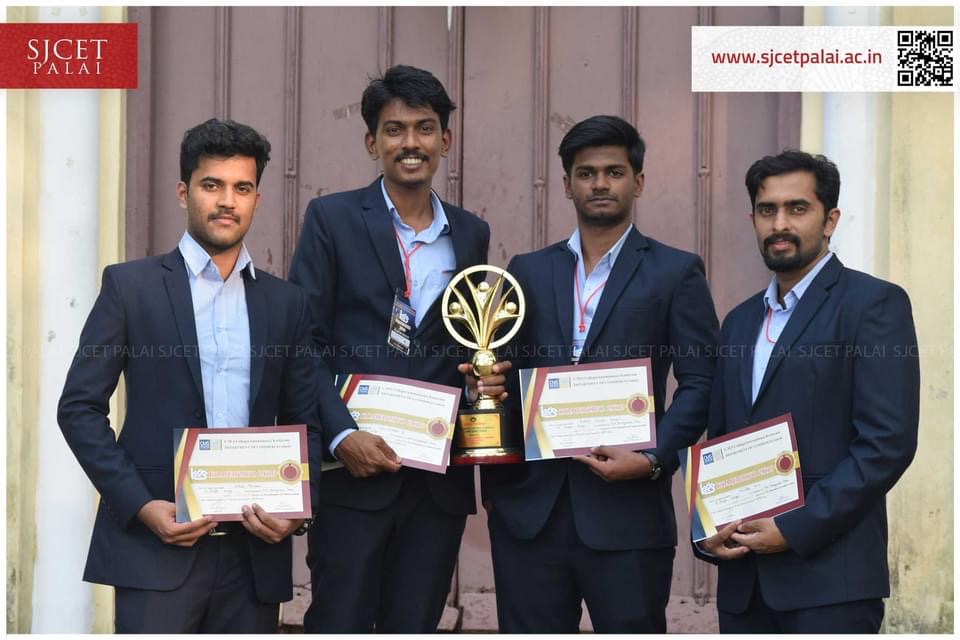 SJBS Alumni connect - Sharing the success stories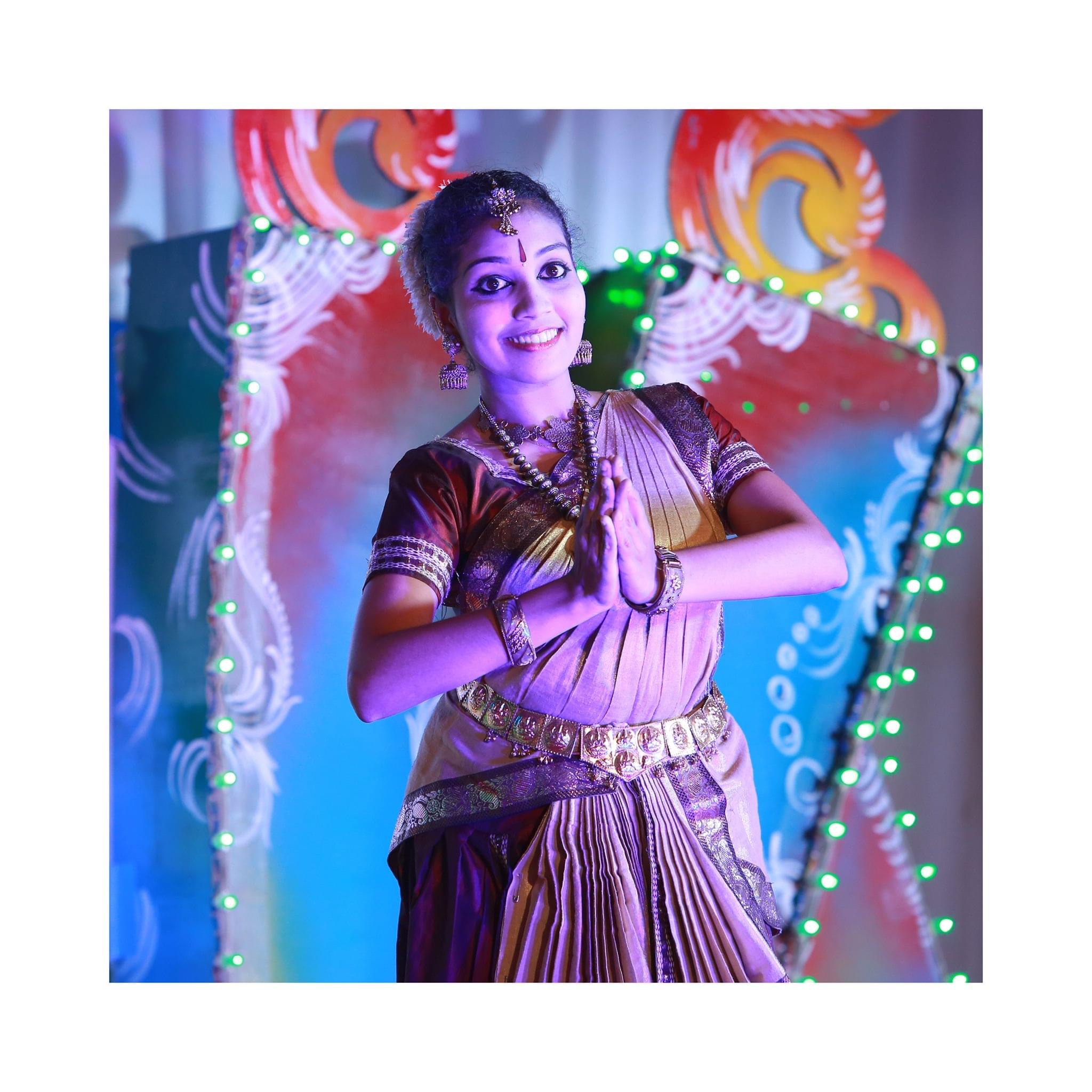 SJBS - Showcasing the talents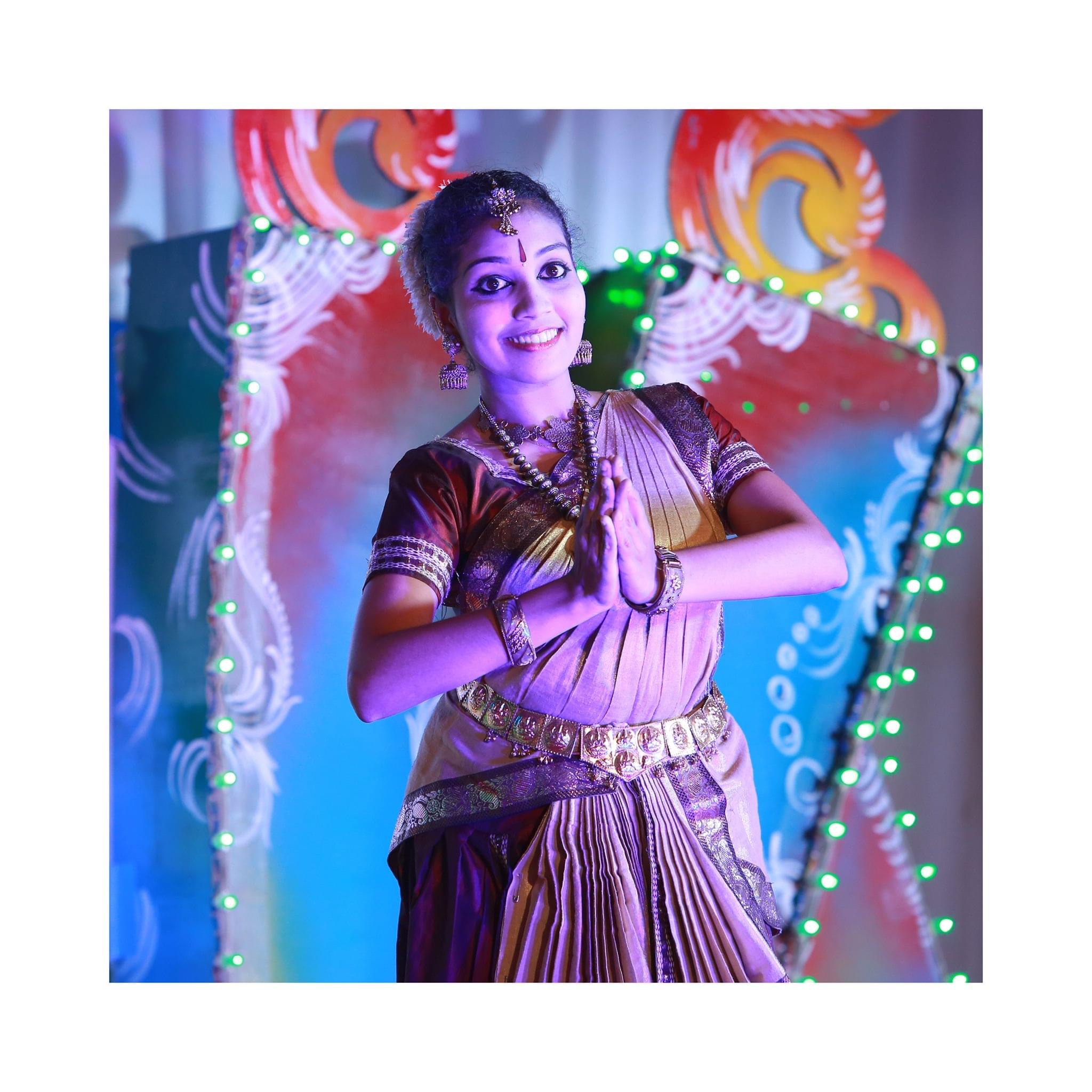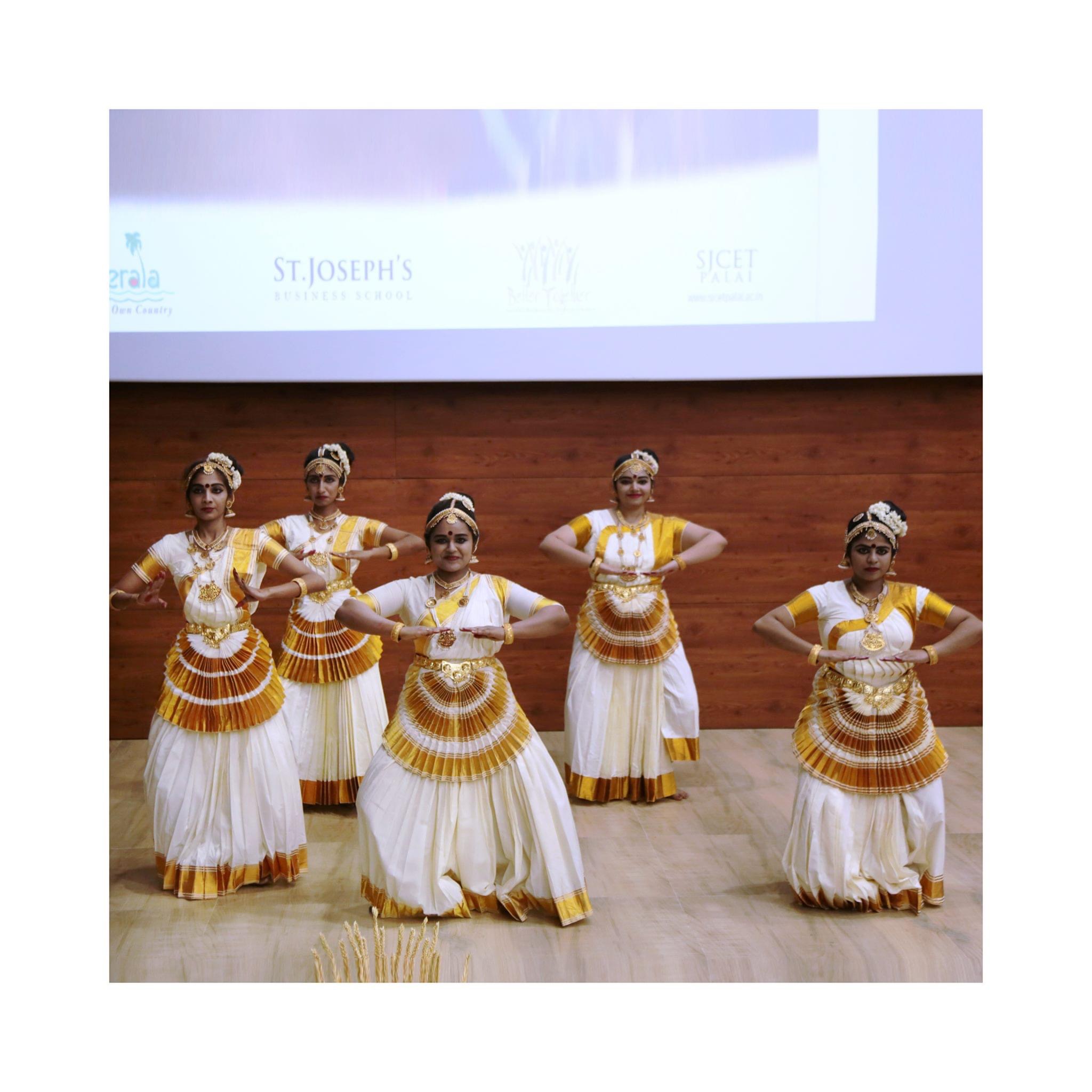 SJBS - Always keen to encourage the talents of its students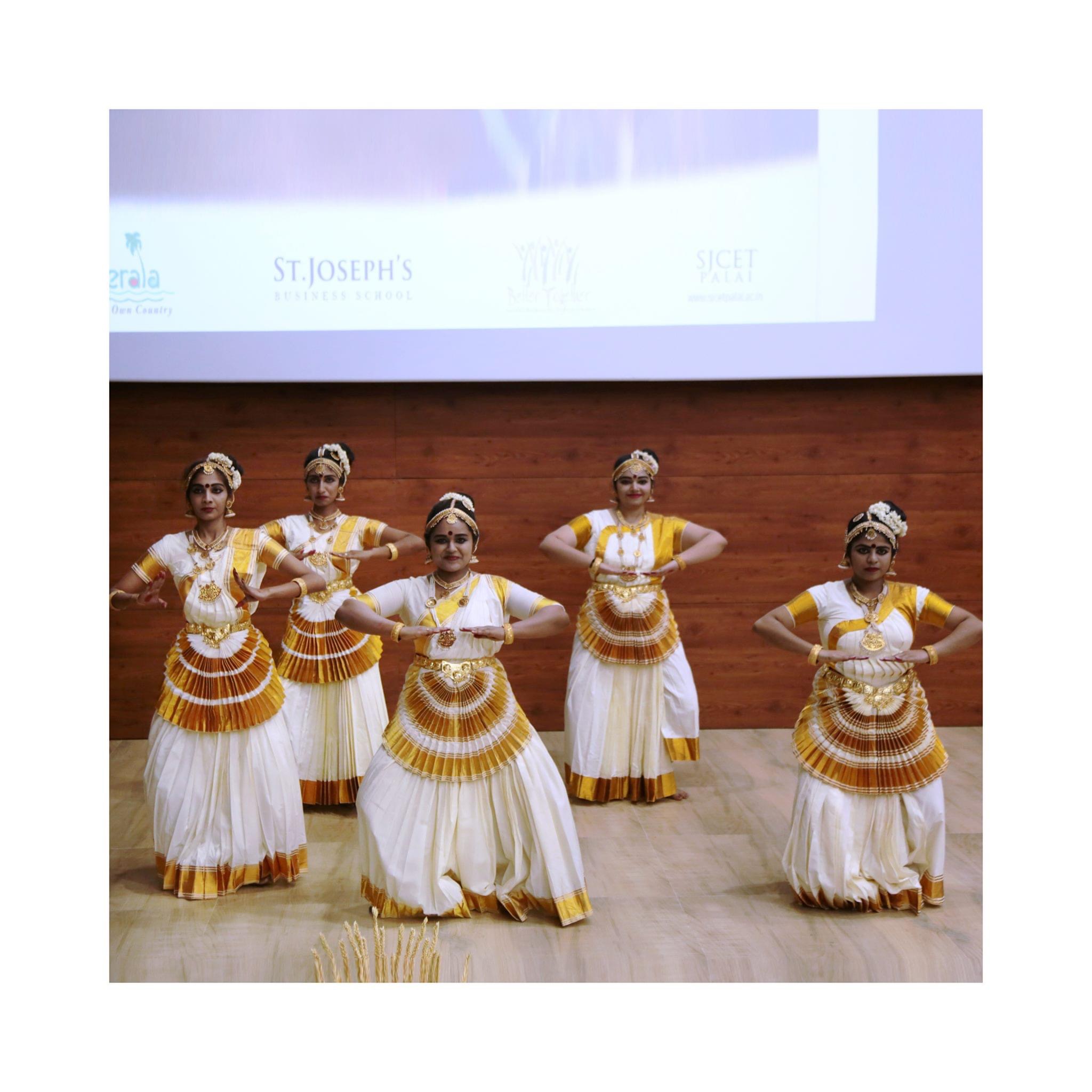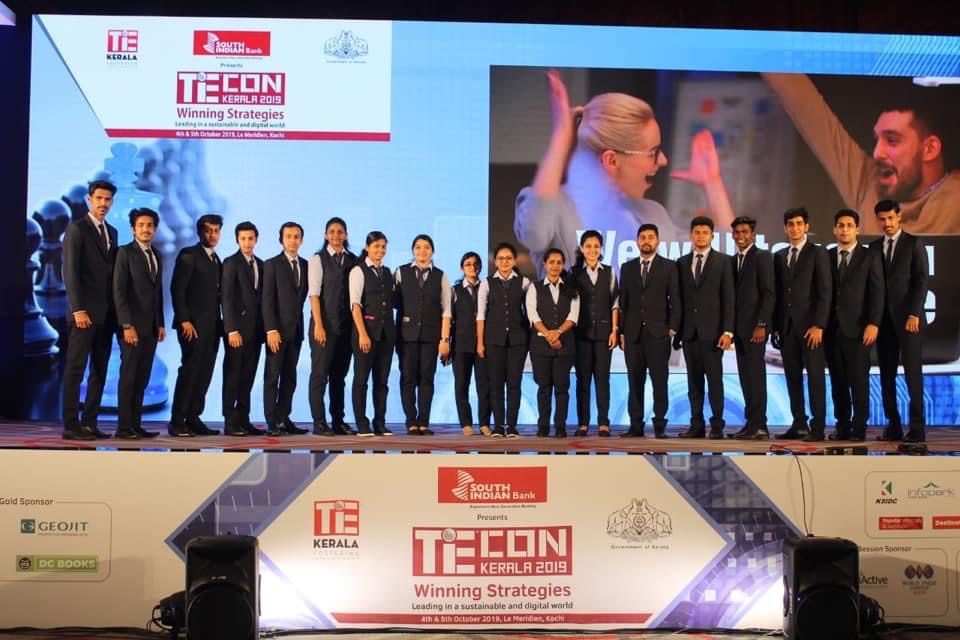 SJBS - Organisers at TIE CONFERENCE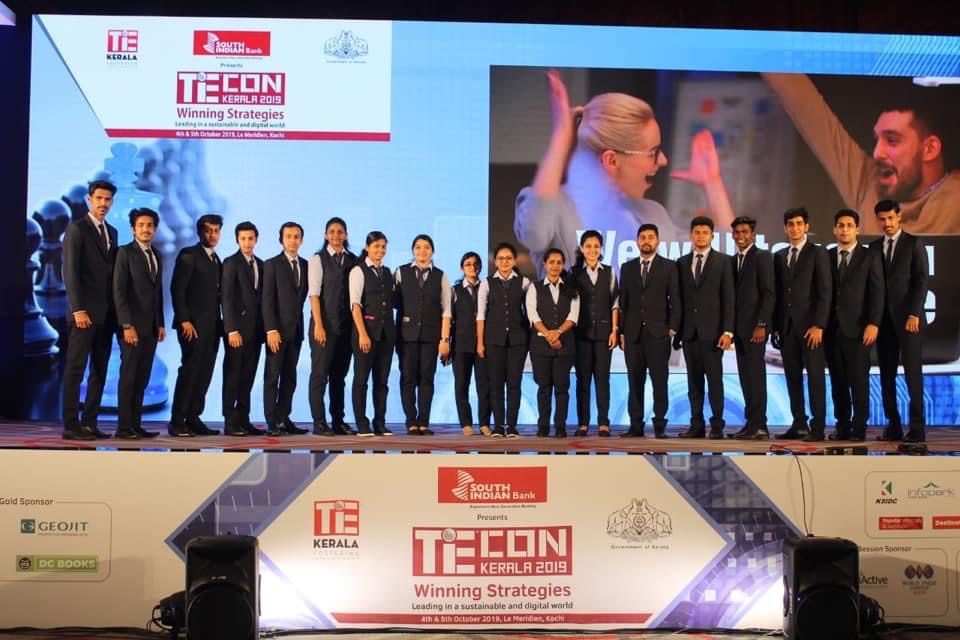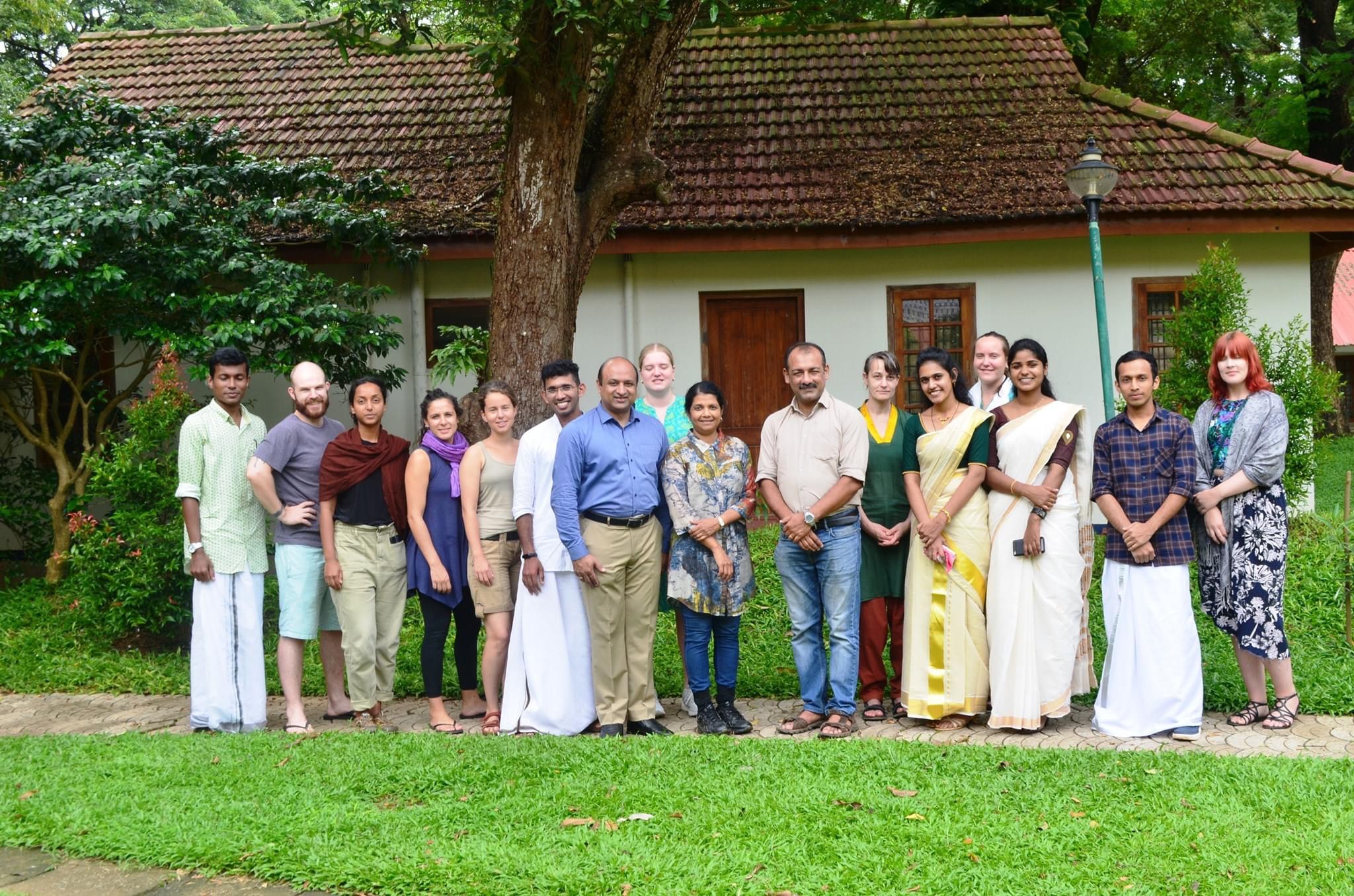 Pre-Study ( Joint Academic activity on Tourism Policy, Norwegian Univesity of Life Sciences joins hands with SJBS, Sept 2019)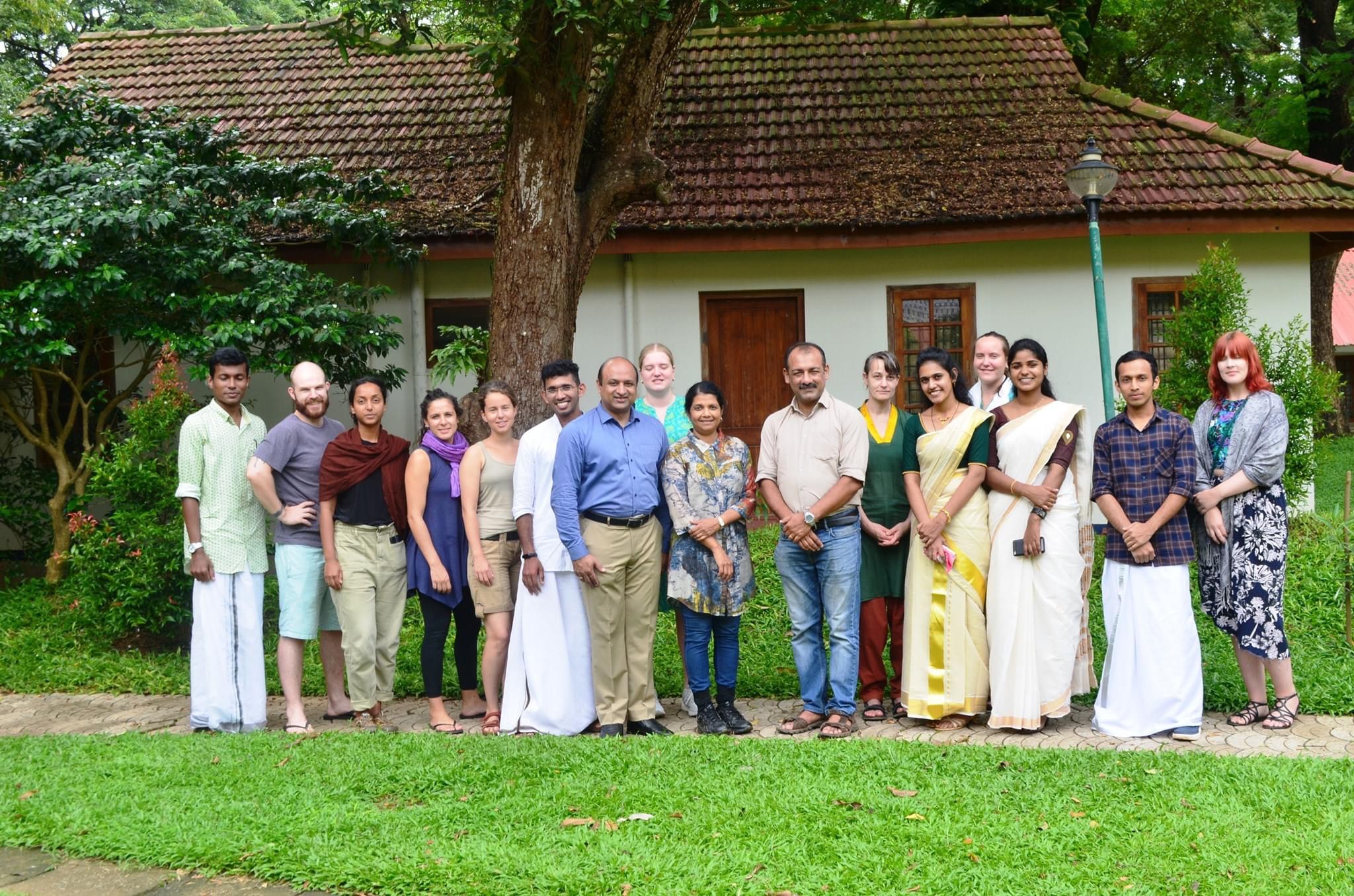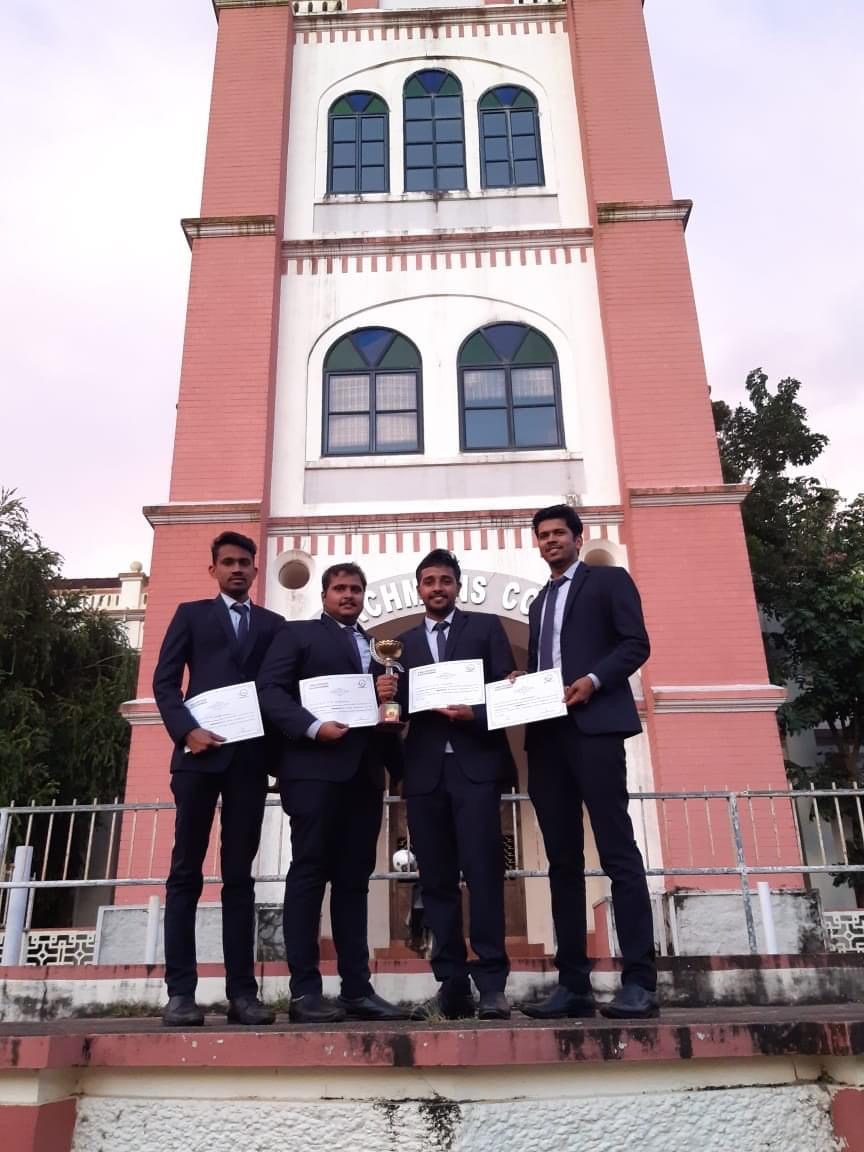 Pize Win - SJBS bags prize - Management fest at SB College Changanassery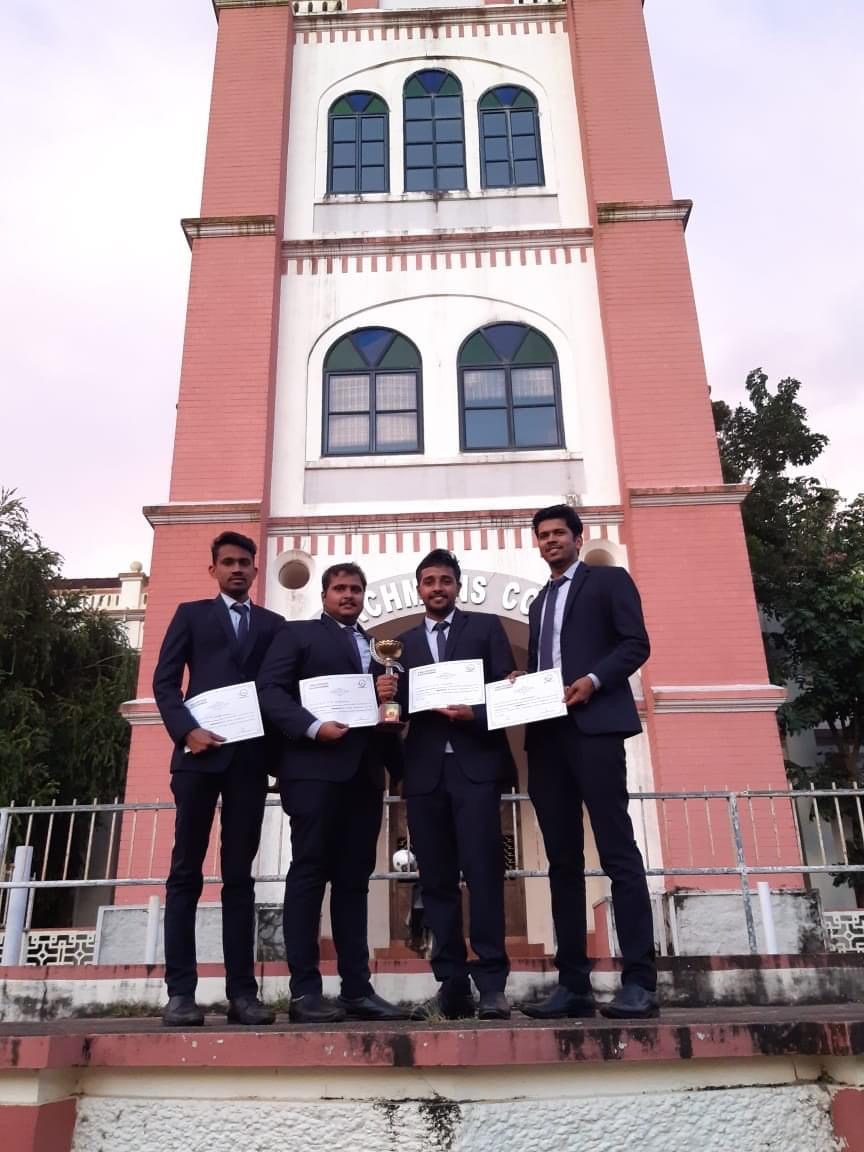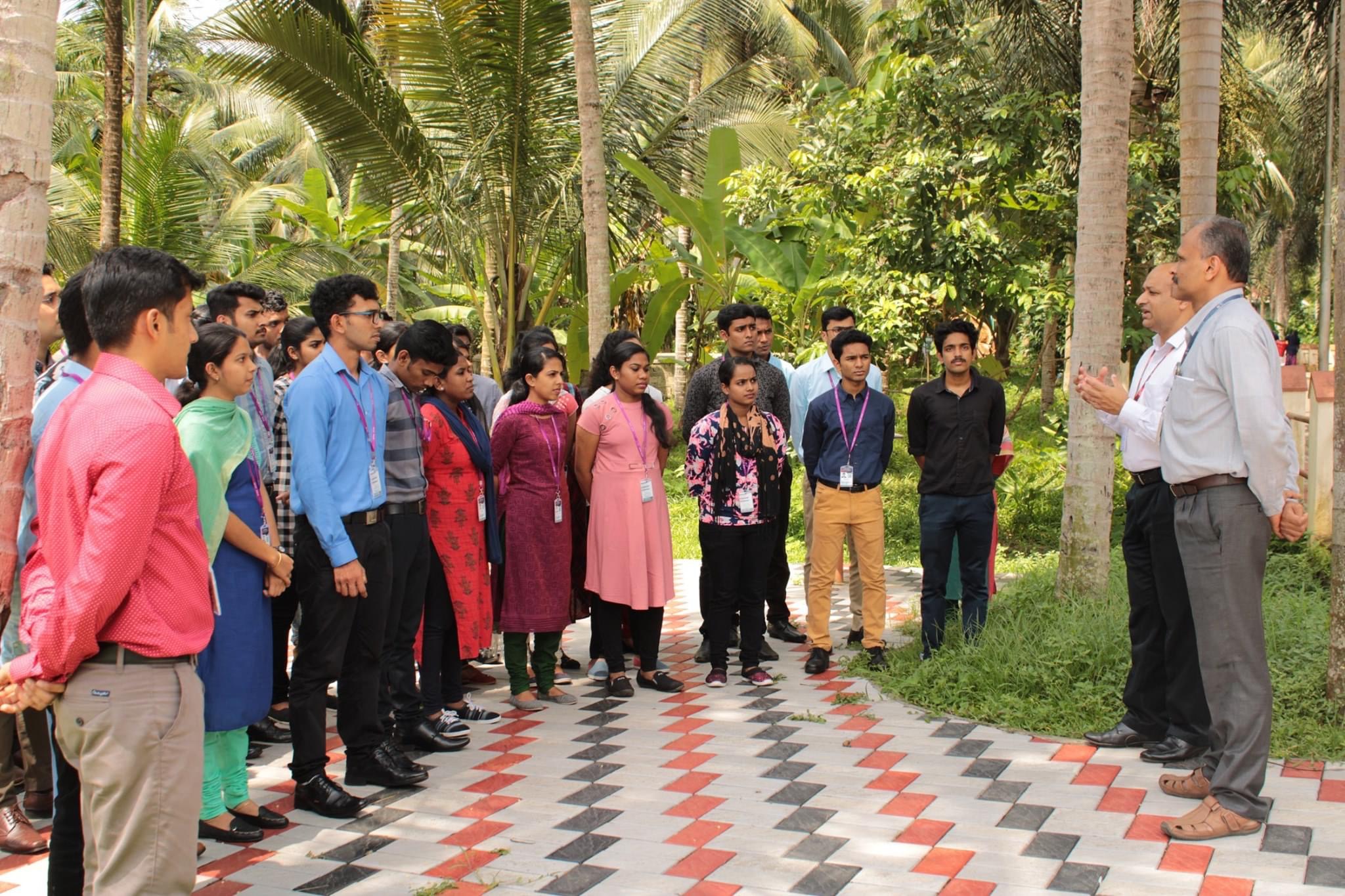 Life Skilling Strides - Sharing the success mantra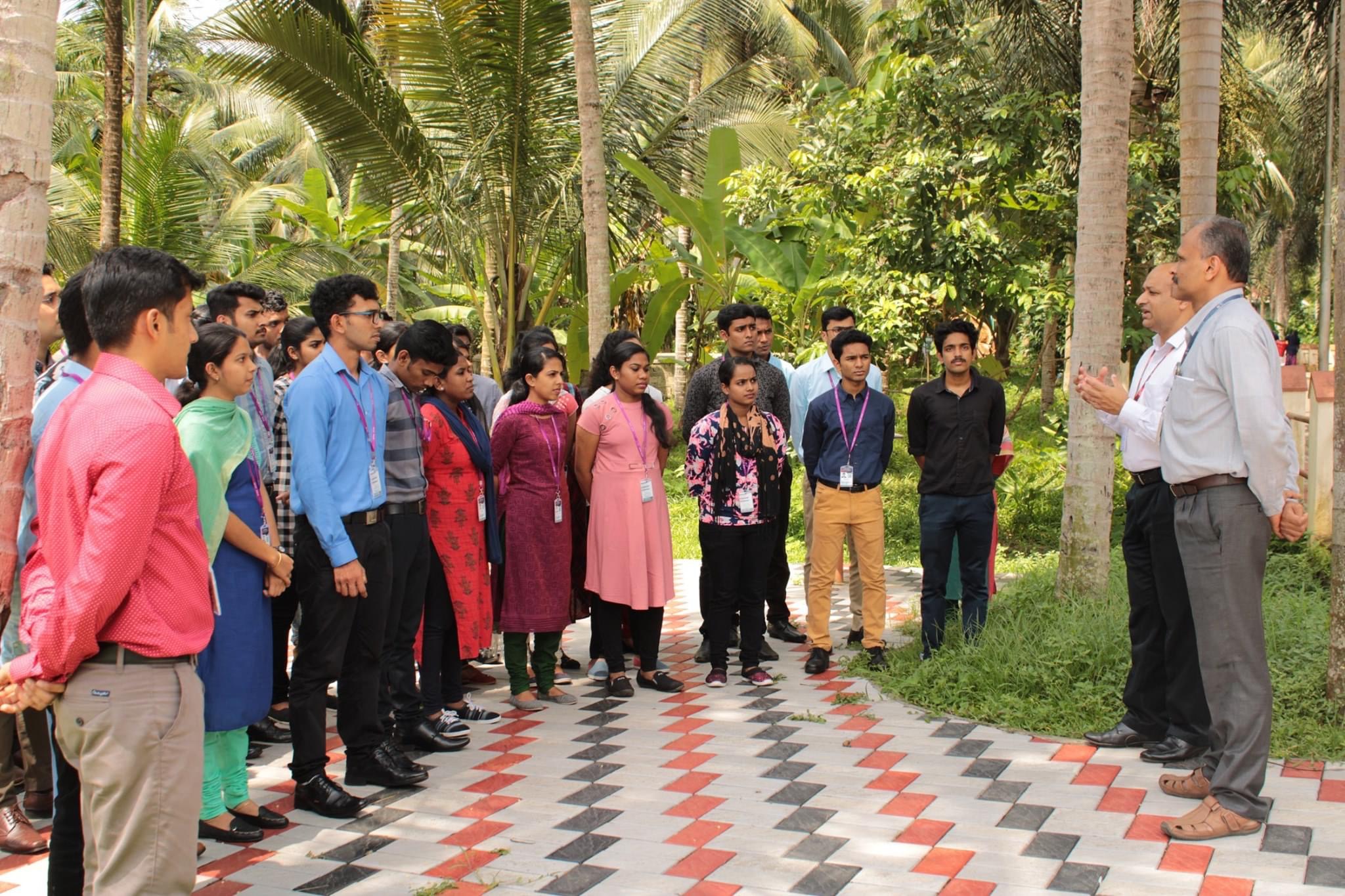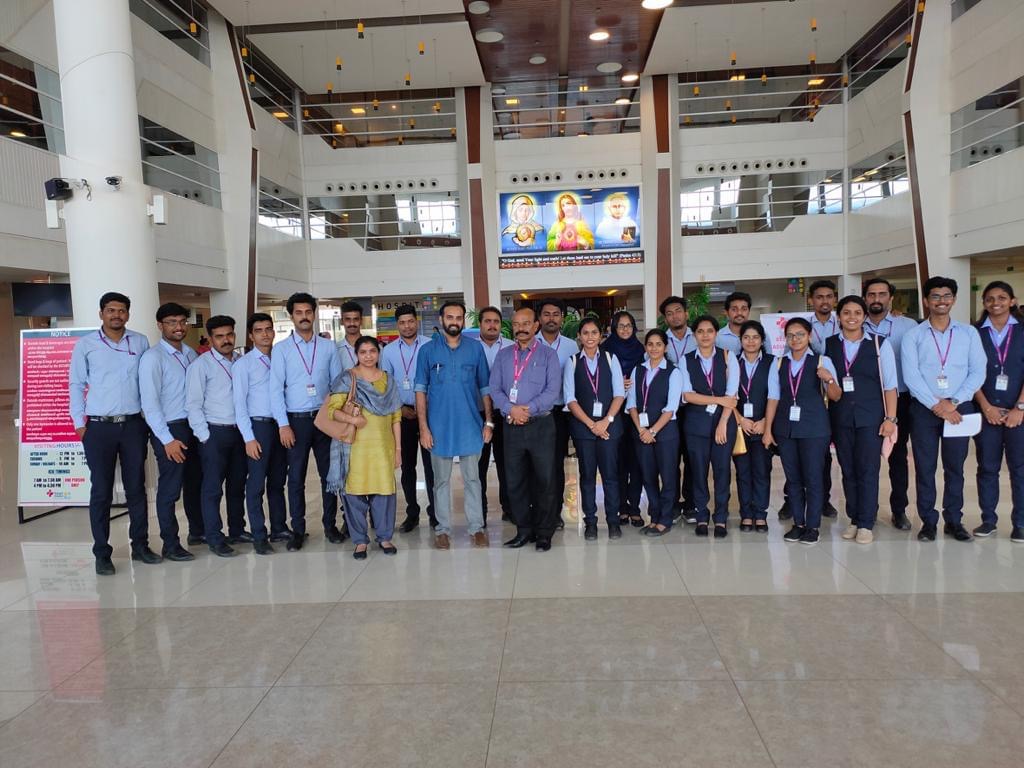 Industrial Visits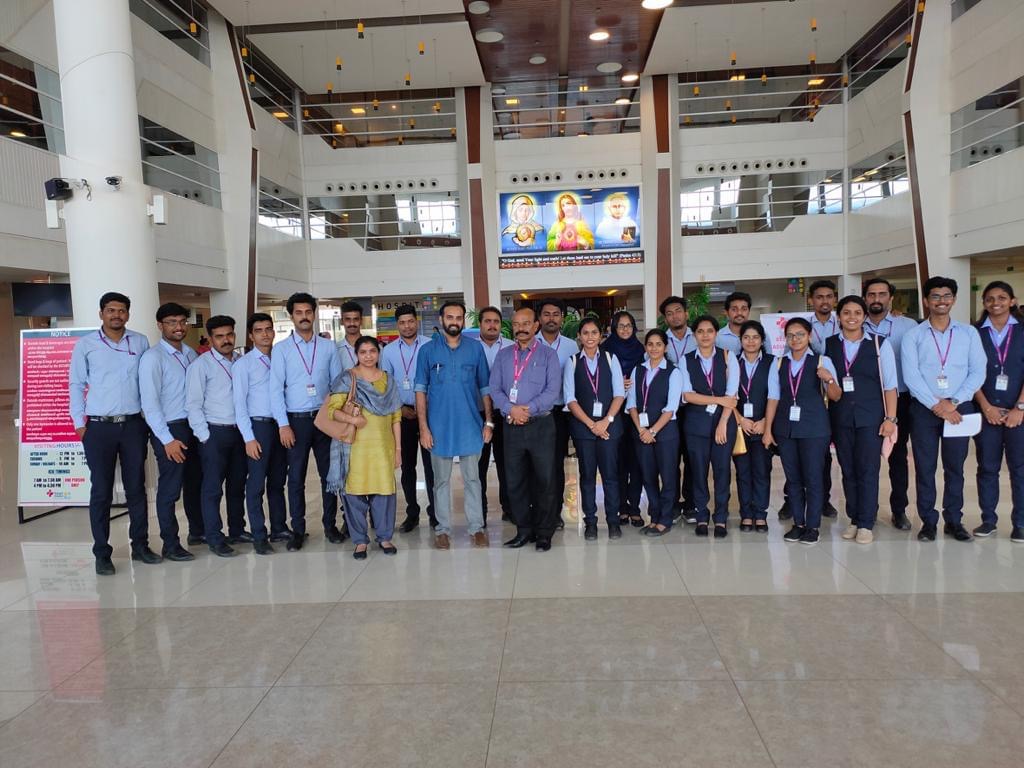 Industrial Visits - SJBS- We Mean Business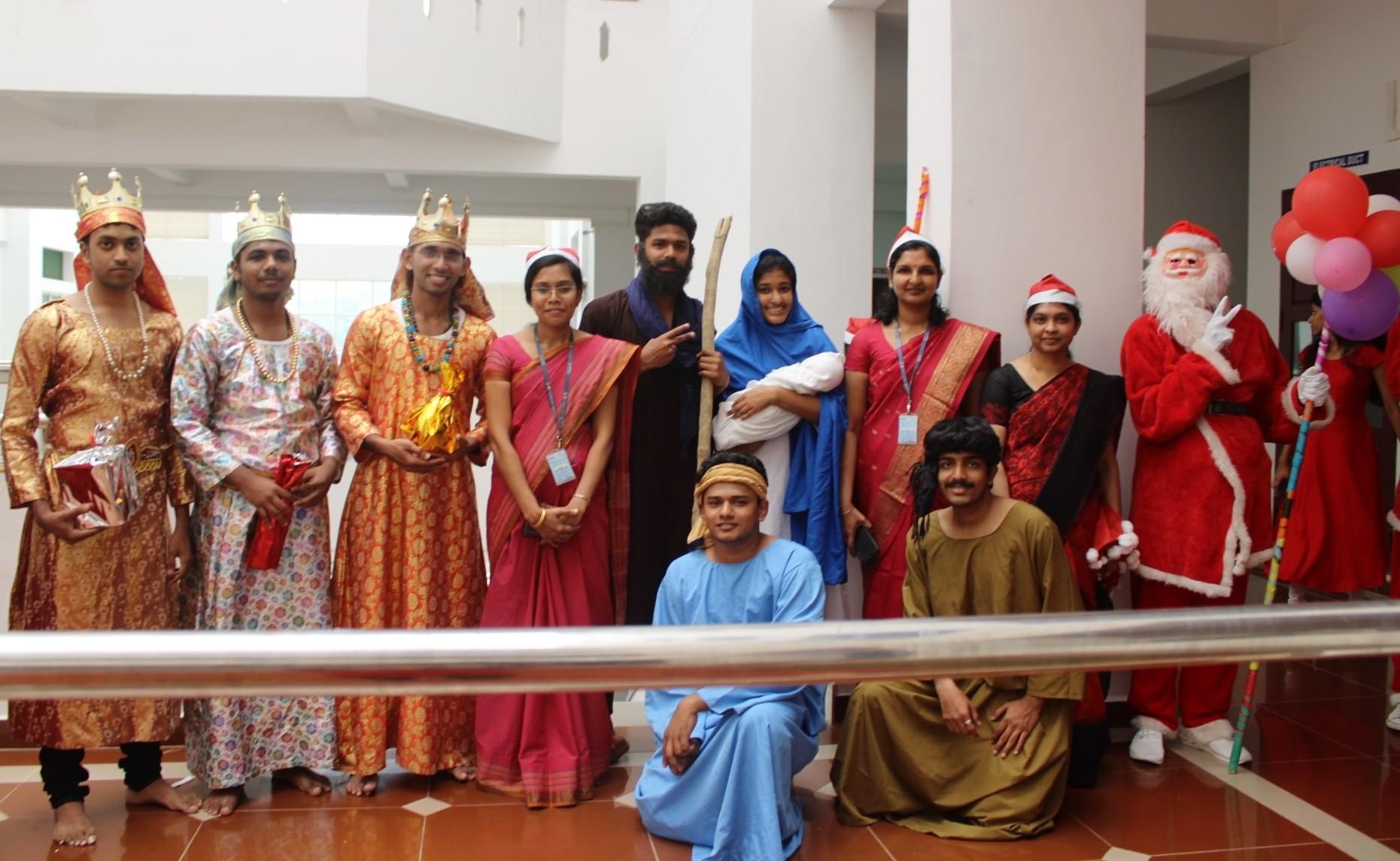 Festivals at SJBS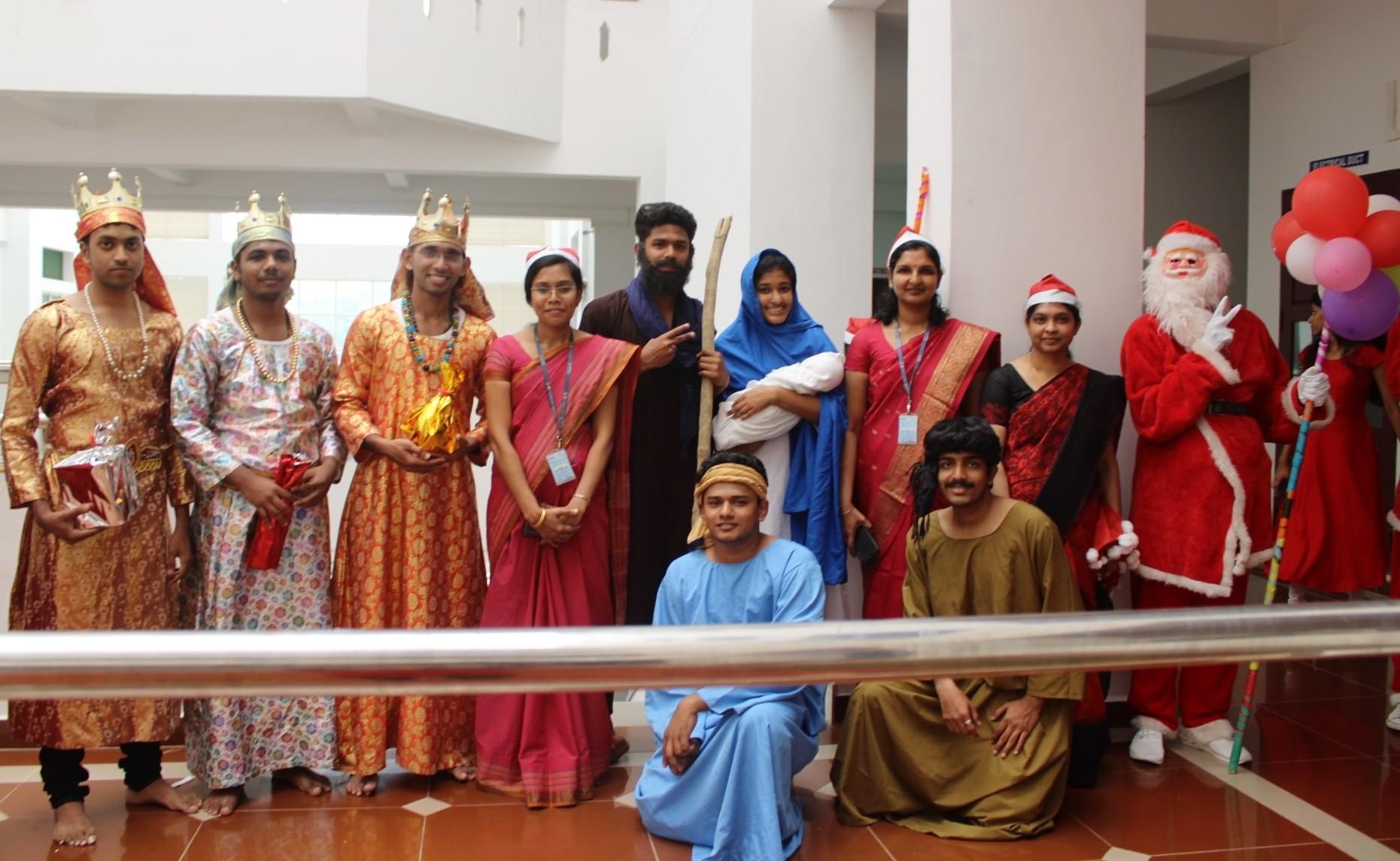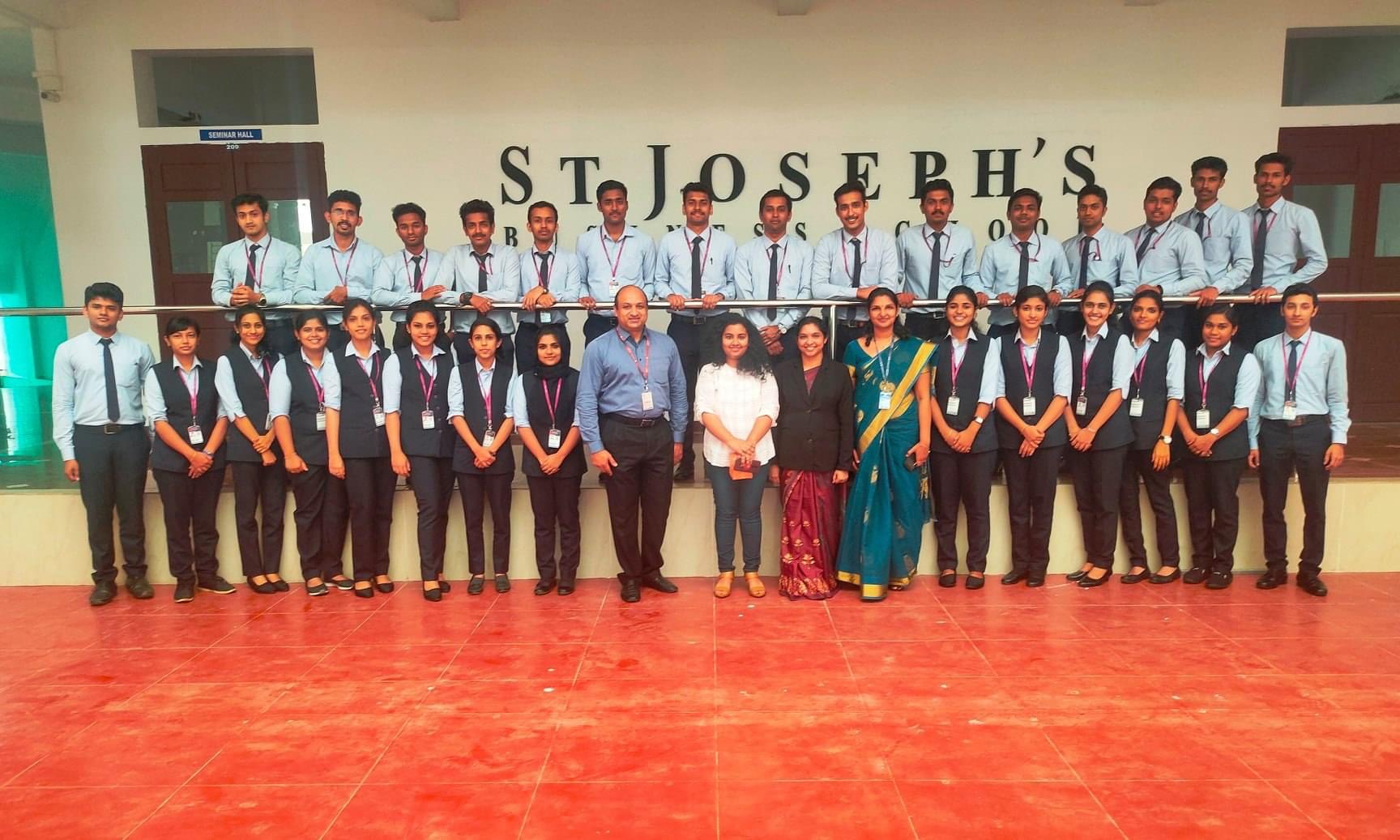 Alumni Connect at SJBS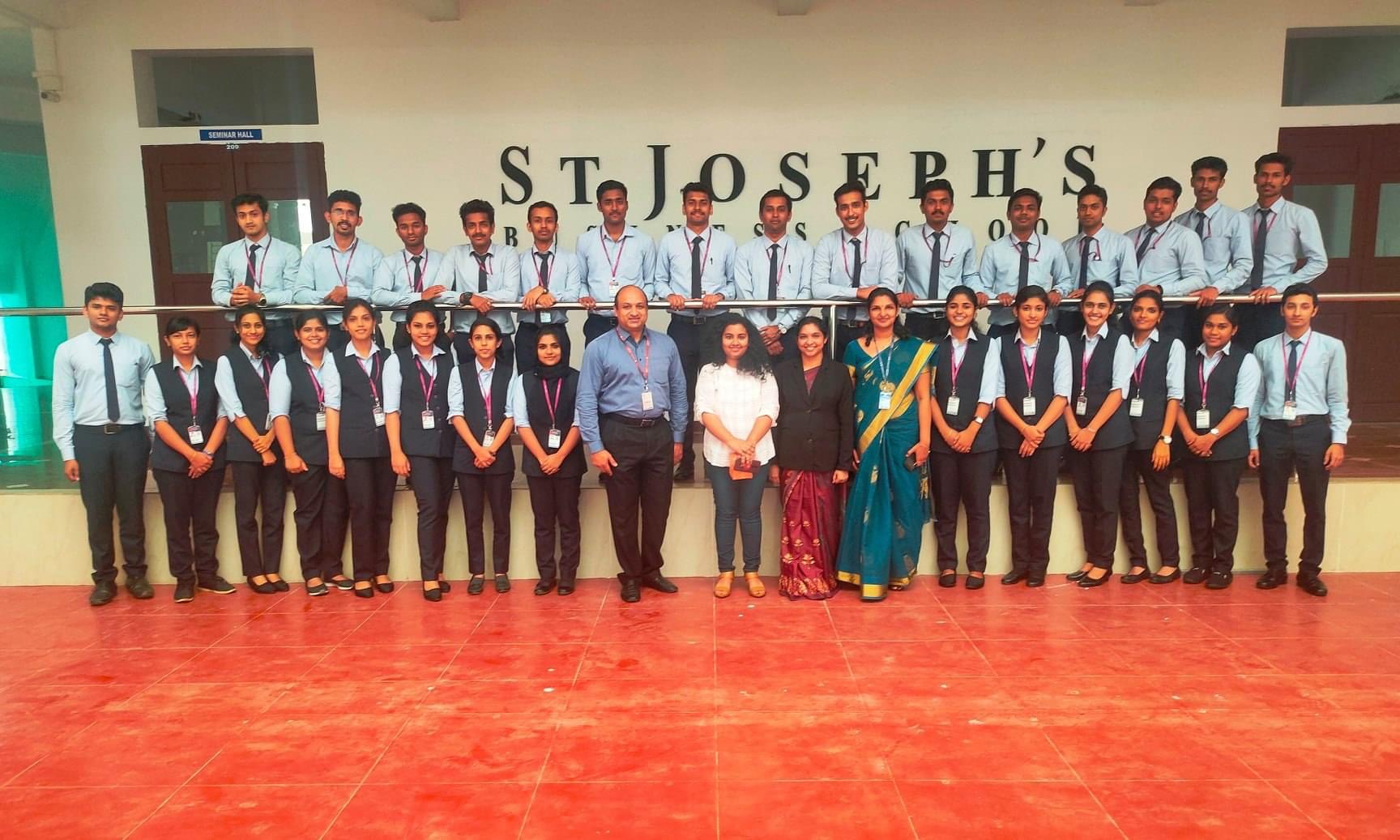 Alumni Connect at SJBS - Sharing the success stories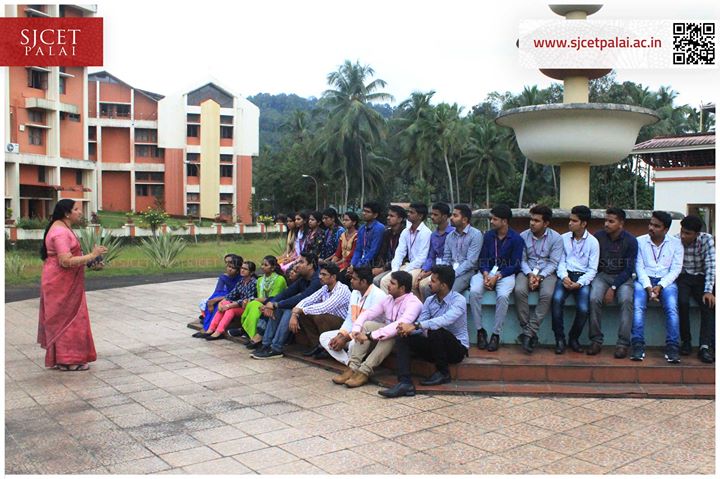 WISDOM STRIDES
MBA 2018-2020 BATCH.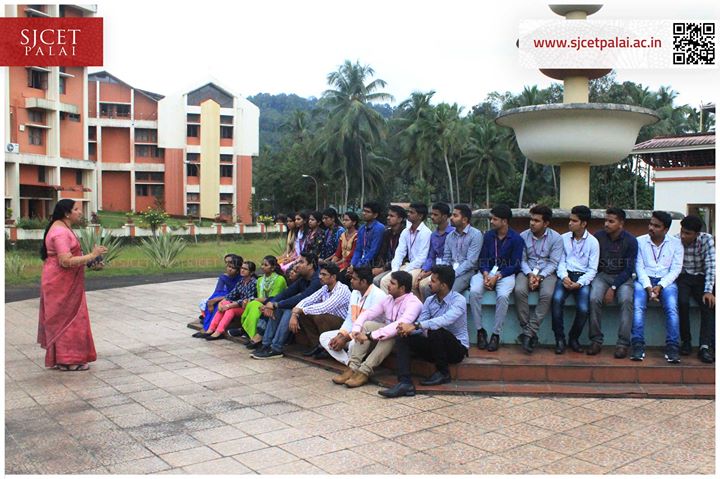 Wisdom Strides at St.Joseph's Business School for selected set of Students. Resource Person - Ms.Shyla Mathew,HOD,SJIHMCT.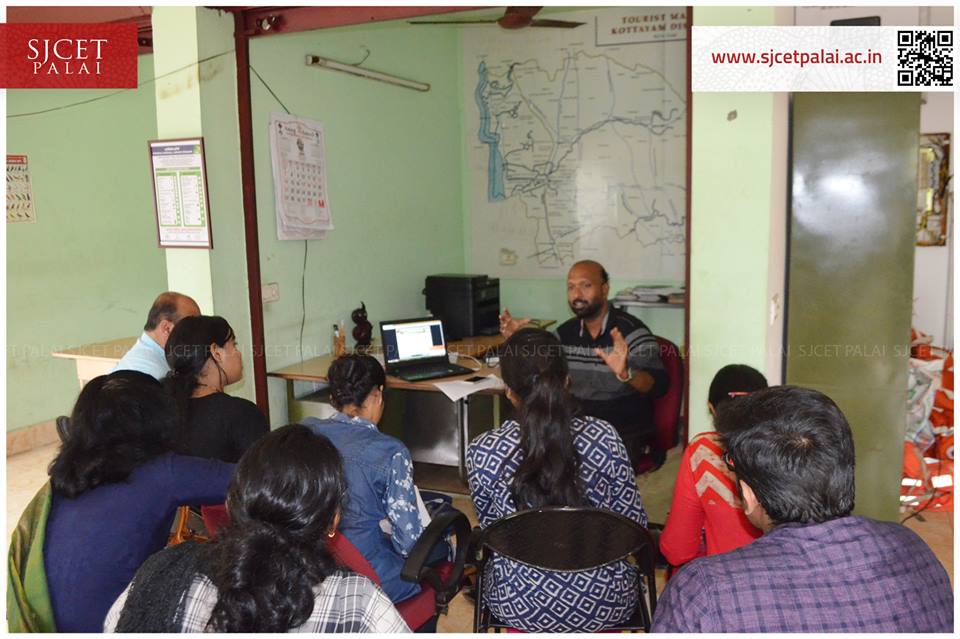 SJBS - CSU
Academic Program 2018
Pre-study of SJBS – CSU Academic Program 2018 (Second foreign academic program this year) Theme - Responsible tourism; Supported by Responsible Tourism Mission Kerala. Seven students and 2 faculty members are studying the RT initiatives and economic benefits at Kumarakom.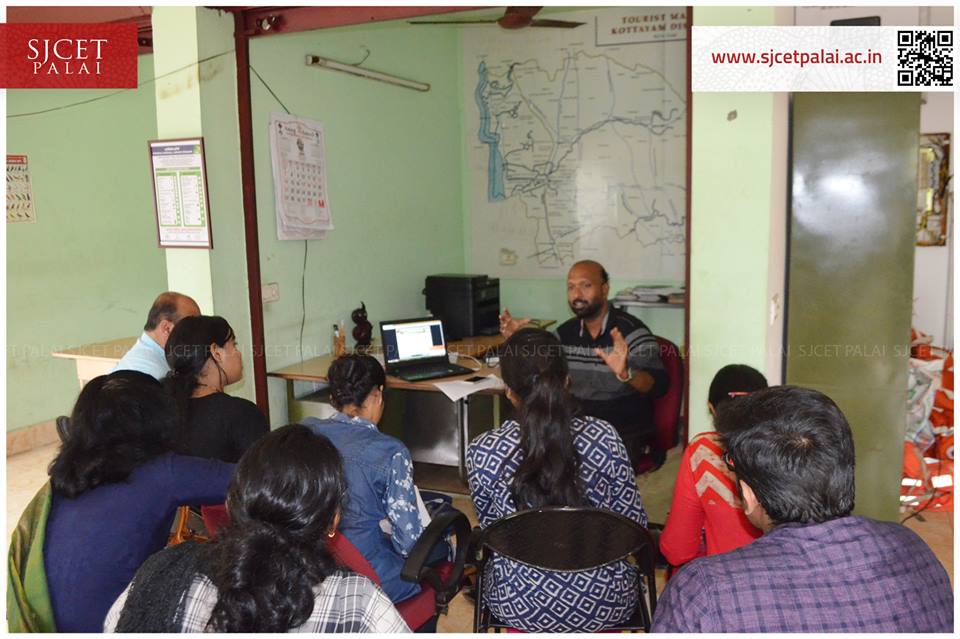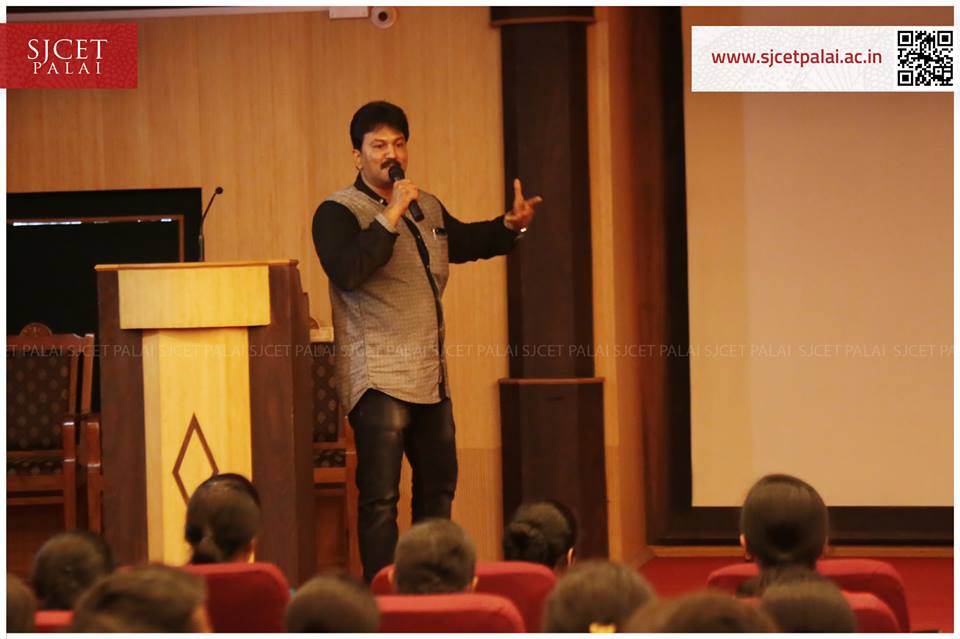 EXPERT TALK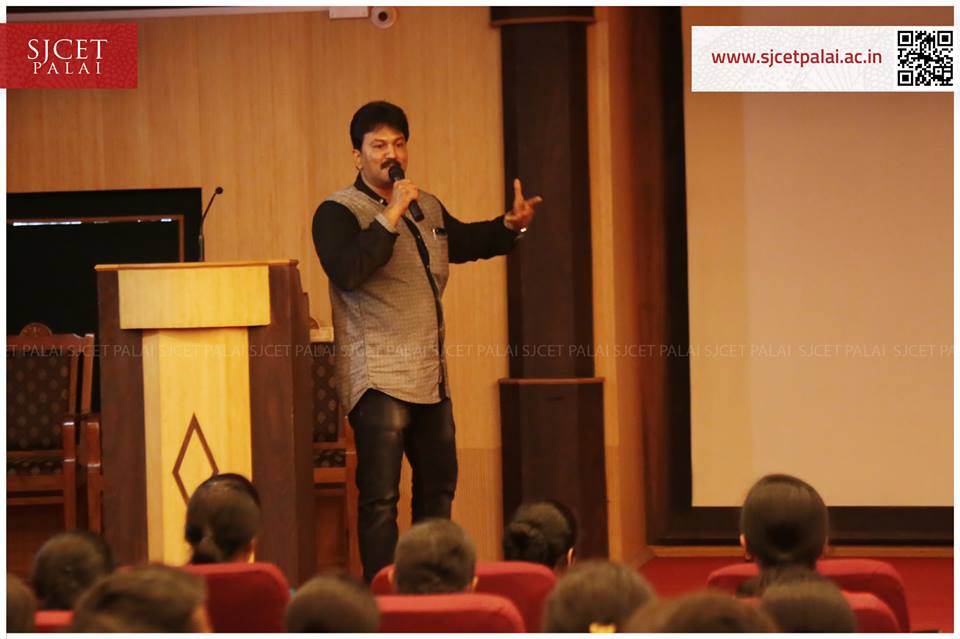 Expert Talk Series at St. Joseph's Business School . Dr. Vipin Kumar V.P , Principal Scientist, Central Marine Fisheries Research Institute (CMFRI) shared his words of wisdom on 'Personal Effectiveness '.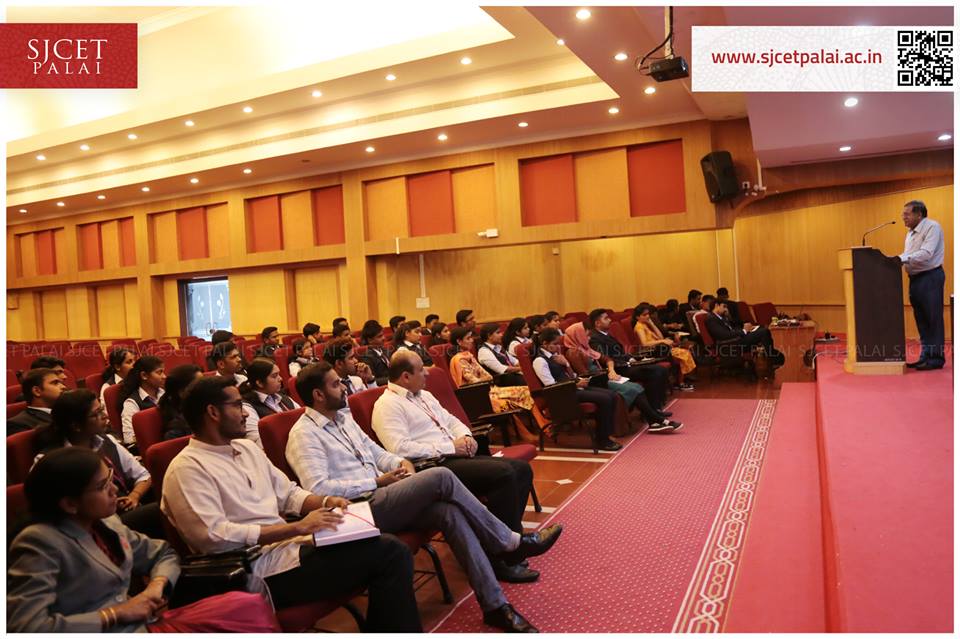 EXPERT TALK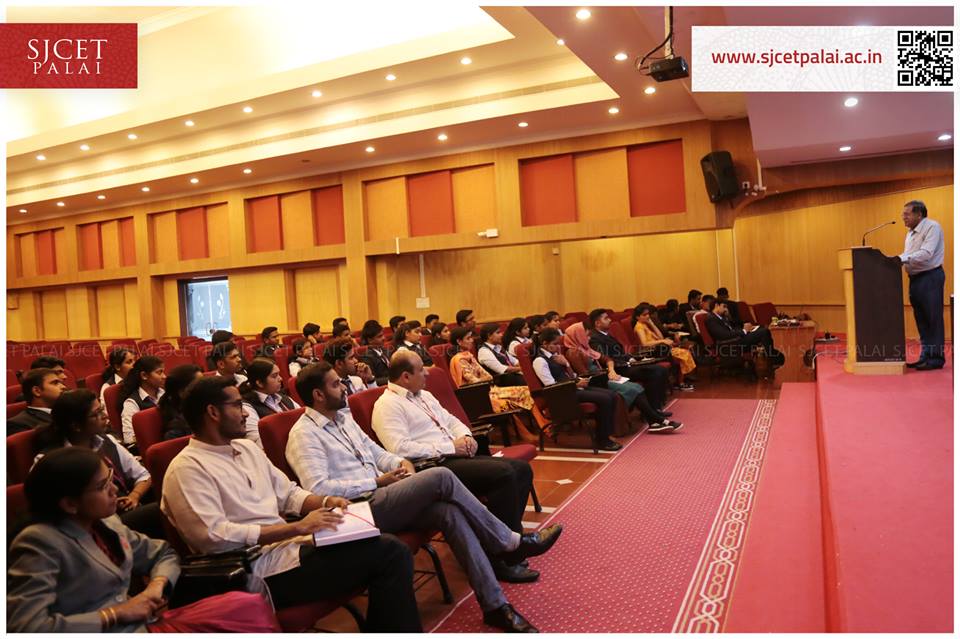 Expert Talk Series at St. Joseph's Business School . Mr. Rajagopalan Nair, Vice-President, Malayala Manorama Company Ltd. shared his words of wisdom.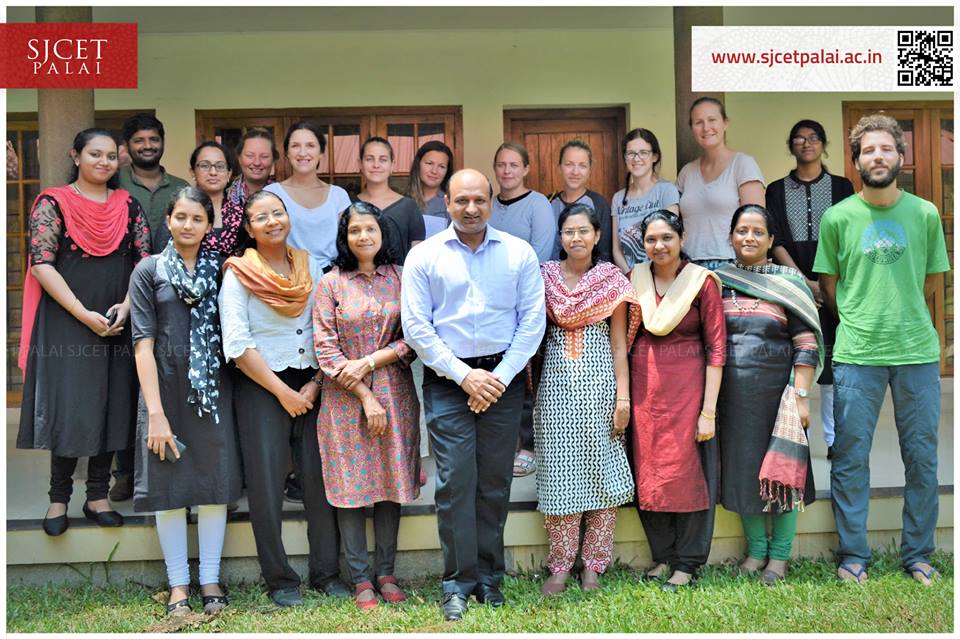 SJBS NULS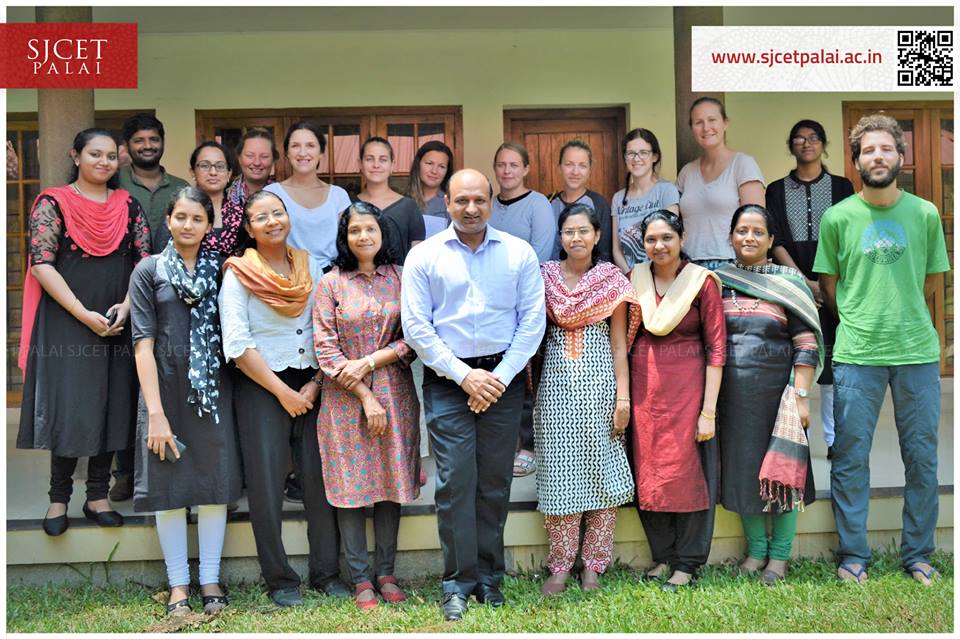 St. Joseph's Business School Palai, collaborated with Norwegian University of Life Sciences organised an academic programme on the theme 'Tourism in Vembanad - Problems and Prospects' at KTDC Suvasam Lake Resort, Taneermukkom. The program was organised under the aegis of ATREE, a global think tank on ecology and conservation.
Academic Program 2018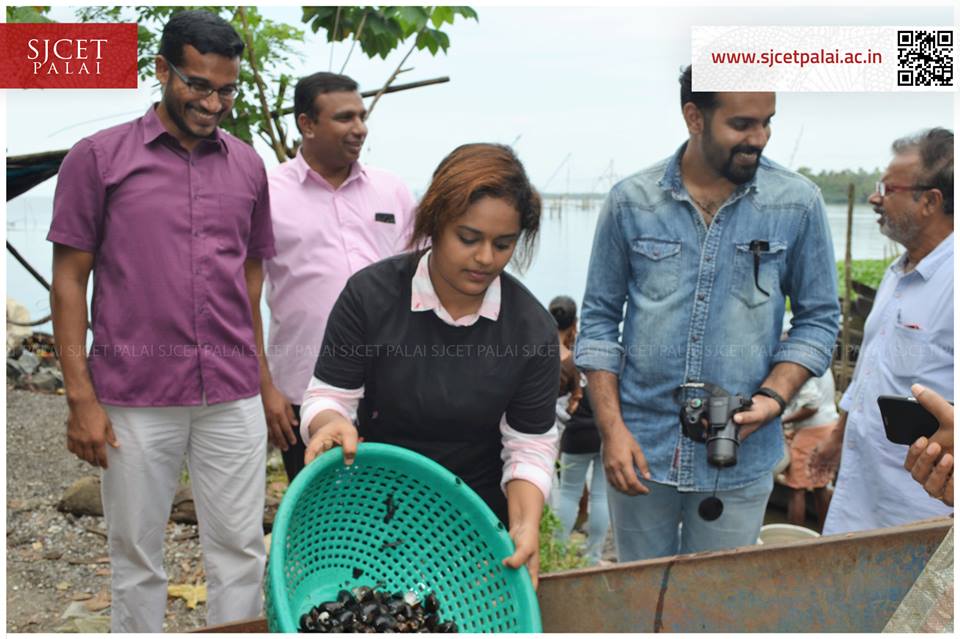 SJBS NULS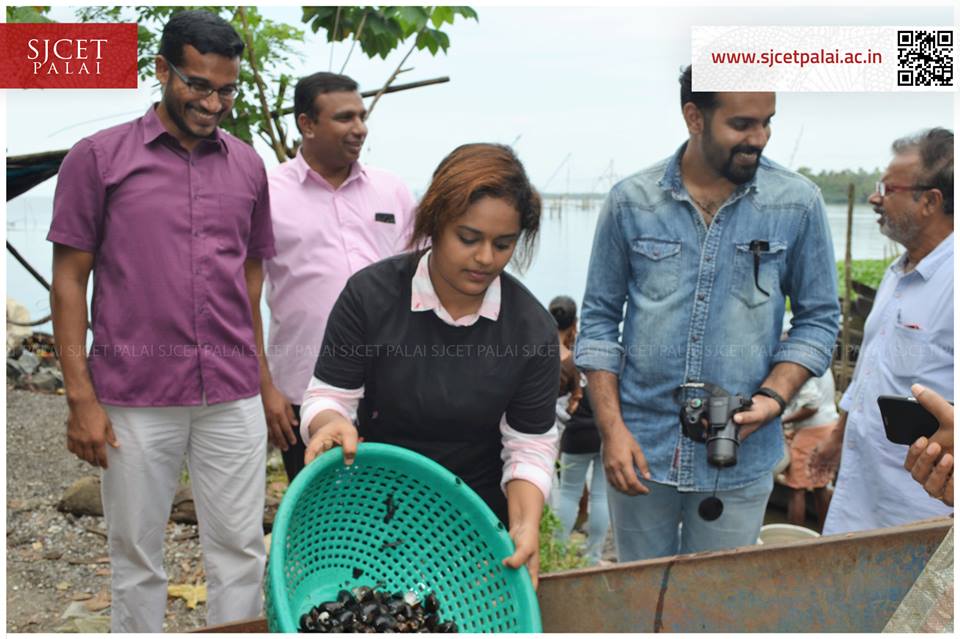 Clamshell collectors - a stakeholder in Vembanad tourism: Fact 1: It takes about 3 years for the growth of these mussels. Fact 2: Vembanad has the largest repository of clamshells in India. Fact 3: Clamshell relaying project has been very successful in this area supporting livelihoods of these people around the wetland. St. Joseph's Business School – Norwegian University Academic Program 2018.
Vembanad Tourism Study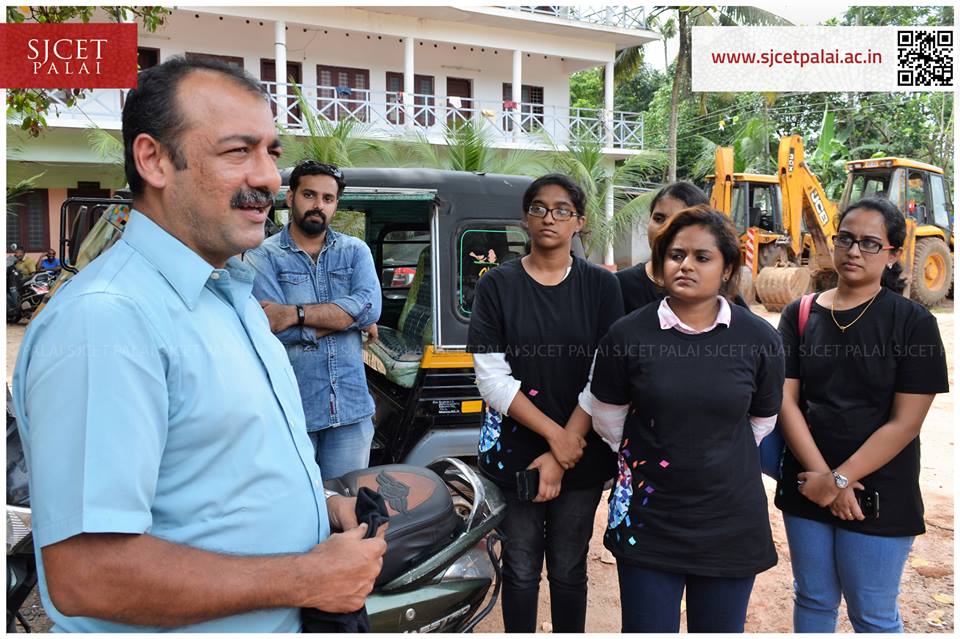 SJBS NULS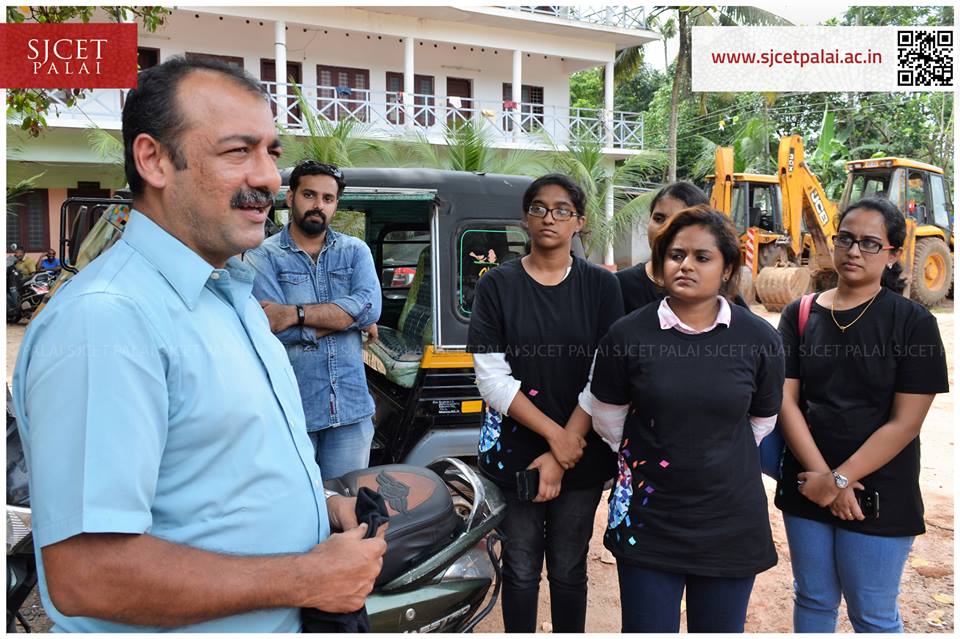 Interactions with ATREE a non profit organization, as part of tourism sustainability project: Glimpses of St. Joseph's Business School – Norwegian university Academic Program 2018, where more than a dozen students and faculty members participated. Costume support – Decathlon.
Vembanad Tourism Study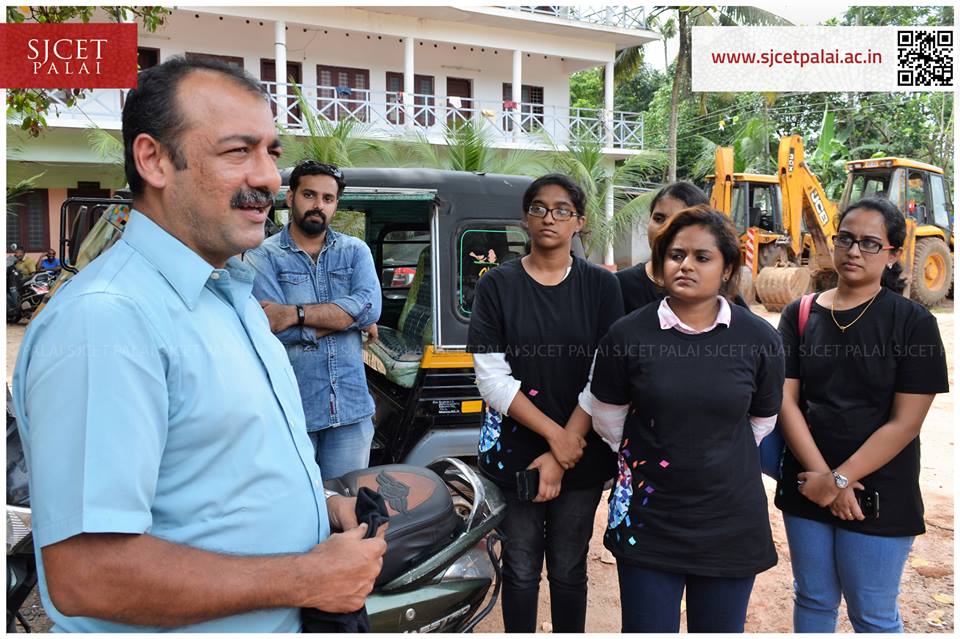 INDUSTRIAL VISIT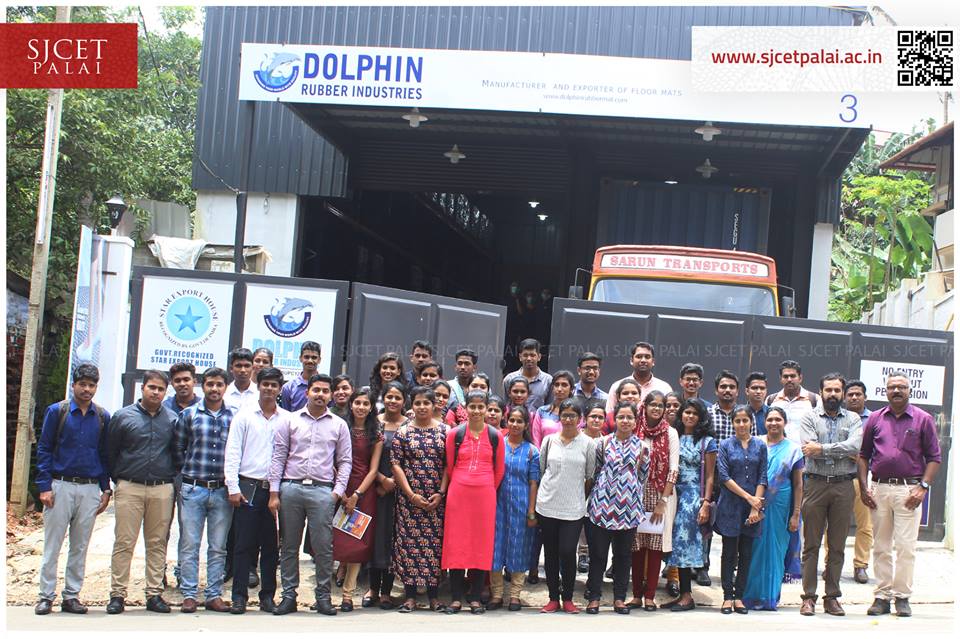 The newly inducted batch of St.Joseph's Business School,Palai visited Dolphin Rubber Industries as a part of the Industrial Visits.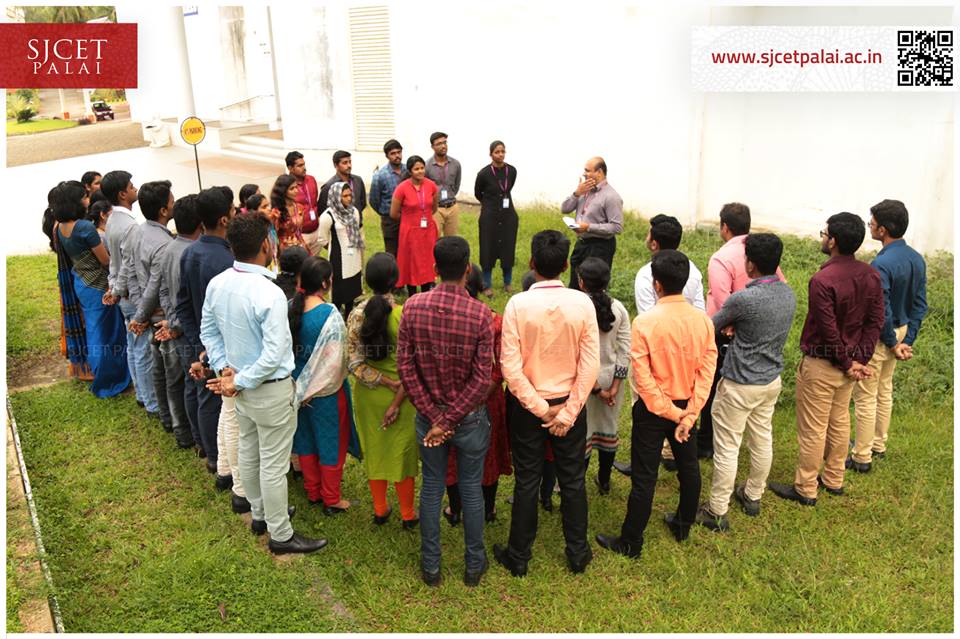 LIFE SKILLING STRIDES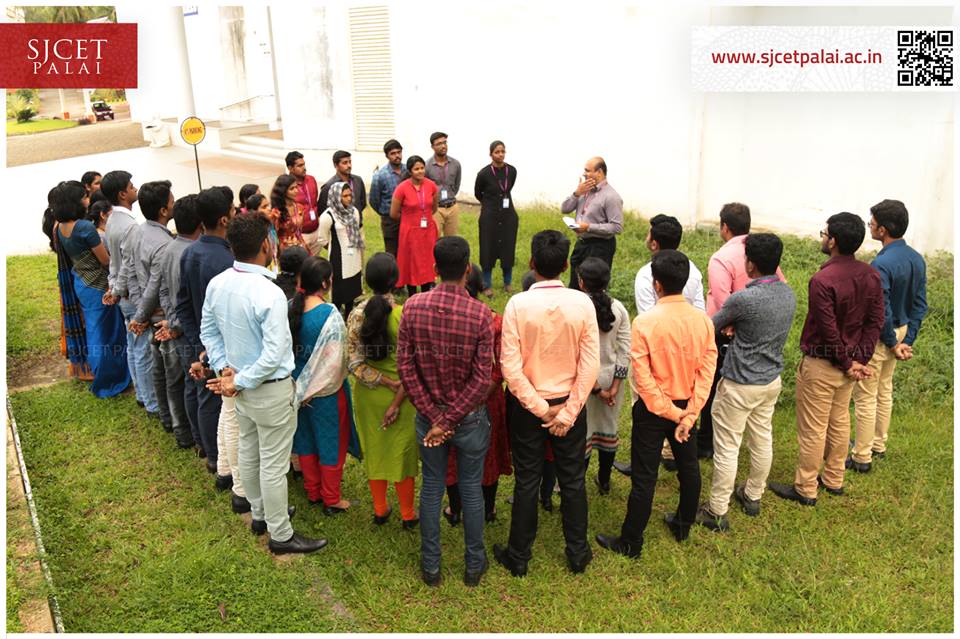 LIFE SKILLING STRIDES @ St. JOSEPH'S. The first in the series for a selected set of B School students. Resource person : Dr. Ajith Thomas.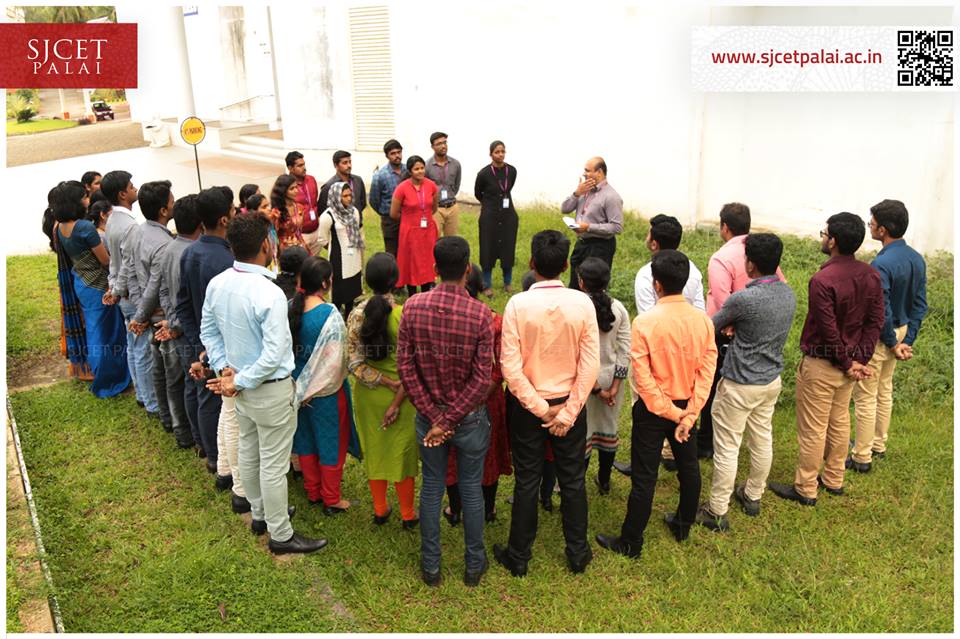 INAUGURATION MBA 2018-20 BATCH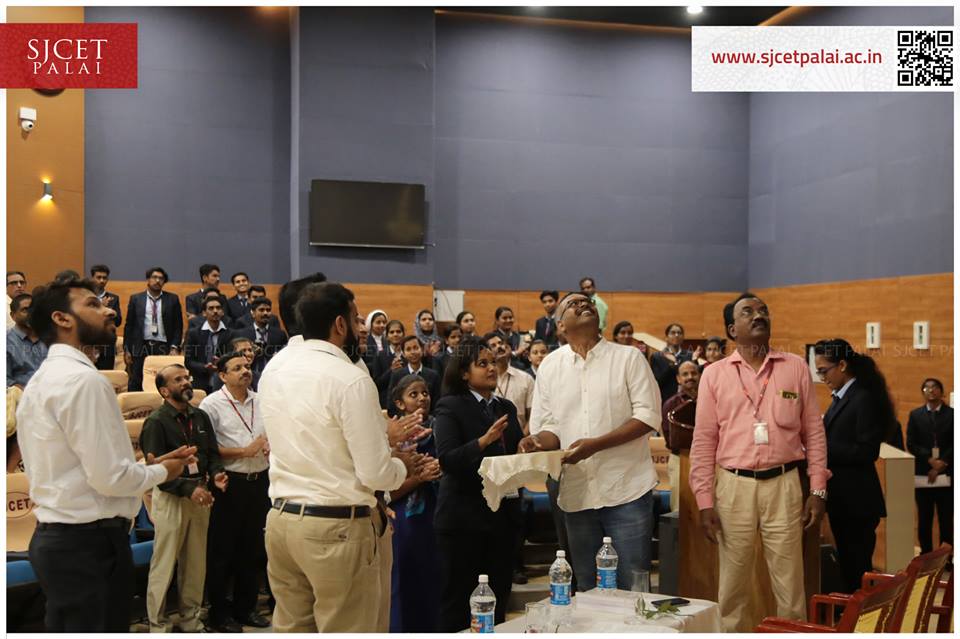 Inauguration of 13th Batch of SJCET School of Management. Mr. Kamal Krishnan P.S, National Head, Integrated Media Solutions, Mathrubhumi Inaugurated MBA 2018-20 batch. Eminent industry experts like Mr. Manu Mathew, Senior Manager- Marketing, Malayala Manorama, Mr. Vishak Vimal, Manager, Bank of Baroda, Mr. Benil Dani Alexander, Director, Hedge School of Applied Economics participated in a panel discussion chaired by Prof. Thomas Ajith on " Improving employability of MBA students. "
International symposium on Responsible Tourism – 29-Oct-2018 , St.Joseph's Business School – Download Brochure
To emerge as a centre of excellence in the field of management education with a distinct identity and character in all areas of activities.
To maintain a conducive infrastructure and a learning environment to become a centre of excellence.
To nurture a team of dedicated, competent and research oriented faculty.
To support and promote student development for their successful career.
Our motto is holistic development of students by providing facilities and opportunities for their intellectual, physical, moral, social and cultural and spiritual enrichment and thereby transforming them in to responsible and dedicated citizens of country.
Notable features that make it stand apart from the competing B-Schools
Knowledge dissemination relevant to culture and social fabric

Short term study abroad programme

Activity filled well rounded learning opportunities

Higher return on investment (ROI) for student and parents

Soft skill training for exponential success

MoU with corporates for student/faculty interaction and trainings
Outcome and result focused approach

Individual development plan for each student through personalized mentoring

Research oriented, Faculty support

200 MBPS Globally connected B-School

Foreign academic programmes supported by industry stakeholders

Commendable academic results in KTU

Significant number of Alumni in globally acclaimed organizations, abroad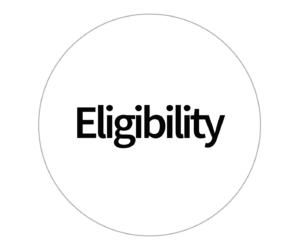 Eligibility
Candidates who have been awarded or qualified for the award of the Bachelor's degree in Engineering/Technology/Business Administration with 50% marks in aggregate or Bachelor's degree in Arts/Science/Commerce with 50% marks in aggregate for the main course papers are eligible to apply for admission to the MBA programme. The aspiring candidates should also possess a valid CAT/CMAT/KMAT score.
FINAL YEAR DEGREE STUDENTS CAN ALSO APPLY FOR PROVISIONAL ADMISSIONS TO 17TH BATCH WHICH COMMENCES IN JUNE 2021*.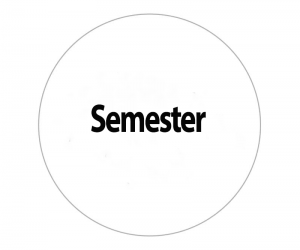 Semester
From 2020 admissions, the duration of the MBA (Full-time) programme of the APJAKTU is two years consisting of four semesters. Maximum period for completing the programme is eight semesters. For MBA (Full-time) programme, each semester shall consist of 14 instructional weeks of 29 hours per week. Every academic year shall have two semesters "1st July to 31st December (Odd semester)" and "1st January to 30thJune (Even semester)".
The academic programme in each semester will consist of course work and field work/ internship. The scheme shall be so drawn up that the minimum number of credits for successful completion of the MBA programme of any specialization is 102 credits with a split up of:
First year (I and II semester): 54 credits
 Second year (III and IV semesters): 40 credits (Course work)
 Internship : 03 credits (Second year)
Project& Comprehensive Viva: 05 credits (Second year)
Total: 102 credits
At the end of the semester, examination will be conducted for all courses offered in that semester and will be of three hours duration unless otherwise specified. The major eligibility criteria for the semester examination are attendance in the course and no pending disciplinary action. The minimum attendance for appearing for the semester examination is 75% in each course.
A student will be eligible for the award of MBA Degree of the University on satisfying the following conditions:
Fulfilled all the curriculum requirements within the stipulated duration of the course.
Earned the required minimum credits as specified in the curriculum.
No pending disciplinary action.
For more details on the academic regulation and syllabus, please visit : https://ktu.edu.in/eu/acd/academicRegulationsMba2020.htm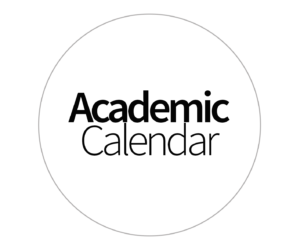 Academic Calendar
KTU shall publish the academic calendar for every academic trimester/year, indicating the commencement of trimesters as well as instructions, course registration date(s), enrollment date(s), weeks in which the mandatory internal tests are to be conducted, dates for completing internal evaluations, last instruction day in the trimester, schedule of trimester examinations and official holidays in the trimester/academic year. Academic calendar can be downloaded from   https://ktu.edu.in/eu/acd/academicRegulationsCalendar.htm
INITIATIVES BEYOND THE CLASS ROOM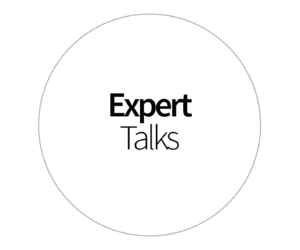 EXPERT TALKS
St. Joseph's Business School regularly Invites experts from diverse fields to share their insights on topics of current relevance. This helps the budding managers to stay updated with the industry and to connect with them.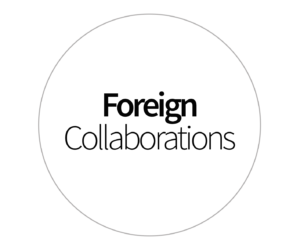 FOREIGN COLLABORATIONS
St. Joseph's Business School actively  collaborates with foreign universities for various academic programs.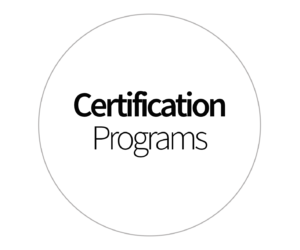 CERTIFICATION PROGRAMS
Students can choose from a wide range of certified programmes offered for enhancing their expertise in their domain areas.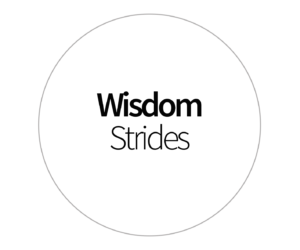 WISDOM STRIDES
Wisdom strides is an innovative programme which gives students a chance to walk along with successful personalities and to hear their words of wisdom.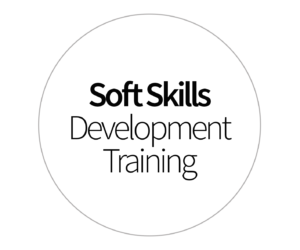 SOFT SKILLS DEVELOPMENT TRAINING
Training programmes by  expert outside agencies are arranged for developing various employment related skills such as effective communication, leadership skills, group activity skills, motivation etc.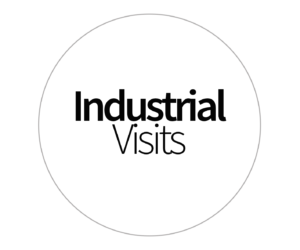 INDUSTRIAL VISIT
Visits to industries are an integral part of management studies. These visits enable the students to get a glimpse of the industry so as to get a practical exposure in real time. The management operations can also be understood to a great extent.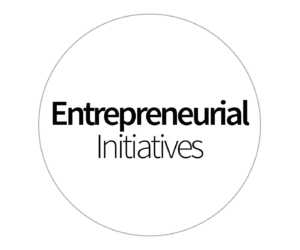 ENTREPRENEURIAL INITIATIVES
The department is keen on organizing various programs aimed at cultivating entrepreneurial skills among students under the auspicious of ED Cell. Interactions with well known Entrepreneurs, workshops, awareness programs, paper presentations etc. are a regular feature of our MBA Programme.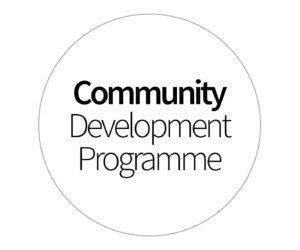 Community Development Programme
St. Joseph's Business School conducts community development activities with the aim of inculcating amongst students, the value of  selfless service to the community, dignity of labour, importance of self-help, and awareness of the need to protect the environment.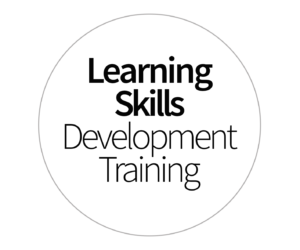 LEARNING SKILLS DEVELOPMENT TRAINING
This is a unique training programme for students arranged by this college. Lectures are given on how to learn effectively and how to manage the time available for students in the most effective way.
The college is Research Centre of APJ Abdul Kalam Technological University (KTU).Candidates qualifying the KTU's Entrance procedure can join for Ph.D under the approved guide in the college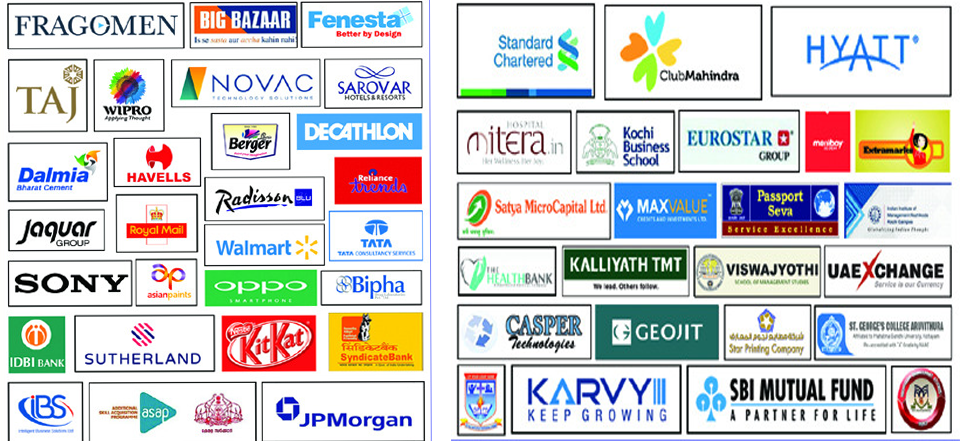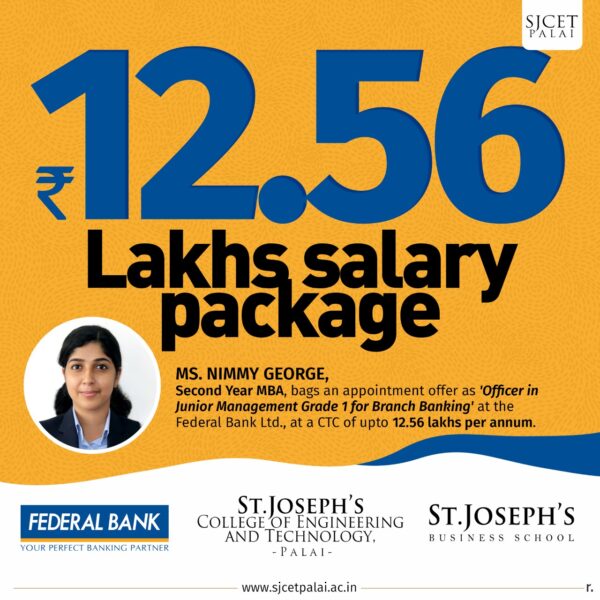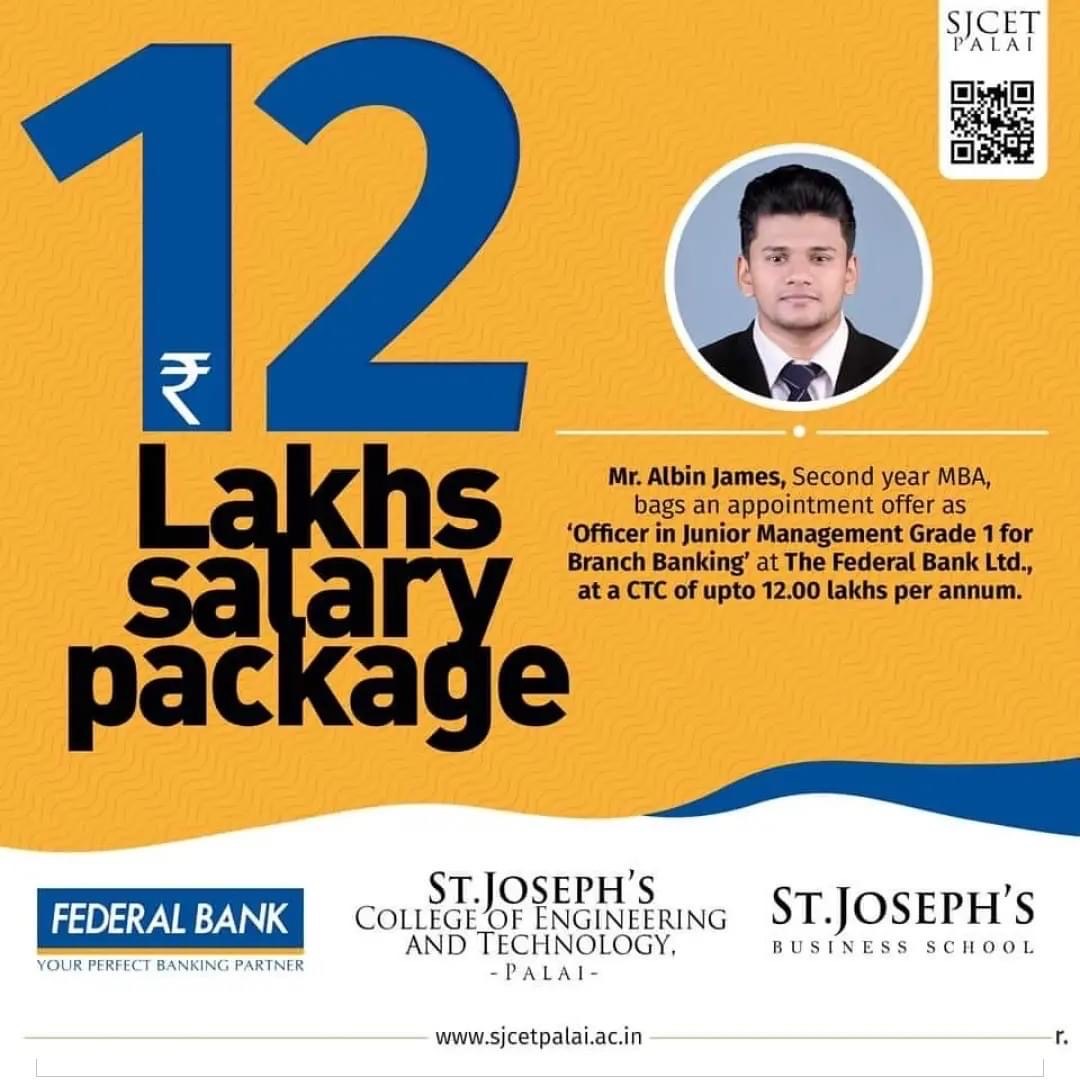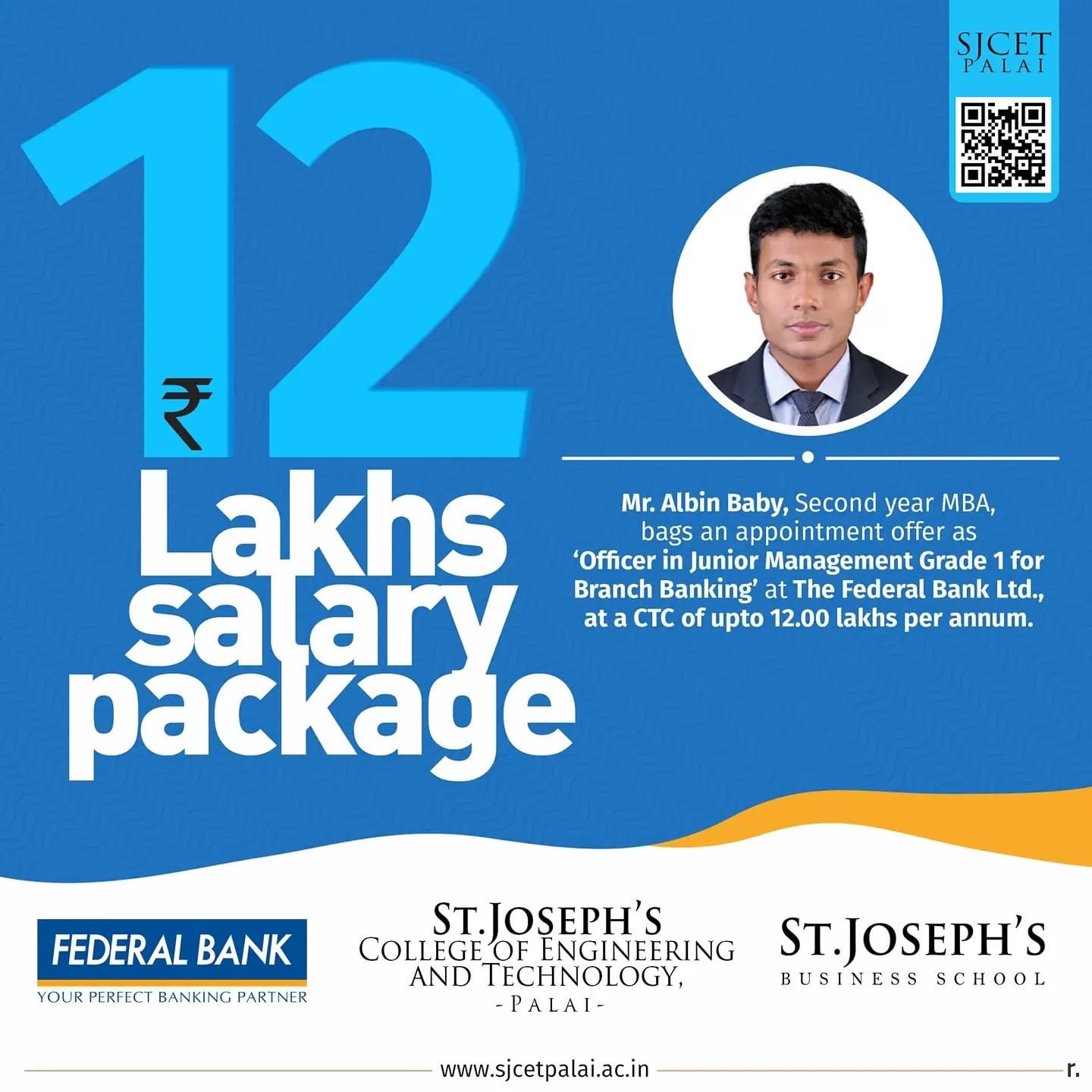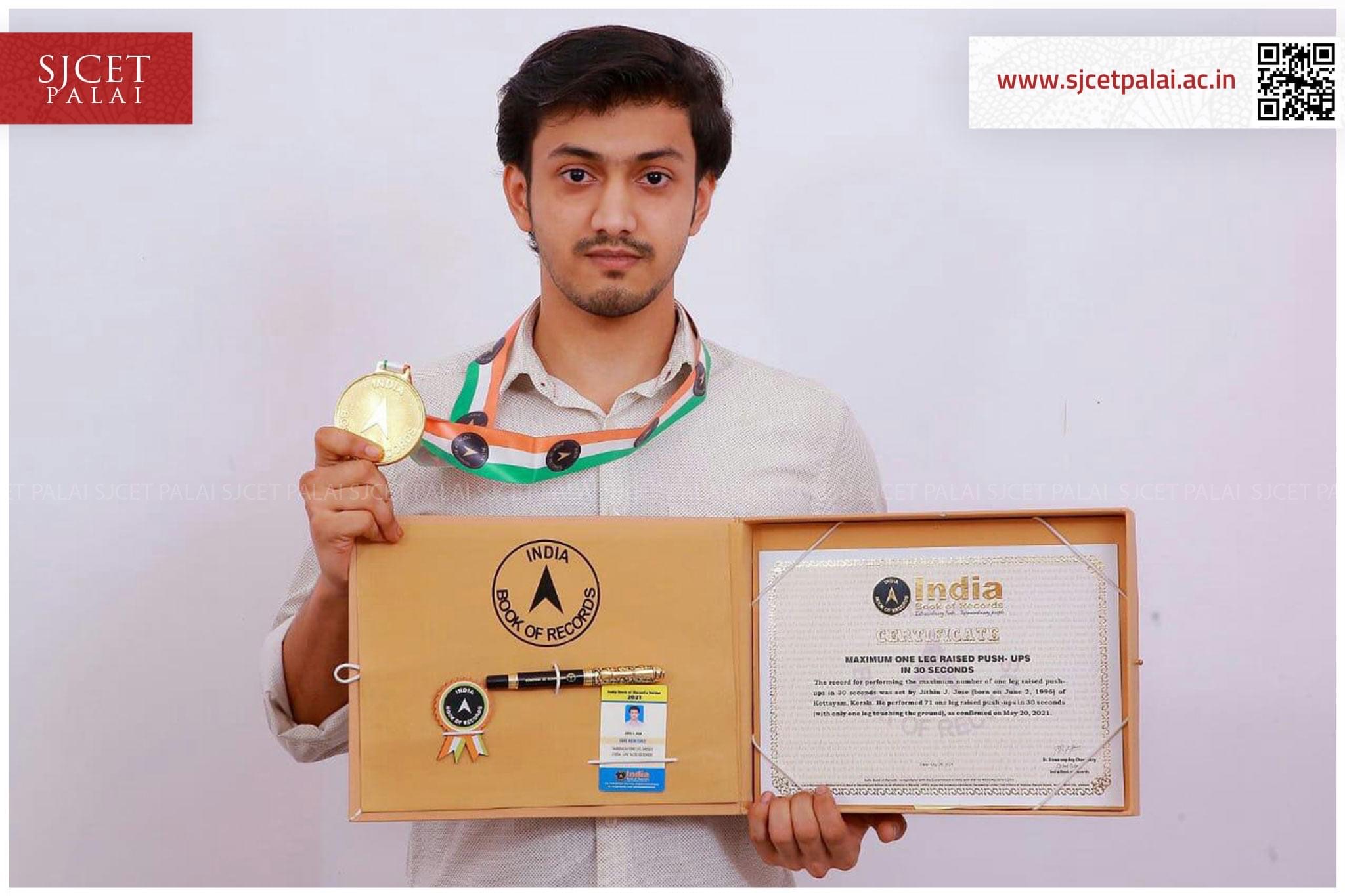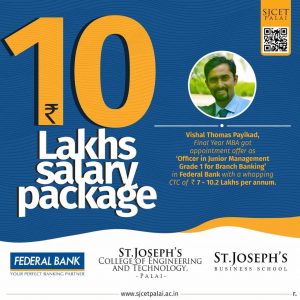 Mr. Vishal Payikad 2018-20 batch placed at Federal Bank with the highest salary package from the batch.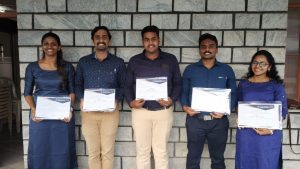 SJBS Student Leadership – Participants for National Level MDP organised by Kristu Jayanti College Banglore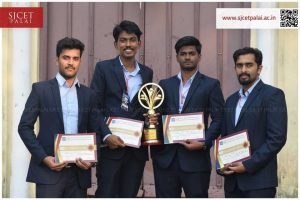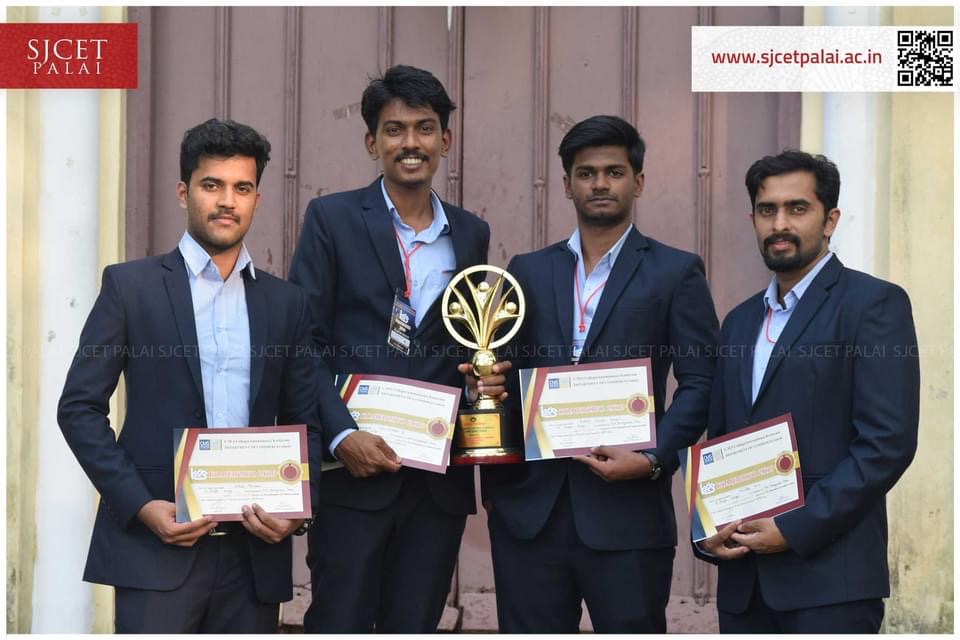 SJBS bags First Prize and Ever rolling trophy for Best Management Team, KOMERZIYO 2K19, Management Fest CMS College, Kottayam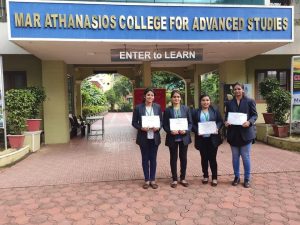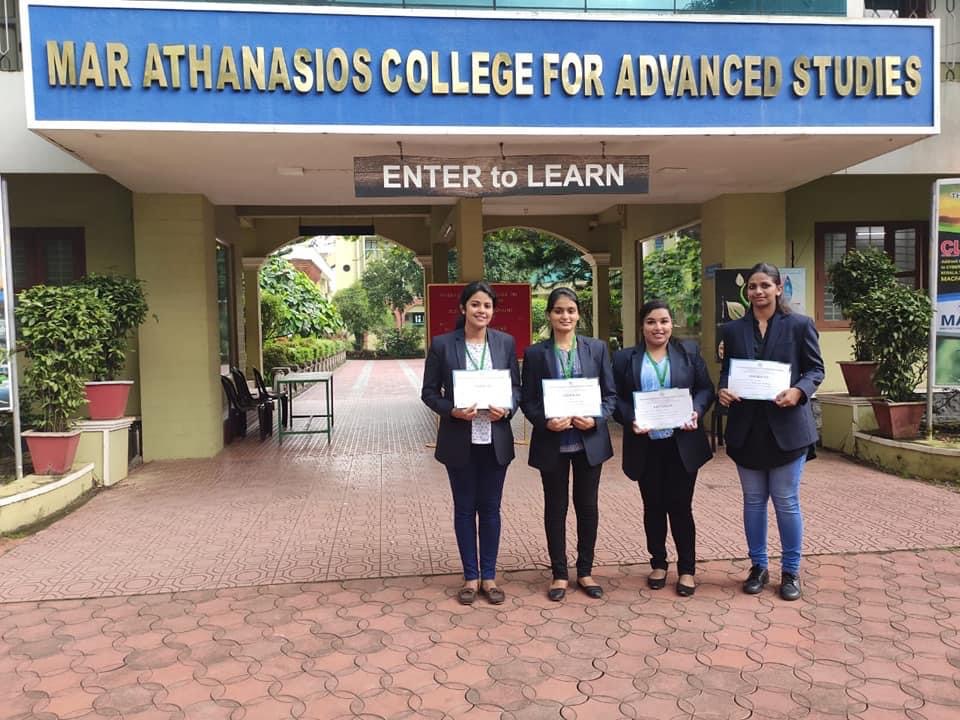 SJBS Student Leadership – Paper presented at International Conference Organised by Macfast College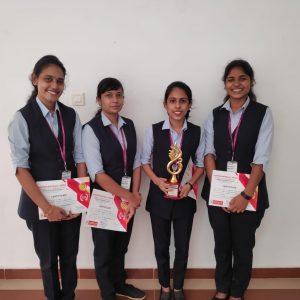 SJBS bags first prize in HR game – Management Fest organized by Mangalam College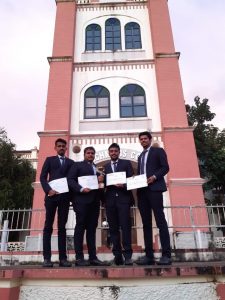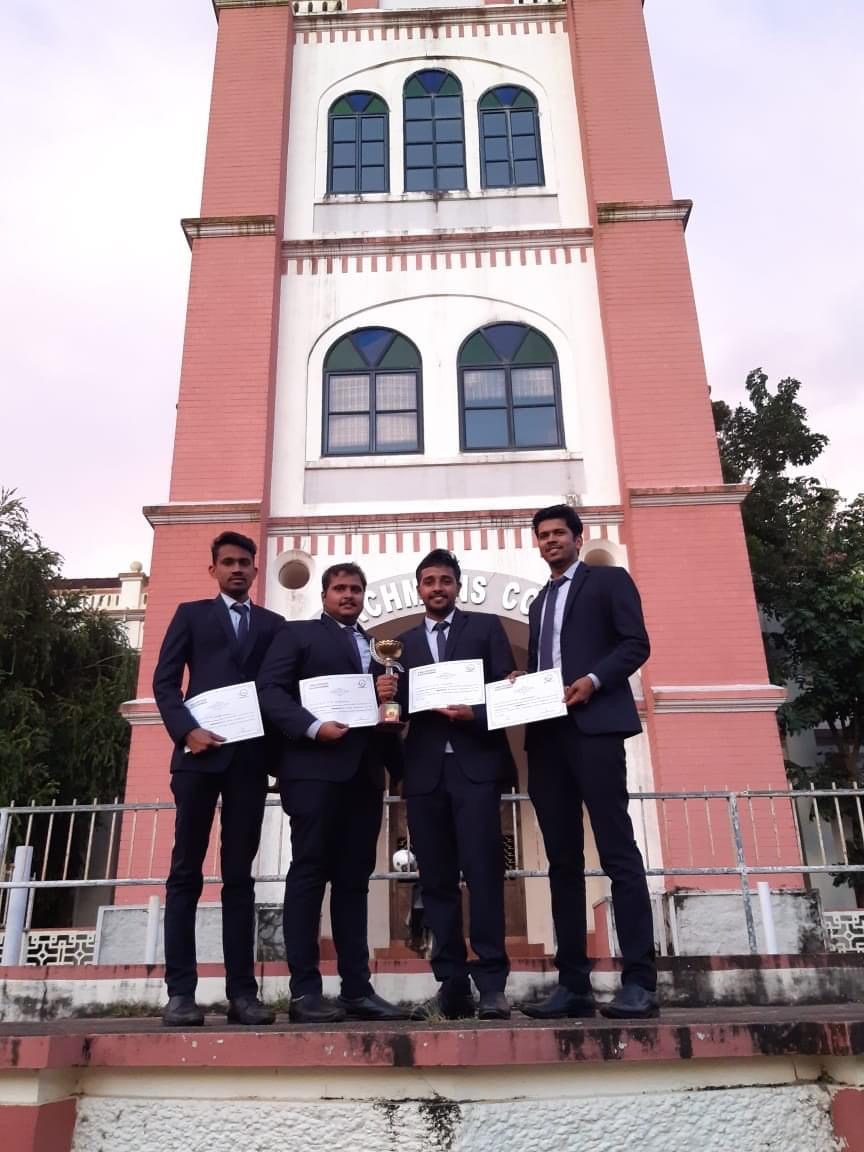 Prize Win – SJBS bags prize – Management fest at SB College Changanassery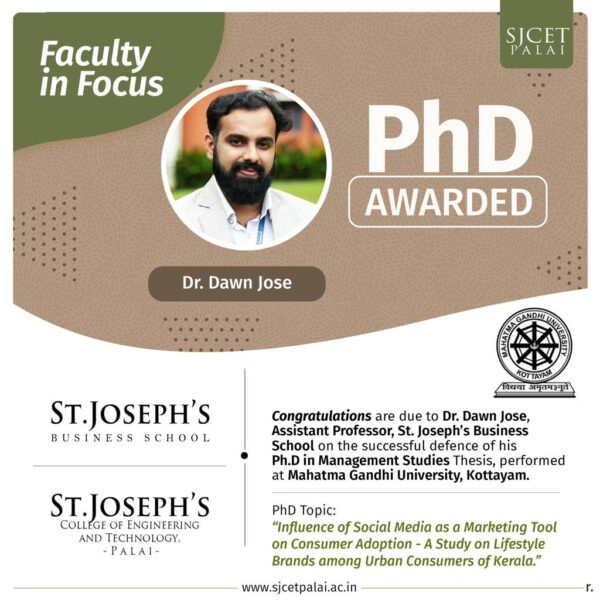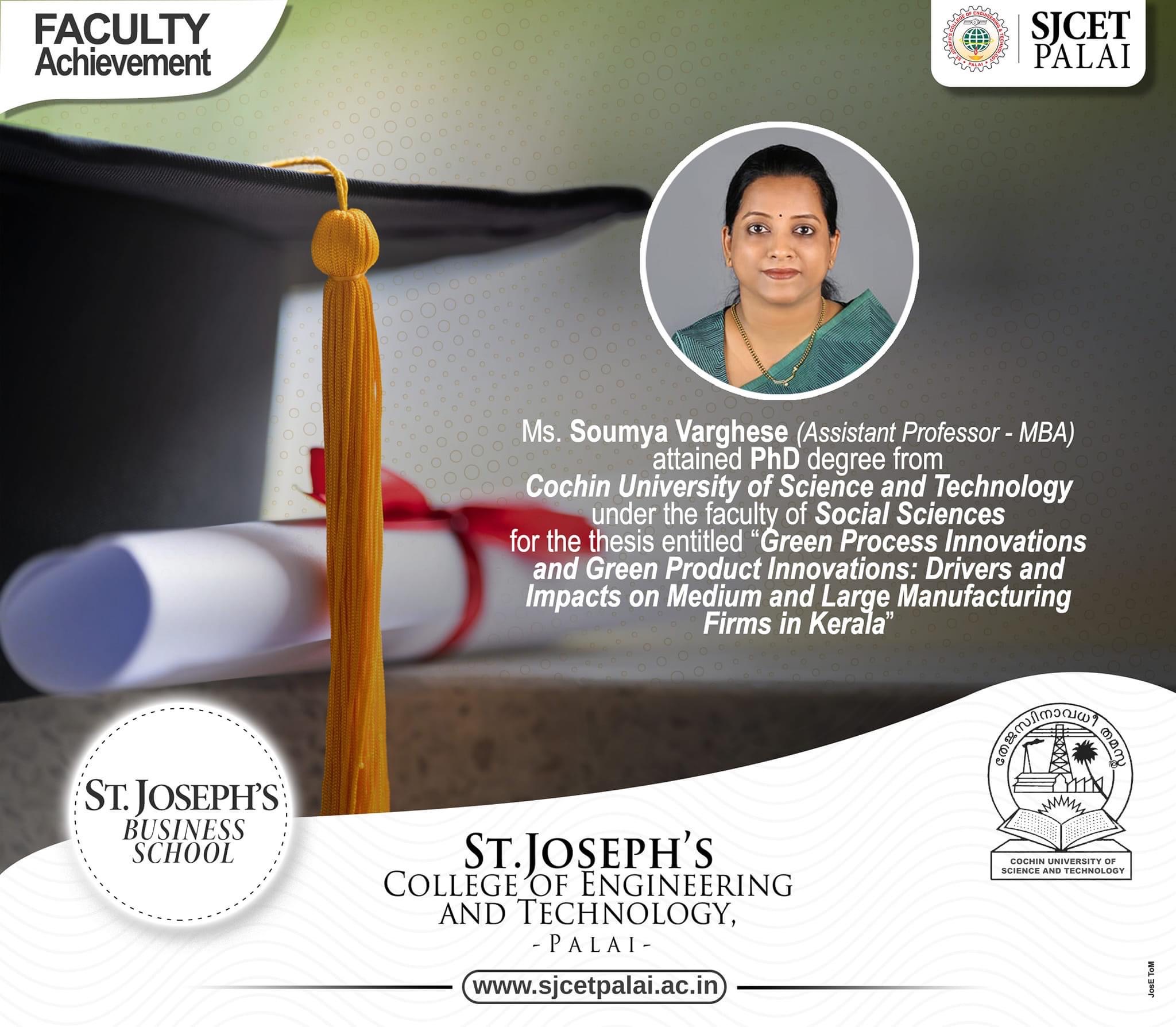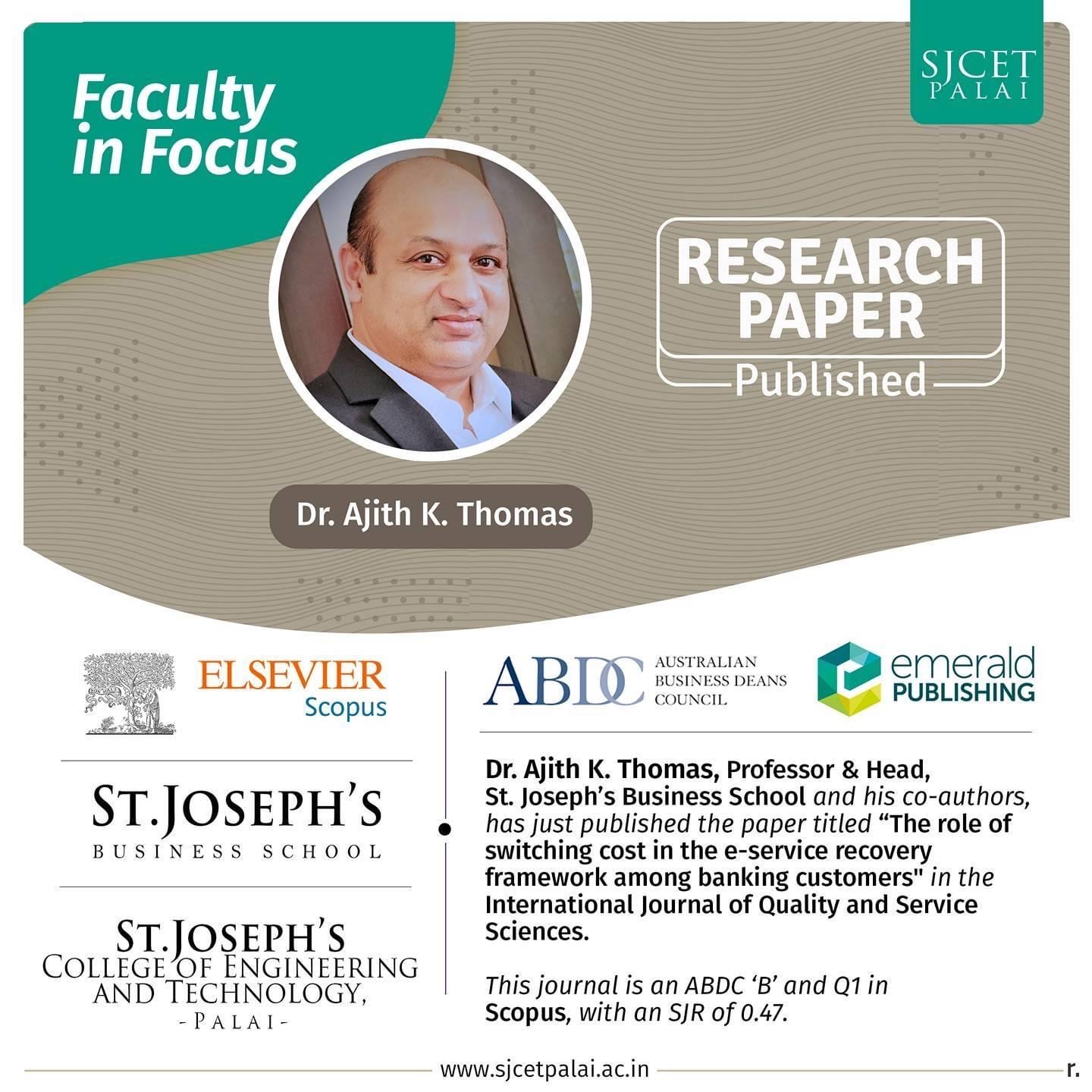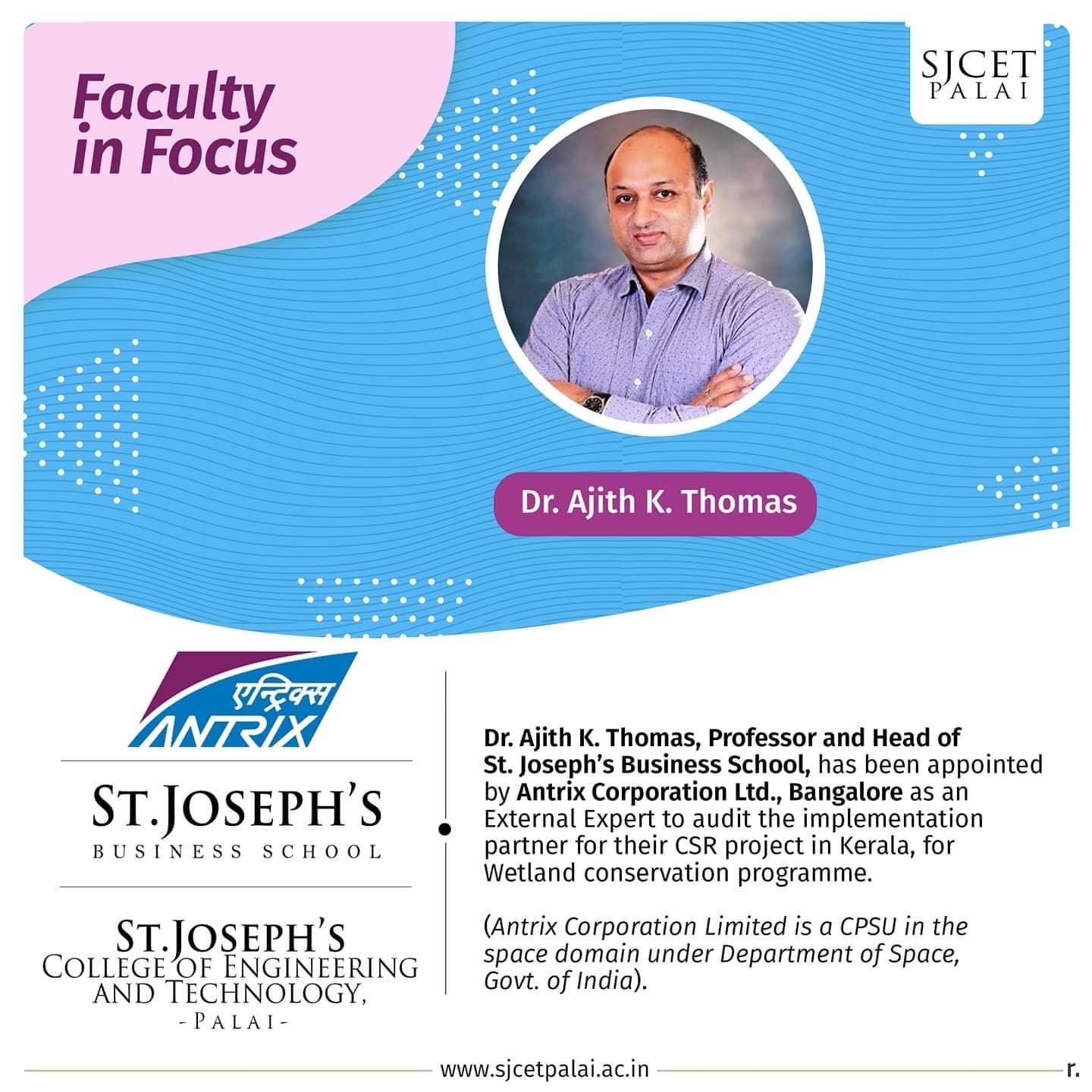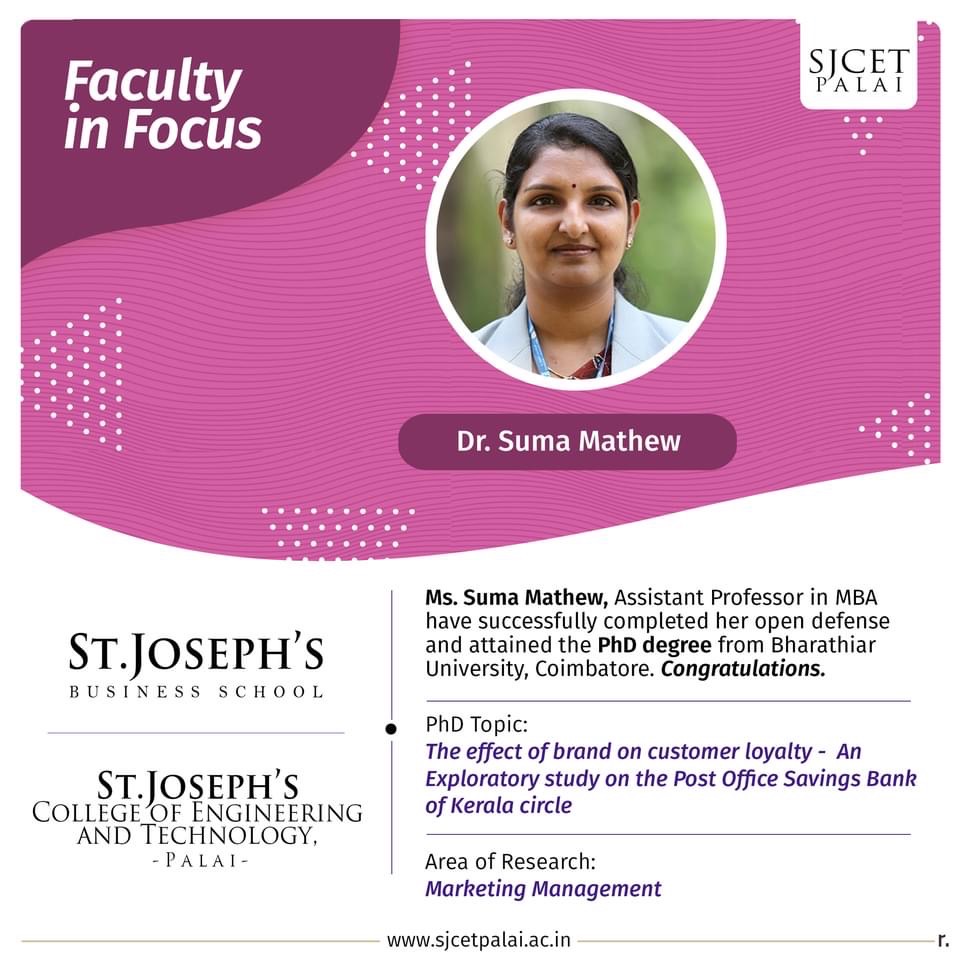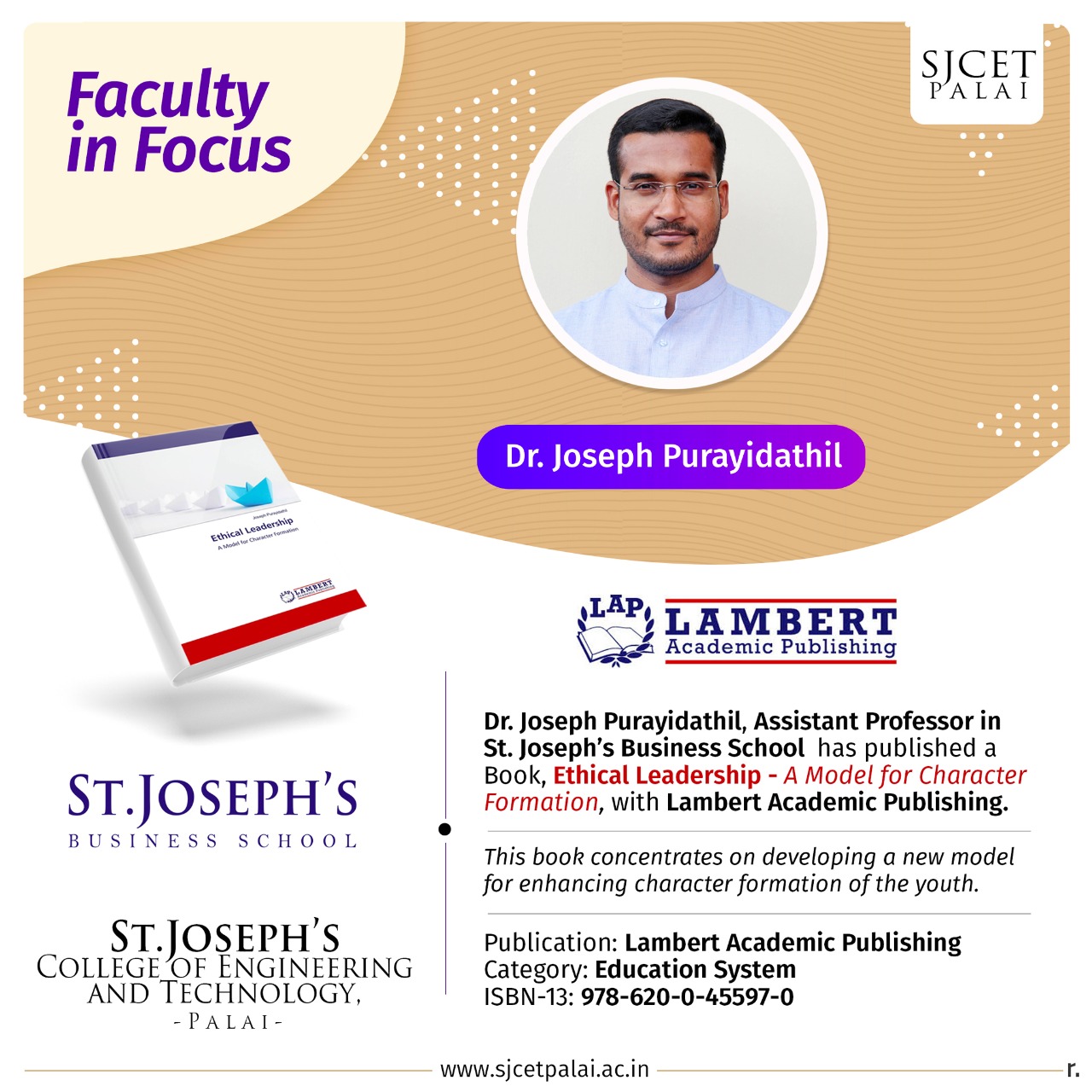 TO KNOW OUR LATEST UPDATES,FOLLOW US ON