Electronics & Instrumentation (E&I) Engineering is an inter-disciplinary branch which is an interface between electrical, electronics, and mechanical engineering. Under graduate course in AEI covers the essentials of Mechatronics, Robotics, Artificial Intelligence, Automotive Electronics, Biomedical Engineering, Process Control & Automation, Microelectronics etc.
This branch of engineering is concerned with the design of measuring instruments and control systems. Students of this branch exclusively learn principle and operation of measuring instruments, configuration of automated systems, accurate control of physical parameters in process industries etc. and they earn expertise in core competencies of electronics engineering, as well.
"ONE MAN'S "MAGIC" IS ANOTHER MAN'S ENGINEERING. "SUPERNATURAL" IS A NULL WORD" – ROBERT A. HEINLEIN
Instrumentation engineers have great career prospects in aerospace, avionics, defence research, pharmaceuticals, food industries, thermal power plants, steel plants, fertilizer plants, automobile companies, biomedical companies and refineries.
Major recruiters of instrumentation engineers are Honeywell, Bosch, Saudi Aramco, Qatar Petroleum, Yokogawa, Petrofac, Volvo, Volkswagen, Defence Research and Development Organization (DRDO), Indian Oil Corporation Ltd (IOCL), Oil and Natural Gas Corporation Ltd.(ONGC), Hindustan Aeronautics Ltd.(HAL), Reliance Petroleum, Samsung Electronics, etc.
B.Tech/ BE graduates in AEI are eligible for Masters programs in Avionics, Aerospace Engineering, Data Analytics, Nano-Technology, Embedded Systems, Power Electronics, Communication Engineering, Control Systems, Signal Processing, VLSI Design, Computer Vision & Image Processing etc. The institutes of national repute which offer masters program in instrumentation in India include, Indian Institute of Science (IISc) Bangalore, Indian Institute of Technology (IIT) Mumbai, IIT Delhi, NIT Rourkela, NIT Calicut, Indian Institute of Space Science & Technology, Trivandrum (IIST) etc.
The Department of AEI has the heritage of 15 years and has been a part of SJCET since its inception itself. The department offers a well-structured under graduate program, B.Tech in Applied Electronics and Instrumentation Engineering. Our expertise and competence are in computer vision, medical image computing, Bio Signal Processing, Deep learning, Low-power analog VLSI Design, Plant Automation, Design Robotics, Navigation and Control, Sensor Design, ASIC, Power Systems etc.
OBJECTIVES OF THE DEPARTMENT
To make the students employable and industry ready by developing practical skills as well as theoretical command in the focal areas of instrumentation engineering.
To be instrumental in national development and for the integration and well being of the society by producing engineers with commitment and ethics.
To uplift the quality of the department, to international standards via industry academia collaborative initiatives and to enhance the knowledge as well as expertise of the faculty through life time learning and research.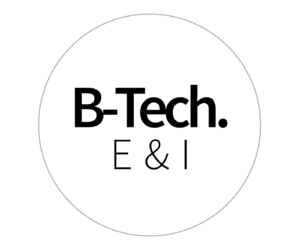 B.Tech Electronics & Instrumentation Engineering
The curriculum of under graduate programme in Electronics and Instrumentation engineering includes courses on the design of analog and digital instruments used for measurement and control of physical parameters such as flow, pressure, temperature, and level, and the calibration of such instruments. Students learn to design and configure embedded systems, and to design and implement automated systems composed of sensors, actuators, and programmable logic controllers (PLC).
CURRICULUM
Along with the specialized subjects of instrumentation, students learn the subjects which equip them to acquire the core competencies expected from an engineer graduated in Electrical & Electronics engineering or Electronics & Communication engineering.
Core Subjects: –
Digital System Design, VLSI Circuit Design
Embedded System Design
Micro Electronics, MEMS/NEMS
Logic and Distributed Control
Aerospace and Navigation Instrumentation
Petroleum Technology, Industrial Instrumentation
Virtual Instrument Design
Instrumentation for Agriculture
Power Electronics, Power plant Instrumentation etc…
| Course | Duration | Intake | Syllabus |
| --- | --- | --- | --- |
| Applied Electronics & Instrumentation Engineering | 4 Year | 30 | syllabus |
ON GOING IN HOUSE RESEARCH PROJECTS
A frame work for Automated Evaluation of Diabetic Retinopathy (Ms. Deepa V.)

Prediction of Post Target ECG in Tread Mill Test (Ms. RashmiAnnamma George)

Automated Control of Fraction of Oxygen (FiO2) in Ventilated Patients (Mr. Jiss Mohan K.)

Characterization of Osteo-Arthritis from Vibro-Arthrographic Signals (Ms. RameesaMol J.)

Demand Based Smart Energy Metering System using LabVIEW (Mr. Al-Saheer S.S.)
INITIATIVES BEYOND THE CLASS ROOM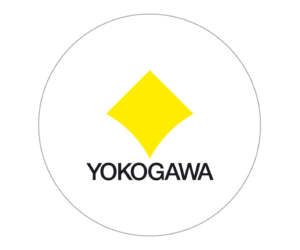 MoU WITH YOKOGAWA
Yokogawa India Ltd., established in 1987 is a provider of Enterprise Technology Solutions (ETS). The company excels in turnkey project execution in Process Automation and Enterprise Integration with core competencies in Design and Engineering of Process Control Systems, Implementation of Extended Enterprise Applications etc. Department has Memorandum of Understanding with Yokogawa India Ltd. on Technical Knowledge Exchange. The training programs mentored by Yokogawa offers add on hands on expertise to students and faculty on mandatory skill sets in industrial automation. Yokogawa is one of the key recruiters of our students.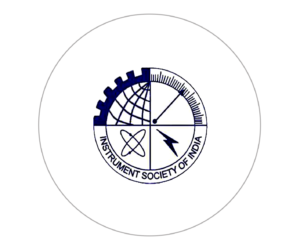 ISOI (Instrument Society of India)
The Society of Instrumentation professionals was established in the year 1970, with headquarters at Indian Institute of Science, Bangalore. It strives to act as a link between academic institutions and the instrumentation industry. In SJCET, ISOI chapter was started in the year 2004. All the students and the faculty in department of Instrumentation Engineering are the members. The department organizes various programs like, seminars, conferences, paper presentation, Invited talks etc. in collaboration with ISOI for the development of students.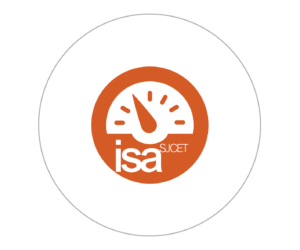 ISA (Instrumentation Students Association)
The Instrument Students Association (ISA) was established at SJCET in the academic year 2003. The objective of ISA is to provide a forum, which will effectively represent the interest and concerns of students of Applied Electronics and Instrumentation department, for pooling their knowledge and experience, supporting the initiatives and events that enrich the career.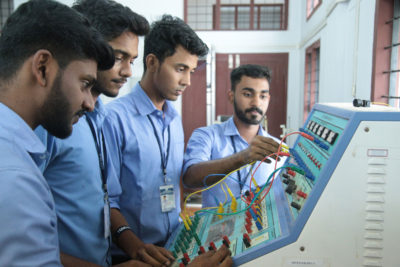 INSTRUMENTATION LAB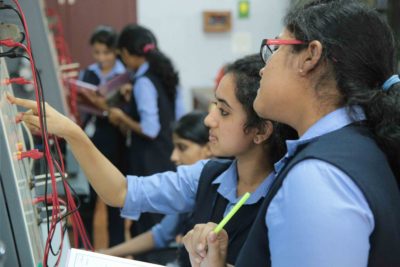 PROCESS CONTROL LAB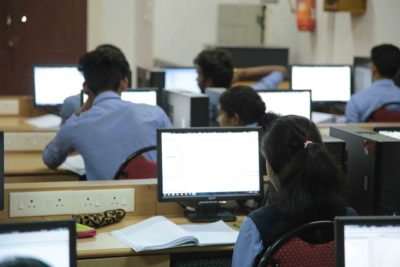 VIRTUAL INSTRUMENTATION LAB