STUDENT ACTIVITIES & ACHIEVEMENTS
Google's DEVELOPER STUDENT CLUB PROGRAMS
Congratulations to Praveen K S, S6 CSE for being selected as the Lead for Google's Developer Student Club of St. Joseph's College of Engineering and Technology, Palai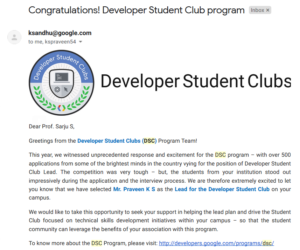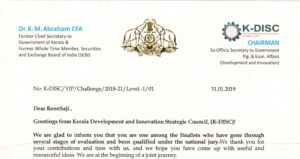 KDISC – YOUNG INNOVATORS PROGRAMME
Congratulations to Reon Saji, S6 CSE for being selected Young Innovators Programme (YIP) by Kerala Development and Innovation Strategy Council (K-DISC), a strategic think-tank and advisory body constituted by the Government of Kerala.
SMART INDIA HACKATHON 2018 WINNERS
Congratulations to Team Kryptonite 6.Reon Saji, Praveen K S, Sandeep Salmon, Smitha John, Hanna George and Neethu Naduvathettu of St. Joseph's College of Engineering and Technology, Palai bagged the All India Persistent Inspiration Award at the 2nd Smart India Hackathon, which is the worlds biggest Hackathon organized by AICTE, MHRD and MyGov.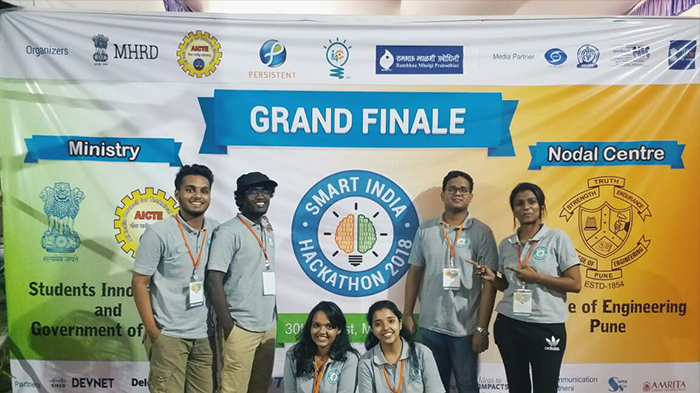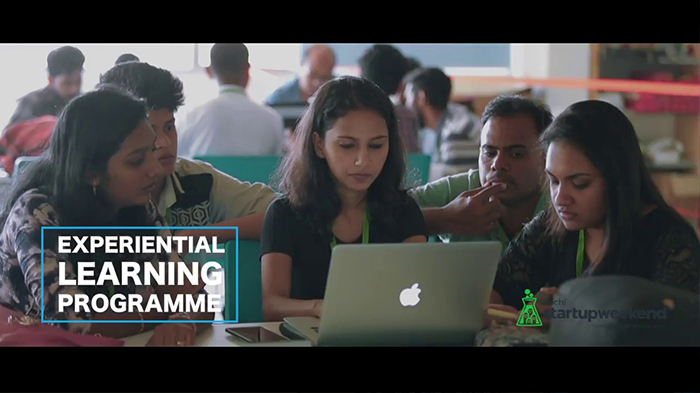 Startup Weekend is a 54-hour weekend event, during which groups of developers, business managers, startup enthusiasts, students, graphic artists and more pitch ideas for new startup companies, form teams around those ideas, and work to develop a working prototype, demo, or presentation by Sunday evening. Startup Weekend has grown into an organization with a global presence.
As a Developer Student Club Lead of St. Joseph's College of Engineering and Technology, Palai, Reon Saji got the opportunity to attend World's first DSC Summit in Goa. The summit focused on skills/knowledge helpful for the student Leads to impact their campus/community.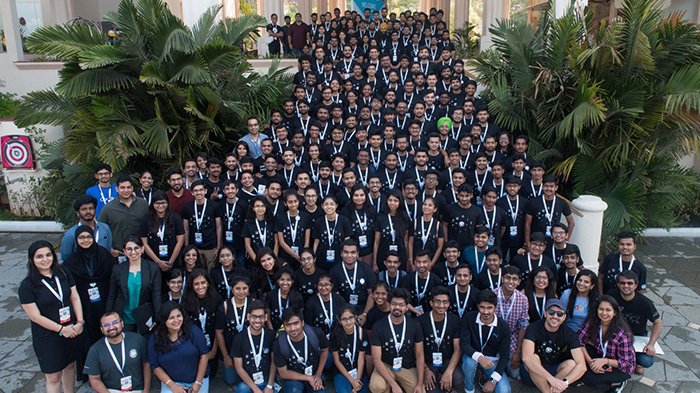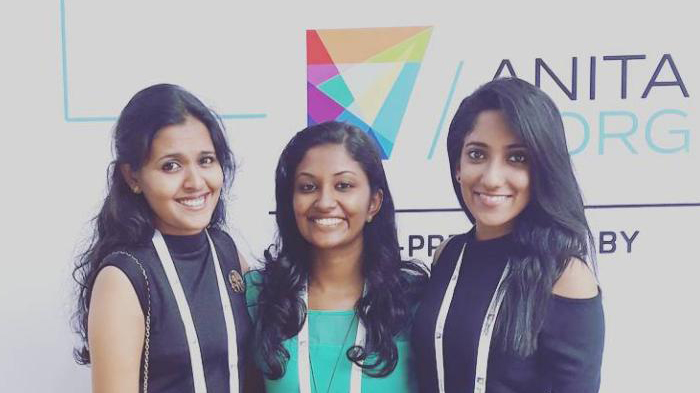 GHCI 17 STUDENT SCHOLARSHIP AWARD
Pritika Merryl Prasad, Stefy Thomas & Sheby Mariam Babu of Seventh Semester Computer Science & Engineering students are selected for the Grace Hopper Celebration India's GHCI 17 student scholarship award. The Grace Hopper Celebration of Women in Computing is presented by the Anita Borg Institute for Women in Technology and the Association for Computing Machinery (ACM).
Congratulations!!! On your achievement.
DEVELOPER WEEKEND
Students from Department of Computer Science and Engineering participating in Kerala's Biggest Developer Conference DEVELOPER WEEKEND held at Trivandrum by bHub. In the nutshell it is the complete community-driven event for developers to meet and learn new things in an effective manner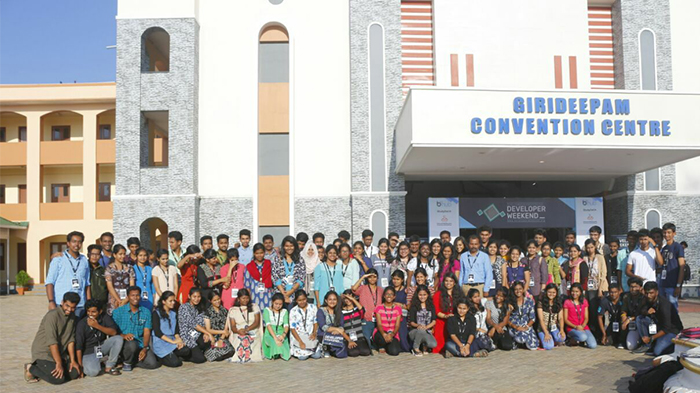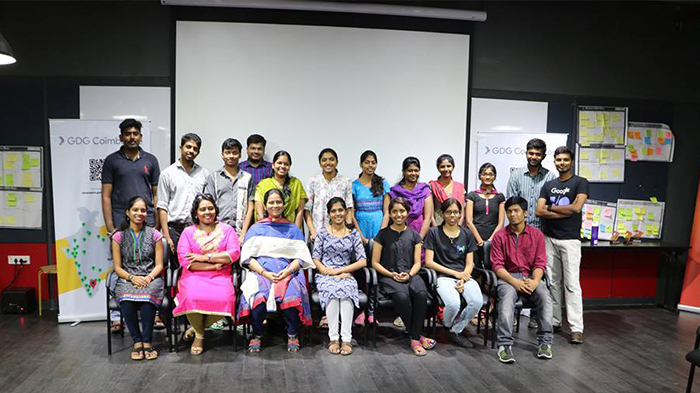 WOMEN TECHMAKERS
Stefy Thomas and Aleena Ajay. Students from St. Joseph's College of Engineering & Technology, Palai sharing there experience about the NGO and Women initiated events at Google Developers group event -"WOMEN TECHMAKERS" . Congratulations
GOOGLE APPLIED CS WITH ANDROID FACILITATOR
Applied CS is a free online course by Google designed to prepare students for their CS career through hands on coding experience. Congratulations!!! Reon Saji , Third Semester Computer Science & Engineering student for being selected as the facilitator for the Google Applied CS with ANDROID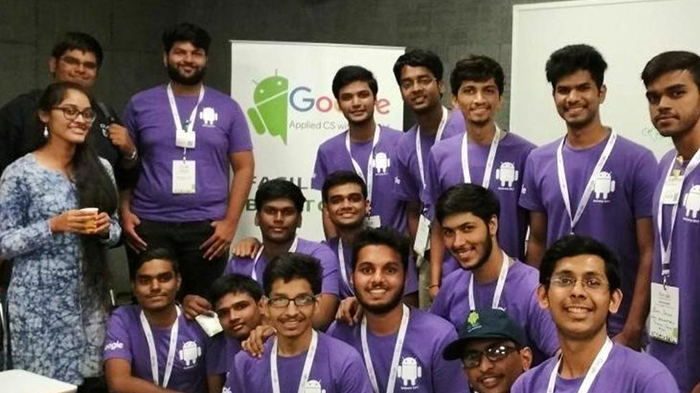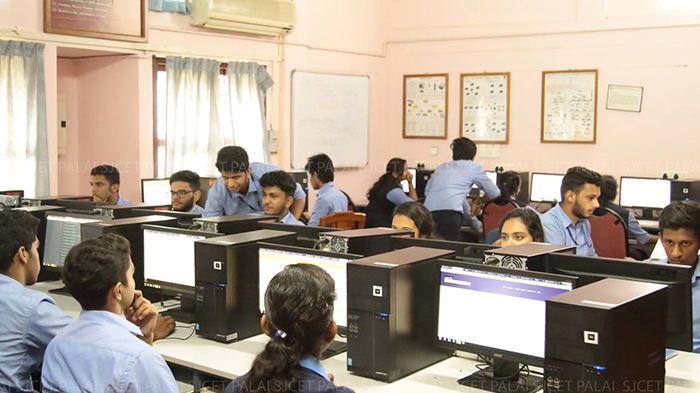 MOZILLA FIREFOX QUANTUM SPRINT
Mozilla Firefox Quantum Sprint at St. Joseph's College of Engineering & Technology, Palai. As Mozilla launches their new and improved version of Firefox with a new browser engine, Mozilla SJCET conduct Firefox quantum spirit with a day of installation, talks and also tested several pages with the objective of seeing if there are any flaws.
6TH CSI-INAPP NATIONAL PROJECT COMPETITION 2017
Congratulations to Avees Joseph, Jerin Thomas, Aiswarya Sambath and Anjaly Manuel (Final year Computer Science Engineering students) who emerged as first runners up of National level student project competition jointly organized by Computer Society of India (CSI) and In App Solutions.