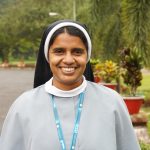 Prof. Elizabeth M J
Assistant Professor
Department of Computer Science & Engineering
Email: elizabethmj@sjcetpalai.ac.in
Mobile: +91 9497699016
Date of Joining:10.08.2020
| Degree | Specialization | Institution | University | Year of Passing |
| --- | --- | --- | --- | --- |
| B.Tech. | CSE | Vimal Jyothi Eng. College, Chemperi , | Kannur University | 2012 |
| M.Tech. | CSE | Viswajyothi College of Engineering and Technology, Vazhakulam | KTU | 2019 |
| Name of the College/Industry | Designation | Date of Joining | Date of Relieving |
| --- | --- | --- | --- |
| Jaimatha Senior Sec School, Uliayathaduka, Kasaragod | Asst. Teacher | 01.06.2012 | 31.06.2016 |
| St. Thomas College, Halekote, Belthangady | Staff | 01.06.2016 | 31.10.2016 |
Anagha John, Elizabeth M J, "An Image Retrieval Method using Neural Network", International Research Journal of Engineering and Technology (IRJET), 5, no. 9, pp. 1063-1069, 2018
M. J. Elizabeth and Jobin Jose, "An Analysis on Hadoop MapReduce Performance: a Survey," Journal of Advanced Research in Dynamical and Control Systems (Scopus Indexed), vol. 10, no.15, pp. 202–210, 2018.
Elizabeth M J, "A Survey On Fog Computing Technology", International Journal of Research and Analytical Reviews (UGC approved), E-ISSN 2348-1269, P- ISSN 2349-5138, vol.6, no.1, page no pp.798-802, 2019.
Elizabeth M J, "A Fog Based Security Model for Electronic Medical Records in the Cloud Database", International Journal of Innovative Technology and Exploring Engineering (Scopus Indexed), ISSN: 2278-3075, vol.8, no.7, 2019.
Undergone 10 days INPLANT TRAINING PROGRAM at NeST Cyber Campus, Trivandrum.
Undergone two days TRYEN SECURITY TRAINING at Vimal Jyothi Eng.College, Kannur.
Undergone two weeks ANDROID PROJECT TRAINING at IPSR Solutions Ltd, Kozhikode.
Matlab Onramp self-paced online training course completed on 11 July 2018.
Undergone CLOUD COMPUTING TRAINING at Allievo Learning Center, Ernakulam , 1st Sept 2018 – 8th April 2019
Undergone IoT Cloud Entrepreneurship DST – NIMAT at IIIT Kotayam
"FOGONMICS: Economics of Fog Computing Market" in XXII Annual International Conference of the Society of Operations Management at IIM Kozhikode on 18-19 December 2018.
"An Analysis on Hadoop MapReduce Performance: A Survey" in International Conference on Recent Advancements in Engineering and Technology at LBS College of Engineering, Kasaragod on 20-22 December 2018
AWS Online Conference 31 Oct 2018.
AI: Oppurchunities and Challeges – Webinar, IEEE CS Chapter, 23rd Sept 2020
Python for Machine Learning – FDP, GEC Palakad, 14th – 15th Sept 2020
Value of IEEE Publications in Research and Career Development- Webinar, SJCET Palai,
Outcome Based Education and Quality Assurance in Teaching, 17th to 22nd August 2020.