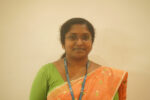 Ms. Jaya John
Assistant Professor
Department of Computer Science & Engineering
Mobile Number: +91 9744563355
Email: jayaq157@gmail.com
| Sl.No | Qualification | University | Specialization |
| --- | --- | --- | --- |
| 1 | MPhil | CUSAT | Computer Science |
| 2 | M.E | Anna University Chennai | Computer Science & Engineering |
| 3 | B. Tech | MG University | Information Technology |
| SI. No. | Institution | Position | Period |
| --- | --- | --- | --- |
| 1 | VIMAL JYOTHI ENGINEERING COLLEGE,CHEMPERI | Assistant professor | JULY 2012 - AUGUST 2014 |
| 2 | COLLEGE OF ENGINEERING CHERTHALA | Assistant professor | AUGUST 2018 - MAY 2019 |
| 3 | COLLEGE OF ENGINEERING CHERTHALA | Assistant professor | AUGUST 2019 - MARCH 2020 |
International Journal Publications
Published the paper titled,"Estimating Missing Values Using Mixture Kernel Regression" in the June 2012 edition of IJCAES.
National Conference
Presented a paper entitled "An Analytic Approach Towards Internet Protocol Transmission Methods-Version 4 to Version 6",National Conference on "Advanced Trends in Engineering and Technology" organized by the Dept. of EEE of Vimal Jyothi Engineering College,Chemperi,09/11/2012.
Attended FDP on ARTIFICIAL INTELLIGENCE AND DATA SCIENCE Organized By Department of Computer Science & Engineering, Sree Narayana Gurukulam College of Engineering,from 17th to 19th march 2022.
Attended FDP on "Data Science & Machine Learning using Python" organized by Division of InformationTechnology,School of Engineering, Cochin University of Science andTechnology from 3rd August – 7th August 2020.
Attended FDP on CYBER SECURITY organized by St.Thomas College of Engineering,Chengannur from 9th July – 11th July 2020.
Attended FDP on Outcome Based Education organized by College of Engineering Cherthala from 18th December-19th December 2019
Attended Faculty Development Programme on "Blockchain" sponsored by AICTE training and Learning(ATAL) Academy at College of
Engineering, Cherthala,from October 14-18,2019.
Attended Faculty Development Programme on "Teaching-Learning Methodologies in Engineering (An OBE Approach) " conducted by Teaching Learning Centre – IIT Madras and co-sponsored by Indian Society for Technical Education (ISTE) Kerala Section at Carmel Engineering College Alappuzha,from 11/07/2019- 13/07/ 2019.
Attended FDP on "JAVA" combinedly organized by Oracle Academy and ICT Academy of Kerala at College of Engineering Chengannur,from 07/01/2019-11/01/2019.
Attended Workshop on BRAIN, COMPUTATION AND LEARNING organized by Indian Institute of Science, Bangalore, Jan 2018.
Attended National Workshop on Technologies and Tools for Scientific Research organized by University of Kerala, Kariavattom, Thiruvananthapuram, September 2017.
Completed online Training on Web development organized by internshala
Certified Software Developer .NET Track.
Have Qualified UGC NET(November 2017, Roll No. 37004243).