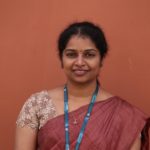 | Degree | Specialization | Institution | Year of Passing |
| --- | --- | --- | --- |
| B.Tech. | Computer Science and Engineering | St.Joseph's College of Engineering and Technology, Palai | 2009 |
| M.E | Computer Science and Engineering | Karunya University | 2011 |
| Name of the College/Industry | Designation | Date of Joining | Date of Relieving |
| --- | --- | --- | --- |
| Mangalam College of Engineering | Assistant Professor | June 1, 2011 | December 15, 2017 |
| St.Joseph's college of Engineering and Technology, Palai | Assistant Professor | January 29, 2019 | Till date |
Name of the Institution
Indian Society for Technical Education(Life Member)
Pinky M S and Neethu Tom 'Automatic Phishing Detection System',   International Journal of Innovative Research in Computer and Communication Engineering August 2015, ISSN: 2320-9801, pp 7401-7405.
Anitha J,Ann Mary Mathew and Neethu Tom 'Object Tracking in Videos Reconstructed from Multiple Compressed Copies' Proceedings of International Conference on Recent Innovation in Technology (ICRIT 2011) at RIT Kottayam,2011.
Neethu Tom and Anitha J 'Multiple Object Tracking: A survey' of International Conference on Language Development and Computing Methods-2010 at Karunya University Coimbatore.
Actively participated in a Workshop on "Innovative Techniques in Teaching and Learning for Professionals-US Perspective" at Mangalam College of Engineering, Kottayam on June 3, 2017.
Participated in the One-week FDP on Theory of Computation organised by Saintgits College of Engineering from 22-nd to 27 th May, 2017.
Participated in the FDP on 'A New Dimension in Approaching a Student" organised by Mangalam College of Engineering on 5-th December, 2015.
Completed a training course on 'IBM SEED Program' by IBM Software Group, on 4-th September 2013.
Attended a training course on 'Hands on training in IBM Rational Software Architect'' organized by TEQIP Phase-II at Govt. Engineering College Idukki, on 30-th April-3rd May 2013.
Attended a two days FDP conducted by Centre for Professional Development, Kristhu Jayanthi College Banglore at Mangalam College of Engineering on 1st-2nd July 2011.
Actively participated in a Workshop on "Matlab Programming and Image Processing' at Karunya University on 2nd-3rd September, 2010.
Attended a inplant training at CCS Technologies, kottayam from 23 rd to 28 th June, 2008.
Completed an NPTEL Course on Data Mining in a duration of 8 week