UiPath is the recognized leader in the Robotic Process Automation (RPA), and is the fastest growing enterprise software company in history! UiPath's minimal-code, drag-and-drop Studio development platform enables RPA developers to quickly and easily implement robots that use a combination of groundbreaking Computer Vision and UI-selector technology to navigate applications and mimic user actions to automate end-to-end business processes – delivering ROI in days and weeks.
St. Joseph's College of Engineering and Technology, Palai  has established academic collaboration with UiPath Academic Alliance. Created to drive UiPath's vision for an automated and fully-employed world, the Alliance empowers all people – from young students to experienced professionals – to access and best leverage available automation solutions.
The UiPath Academic Alliance represents UiPath's ambition to serve more than one million students and one thousand schools in the upcoming years. The Alliance consists of
Higher Education Programme that equips students with critical automation skills, allowing them to connect virtually any software. The program also unites students with engaged employer networks to better understand how RPA can applied in business settings.

Automation Educators Programme that provides educators teaching at the high school and university levels with toolkits to develop course plans focused on RPA and AI.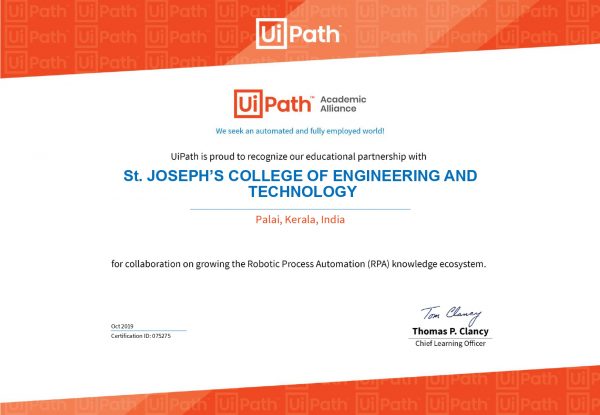 Benefits to Students
Access RPA technologies via UiPath Academic Alliance Edition

Learn from high-quality UiPath curriculum in a current syllabus or class.

Join a community of professionals and experts worldwide

Become an in-demand RPA professional
Benefits to Educators- Faculty
Teach from a comprehensive RPA curriculum including hands-on labs

Utilize courses that can be integrated into degree programs for academic credits

Leverage a resource kit with courseware, case studies and other teaching aids

Build your own RPA skills and Join a community of fellow automation professionals through in-person, virtual and on demand educator-readiness workshops
UiPath Academy – SJCET Educators
UiPath Academy – Courses and Certifications
| Year | Course | No of students certified |
| --- | --- | --- |
| 2023 | Build Your First Process(v2021.10) | 13 |
| 2023 | Meet the UiPath Platform(v2021.10) | 25 |
| 2023 | A Day in the Life of an RPA Developer (v2020.10) | 3 |
| 2021 | Introduction to RPA And Automation | 90 |
| 2021 | RPA Starter | 87 |
| 2021 | Build your First Automation with StudioX | 73 |
| 2021 | Orchestrator for RPA Developers | 22 |
| 2021 | Get Started with RPM Development | 20 |
| 2021 | UI Automation with Studio | 16 |
| 2021 | Email Automation with Studio | 15 |
| 2021 | Error and Exception Handling in Studio | 15 |
| 2021 | Introduction to Logging in Studio | 15 |
| 2021 | Variable Argument And Control Flow in Studio | 15 |
| 2021 | Project Organization in Studio | 15 |
| 2021 | RPA Testing with Studio Pro | 15 |
| 2021 | Version Control System Integration In Studio | 14 |
| 2021 | Selection in Studio | 14 |
| 2021 | Data Manipulation | 13 |
| 2021 | PDF Automation in Studio | 13 |
| 2021 | Debugging in Studio | 13 |
| 2021 | Day In the Life of a RPA Developer | 12 |
| 2020 | RPA Starter | 10 |
| 2021 | Get Started with StudioX | 8 |
| 2021 | RPA Developer Foundation | 7 |
| 2021 | Get Started with RPA Development | 4 |
| 2021 | RPA Citizen Developer Foundation | 4 |
| 2021 | Excel Automation with StudioX | 3 |
| 2021 | Data Tables and Excel Automation with Studio | 3 |
| 2021 | Decisions Iterations and Scenarios | 3 |
| 2021 | Powerpoint Automation | 3 |
| 2021 | Word Automation with StudioX | 3 |
| 2021 | Error Handling in StudioX | 3 |
| 2021 | File and Folder Automation with StudioX | 3 |
| 2021 | Virtual Automation Bot | 3 |
| 2021 | Working with Data in StudioX | 2 |
| 2021 | UI Path automation ops | 1 |
| 2021 | UI Path Assistant | 1 |
| 2021 | UI Path RPA Testing | 1 |
| 2021 | RPA Implementation Methodology Fundamental | 1 |
| 2021 | RPA Business Analytic Foundation | 1 |
| 2021 | Process Analysis Fundamentals with UI Path | 1 |
| 2021 | State Missions in Studio | 1 |