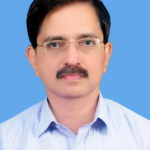 Dr. V. P. Devassia
Professor
Department of Electronics & Communication Engineering
Mobile Number: +91 9447082280
Email: hodec@sjcetpalai.ac.in
Date of Joining:01/04/2019
Doctor of Philosophy
Field of Research: Signal Processing.
Institution/University: Cochin University of Science And Technology in the year 2005.
Dissertation Title: PSWT based Linear Predictive Coding & Development of a Parallel Multiple Subsequence Structure for DWT Computation.
Masters Degree
Specialization: Industrial Electronics.
Division: First Class with Distinction and First Rank.
Institution/University: School of Technology, Cochin University of Science And Technology, in the year 1989.
Thesis Title: Design of a Language Translator for CNC Machines.
Bachelor Degree
Specialization: Electrical Engineering.
Division: First Class with Distinction and Ninth Rank.
Institution/University: MA College of Engineering, Kothamangalam, Kerala University, in the year 1983.
Other Qualifications
Passed the Account Test for Executive Officers conducted by KPSC in the year 1997.
Undergone a Certificate course in Fundamentals of Psychology conducted by POC.
Undergone a Certificate course in Basics of Counselling conducted by POC.
Attended various Training Programs conducted by AICTE/IIT/IISc/NIFM/ISTE etc.
Academic/Administrative Work Experience
3 years teaching experience for M.Tech program conducted by CUSAT.
27 years experience as Asst. Professor (current Associate Professor), Professor and Principal in Engineering Colleges under IHRD affiliated to CUSAT/KTU.
Set up the Industrial Electronics laboratory and Instrumentation and Control laboratory for the B.Tech Curriculum of CUSAT.
Administrative experience in academic institution management including financial management and preparation of project proposals in Engineering Colleges (Model Engineering College and College of Engineering Chengannur)/IHRD as:

HOD Dept. Of Electronics Engineering -From 1996 onwards
Vice Principal                                             -From 1998 December onwards
Principal (i/c)                                     -From 2004 February onwards
Principal -From 2007 January onwards
Additional Director IHRD & Principal -From 2011 November onwards To November 2018.
Additional Charge as Officer in Charge of IHRD Regional Centre and Model Finishing School -From 2012 October onwards To November 2018.
Industry Work Experience
3 Months as Junior Engineer in M/s. Hindustan Paper Corporation, Calcutta.
Undergone training in paper manufacturing.
7 years experience as Design Engineer with M/s. HMT Ltd.

Designed and developed the complete controls and interface circuits for a Computerized Numerical Controlled machine (STC-25)
Designed and developed the interface for a Flexible Turning Center (FTC-25) with automatic tool changing and job changing robots.
Team member in the design and implementation of an automated factory set up for defence.
Experienced in the PLC programming using ladder, statement list and flow-chart programming languages.
Experience with variable speed dc/ac drives and CNC systems manufactured by Siemens, Fanuc, and GE.
Fellow of The Institution of Electronics and Telecommunication Engineers, India (FIETE)
Fellow of The Institution of Engineers (India) (FIE)
Life Member of The Indian Society for Technical Education (MISTE) ² Chartered Engineer of the Institution of Engineers (India) (Eng.).
Served Expert Committee member of the National Board of Accreditation (NBA), a statutory body under All India Council for Technical Education (AICTE)
Served as Expert Committee member of AICTE approvals
Member of Faculty of Engineering under CUSAT
Served as UG Board of Studies member under CUSAT
International Journal        : 8
International Conference :16
Chapter in Edited Book     :1
National Journal                 :4
National Conference          :3
Pseudo-Periodic Signal Processing
Application of Wavelet Transform in signal analysis
Music Signal Source Separation
Guiding research students under CUSAT
PG Level

Computer Aided Design and Manufacturing, Automatic Process Control, Industrial Applications of Power Electronics, Advanced Control System Engineering, Digital System Design

UG Level

Digital Electronics, Electronic Circuits, Network Theory, Microprocessors, Control System Engineering, Test and Measuring Instruments, Industrial and Power Electronics, Computer Aided Design, Automatic Process Control, Digital Signal Processing, Electronic Product Design & EDA Tools, Design Project